Diasporic Landscapes: Jordan Nassar Interviewed by Will Fenstermaker
Embroidery and beaded glass sculptures combine craft with history.

Discover MFA Programs in Art and Writing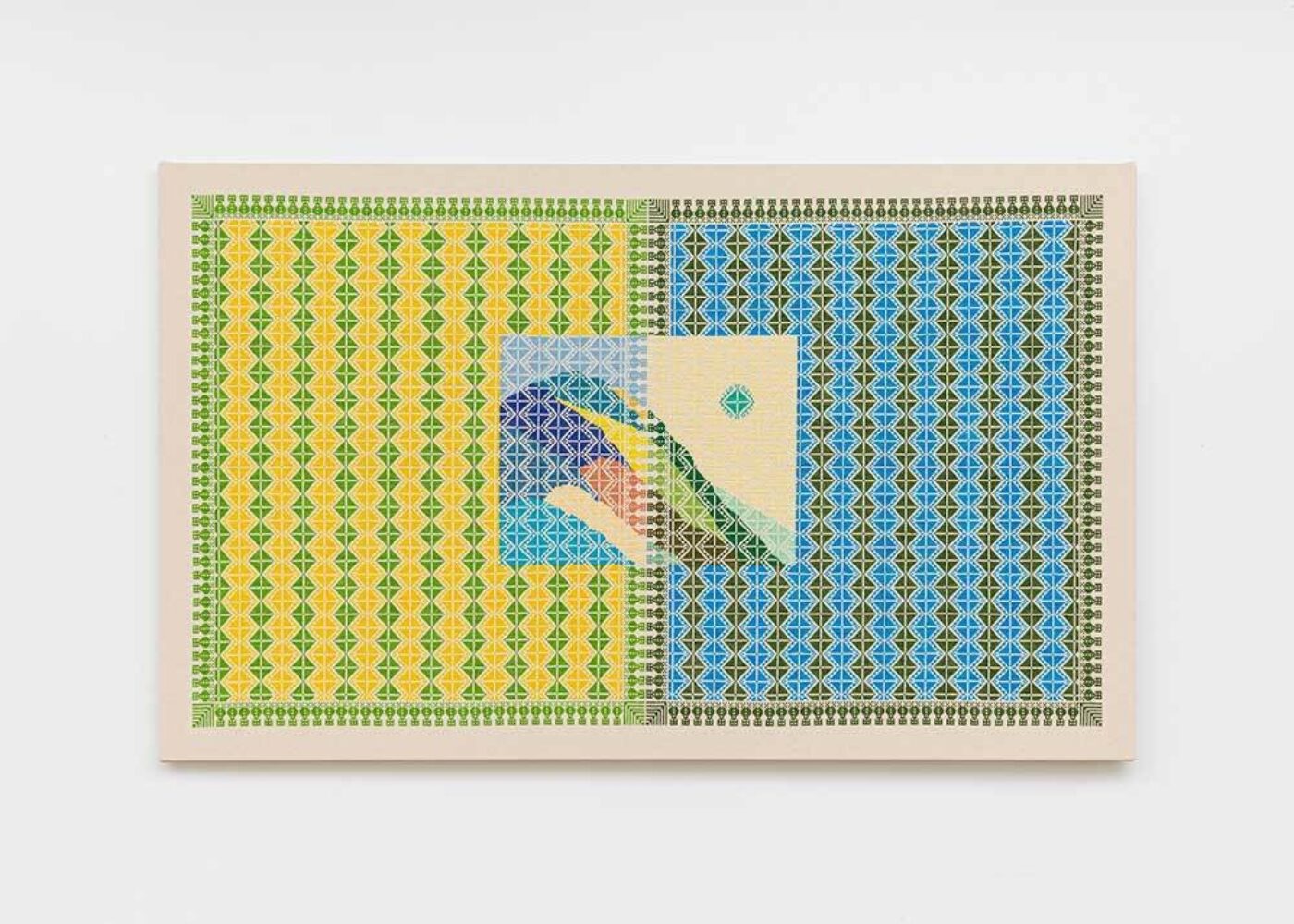 Rolling, pastel-hued hills stretch toward a low-hanging sun. Wisps of clouds explode out of the sky. Steep valleys carve striations in the horizon. A vertical line ruptures each scene, splits it in two. Jordan Nassar's embroidered landscapes depict contested land. Since 1948, when over 700,000 Palestinian Arabs were expelled from Palestine during the Nakba, Palestinian refugees and emigrants have demanded their right to return. For Nassar, who was raised in an Arab household on New York City's Upper West Side (he identifies as Palestinian American) and also has Jewish heritage, the landscape of modern-day Israel and Palestine reflects this multinational identity, as well as the idyllic vision of the homeland present in diasporas.
Nassar has two exhibitions on view right now. The first, at Anat Ebgi in Los Angeles, contains sixteen works of his own embroidery. The second, at James Cohan in New York City, contains a number of works he coproduced with embroiderers living in Palestine. While we spoke, Nassar was making something with his hands off screen.
—Will Fenstermaker
Will Fenstermaker What are you making?
Jordan Nassar Oh, I'm cutting wire for sculptures. I just finished a prototype inspired by this beaded sconce-like thing I got in Hebron. That sculpture took seven hundred or eight hundred beads, so it becomes a matter of producing enough material. I wasn't planning on making the beads myself. My pre-COVID plan was to work with a glass factory in Hebron, but that became impossible, so I ended up learning. In the end, I'm really happy I did; I prefer hands-on crafts, and it gives me a different sense of ownership and intimacy with the work to have worked the glass myself.
WF You're showing a number of new beaded glass sculptures alongside new embroideries, right?
JN Yeah. All of those embroidered works have this split-in-half vibe with two panels where the motif is cut in two and bordered. The show at James Cohan is called I Cut the Sky in Two; it's an Etel Adnan line from her book The Arab Apocalypse. When I'm in Israel, I have this feeling that I'm also in Palestine. My grandfather lived there in the 1920s before he came to America. When I'm in Haifa, modern-day Israel, I think of it simultaneously as where my grandfather was, Palestine. I like to imagine that it's a parallel universe, which might sound dorky—how in TV shows, on a different plane of existence, there's someone else in the same room at the same time. In Ashkelon, the Palestinian city of Majdal is still there, in the streets and the buildings. It's two places at the same time.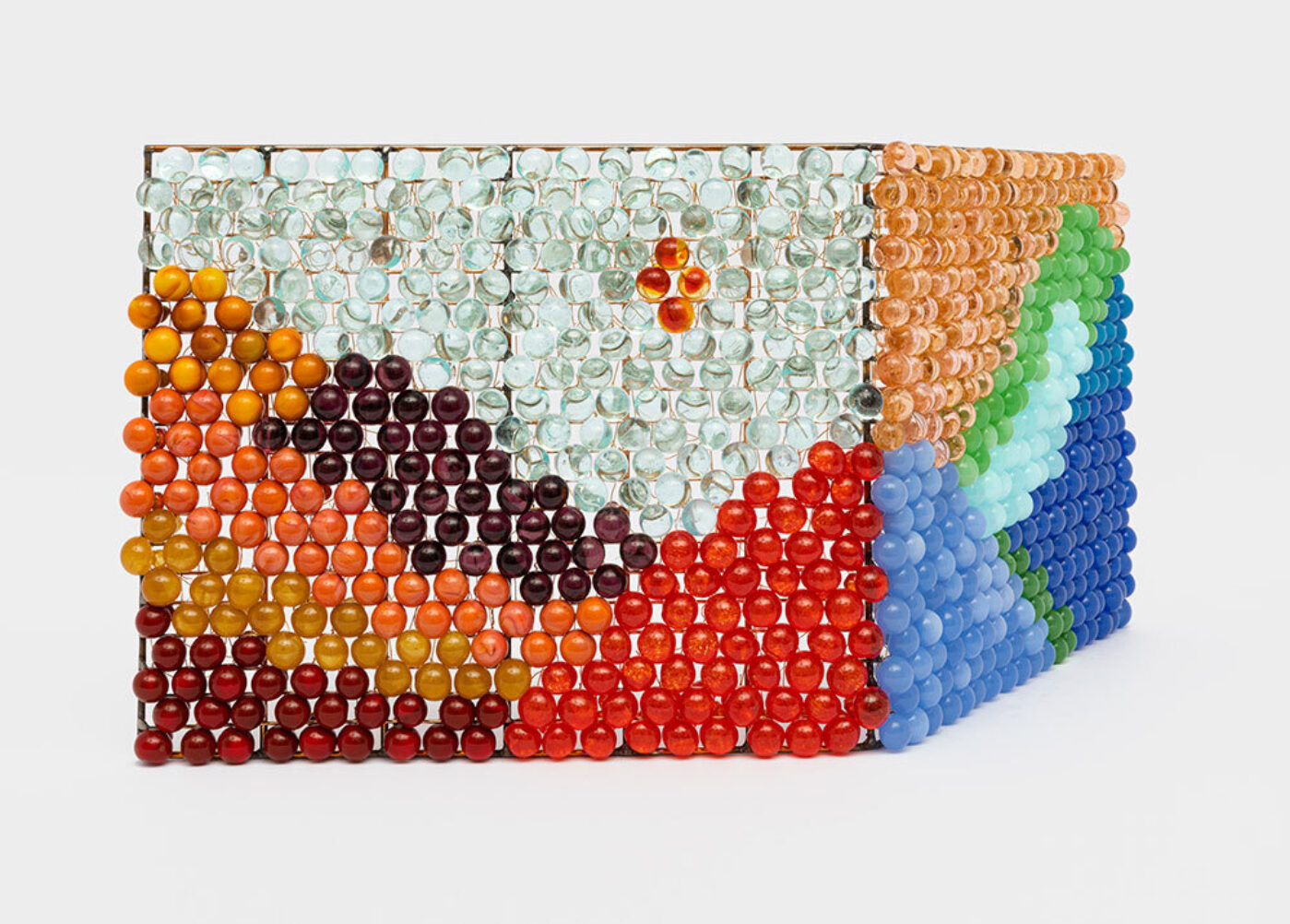 WF You occupy two realities at once.
JN I'm part of the Jewish diaspora and the Palestinian diaspora. I speak Hebrew, and I speak Arabic. My husband's Israeli, and I live in a Jewish household, and I was raised among Arabs, taught to identify as Palestinian.
WF What's your process collaborating with embroiderers in Palestine?
JN So the way that works is I lay out the pattern in black and white, excluding the areas that I intend to embroider myself later. I send that to my friend, who's from the Dheisheh refugee camp in Bethlehem, and he gets the fabric, prints out the motif, and brings it to women there. For the most part, they choose the colors or shades. I want as much of their aesthetic input as possible. Conceptually that imbues the work with the tendencies of a living cultural practice. Once I get their part back, I choose my color palette and embroider the embedded landscape.
There are still bodies of work that are just me—like the sixteen embroidered works at Anat Ebgi—but I don't plan on stopping this collaborative body of work. It's important to me as a Palestinian American not to capitalize on these cultural things and to have people in Palestine be part of the economy of my work. It becomes a dialogue between us.
WF I understand that the actual motifs in the stitching patterns are highly localized in Palestine. Are you interested in that regionalism?
JN I think maybe just in recognizing them as cultural, historical fragments. Every pattern has a history. Some are found in multiple areas of Palestine under different names.
The 1800s were the pinnacle of the development and popularity of Palestinian embroidery. At that time, there were very developed nuances. You could tell specifically what village a woman was from because of the symbols she used, the color combinations, or the composition on the dress. A lot of fabrics were regional as well. In Majdal and in Gaza, they had a certain type of woven fabric that I love. Then in the north and in Jerusalem, there was more silk appliqué and embroidery because of damask coming from Syria. And in the 1900s until today, it's been a process, like most things in the world, of globalization. So now embroidery is seen as more of a Palestinian craft—not like, this is Gaza, this is Majdal, as it used to be. A lot of those nuances are lost, and even Palestinians who do embroidery might not know the story behind every symbol they use.
WF This is a diasporic condition, too.
JN Yeah. I was just reading about how Palestinian food was affected by the creation of Israel and the Nakba. That displacement of over 700,000 people just sidetracks any sort of regional stuff, right? Because you're literally removed from the region. You're expelled. A lot of standard Palestinian foods have only existed since 1948. Recipes that used to call for different types of grains, like bulgur wheat or freekeh, became made with rice because they suddenly had to rely on foreign aid, on bags of rice. It's been seventy years since then; multiple generations have grown up with them now. This kind of impact of the Nakba is reflected in Palestinian embroidery too.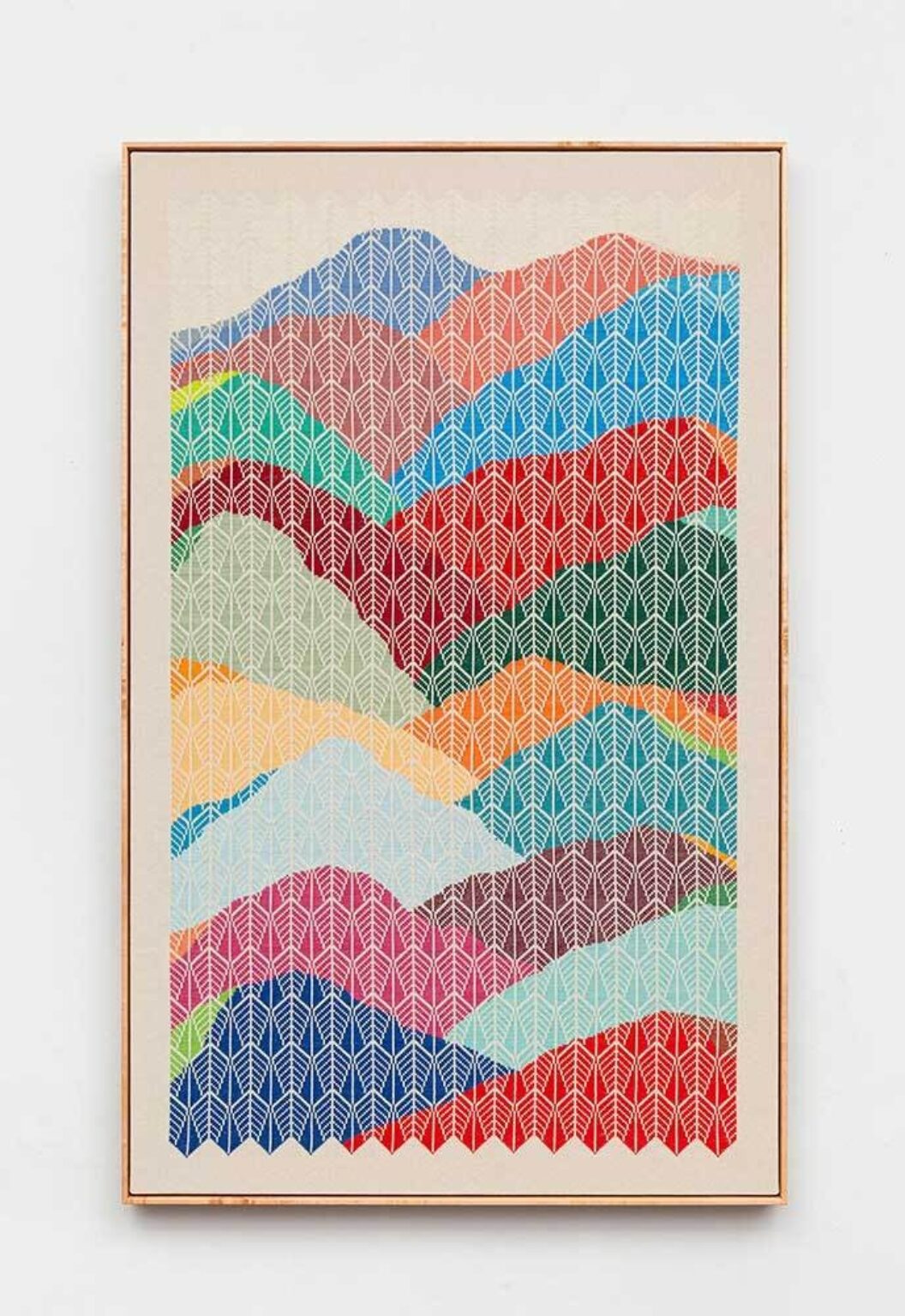 WF When did you start working with embroidery?
JN I was always a craft kid. When I was really little, it was origami; and then as a young adult, I was doing lots of crocheting and weaving. I lived in Berlin from 2008 to 2013, working in art galleries just because that was the industry there; and at a certain point I wanted to make art. I was at a point in my life when I was trying to connect with my Palestinian heritage. In Palestinian and Arab households, everyone has this kind of embroidery on at least one thing—a pillow, a wall hanging. I was also really into Tauba Auerbach–style pattern work, so at early stages I was more focused on that end of things. In 2016 I first tried—this sounds cheesy—to "break the grid," to draw across the patterns in colors. That was the only time I've ever copied a composition. I used an Adnan painting, which was two mountains, a horizon, and a sun. That was really when everything changed.
WF And you've mostly stayed with landscapes since.
JN There are a few reasons for that. Obviously, when it comes to Palestine and Israel, the land is central. But I focus much more on the experience of being part of the Palestinian diaspora—this yearning for the homeland and the nostalgia for this place that's passed down through generations.
One thing that excites me so much about Adnan's work is that many of her landscapes are so abstract and minimal that in another context you wouldn't know they're landscapes. The point of her work is the color: the combinations, the juxtapositions, the tension between different colors butting up against each other. But in her larger body of work, you understand, Oh, that square is a sun, and that line is a horizon.
I love that, knowing it's a landscape. As someone who was not educated in art history, I like giving the viewer the opportunity to locate themselves within the work, to know what they're looking at.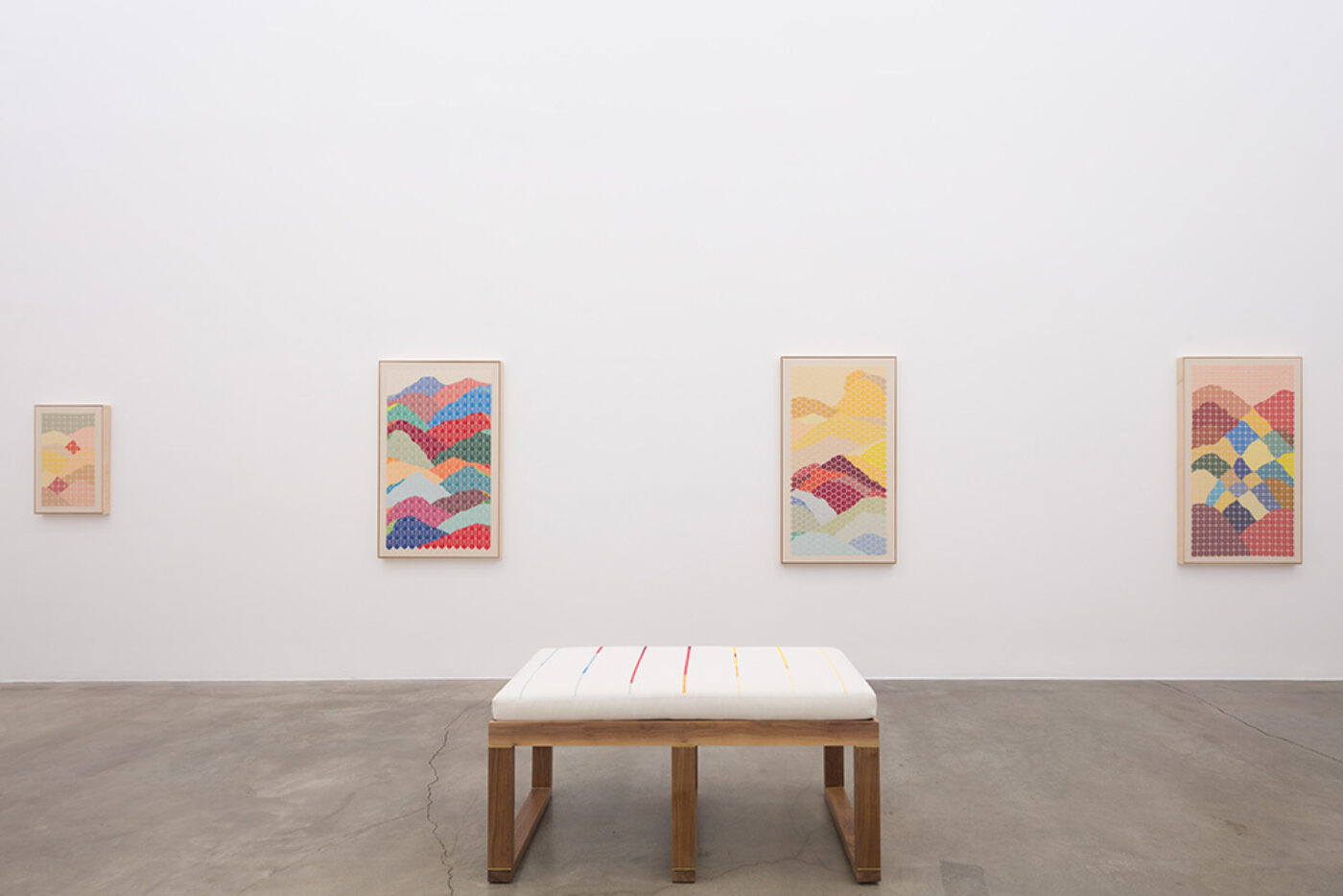 WF Her paintings, for me, are so inextricable from her writing because they share that sense of longing. The landscape can hold that poetry too. I asked you about the embroidery's dispersed symbolism because that kind of displacement becomes imbued within the motif, same as with the land. That pictorial diffusion becomes atmospheric and potent, despite the fact that your work isn't overtly political.
JN I'd say that it's not hard activism. Activism is important to me, but I'm not thinking about how I can free Palestine every time I embroider. I don't believe that visual art is the most effective medium for activism. But for many people, just saying "Palestine" is political, right? So there's an inherent politics to my work, and that's intentional. I feel like I've been steadily practicing "soft activism" for years in terms of representation and using the art as a jumping off point for dialogue. For instance, we're talking about these issues now even though they're not really in the work. It's not an accident that my art feels like a welcoming, beautiful thing. It's a good way to ease into more intense conversations.
All of that adds up to the work, I think, turning inward: talking about my personal experience being a part of the diaspora, but in universal terms. I feel like the most beautiful thing you can do is share the human experience. My art education was in Berlin, mind you; and I got fed up with all the conceptual stuff, readymades. I don't believe everything an artist touches is art. That's what led me to look for craft. I want to be impressed with how it's made. I want to be impressed with what it looks like. I want to stare at it. And I want it to make me feel something. All of that can inspire the curiosity to know more.
Jordan Nassar: We Are The Ones To Go To The Mountain is on view at Anat Ebgi in Los Angeles until October 27; Jordan Nassar: I Cut the Sky in Two is on view at James Cohan in New York City until November 21.

Will Fenstermaker is an art critic based in New York.