Strangeness and Beauty: Dear Climate (Una Chaudhuri, Oliver Kellhammer, and Marina Zurkow) Interviewed by Louis Bury
A unique approach to environmental art.

Discover MFA Programs in Art and Writing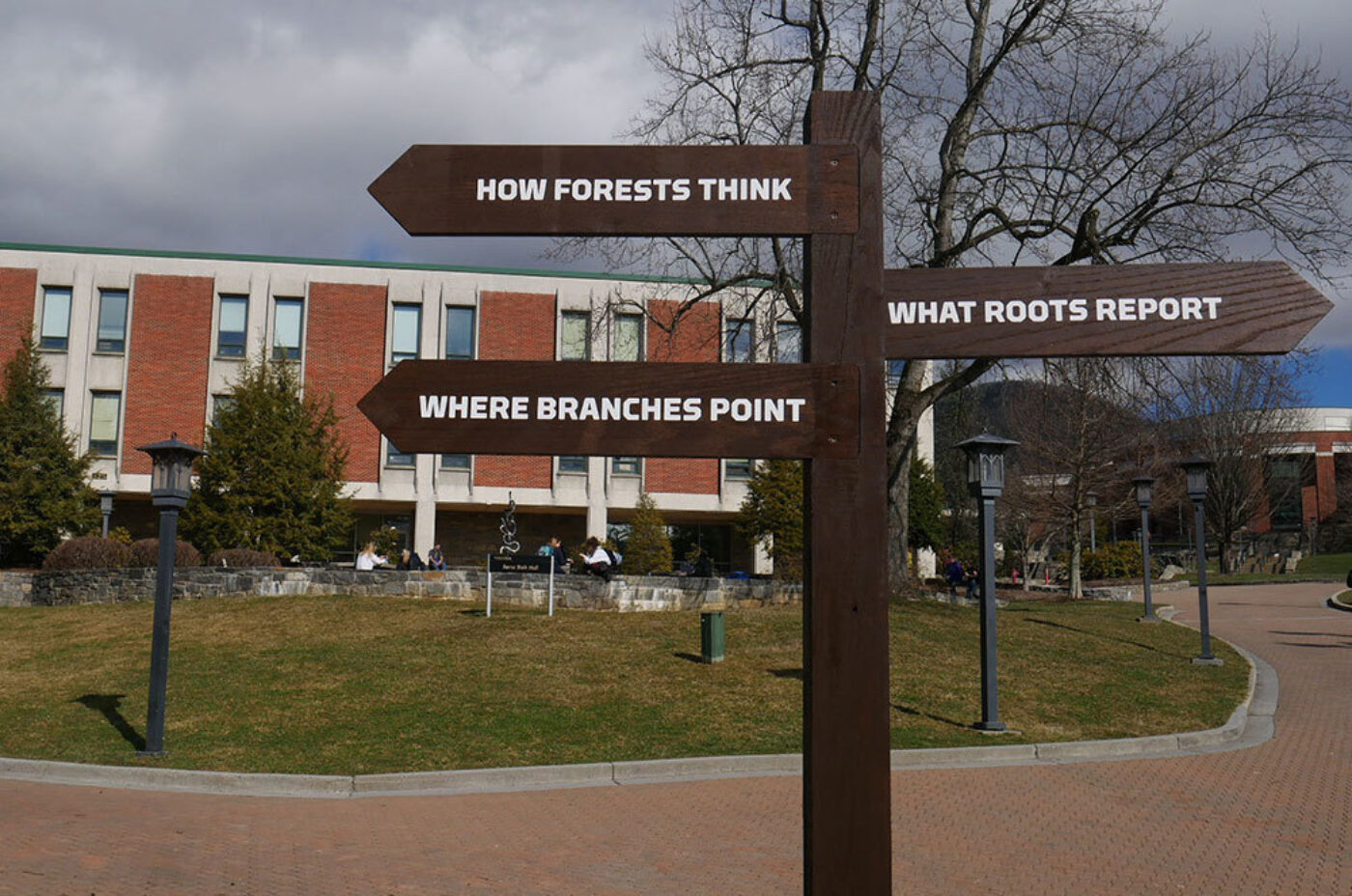 "SAY HELLO / TO THE HURRICANES" instructs a black-and-white poster featuring a silhouetted image of a person holding an umbrella over a house. Another poster quips, "CLIMATE CHANGE? WILL IT MAKE ME LOOK FAT?" These posters' dark, knowing humor encapsulates the spirit of Dear Climate (2014–ongoing), a quietly influential multimedia project conceived by an eponymous collective of scholars and artists (Una Chaudhuri, Oliver Kellhammer, and Marina Zurkow are its active members; Fritz Ertl was a founding member). In addition to the posters—which, in keeping with the group's guerrilla agitprop sensibility, are available for free download and use—the project also consists of guided-meditation podcasts, letters addressed to the climate as an abstract entity, and gallery installations and workshops that combine these elements. Throughout, Dear Climate avoids the sullen didacticism that can weigh down ecological art. Its refreshing mixture of gallows humor and Zen acceptance calls attention to climate change's under-examined affective impact on humans. In so doing, Dear Climate urges audiences to reflect on their own relationships with the nonhuman world's beautiful and menacing strangeness.
—Louis Bury
Louis Bury What were Dear Climate's origins?
Oliver Kellhammer We're friends and colleagues who found ourselves contemplating facets of the climate emergency in our respective fields. As a media artist, Marina was developing images about climate change's emotional impact. As theater scholars and New York University colleagues, Fritz and Una were developing ideas around performativity and kinship with nonhuman collaborators. I was working on a land art project to prepare a Canadian clearcut forest for runaway global heating by reintroducing tree species that last grew there naturally during the Eocene thermal maximum, some fifty-five million years ago.
Una Chaudhuri I was repulsed at the sanctimonious tone of much eco-art, with its subtext of certitude and facile judgement. Milton Glaser's "IT'S NOT WARMING / IT'S DYING" poster, for example, had an accomplished visual design but a hectoring tone, as well as a factual error: Earth is in fact warming, not dying.
Marina Zurkow We all felt a need to explore antidotes to the poisonous guilt, fear, and denial of so much climate discourse, trying instead to produce a pleasurable and humorous set of tools to help survive climate uncertainty.
LB What has been the role of collaboration in the project?
OK Dear Climate functions like an organism that is greater than the sum of its parts, although its distinct visual brand is largely thanks to Marina.
UC I experience it as an emergent dialogue that doesn't follow any established protocols and thus leaves space for each of us to bring in interests and ideas. Each new installation also involves collaborative dialogue—about the space, the audience, the stakeholders—that takes the project in new directions. For example, a traffic circle at Storm King Art Center allowed us to riff on the flag circle in front of New York City's UN building, which heightened the project's overt political dimension.
MZ The uniqueness of our individual aptitudes, coupled with our salutary disagreements, have been invaluable, as has the project's long duration.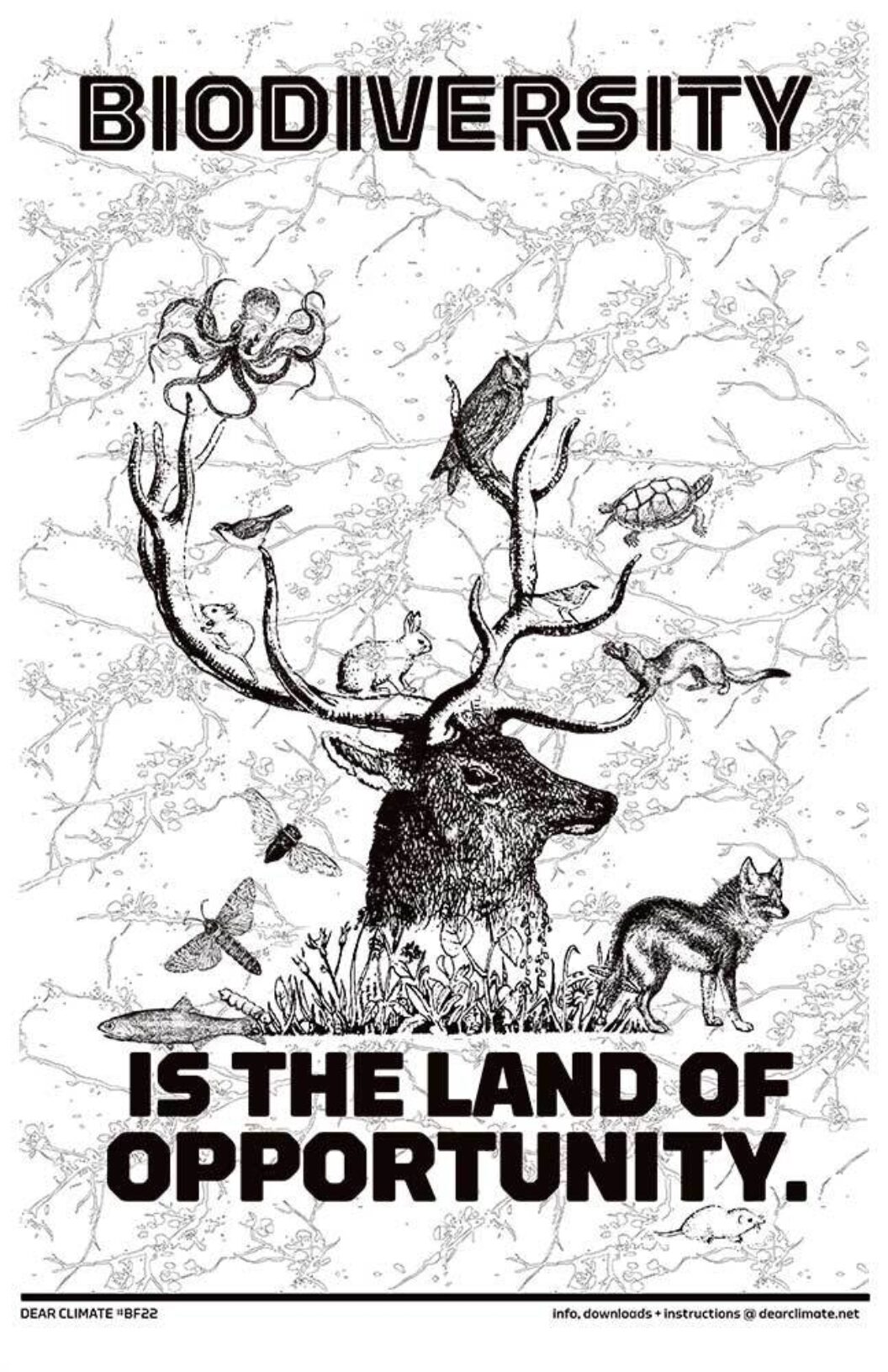 LB What's the efficacy of ecological art in addressing climate change?
OK Science gives us the factual basis for understanding the climate emergency, but the problem is not a purely rational one. Assailing people with a torrent of depressing facts isn't getting the job done.
UC My goal is for Dear Climate to be performative in the sense that the word is defined in speech-act theory: when saying something amounts to doing something, to bringing about a change in reality, like when one says the words "I do" in a wedding ceremony. Dear Climate posits a future where the values and norms of society are ecospheric, that is, conscious of humans' entanglement with the more-than-human world. Doing this in a whimsical register allows us to play with ideas such as interspecies sociality (gossiping about animals who live around us) and empathetic address (greeting extreme weather).
LB Can you talk about humor's importance to Dear Climate?
OK Sometimes humor is the only way to stay sane in the face of what Jean Baudrillard called "the imagined unimaginable." Humor helps us investigate the contradictions, absurdities, and disavowals that characterize how humans respond to the climate emergency.
MZ Humor is what helps me remain at all nimble and willing to face horror and grief. Humor is irreverent, disruptive, and can be warm, even when addressing dark imaginaries. It's kin to friendliness in my life and work.
UC For me, it's not so much about humor—as in comedy, jokes, laughter—as it is about weirdness, surprise, oddity. Surprise opens a space of thought and imagination in which the more-than-human world can be active and engaged, a creative partner in our lives. It's the kind of quirky and quizzical humor found in Nina Katchadourian's art, such as her Mended Spiderweb series (1988), in which she repaired damaged spiderwebs using red thread.
LB What have been the challenges and opportunities of the different sites at which Dear Climate has been installed?
OK Dear Climate has had many incarnations, from pop-up exhibitions in shipping containers, to storefront windows, to audio and online-only installations. The ability to disseminate the work electronically is not only in keeping with our open-source aesthetic, but also cuts down on our carbon footprint. Imagine the hypocrisy of us flying all over the place to install work about the evils of flying all over the place!
UC The new opportunities—and restrictions—that each site offers are my favorite part of Dear Climate; it is a chance to widen the collaboration to include curators, fabricators, physical spaces, and audiences. This has been a deeply gratifying learning experience, as I've absorbed Marina's commitment to detail, quality, and nuance, and Oliver's firsthand expertise with climate-changed landscapes.
MZ I'm keen to experiment with public formats for the audio works, which haven't been exhibited much. We dream of listening obelisks, floating lake pods, and giant garbage heaps atop which one can meditate.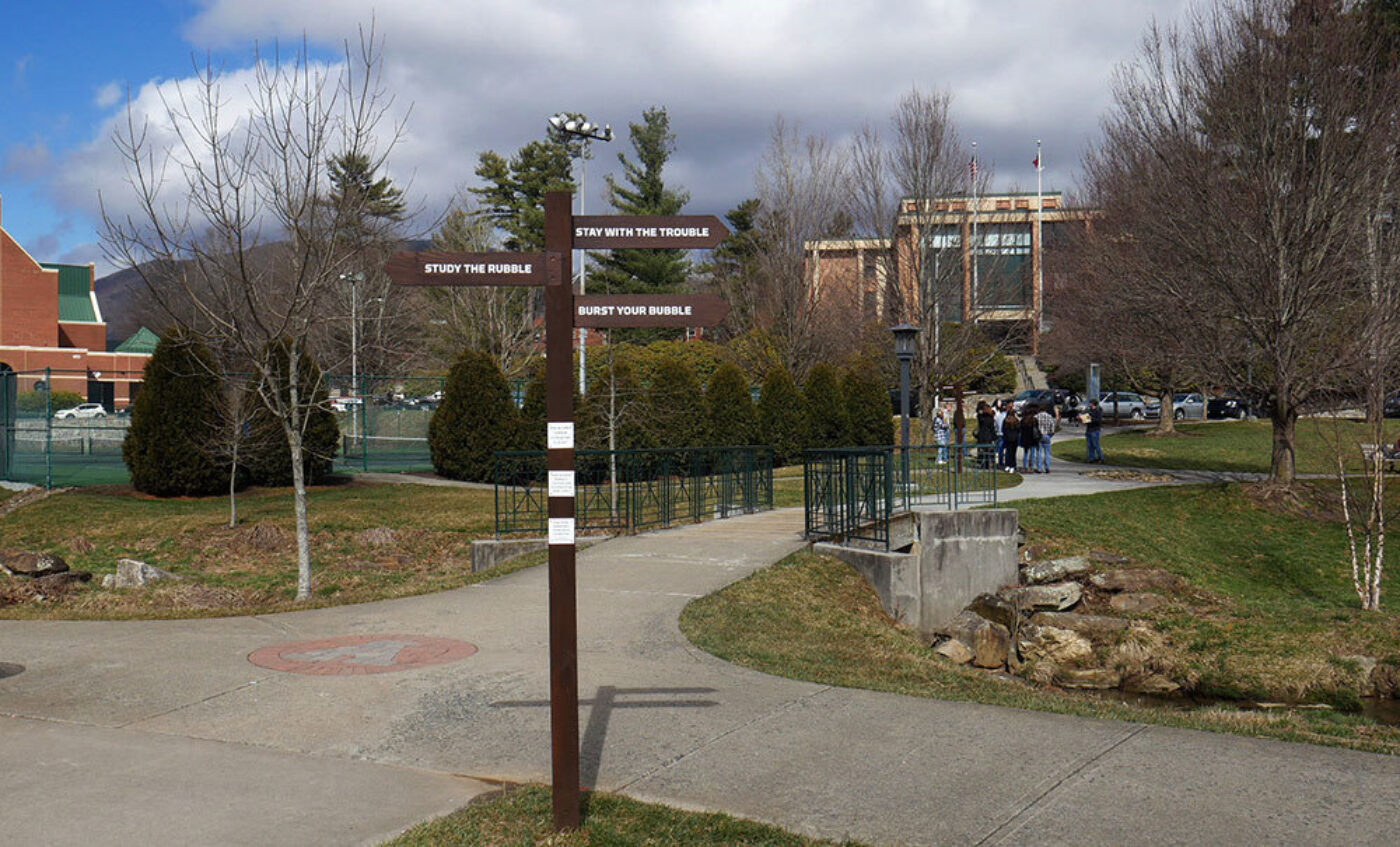 LB How did you distill Dear Climate's complex theoretical underpinnings into the posters' humorous, meme-like combinations of image and text?
OK It's like poetry—a not entirely rational process of letting the subject's contradictions simmer in our heads until the combinations emerge.
UC I've always adored the multi-colored educational posters seen in small towns in India, as well as the black-and-white punk concert posters in 1980s New York City. At the same time, posters can be hideously slick, exploitive, and simple-minded, which is both a trap and an opportunity when using them in an art project.
MZ The motivation to make posters came from wanting the project to offer audiences shorter temporal experiences, in contrast to the longer duration of the podcasts and workshops. The posters' aesthetic comes from late '70s Xerox-art and zines. They are designed to maximize impact using minimum ink. My dear friend Nancy Nowacek designed the typographic treatment.
LB Can you talk about Dear Climate's written letters, which incorporate responses from people not in the collective?
OK We all have pent-up feelings about climate change and few productive ways to externalize them. For example, when I had my Parsons students write a letter to the climate, their responses were emotional and articulate in a way that might not have happened with a more analytical assignment. These letters are reminiscent of Japanese "wind telephones" which allow people to talk to the dead.
MZ The letters work best when they move past the "I'm sorry," "I feel guilty," "I am so smart that I recognize I am a stupid human" modalities. When people move past their egoistic selves and imagine other forces and beings, it can be cathartic.
LB Can you talk about the podcasts, which use language and sound to create a meditative experience?
OK Meditation has been a big part of our practice. The writer and Zen Buddhist priest Ruth Ozeki was an early collaborator, and we felt it important to take a contemplative tone and not be shrill or reactive to an epic, complicated tragedy.
MZ Despite the familiar, nice-sounding bell that signals the beginning and ending of each podcast, the meditations are intended to be unsettling, to move you someplace new or different. Their ethos is to create a compassionate, multispecies, trans-material space that can leak into the everyday.
LB What does openness to the strangeness and beauty of the nonhuman world mean to you?
OK We're interested in cultivating relationships with nonhumans, what Donna Haraway calls "kin." Resisting human exceptionalism is vital to mitigating climate catastrophe. Humans are not individuals but symbionts, dependent on everything around us, from plants that provide oxygen to bacteria that digest the food in our stomachs.
UC I've long been moved by how the Greek philosopher Epicurus—and his European discipline Montaigne—theorized friendship, which has been an underappreciated relation within modernity's heteronormative, nuclear-family-based regimes. I would say that friendship is Dear Climate's preferred relational mode—a way of fostering affective connection outside of immediate biological kinship.
MZ Be awake to all lives. Care beyond the familiar, the national, the human.
UC Include everything, all the time.
Dear Climate's public art installation Signs, Wonders, Blunders is on view at Appalachian State University in Boone, NC, this spring.
Louis Bury is the author of Exercises in Criticism (Dalkey Archive) and Assistant Professor of English at Hostos Community College, CUNY. He writes regularly about visual art for Hyperallergic, and his creative and critical work has been published in Bookforum, Brooklyn Rail, Los Angeles Review of Books, Boston Review, and The Believer.