Deana Lawson's photographs are now featured in MoMA's New Photography exhibition. Carmen Winant sits down with Lawson to discuss the visual vernacular of her background, large and small format photography, and Audre Lorde's definition of the erotic.

Discover MFA Programs in Art and Writing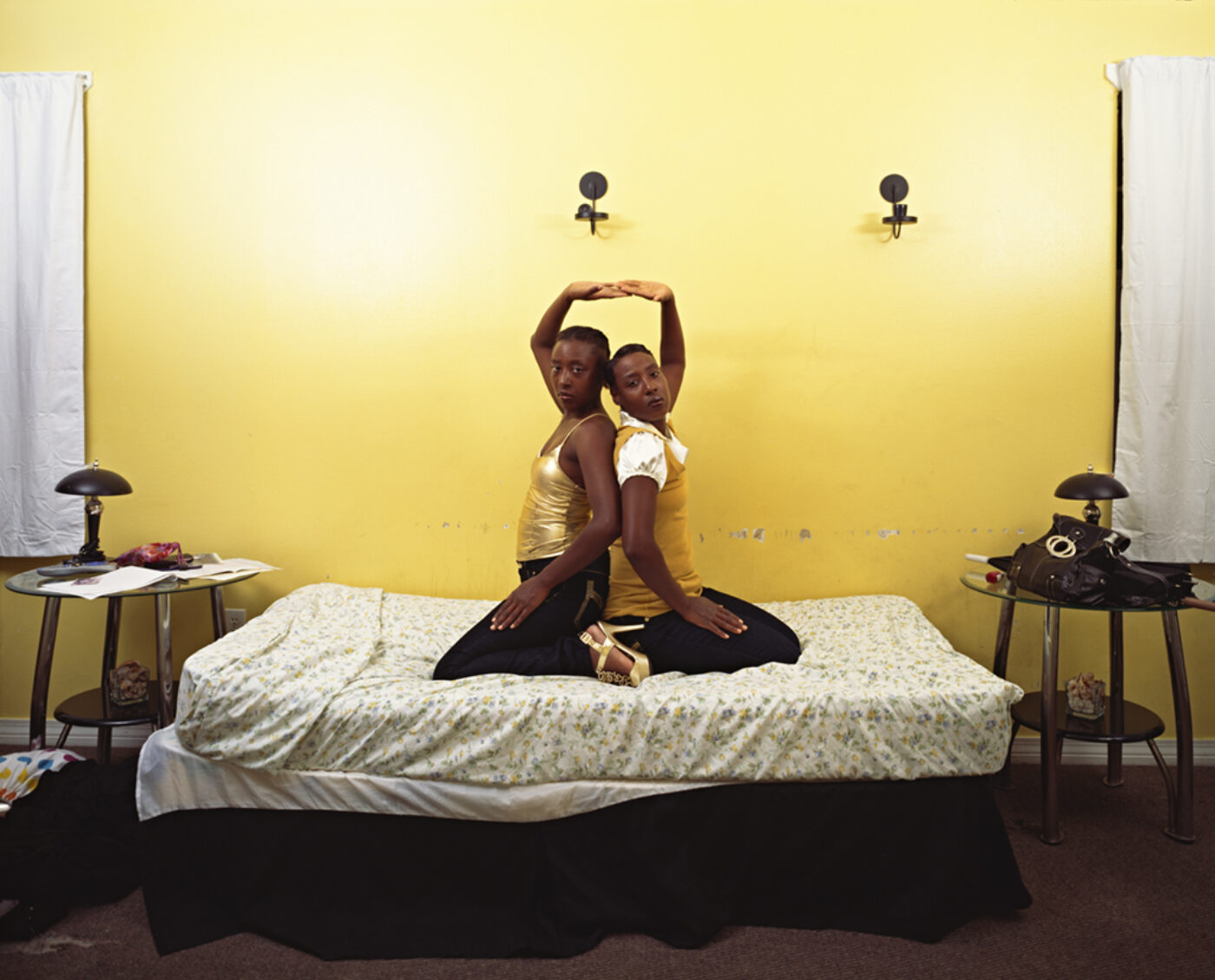 New Photography at MoMA features six artists, the Brooklyn based Deana Lawson among them. Lawson has been steadily working and exhibiting her photography and photographic assemblage since graduating from RISD in 2004. Most recently, she participated in PS1's Greater New York 2010 exhibition. I met Lawson last year when we were both teaching photography at California College of the Arts in San Francisco. She had a show nearby at Baer Ridgeway exhibitions, and the work gripped me in a way that hasn't quite let go. We spoke about her upcoming show at MoMA, her process of cultivating ideas and making work, and the implications of investigating personal and social histories through photographic processes.
Carmen Winant Along with five other photographers, your work is featured in New Photography 2011 at MoMA. Can you talk a little bit about what will be in the show and the process of being curated into it?
Deana Lawson Sure. The work in New Photography has all been made in the past three of four years. I don't work in series. Everything is ongoing, so what is being shown is a chronological mix from that time. As far as the work itself, I've always been deeply invested in psychological portraiture, the body, sensuality, and family relationships.
Working with MoMA has been wonderful, a real communal process. [Curator] Dan Leers and I have been working together closely to decide what to show. In regards to being connected with MoMA for the show, it's different for everyone. In my case, I was featured in MoMA PS1'sGreater New York show last year, as well as appearing on a roundtable at MoMA in which five artists posed questions to curators. Being on the radar certainly helps.
CW This year New Photography 2011 will include six photographers, all but two of whom are international artists (the other four are from Canada, China, England, Holland), and all of who, in some way, contend with issues of contemporary social identity and cultural inheritance. Are these photographers that you have come across before or whose work you were aware of at all before this show, and how do you anticipate it all coming together?
DL For the most part, no. Which is refreshing! Many of the photographers are new to me. I don't know much about their work, and I'm eager to see it all up together.
CW I was really moved by the exhibition I saw at Bear Ridgeway Exhibitions in San Francisco last year which was composed partly of large format portraits and partly of smaller, appropriated photographs. Can you talk about straddling this line between these two forms? Large format photography is such an exhaustive and meticulous craft, distinct from finding existing images and making them your own. How do you see the two processes relating and engaging with one another?
DL Yes, the space between these two formats is really interesting, and really important to how I think about my work. One of my first visual influences—and a bridge between the two, I think—was the idea of a family album. The Assemblage piece, which began as an image board in my studio and appeared in PS1's Greater New York 2010 show, is a kind of expansive family album, a web of images drawn from library archives, friends, neighbors. The images were all scanned and printed as 4" x 5" glossy prints at Walgreens, and then arranged overlapping on the wall. When I first started making Assemblage, it was just an image board, for reference. I had started looking in the images folders at the Rochester library. I would search clowns, wigs, the Harlem Renaissance, whatever. I would sit in the library for hours, consuming images.
When I do "straightforward" photography, there is not much difference. My gaze is the same for selecting found images as it is in finding subjects to photograph. In my portrait work, I am creating more formal stages, a theater of the family snapshot. I don't differentiate in my studio either—everything is all mixed up and related.
CW Yes, I was struck by the idea of a family photograph right away in your work. There is a strange self-awareness at play—so intimate and also detached—in being documented in that way, in creating evidence of personal history. It's moving but a little tragic. I am wondering about seeing both kind of processes—large format and assemblage—and playing into this idea of forming ourselves and our legacies. And what gets left behind in that process?
DL I think that there is definitely something tragic in the family photograph—it's a fundamentally retroactive idea. We make the image specifically to look back on it, to refer to it later in life. Even in my old family albums, the process of aging—the space between them and now—can be haunting and unstable. How to deal with the idea of projected time in a static medium is an interesting challenge. While the work is by no means autobiographical, its impulses are born from personal experiences. It references people I knew and had relationship with. For example, the 2009 image Baby Sleep—in which a young couple is engaged in an erotic moment next to their soundly sleeping young child—is a direct engagement with my own experience as a young mother. This, in its own way, is a kind of family portrait.
CW In either the assemblage or portrait work, do you ever use yourself as a subject?
DL Rarely. However, for the Assemblage piece, I inserted a younger image of myself, of which I'm not instantly recognizable by the audience and so my identity blended within the larger photographic tapestry rather than announced my presence so directly. Regarding my portrait work, very early on in my practice, I placed myself in front of the camera, paying a homage to photographers like Carrie Mae Weems and Renee Cox who used the agency of their bodies to speak towards identity politics at time when the black female body in photography was rarely present, and further, not pictured by the "self." Leaping from this idea of representing the "self," I'm working from the same premise but
using other subjects that are usually strangers. When I am attracted to someone, it is very powerful, and it stems from a certain familiarly or recognizability. I am from a working class family in Rochester, NY, and so the visual vernacular of my background influences the aesthetic decisions of who I choose, and how the subject is pictured. Equally important, the subjects bring their own personal aesthetic, swagger, and tragedy. The subject(s) and I each embody our own universes, and on the occasion of taking the photograph, we do how we do. To answer your question, yes, I am an indirect subject in my portrait work, all the time.
CW At the risk of sounding too general, how does sexuality factor into the making of your work? More of often than not, it is framed in terms of the raced body, but I read a loaded inquiry into how the female body presents herself. Can you speak to this?
DL Audre Lorde wrote an essay, "The Uses of the Erotic," in which she defines the erotic as "physical, emotional, and psychic expressions of what is deepest and strongest and richest within each of us, being shared: the passions of love, in its deepest meanings." She describes the erotic as a site of power and information within our lives and says, "We have come to distrust that power which rises from our deepest and non-rational knowledge." I prefer to use Audre Lorde's definition of the erotic because it involves sexuality but it is not limited to it. In my photographs there are overtly sexual images, but there also very intimate familial photographs which conjure up thoughts of mourning, shared intimacy, mortality, motherhood, and protection. My sense of the erotic is connecting these simultaneous impulses and experiences rather than isolating themes. I don't take my position as a black female photographer lightly. I am certainly aware of the stain of colonialism upon the black body within photography. I am working within a photographic history that is embedded with physical and psychic colonialism. But it is a privilege to be able to stand behind a camera and to construct my own desire and sense of eroticism in pictures. By making the work, I feel a profound sense of freedom and liberation.
New Photography runs until January 16, 2012 in the MoMA photography gallery.
Carmen Winant is an artist and arts writer living and working in Brooklyn, New York. Winant is a graduate of UCLA, where she received her BA in 2006, and California College of the Arts, where she earned Masters degrees in Fine Art and Visual and Critical Studies. In addition to BOMBlog, Winant is a regular contributor to Frieze, WAX, and Aperture magazines, X-TRA and Dossier Journals, as well as Artforum.com, Daily Serving and The Believer blog. Winant writes about visual culture and sometimes sports.