David Korins and Oskar Eustis
Oskar Eustis, the Public's Artistic Director, and his collaborator, Hewes Award-winning set designer David Korins. Having recently collaborated on Passing Strange, among other productions, the two discuss how process makes perfect.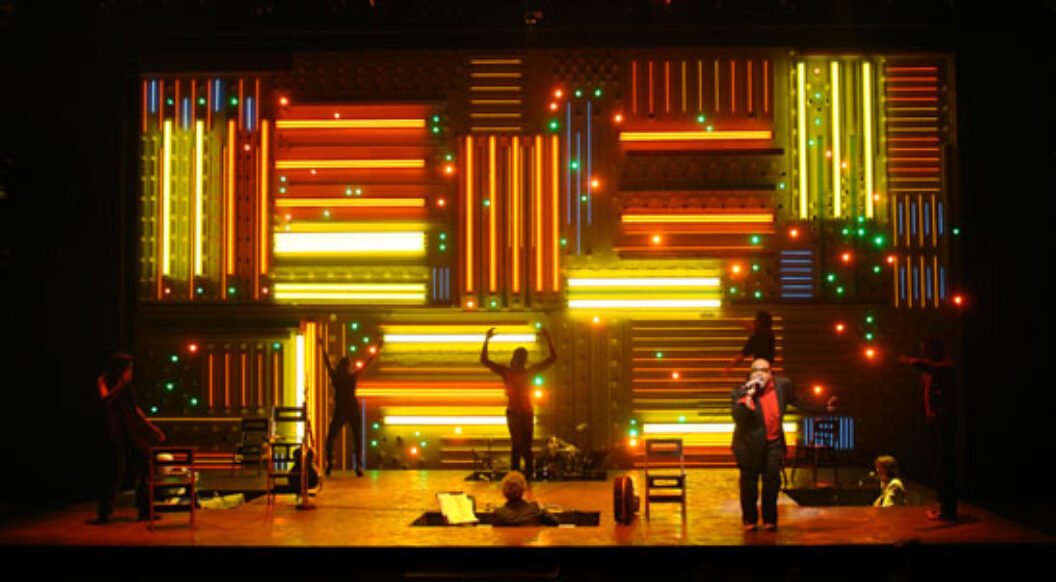 When Oskar Eustis reveals the secret to directing a successful theatrical production, as he does in the following interview with David Korins, it's worth listening. Eustis has been directing for 35 years, most recently as artistic director of the downtown New York theater The Public. Korins is arguably the most surprising and unforgettable set designer today, and is Eustis's frequent collaborator. They have recently worked together on Passing Strange and Why Torture Is Wrong at The Public, as well as on Hamlet at the Delacorte Theater in Central Park. The Public, as Eustis puts it, is a "theater with a mission," but sometimes Eustis sees an opportunity to take its productions to Broadway's bigger stage, Passing Strange being a recent example. Korins's set designs make the transition, too, and here the pair reveals how process makes perfect.
David Korins Congratulations on Hair. It worked on so many different levels. How has it been going, on Broadway?
Oskar Eustis Well, we just went to Washington, DC for the gay rights march. The cast got on a bus along with me and Kyle, my daughter. We got about three hours of sleep to get down there in time for the sound check in front of the Capitol building.
DK They performed there? Wow!
OE Yup. The entire cast, then we marched. Fourteen hundred Broadway folks showed up for the march, a really significant presence. We performed at the end, which was beautiful. It was Kyle's first Washington demo, which was spectacular for me. My 80-year-old communist mother and 83-year-old communist stepfather flew in from Minnesota and carried their banners for equality. What I liked best was that none of those kids acting in Hair had ever marched in Washington. The feeling that you were seeing a new generation of activists was the best. It seemed like theater could actually pave the way to a social activism in the real world. You don't have to confine it to what's happening on the stage. You can really start to get that dialogue going, which makes me proud to be working in the theater.
DK Was Hair the only show that went down to Washington to perform?
OE We were the only ones performing because we were the only ones who canceled a show. We were the coolest people, but Tommy Schumacher and Disney was there, David Stone and the Wicked folks were there. This is a particular issue in which the American theater actually can play a leading role, because gay equality is an issue where we have an expertise that the rest of the country doesn't have. We have lived within and among the gay community; we have practiced equality in a way the rest of the country hasn't. Therefore, we should take a lead in sharing our knowledge with the country. It's a beautiful activist idea.
DK And it's all an extension of Hair. You first did the Hair concert at the Delacorte in Central Park. Did you think, "If it goes well I'm going to produce it?"
OE We had spent five months before the concert working on the script, which had almost nothing to do with the concert. We were using the concert as a stalking horse to prove what I knew would be the case: that this musical can speak to the moment.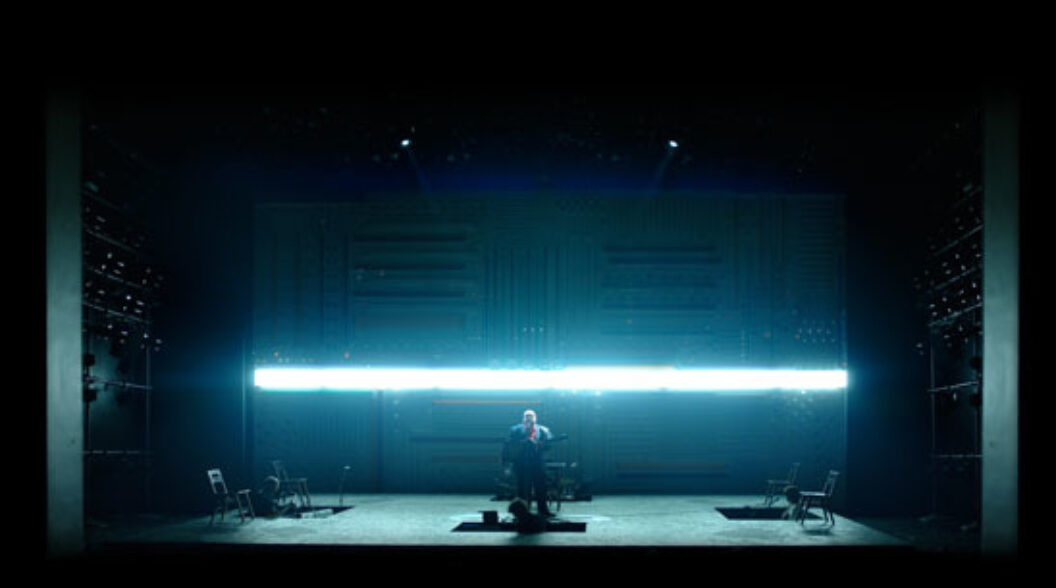 DK How is it different producing off-Broadway—at the Public, particularly—as opposed to on Broadway?
OE There's a lot more money on Broadway for good and for ill. The weird thing is that when we did Passing Strange—a show that I was every bit as proud of as Hair, a major achievement that was a complete bust commercially—it lost all its investment. As far as the Public is concerned, we completely fulfilled our mission on both shows. We don't have to measure it by the profit. Passing Strange doesn't feel like anything but a huge success to me. The biggest difference about Hair is that because it's successful commercially, I'm still working on it 20 hours a week. I'm going to London, and on the national tour, and replacing members of this company as we have to. I've never had that experience before; we've been working the show for two years. We had the big Broadway opening last March, we won our Tony's in June, and if all goes well I'll be working on it for the next few years.
DK Is it ever easy to produce with that kind of money? I have always thought that even on Broadway, it's still a stretch to make something you are proud of within the budget allotted.
OE Well, you can speak about that better than I can, because you did the set design for Passing Strange and it went from Berkeley to here at the Public to Broadway.
DK Both the Berkeley stage and the Anspacher stage at the Public are a challenge. To go from a thrust, where the audience is basically surrounding the action of the piece, to a proscenium was a particularly difficult twist.
When I design a play I start by asking what the play wants to look like, what it wants to feel like, and what the relationship of the performers to the audience is. On Broadway I started by trying to figure out how to get the show to explode into the laps of audience members like it did in its first two incarnations. First you have to have a show successful enough to warrant a transfer to Broadway. Whenever you transfer a show you start to think about what you want to add to the design or what you may have missed the first time around. But I always feel as though the money is equally tight whether you're working uptown or downtown. Producers off-Broadway create budgets relative to what their spaces can handle. I felt like the show we did at the Anspacher, except for the work we needed to do on the script, was kind of perfect. It was a great marriage of a show to a space—you really had a sense that that show was made to be in that theater. When we first went to look at the Belasco, I remember going to a walk-through with all of the producers and creatives to think about our new spatial rules. There was that weird moment where everyone was gathered on the stage waiting for me to show up and I was running a few minutes late. When I got there, all eyes turned to me as if to say, "So can we make this happen?"You were one of those sets of eyes. Did you feel the show was going to be able to transfer smoothly from the Public? How did you think it would fit in a proscenium theater on Broadway?
OE I was certain it could be a proscenium show. I was confident that you were going to be able to make the adjustments. The question of if it would work uptown is really about the Broadway audience, ticket prices, and expectations. Of those, I was massively unsure, because I'd never put up a show on Broadway. It was an experiment. What I felt was brilliantly successful about it was that the show you made ended up speaking to the audience in that theater every night. The show uptown was better than it was down here, partly because we kept working the script and because you guys all understood it better. That was the single thing as a producer that I was proudest of—we didn't dumb down or compromise a single thing. Quite the contrary, it got smarter, it got darker, and all in order to go to Broadway. Maybe that's why it wasn't profitable at the end.
DK But it won a Tony. Why not ask the producers that wanted to offer money to help run it longer at the Anspacher rather than move it to Broadway?
OE As the producer, I am going to give you, David, and all of the other artists involved the biggest stage and impact I can possibly provide. Sometimes that means staying downtown. We've had very successful shows like David Hare's Stuff Happens; it had the reviews, it had the audience, and clearly there was some pressure to move it, but we said, "Let's give this a really long run downtown." Hare has had a lot of shows on Broadway; he doesn't need to go to Broadway again. That artist and that dialogue felt best served by the combination of a long run at the Public, and then memorializing it at the Delacorte Theater in Central Park. We did it for 1,800 people for free in the middle of New York City. That was the cherry on top. For Passing Strange, I came to believe that the move to Broadway was the right thing. Stew got a Tony! (laughter)
DK And we had a pretty nice moment with Spike Lee. It was one of the greatest closing notices imaginable when we received news that he was going to film the show and make a feature length film with the footage. It was a bittersweet ending to a great run.
OE And Spike wouldn't have made the movie if it was only at the Anspacher. He loved it down here, but I don't think it would've occurred to him to take the leap to making a movie until he saw it in a house of Broadway size.
DK But how much of the decision to keep Stuff Happens here was because it was so specifically an environmental design? That whole show was conceived around the idea of having the audience surround the action of the play. That would be almost impossible on Broadway.
OE Sure. It certainly was partly that. There's also a deeper conception, which is it really felt like Stuff Happens didn't need to inflate itself commercially and move. It would have been a terrible loss to have not moved Passing Strange.
DK I remember ending a Passing Strange performance in Berkeley with a weird drinking song, and it was really obvious that those guys had never written a theatrical show before. But I remember you saying to Stew, "It's a wreck, but we're going to Broadway and we're going to win a Tony." Pompous? Oracle? What is that? A plan?
OE No, you put your finger on it—I'm a pompous blowhard. (laughter) Look, I remember that conversation well, and the context of it was: You have to fucking rewrite this show, because (pounds the table) sure, it's a hit in Berkeley, but you know you're faking the end of this show. The Berlin section isn't where the Berlin section is supposed to be. You're making fun of communists, but you're not figuring out what was at the heart; you're taking cheap shots. The toughest part of that conversation was that we postponed the New York run. We put it off for six months, and if we hadn't done that, it never would have opened.
DK Are a dramaturge or a producer in that situation? Who are you when you show up to watch an early preview like that ?
OE I'm a dramaturge and a producer. The producer gives me the power; the dramaturgy gives me the brains. As the producer I'm able to put muscle behind my dramaturgy. As a dramaturge, I am able to say that I can work with you on fixing your show. If I didn't have that producer hat as well, then I might be just another really smart guy with an opinion.
DK It must be hard to divorce yourself from the producer in you who might lose all the money, and say, I just really want people to see this thing up on stage. It is so exciting that Hair is going to pay back with dividends.
OE It was a move made as the producer of the Public, not just the producer of Hair. I don't think Hair will return in ticket sales; we got some nice press, but as people have pointed out to me, it's probably going to hurt the tour. We get identified with gay marriage, so there'll be cities that won't want to book us. Fine. The great thing is that I'm primarily the producer of the Public, a theater with a mission. The Public's mission is better served by the cast of Hair being in Washington, DC marching on Sunday than being on stage. We're nonprofit; I'm supposed to promote the mission, not make money! What a huge, cool thing that is for me. In the case of Passing Strange, I have no sense of lack of success, because it succeeded beautifully. I don't know if you remember, but I was pushing you and Annie to add some bells and whistles to the sets on Broadway. I was particularly worried about the performance art piece, that it wasn't going to play.
DK, We only added that Berlin scene change to the design. I realized looking at the design that for every stop on Youth's journey we had a visual moment to support the location he found himself in. When we looked at the design again for the Broadway production we felt very strongly that we needed to support the journey to Berlin with a physical gesture—we did not in any previous version of the show. We made the top of the entire back wall lift up to reveal a very cold stark horizon line that became a representation of Youth's interpretation of Berlin. We investigated many other ideas while reconceiving the show for Broadway. At one point we had light bars moving upstage and downstage and the clip lights swinging overhead—
OE Out over the audience and stuff.
DK It felt like it was never going to work. I didn't feel like it was our show—everything that Annie was doing from Sundance through rehearsal, making not a "play" but a four track album. A band track, over a dance track, over an acting track, over the music track. The design of the show could not be made up of false "scenery." Whatever we put on stage had to support this notion of "real." You often have to explore bad ideas in order to really get the good ones.
OE One of your great strengths, David, is that you always subject ideas to rigor, stripping them down to only what needs to be there. If I were to pick one word to characterize your work, I would say "elegant." There's nothing in excess; you've thought it through to the cleanest expression, the core idea.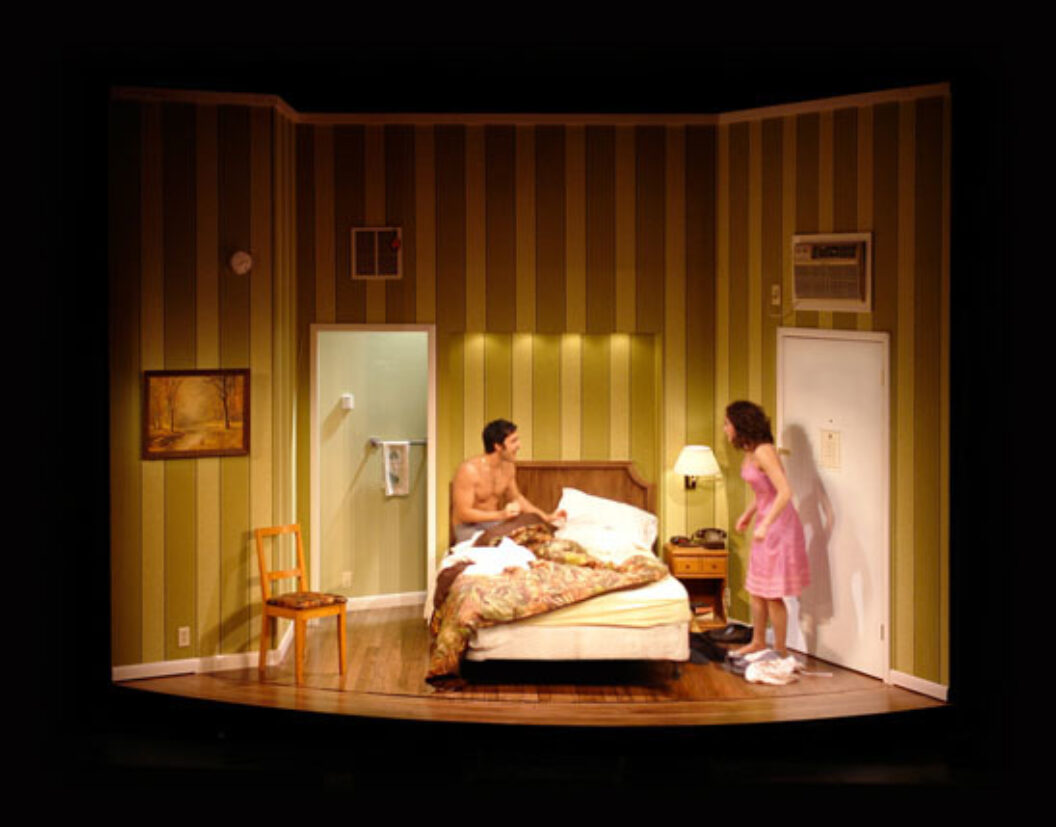 DK I'm thinking about Durang's Why Torture Is Wrong; that wasn't necessarily a set that was stripped down to the bare minimum. And yet, when you think about creating the world for Durang, zany things happen that make the set zany. And you have to fight against that. The play starts with a weird thing. The protagonist wakes up next to someone she doesn't know; during a wild night out, she married him. You want to cut against that. So that's a set that had a lot of scenery—each room was well appointed and accounted for. The details were dramaturgical and emotional background. That's how I work on a play: I read it and literally ask myself what is the least amount of furniture, props, or dressing I need in a room in order to play the scene. Like here we are sitting at a table with two chairs and a tape recorder. Nothing else. Does anyone enter? If no one enters, you don't need a door. I start that way.
OE See, what I particularly loved about Why Torture Is Wrong is how each of those rooms provided the stable bourgeois surrounding within which insanity was happening. The rooms weren't insane. Even the butterfly collection in the attic, which was all guns and knives, looked like a real collection of guns and knives. It needed that bourgeois grounding. But more importantly, by the time you reach the end of the play, what remained was the one idea: the turntable.
DK Yeah. All of the sets revolved on a turntable.
OE As an audience member, it seems like a functional solution—which it is. But at the end of the play, when she walks back to redo the play, to erase a story that has gotten too ugly, she walks backward through the set as it revolves, through each of the rooms and it's at that moment that the functional solution is lifted up to the level of idea. Everybody talks about that moment. And they all think that Durang wrote it. They don't realize that that was actually yourset, doing dramaturgy.
DK Durang writes, "She goes back in time; we hear a sound effect." The solution was so successful, the turntable feels like it's inherent in the play.
OE Who's ever going to do the play again without a turntable? That's now written into the iconography of the play! You saw it, nobody else did, you pulled it out and said, "This is the physical space that would most fully realize this play."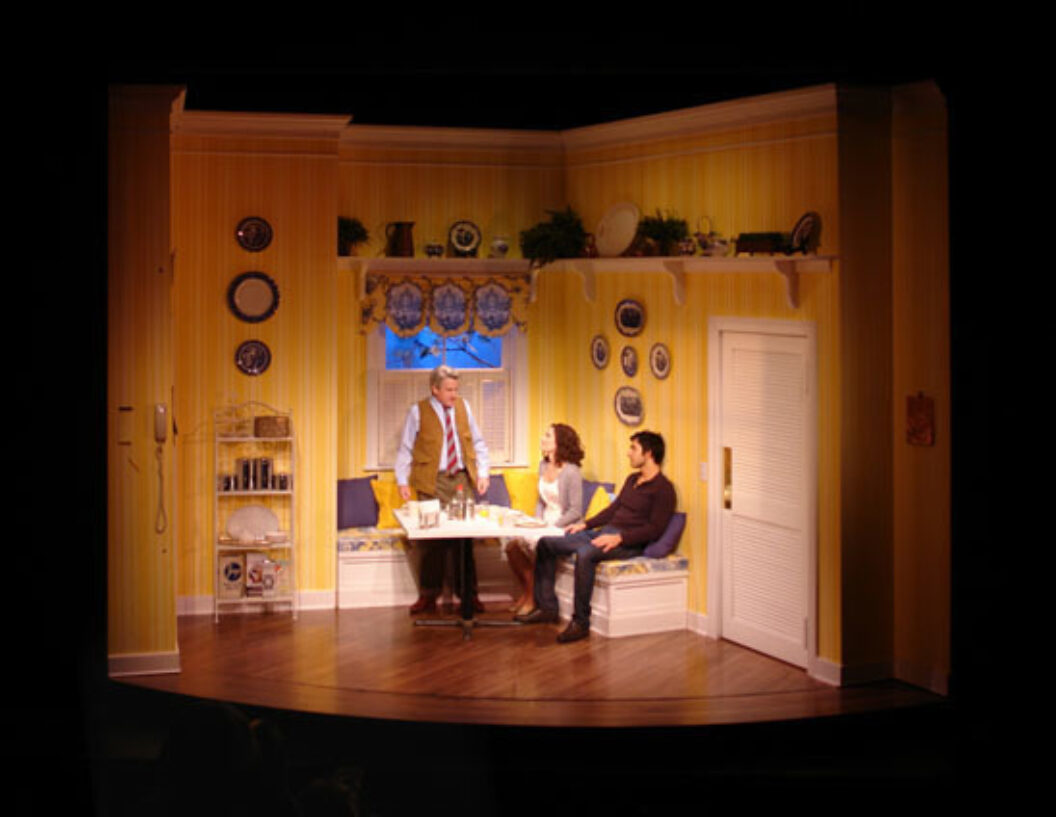 DK It's bizarre because people are always asking me about the process. "How do you see a play; how do you read a play?" The first time I just let it wash over me, like a meditation. Then I do a scene breakdown to figure out what is the least amount you need in each scene. But for that particular show—maybe Jupiter aligned with Mars—I sat down and drew it. Usually we pore over research, do countless sketches, ruminate, torture ourselves, and build an ungodly amount of rudimentary scale models. For Hamlet I think we had 20 iterations of not just ideas but ground plans and finally models. We talked and talked and talked. That Durang play was one drawing. Which was great because we didn't have much time to do it. But of course there's that petrifying moment where as the designer you have to present it to the artistic, producing, and technical staff. I've now worked here at the Public six or seven times and each time I go in hoping that the producer and playwright will like what I present. Then you have to ask, "Can we afford it?"
OE What if you can't?
DK I'm getting better, learning to cheat things, how to remove flourishes that don't matter so much and substitute or compromise material choices. But I'm not sure that I've ever gone to a place that hit such a breaking point financially that we couldn't find a creative workable solution.
OE For Why Torture Is Wrong we had to find an existing turntable to afford it, and that meant shaving three feet off of the stage, but you were willing to make that compromise.
DK Yes, we added a stationary section to the turntable—it was a kind of shared forestage. In the beginning I was resistant to it because the whole floor wouldn't move as the turntable rotated, therefore forcing me to choose one floor treatment that could be shared by all the rooms as opposed to having a specific floor treatment for each room. I felt like it was going to ruin the "completeness of the room." But that compromise got us six rooms moving all at once. Jim and Ruth just said, "If you want it—"
OE "This is how we can do it." Ruth Sternberg, our production manager, has been with me for 15 years now. We were together for a decade in Providence before I came to New York; I brought her with me. I love her because she is irascible; you have a production person with a personality you must cope with, but the heart of her is that she loves the work. She wants to do is figure out how to realize the artist's vision. She is never just trying to make it easier on her staff. What she believes in deeply is trying to figure out how to deliver what you're seeing. Maybe we can't deliver it the way you think we should deliver it, because we can't afford it, but there must be another way.
DK She asks so many questions: "Tell me about the idea, what's the effect you're going for, what's the broad stroke gesture, where's it coming from, where's it going, what do you want the audience to take away from it?" Ruth doesn't stand in the way of the process. Having traveled around this country and worked with several theaters in the city, you guys have a lot of continuity in your staff. What are they feeding off of? How can they reinvent themselves with every show and season?
OE Everything is improvised at its core, because it's about making a work of art, and making a work of art always involves improvisation. You can't put new wine into old bottles. People stay here because they thrive on never having to do the same thing twice. New work means that you have to come up with new systems. People stay here because they believe that; it's not boring, it's worth it.
As a designer, what are the problems you run into going from one space to another, going from one organization or institution to another?
DK The first thing you have to think about is the actor/audience relationship. Something happened to theaters in the '50s, '60s, and '70s; they built terribly ill-conceived theaters everywhere. But it's not about the weird shape of the stage or the strange acoustics or bad paneling. It's about the actor's physical and spatial relationship to the audience. My job is to create environments that people move through, that they experience and react to. Whenever you move a play to another venue, I try to think what we're going to mess up by moving it or what we can capitalize on.
Passing Strange at Berkeley … Berkeley is one of those strange-shaped spaces and is very intimate. The space it was going to at the Public is similar in shape but more symmetrical and equally intimate. You have to maintain the energy of the show regardless of the venue. I spend my days using crazy spatial stage tricks to my advantage. If I lower a ceiling, it is going to create more tension to a moment. If I alter the proportion of something, that's going to create a strange reaction—not just from the characters, but from the people watching the action. When you alter the architectural standards, play with color, texture, angle, or perspective, you see how uneven playing surfaces do strange things to people—you start to be able to control the overall outcome of a situation. If you want the audience to feel comfortable, you give them a lovely, comfortable space. If you want them to feel uncomfortable, you don't. With Hamlet at the Delacorte in Central Park, we didn't know how to solve the problem that nature lights the first half of the show. How do you make a play where people are lurking around corners and listening in on the conversations in a dark, moody, rain-filled world, outside?
OE During sunsets in Central Park!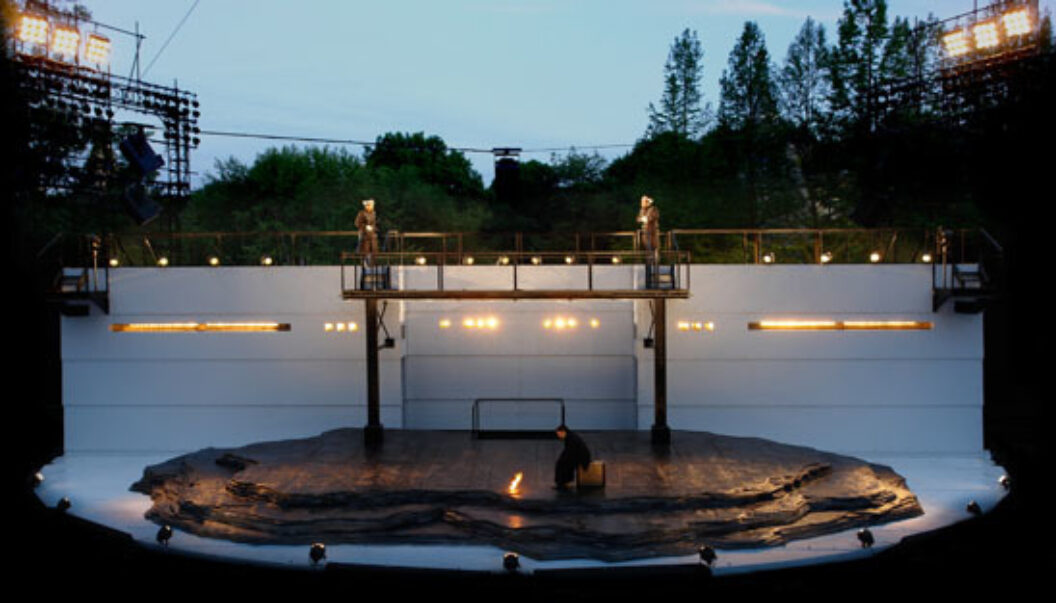 DK We made the decision to paint the lion's share of the set white. The white coat of paint could represent the kind of Marat/Sade insane asylum quality of what is happening for Hamlet. Or could it be the coat of paint that the new regime puts over the recently deceased king's kingdom to cleanse it of his rule? What you and I do is closer to psychology than anything else. I sit there and think: What was this room five minutes before this play started, or when it was built, or 50 years ago, and what will it become? It's all about psychological situations: Whose space is it, who is in control of it, who owns it, who deals with it? To me, the deeper and richer those stories can be, the deeper the emotional landscape you can explore in the design.
OE That's really interesting.
DK Like clearly the living room was the mother's room in Durang's Torture; she decorated it. The butterfly room was the father's room. The script describes the butterfly room as upstairs in the attic. We could have gone with the exposed stud wall, installation version of an attic, which is very scary and weird if you know he has guns and knives hoarded in there. This might be where your mind wants to go first because a weapons collection is menacing. We thought when they built the house, the original intended use for the "attic" was for it to be finished, painted, and furnished as a guest bedroom. And then the father said, "Now I'm going to make this my den." And he painted it green, filled it with boys' club oddities and accoutrements and a boys' club was born. After 9/11 he put a lock on it and filled it up with munitions and the "butterfly room" came to life. We thought it would be a better choice to cut against the idea of this spooky and eerie collection being created under a bare bulb in an unfinished attic; we wanted to have an evolution of the idea make for a less on-the-nose discovery. It's funny because some playwrights write knowing exactly what the room looks like. Chris Durang is more concerned with situation and in-the-moment ideas, not so much how the person got there. But I like to ask those questions. So if the playwright is living, all the better. I get them on the phone and I say, "What's on the bookshelves in the room? What does she have on the walls of her apartment? Tell me what she does for a living." How can you write a protagonist and not know what they do for a living?
OE It's what Aristotle said about character being the habit of action. That suits drama, because all we're really watching is what people are doing.
DK But meanwhile, you're a director. You've got actors asking you things like, "What is my motivation?" You have an actor saying, "Okay, I know that I wake up in bed with a strange man…" but you've got to tell them about the psychology, right?
OE What you need to tell them depends on what the play is. And to a certain extent, it depends on the actor. Only certain actors benefit from constructing a detailed backstory. Sometimes you want to do that as a rehearsal process to vivify or make the backstory happen so it's present for them. An awful lot of your job as a director is to try and separate what is vital from what isn't vital. And for the vast majority of plays, there's actually one thing that's the central action of the play, and it's absolutely vital that you make that happen. Emanating out from that central principle are different degrees of other decisions that don't matter as much. Every mistake that I've made as a director is one of two kinds: I have either held too tightly to my idea when the idea was not central and I should have let it go and been more flexible, or I've not held tightly enough to the central idea and wavered where I shouldn't have. This concerns dialogue—with a producer about how much money you need, with a designer about what it should look like, with an actor about what's going on in the scene. Knowing the core thing that has to happen versus the peripheral things that you can negotiate is the toughest part of directing. When you get it right, it's beautiful.
DK Are you aware of this as you're doing it?
OE At my advanced age, I think about it all the time while directing, which doesn't mean I always make the right decision. On Hamlet, a specific example is the decision to begin the show with "To be or not to be?" I should have put it back where it "belonged," where Shakespeare originally had written it. In that rehearsal process, I should have said, "That's enough." The fact that I have a strong intuition about this is good enough. It doesn't matter what anybody else thinks. If I had set that tone for how I went about making decisions, I would've had a Hamlet that would've been a pure expression of what I wanted to say about that show. We did that process beautifully in working on the set. I loved the way the show looked. What I honestly think, David, is that you're a fantastic collaborator. The ferocity and the rapidity of your ideas, the way you talk and think, where you try this idea and that idea, is coupled with a real willingness and eagerness to participate in a dialogue. We really talked, and what we came up with was something that neither of us thought of in the beginning. That white wall and the upper platform and that eternal flame opening up to the park—that was great. With the acting company, I was not as fierce about defending my point of view; I was a little too eager to get everybody's buy-in. I loved the show, but sometimes you're only aware of these things after the fact.
OE Why does that happen? You were pretty iron-fisted in our meetings—I mean, you were incredibly collaborative, but when you found something you loved, we kept it, and built from it.
OE The honest answer is that in the realm of Shakespeare, I am capable of feeling like I don't know what I'm doing as a director. I don't ever feel that way with a new play. I've been doing this for 35 years. But with Shakespeare I'm capable of an intellectual insecurity which is completely false and ludicrous. Under the pressures of doing Hamlet in Central Park at the Delacorte, that energy crept into the room. It was an interesting lesson.