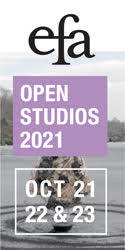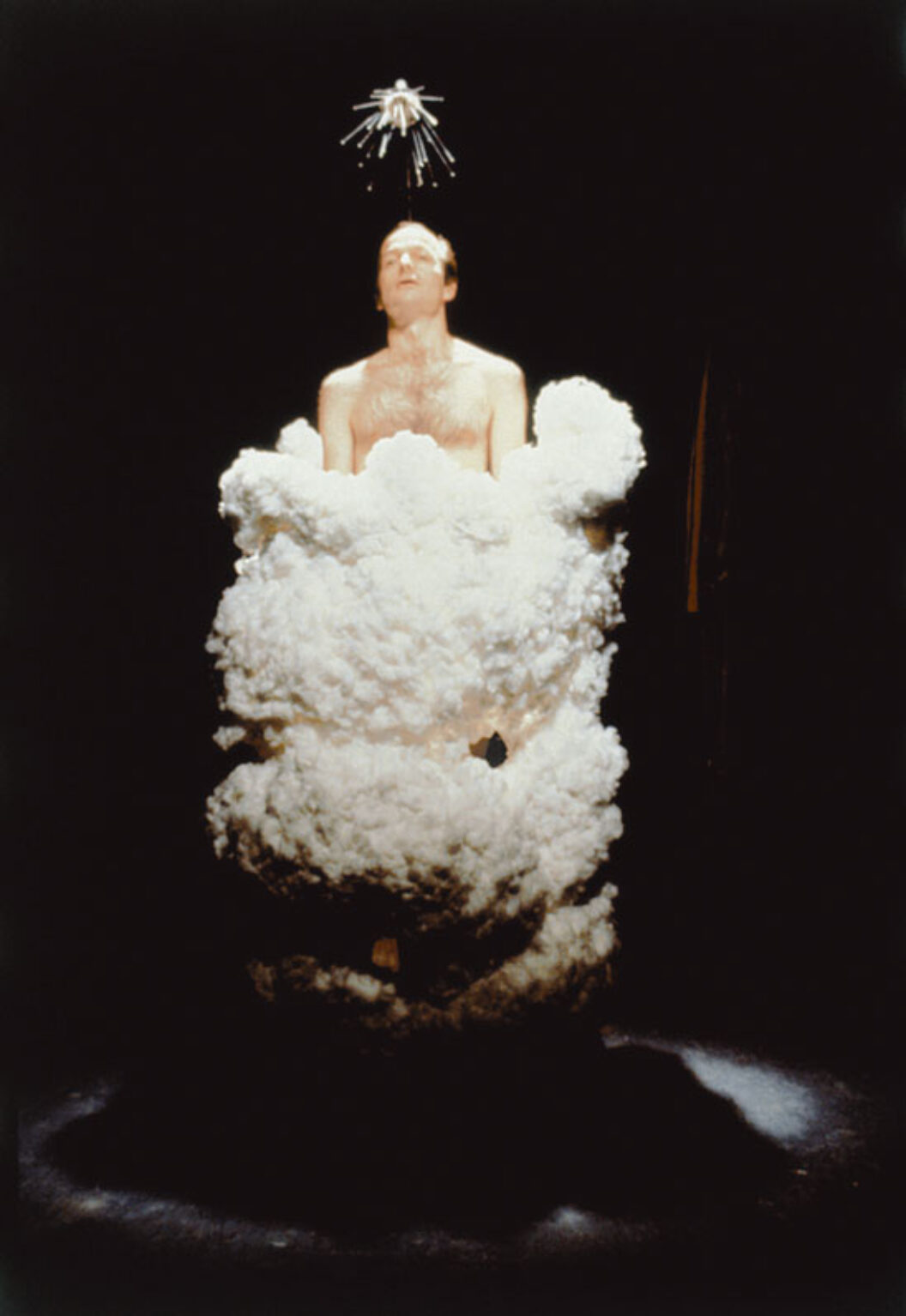 Even among that vibrant flock of downtown New York performer-playwrights (Wallace Shawn, Eric Bogosian, Holly Hughes), David Greenspan sticks out as a rare bird. As an actor, he can swan around the stage with epicene flourish, while his sparrow-like frame and querulous face allow him to play "smaller" characters. Then there's that odd warbling voice: the high-pitched laugh he exploited as Harold in the 1997 revival of The Boys in the Band (it was the curtain closing button of Act I), the nasal nattering of the theater critic in Kathleen Tolan's The Wax at Playwrights Horizons (2000), and the lewd hissing of his den mother-cum-madam in Richard Foreman's 1998 Benita Canova (for which Greenspan won an Obie). He always surprises me as an actor: I expect him to elbow the audience in a self-referential or campy sort of way, but he never does.
And then, of course, there's his writing. Mischievous with sometimes perverse hilarity, eerily dark and—my favorite Greenspanian quality—rippling with liquid language, many of his plays (e.g. Dead Mother, or Shirley Not All in Vain, the Joycean Principia and his newest, She Stoops to Comedy) refer and defer to theater history. I like it best when he's performing his own work. My first experience of Greenspan's theater was watching him in Dead Mother at the Public Theater in January 1991 and I was struck by how he could make his textual gymnastics seem utterly… honest. No tricks, no winks and nudges—all of it straight from his heart. In the words of a very different David (Mamet), "It is the writer's job to make the play interesting; it is the actor's job to make the play truthful."
Steven Drukman I've been telling people that I was going to have lunch with David Greenspan, and some of them said, "Oh yes, David Greenspan, the actor," and others said, "Of course, David Greenspan, the playwright." I think of you as a "downtown theater and performance personality" myself. Did you come to New York as an actor?
David Greenspan Yes, and acted in plays off-off-Broadway. A couple of years after I arrived I began performing monologues I'd written. I also collaborated with choreographers, putting together dance-theater pieces that integrated monologues, short dialogues and dance. Eventually I wrote scripts that stood independent of dance. And for a period of time I directed and acted in my own plays. For the last six or seven years I've concentrated on acting. She Stoops to Comedy, which premieres at Playwrights Horizons this spring, will be my first play since '94.
SD Wow, how long has it been in gestation or development? Are your plays developed—
DG You mean, are there readings and workshops after which I do a tremendous amount of rewriting? No.
SD Your plays are always quite funny, sometimes absurdist, but there's also a creeping darkness, a sort of scariness. If they spent a long time in development your actors might say, "I don't understand what we're supposed to feel."
DG Well, there are always questions. And sometimes a question points out problems in the script. I have done many readings and they help me get to know the play better. And I get ideas about staging and acting values. I did a workshop of She Stoops to Comedy with the New York Theater Workshop, but the script didn't change much. I do have a play, The Myopia, that I made a substantial change to after a number of readings: I cut two entire acts. It was a very long play, but I found a way to incorporate the essential plot points in a single, shorter act. And I've written a musical theater adaptation of Thornton Wilder's The Bridge of San Luis Rey. I anticipate there will be many changes to that script as it is set to music.
SD There are different processes for writing and adapting, of course.
DG Yeah, though some of the plays I've written involved reading and research. In those cases, I often feel I'm adapting my research. With The Bridge of San Luis Rey it was more about sculpting and abridging—designing a dramatic format for the story that I thought would be in keeping with Wilder's theatrical aesthetic.
What about you? Do your plays change a lot in development?
SD I find that the first draft is up here already (tapping head) and it's just a matter of taking dictation, sitting down and clearing away all the other noise to get it all out. But then I tend to listen, maybe too much, to everyone else when they say, "I don't get this moment," or, "This isn't clear." I'm willing to just cut it. Working so long as a journalist, I tend to believe the "editor."
DG I do talk about my plays with directors and producers in terms of trimming or rewriting. I'm doing a presentation of The Myopia with Melanie Joseph at the Foundry Theatre. She looked in on a rehearsal and proposed some cuts, including one large cut that I've incorporated. I love to cut. Every writer I've ever talked to likes to cut.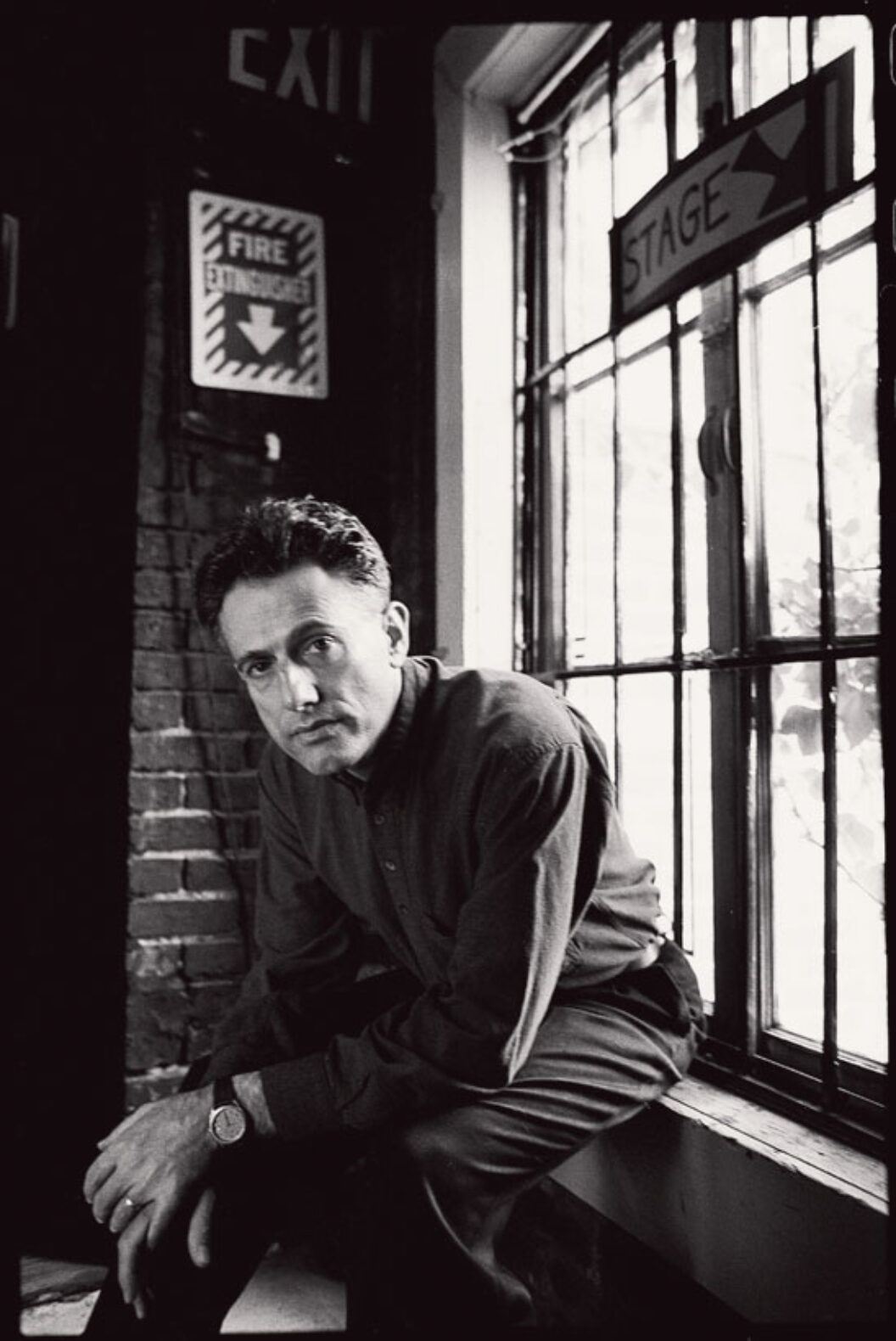 SD Yeah, no matter what, it's always too long.
She Stoops to Comedy seems very much an homage to Ferenc Molnar. Is that what started you in this direction?
DG I had an idea about a woman disguising herself as a man. At the time I'd seen a number of plays and films in which an actress was disguised as a man or vice versa. And I never liked or believed it particularly in film. So I had the idea of a man playing a woman who was disguised as a man—inspired by conventions of the Elizabethan theater. I had heard about the disguise element in Molnar's The Guardsman and read the play. When I started my play, I thought of it as a 1940s- or '50s-style comedy about a vain actress. I didn't specifically set the play in that period, but that was the feeling. As I continued writing the play, it began taking on a more contemporary feel. So I went back to the opening of the play, set it in 1950, then gradually moved it into the present day. And that became a stylistic mode. I would incorporate the process of revising the text into the play itself. If I wrote myself into a corner I would try to write myself out, but I would leave the corner there.
SD That's a good explanation of the play's structure. It would take a sudden turn and I'd wonder, "Am I reading an earlier draft? Will he cut those two lines of dialogue and then go back?" And I'd keep reading and I'd realize, no, this is the play. And then it goes elsewhere, and now this is the play. But your plays often have an elliptical structure. My first experience with your plays was with Dead Mother, or Shirley Not All in Vain, which I saw when I moved back to New York in the winter of 1990–91, and that's a lot like this play, especially in the connections between the characters of Alexandra and the mother.
DG In what way?
SD Well, I see the Alexandra character as a sort of David Greenspan character. That is to say: a woman who would be played by David Greenspan. It's not drag, what you do, ever: it's more like what used to be called genderfuck. It announces that there is one sex here, that of the actor, and there is a gender that is being costumed over that. And that they may not be the same, but the actor is not going to try to play a female.
DG Well, I suppose Dead Mother could have been played in drag, but as the director I chose not to do that. I felt the audience would accept the disguise by my merely taking on the physical and vocal characteristics of the mother. In She Stoops to Comedy, I've tried to incorporate the idea of the disguiseless disguise into the plot itself. A woman is disguised as a man but a man plays that part.
SD Yes, and that's written into the play as a thematic. After a while, gender becomes beside the point.
DG It's about relationships. There are certain things couples have in common—at least the ones I've observed—straight or gay, male or female couples. There are issues of equality and balance. And that's why in the play the dynamics in the relationship between Hal and Eve are similar to the dynamics between Alexandra and Alison; one member of each couple is getting an undue amount of attention.
SD Is the Jayne Summerhouse character a nod to the writer Jane Bowles?
DG That's right.
SD But she's nothing like Jane Bowles.
DG No, it's just a name. With Alison Rose, there was a little nod to Gertrude Stein. Alice and Rose. Alice B. Toklas and "A rose is a rose." Just a little nod for fun.
SD Gertrude Stein seems to be a major influence.
DG I'm not an authority on her writing. I know some of her plays, some of her fiction. And I like her lecture, "Plays," in which she makes interesting observations about the difference between scenes on stage and scenes in novels. And how characters are introduced in novels as opposed to plays. There's a long quote from her lecture in The Myopia.
SD Tell me more about Myopia. It has a complicated structure too.
DG It's a play about someone trying to write a play about his father's attempt to write a musical about Warren G. Harding. There are scenes of the father trying to write his musical and the son trying to write his play, and there are episodes of Harding's political ascendancy. The father's wife—the son's mother—is a giantess; that was inspired by Attack of the Fifty-Foot Woman. In the play, the angrier she gets, the bigger she gets. And she gets pretty angry. And the son, hardened by his obsession with his parents' nightmare marriage, is transformed into an unmoving globe.
SD So Harding is onstage?
DG Yeah, Harding is onstage a few times. Most of his scenes depict his nomination for president.
SD Uh-huh.
DG He was a very crafty politician.
SD And handsome. They always called him handsome.
DG He may have looked conventionally handsome for the period. He was a pleasant man, supposedly, well liked. My interest in Harding was partly sparked by Ronald Reagan. Harding reminded me of Reagan, who on one level seemed a nincompoop, a kind of buffoon, but was a very shrewd politician. The myth is that Harding was nominated by a back room of senators and Republican handlers, but the truth is he had sewn up the nomination through various political machinations. The play bears a resemblance to Dead Mother in that part of it depicts a horror-show husband and wife—the mother and father who fight a lot.
SD I remember the speech at the beginning of Dead Mother about there being too many homosexuals in the theater. I discussed it with Holly Hughes after we saw it. We both love any reference to Paul Lynde and "Hollywood Squares," so you know it's our favorite play. (laughter) She and I taught gay and lesbian plays at NYU.
DG I did that too for a while, gay and lesbian images in the contemporary theater.
SD In the drama department?
DG In the Dramatic Writing Program.
SD Oh, okay. I taught that one too.
DG What plays did you go over?
SD Well, we had to include yours on the syllabus because of "Hollywood Squares." But we didn't know whether we should start with The Childrens Hour or Christopher Marlowe'sEdward the Second. You know that joke: What is a gay play? A play that only sleeps with plays of its own gender.
DG I had my students read Bill Hoffman's essay about gay plays. He distinguishes gay theater from gay plays in a way I find very thought-provoking. My students read The Children's Hourand something by The Five Lesbian Brothers.
SD Brave Smiles?
DG Brave Smiles, yes.
SD You know, it was so mind-blowing, I would assign Tennessee Williams plays and William Inge plays—as much as I was loath to reread Inge—and these kids would have no concept of the idea of closeting in the narrative. Things being suggested but not stated outright. Because where the students are historically, there's no longer any reason to keep that stuff covert. They're much more literal-minded in their readings.
DG I had the students compare a contemporary play to a play from another period. Someone compared Jeffrey to The Boys in the Band. Someone else compared The Children's Hour toBrave Smiles. In both cases, they found the older plays had more to offer.
SD So how did you get to the Public Theater?
DG I directed Kathleen Tolan's Kate's Diary in the studio series at Playwrights Horizons. Joe Papp saw the production and later presented it at the Public. He then saw 2 Samuel 11, Etc., and asked me to be one of four directors in residence at the Public.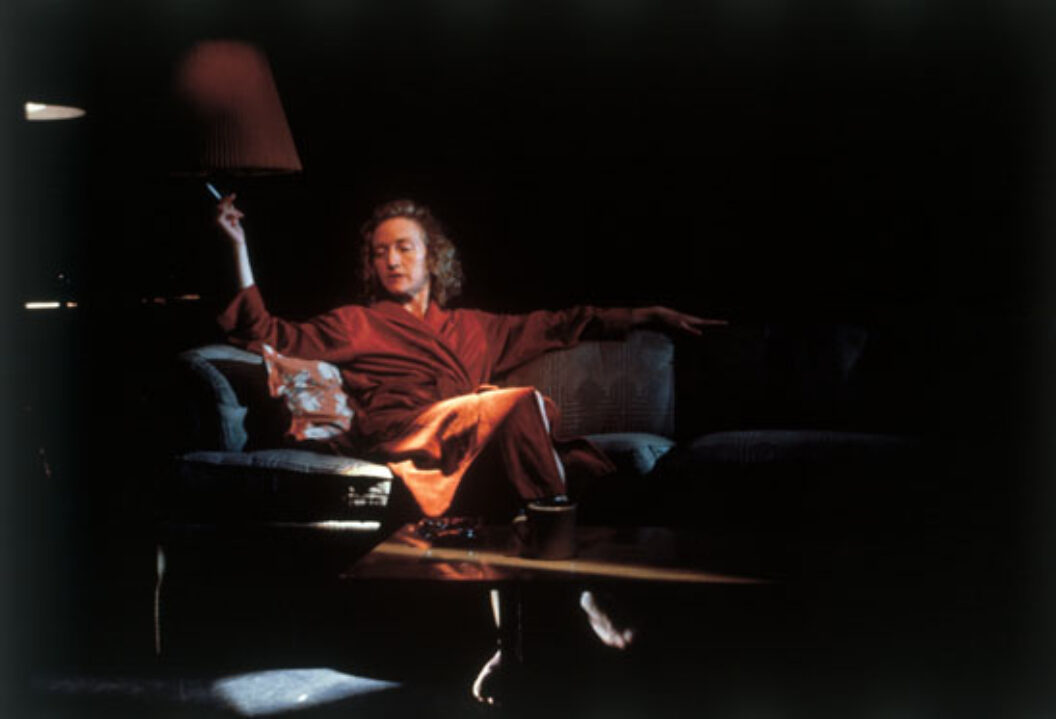 SD It was you. Joanne Akalaitis, Michael Greif—
DG —and George C. Wolfe.
SD Oh, wow.
DG So that's how I got hooked up with Joe. And I was at the Public for two years. It was tough because in hindsight I wasn't qualified for the position. I was in over my head as a director. I felt okay about two of my productions, Dead Mother being one of them. The audiences—or at least a good portion of them—didn't like it, though.
SD Really?
DG And neither did the critics.
SD I wasn't aware of that. As I mentioned, Dead Mother was one of the first things I saw when I came back to New York after almost ten years. When I had left, in '81 or '82, it was such an exciting time for downtown theater. And I remember thinking, Well, if Dead Mother is being done at the Public, then the chickens have come home to roost. Good! But since then the downtown scene has been really fragmented. A lot of air has gone out of the movement.
DG I hear exciting things come out still. I hear Richard Maxwell is very exciting.
SD Yes. I like Elevator Repair Service a lot. The Wooster Group's play last year, To You, the Birdie (Phèdre), was their best in a long time. I like the Ridge Theatre sometimes and Target Margin and Mac Wet Iman and Ruth Margraff—though I'm not sure I ever understand her plays.
DG Suzan-Lori Parks also came out of the downtown world, and she's now an extremely established writer, deservedly so. Mac Wellman was at Primary Stages for quite some time.
SD I guess there's never been a total reinvestigation of the written drama, historically, in the now-mainstream avant-garde. There has been some of that in performance—directorially, I mean—but not in written drama. And the little nudge that has occurred in theater doesn't compare to the seismic change that occurred in visual arts and music and poetry. There's been no wholesale reexamination in drama like there was in art with Abstract Expressionism or in music with twelve-tone or electronic/atonal/serial composition. I think it's because one foot of theater will always be in the world of entertainment, and for that reason Mac Wellman will never be on Broadway. That may be fine, but I also feel disappointment about what could have happened. I thought that what I was enjoying in the early '80s—Yoshiko Chuma, say—would be off-Broadway in the '90s.
DG Do you see that kind of experimentation in other countries?
SD In my limited experience, part of what you see at international festivals is the cream of other countries. It seems to be very daring stuff, visually—maybe because I don't understand the language, frankly. But usually they're not new texts: you'll see a wonderful German production of Peer Gynt in a bowling alley or on melting ice, for instance.
DG Right.
SD Your plays could be called avant-garde, but they're also entertaining. At least, as a writer you never don't want to entertain.
DG Yeah, I like to entertain.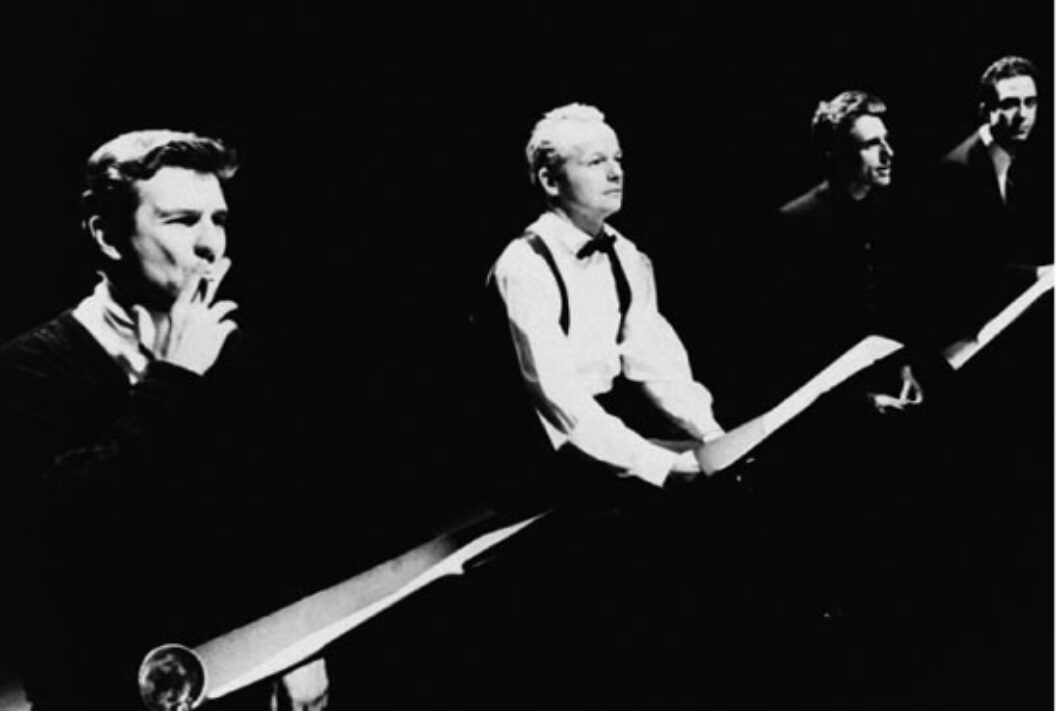 SD Now, are you in Hairspray?
DG I'm covering Hairspray: I cover Dick Latessa and Joel Vig. Did you see it?
SD I saw it opening night.
DG It's a fun show. So entertaining, and so well-performed.
SD Have you written any musicals?
DG No, but I'd like to. I grew up on musicals. When I was a kid there was a radio show,Broadway Showtime, and my father would record the episodes off the radio and I would listen to them over and over.
SD How did you get to do Richard Foreman's play Benita Canova?
DG Joanna Adler and I were in Mac Wellman's Second-Hand Smoke at Primary Stages. She told me that she would be acting in Richard's next piece, and I said I'd love to audition for him. And so she called him and he said sure, and I went down and read for him. That was a very tough play to do. I always thought the acting in his plays was very good, and wanted to work with Richard. But it was very hard—emotionally taxing. I did not anticipate how much of a toll the perverseness of the play would take on me.
SD Yeah. I was in a Foreman play.
DG Which one did you do?
SD It was called Permanent Brain Damage. I didn't actually make it to performance. I have this strange blood pressure problem—it's under control now—but every time I stood up in rehearsal I'd want to fall down. I had to be replaced, which was sad for me, as I have loved Richard's work for so long. I was dressed as a bellboy, with a little cap with a propeller.
DG That's the one in which no one on stage spoke, it was all his recorded voice?
SD That's right.
DG That was a powerful one, I thought, a very vulnerable piece, with his ruminating about getting older.
SD I liked it too. The audition was odd. I went to Richard's enormous loft. He sat in a chair and said, "Take a book off the shelf, sit, stare at your knee as if you wonder if it is raining, go to the window and put your cheek against the glass." And that was it; I got the part. I started writing my dissertation on Richard Foreman, I interviewed him for hours and hours, and I copied reviews of his early work, and then the computer crashed and I lost everything, and my committee decided maybe it wasn't the best topic after all. But I learned a lot about his early life. I'm working on a theory that every playwright is adopted—either literally or emotionally. Maybe I'm hoping I've finally found the right thing to do because I was adopted. But Edward Albee was adopted. Richard Foreman was adopted. Craig Lucas was adopted. William Saroyan was in an orphanage for a while.
DG Well, I wasn't adopted, but I had a fixation on the happy families I saw on TV. I wanted that kind of life, although I was not conscious of the bleakness of my own childhood. In fact, many of the dynamics in Dead Mother are taken from my own family.
SD Is that really what your family was like?
DG Not exactly—though they were very 'vocal.' (laughter)
SD Were you a religious family?
DG No, we weren't. And I'm beginning to feel that was a handicap. I feel a need for religion in my life, and it would be easier to develop an understanding of religious observance had I been brought up with one. On the other hand, I know people who were brought up religiously and have given it up.
SD As anti-doctrinaire as I am, religiously, I am swayed by the idea that there is a religious component to theater. There's a new book about tragedy by the great Marxist scholar Terry Eagleton, and he argues quite convincingly that the cultural left needs to resurrect some theological ideas, and he shows how tragedy does that for us in the theater. And there's something about a life in the theater that is like a life in the church, too.
DG I think my reasons for going into the theater were not so high-minded. It had more to do with escaping the bleakness of my childhood.
SD I tend to fall in love with the actors in my own plays. There's a narcissistic thrill that their work is so focused on your work, that they're saying your words. And it seems so generous that they give themselves over to it. I fall in love with actors repeatedly. Speaking of which, you have had a partner for a long time.
DG It will be 20 years in August.
SD Congratulations. That's an achievement.
DG Yeah, it is an achievement. I feel fortunate to have matured when gay liberation was already well underway. There is still a lot of struggle, but it's amazing how far the gay rights movement has brought us: to a point at which even the Republican president has to be somewhat careful about what he says.
SD Especially considering that Reagan refused to utter the word AIDS. He never said it once. That was only 15 years ago.
DG Yeah.
SD I remember seeing what might be called an AIDS play of yours, Jack. It was at the first—and last—international gay theater festival in Phoenix. I covered it for The Advocate. It took place in a swimming pool and Jack was on a diving board and the other interlocutors, or speakers, were seated near him. It was very moving, their attempt to conjure up this "Jack" through words that keep failing, and how they can't quite describe him adequately.
DG Oh, thanks. I never really thought of Jack as an AIDS play. The play never even mentions AIDS by name. I think of it more as a play about how someone, this man Jack, responds to his illness. And he doesn't respond very well.
SD What are you working on now?
DG I'm adapting a 13th-century Chinese play called The Orphan of Zhao. It's one of the great plays of what's called the Golden Age of Chinese drama. It's about a military general who kills a rival's family. The entire clan is slaughtered except for one infant who is passed off as somebody else's child and is subsequently raised in the house of the general who wiped out the family. When he grows up he takes his revenge. The director, Shi-Zheng Chen, was working on it but was dissatisfied with the translation he had. I had sent Anne Cattaneo, dramaturge at Lincoln Center, a couple of my recent plays. She liked what I sent her and introduced me to Shi-Zheng. He's a wonderful director. And it's such a beautiful play. I'm really excited to be a part of the project.
Steven Drukman's most recent play, Going Native, premiered at the Long Wharf Theatre this winter; his new adaptation of Ostrovsky's Diary of a Scoundrel (titled Flattery Will Get You) was produced at Connecticut Repertory Theater last summer. Other plays include Truth and Beauty and Another Fine Mess. Drukman's articles have appeared in many publications, including the New York Times, the International Herald Tribune, Interview and The Nation, and his is a recent winner of an Alfred P. Sloan Foundation Award. He teaches at New York University.
Originally published in
Featuring interviews with Paul Pfeiffer, Pat Steir, Tom Sachs, Marie Ponsot, Steven Millhauser, Meshell Ndegeocelo, David Greenspan, and Neil Labute.