Making Some Sense: David Byrne's American Utopia Reviewed by Conor Williams
In an American era of death and decline, where does Byrne see the path to utopia?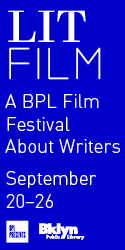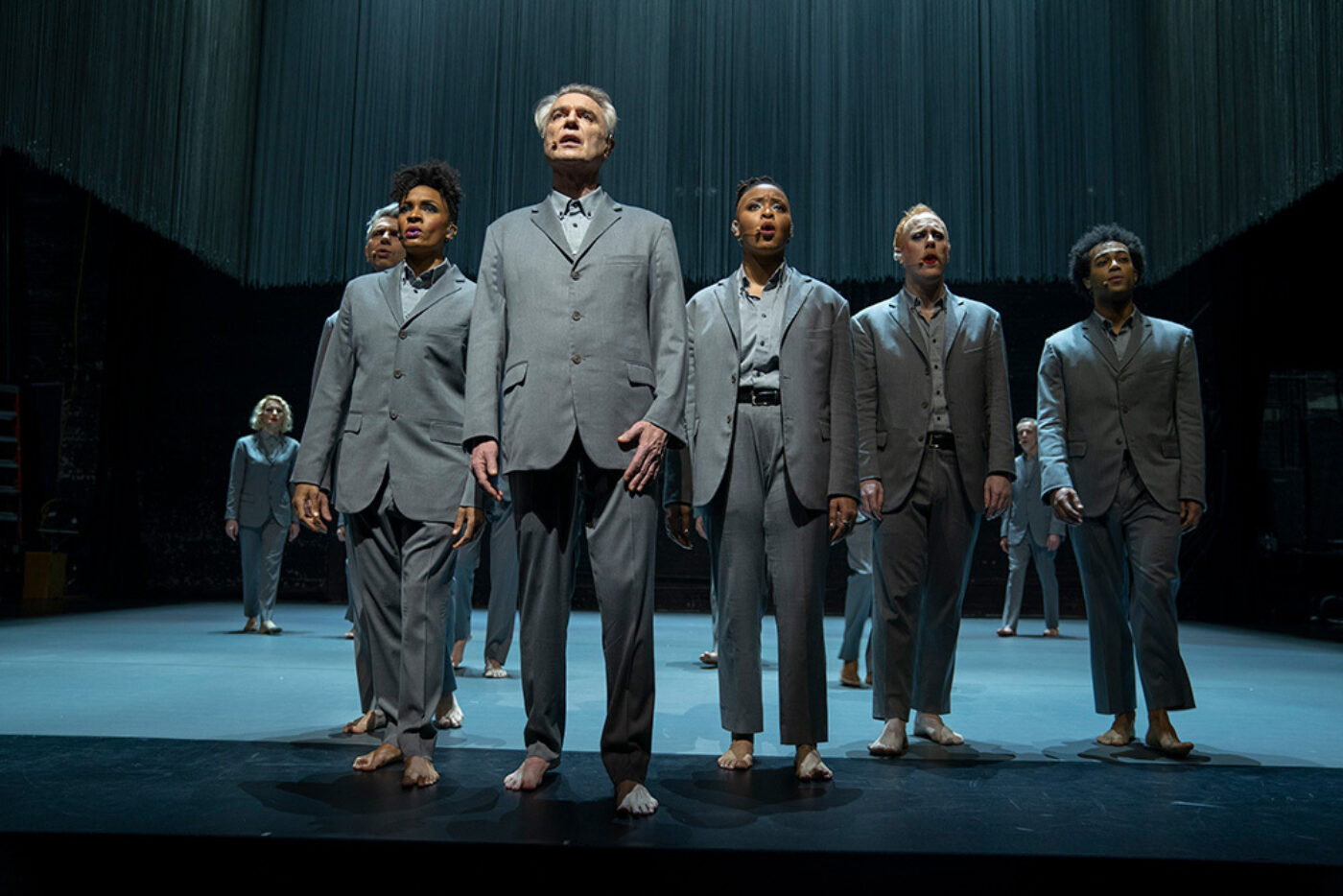 The curtain rises in American Utopia to present former Talking Heads frontman David Byrne seated a table with his usual object of fascination—a human brain. In the song titled "Here," he rattles off its attributes, professorializing, "Here too many sounds for your brain to comprehend / Here the sound gets organized into things that make some sense." Byrne's Broadway show, now documented by filmmaker Spike Lee, is indeed an earnest investigation by the musician to "make some sense" of the world in which we live.
Byrne has always been eager to lean into the role of detached, bemused narrator, perhaps best exemplified by his 1986 feature True Stories, where his character feels ripped straight from Thornton Wilder's Our Town. Observing human behavior from an almost alien standpoint has been a hallmark of Byrne's work. This distance may be less of a character choice and more of an integral part of his design, however, as the singer has recently opened up about his realization that he is autistic. Knowing this, American Utopia then feels extremely personal.
The show is a clear maturation of its obvious predecessor, Jonathan Demme's iconic concert film Stop Making Sense (1984), in which the Talking Heads displayed one of the tightest and funkiest performances ever put to film. "The president's crazy / Did you hear what he said?" Byrne sang back then. Surely, the world seemed to not make such sense in that plague decade, with an AIDS epidemic, war looming, and a Hollywood star in the Oval Office. In another American era of death and decline, where does David Byrne see the path to Utopia? In the connections we make with one another. Clarifying asides come in the form of rattled-off statistics about voter turnout or a reference to America as a nation of immigrants, which never fails to elicit applause from a liberal, wealthy Broadway audience. At times this narration contrasts with the tone of Byrne's material. In one bit of trenchant insight, the musician offers up these profound words: "Climate change? Kids … you're fucked!" before launching into the Brighton Port Authority's sunny electronic dance hit "Toe Jam."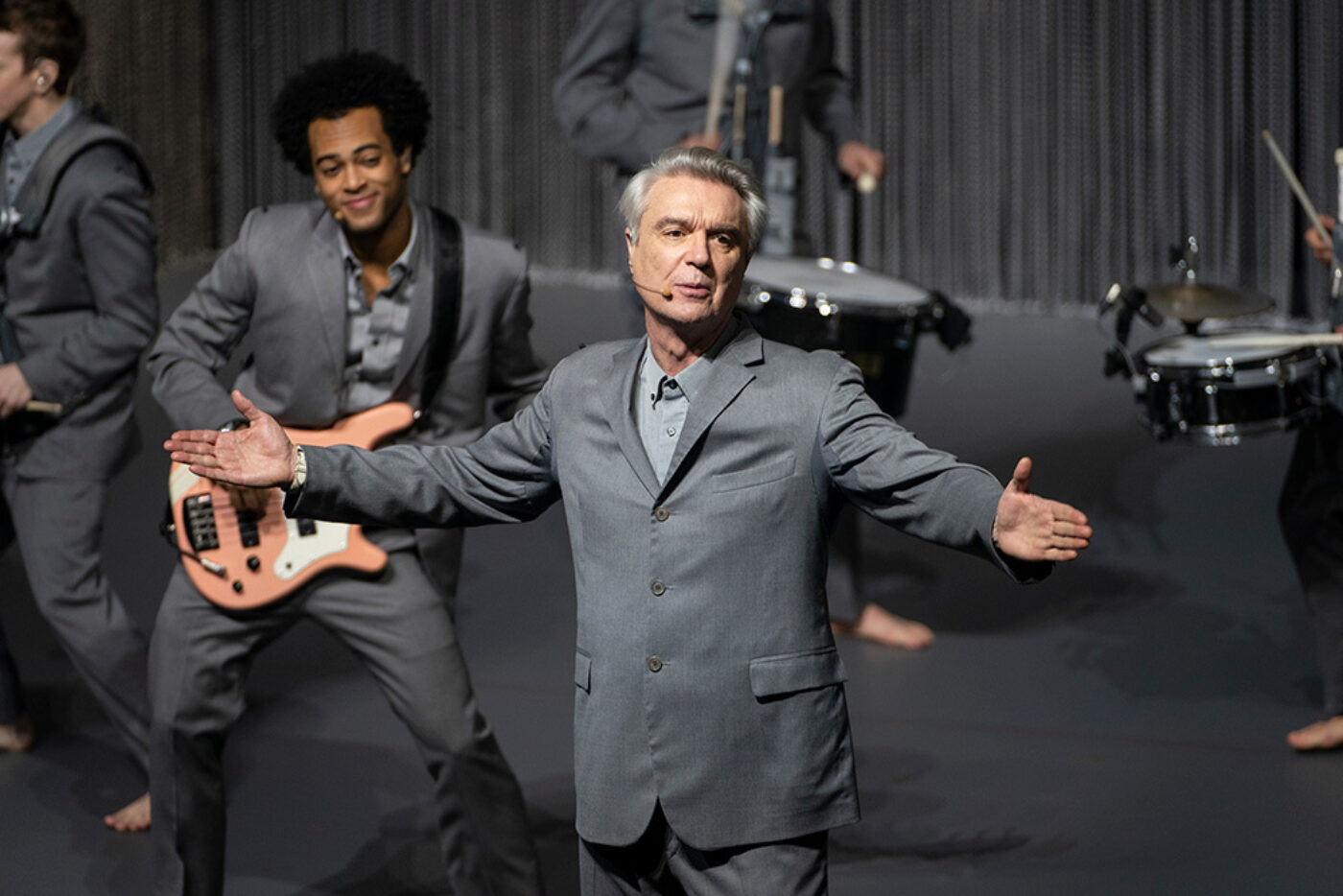 Aside from a few uneven TED Talky moments, the show is mostly marvelous. Byrne, for one, has never sounded better—his voice is clear and strong. The barks and yelps that he'd let out on various Talking Heads songs return here in an unbridled release of joy; in some instances, he even seems to be scatting. His accompanying band of eleven ecstatic performers deftly juggles harmonies, sleek choreography, and energetic solos. One of the show's shining moments is a cover of Janelle Monae's Black Lives Matter anthem, "Hell You Talmbout," in which Byrne and the band implore the audience to say the names of Black men and women who have lost their lives to the beast of white supremacy. Here, in a rare moment, Spike Lee interjects a montage of women (presumably the victims' mothers) holding large portraits of the song's subjects. Confident renditions of Talking Heads classics "This Must Be the Place (Naive Melody)" and "Burning Down the House"—bound to inspire enthusiastic honks at the New York Film Festival's drive-in screening—keep the show's electricity crackling, alongside some of my personal favorites such as "Don't Worry About the Government," the Dadaist nonsense anthem "I Zimbra," and the St. Vincent collaboration, "I Should Watch TV."
As someone who saw American Utopia live during the Before Times of January 2020, I can assure those who may be feeling nostalgic for the physical thrill of live performance that Lee faithfully captures the show as it was. His camera bestows a coveted on-stage access, cinematographically performing a dance of its own amid Byrne and company.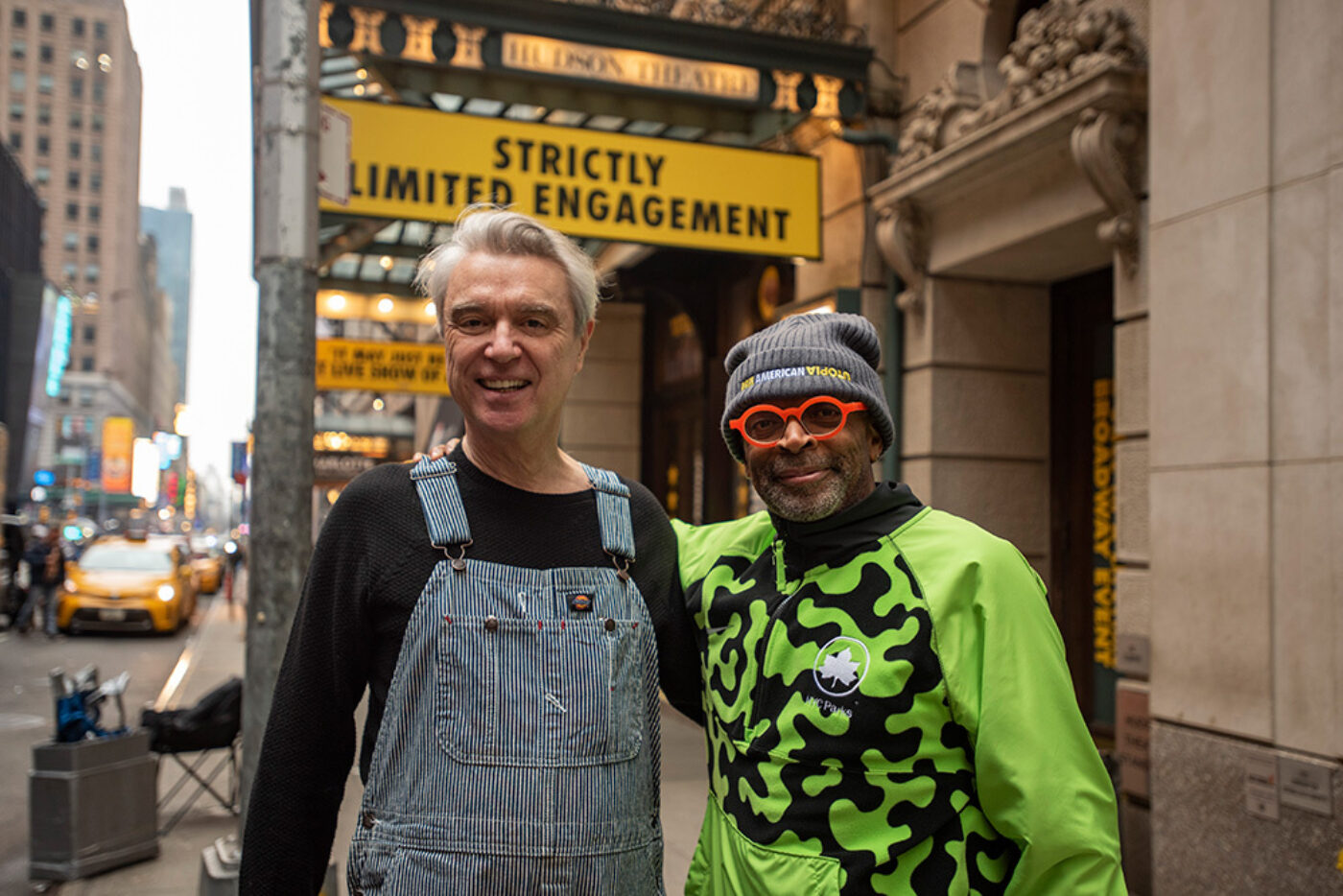 At the show's close, we follow Byrne and the band hurriedly backstage, as the musicians laugh and hype each other up after another night of giving it their all. Before they hop on their bikes and head into the frigid Manhattan evening, Lee cuts back to the emptying house for one final, confounding image—that of a dazed, stoned-out audience member gazing up toward the theater ceiling, whispers of something (my guess, more Dadaist poetry?) inspiring his lethargic, individual dance among the chatter of theater-goers.
While Byrne's idea that we will reach this American Utopia through electoralism may feel naive, given what's unfolded since its conception, his optimism is certainly infectious, and as a performer, he's at the top of his game. After all, as the saying goes, "If I can't dance, I don't want to be in your revolution."
David Byrne's American Utopia will screen during the New York Film Festival at the Queens Drive-In on October 3, the Brooklyn Drive-In on October 4, and the Bronx Drive-In on October 7. It will also screen online October 4–9.
Conor Williams is a writer and filmmaker living in New York City. His writing has been featured in Interview and Slate, as well as other sites. His 2018 short film Water's Edge received the Adolfas Mekas Award.