David Antonio Cruz talks about his journey from performance to painting and his new opera, TAKEABITE.

Discover MFA Programs in Art and Writing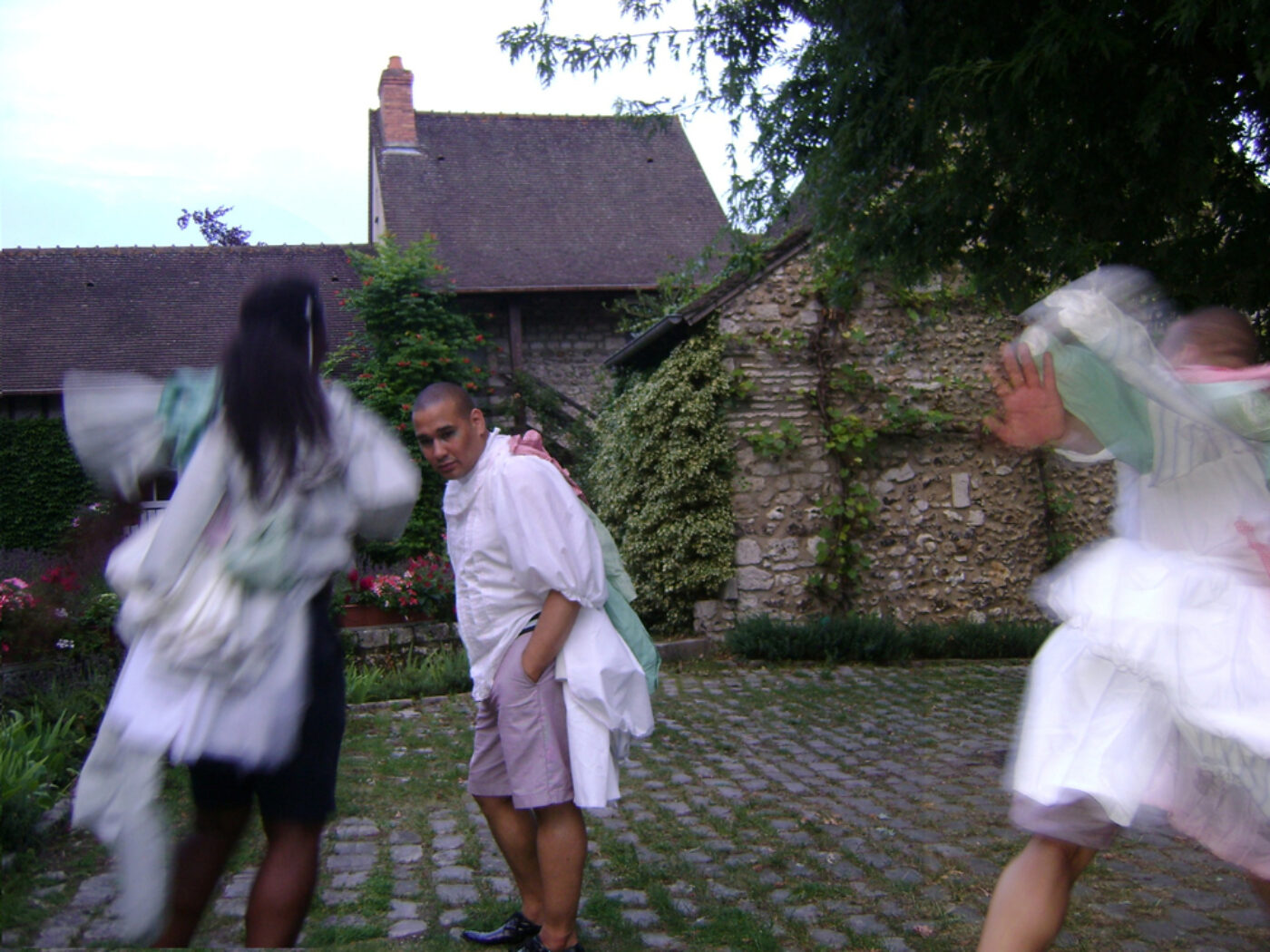 I met Brooklyn-based multidisciplinary artist David Antonio Cruz a couple of years ago when he presented a series of candy-colored paintings exploring myth, magic, and possibility called flybabyboyfly. His ability to fuse video, costume construction, performance, and painting to explore and redefine queerness, diasporic, psychological and ever-shifting unnamed spaces is impressive. This month, he will take his practice to a new level by participating in Performa 13, the performance art biennial held in New York. Cruz and I met recently over coffee to talk about transforming the multi-media work TAKEABITE, elduendealwaystravelslight into a grand opera.
Lee Ann Norman How long have you been in the city?
David Antonio Cruz I grew up in Philadelphia. I moved to New York almost 20 years ago to attend Pratt—I knew I wanted to stay in New York. After I finished, I started to teach because I knew I needed to survive. (Laughter)
LAN Yeah, that's the way it works out sometimes…
DAC Right, but I planned to stop. I started performing—funny because I'm known as a painter, but after I finished school, I started out performing. I had to stop, though. It was taking a huge toll on me. I felt like I was working things out, but it wasn't what I wanted the audience to see.
LAN You were teaching, but when you were teaching you weren't making paintings? Is that right?
DAC I created an informal performance group at Middle School where I was teaching art, and that actually led to the work that I'm doing now. I was creating costumes, but they were never for my personal work. When I went to graduate school, all of those aspects of my work came back. I started leaning on those experiences I had making productions, costumes, etc. At the time, I didn't think of them as my personal work, but now, I am able to present it to a different audience and can think about it as gallery work. Last year I brought those two worlds together when I had a group of kids perform one of my pieces for Art in Odd Places.
LAN I saw that one on your Vimeo. It's great—you got these little steppers on one corner, singers on the other … (laughter)
DAC They were facing each other on opposite street corners. I created cues for them to begin each section. Then they would stop, march to the next corner, cue each other, and begin again. It was really wonderful. After two years of creating small performances, I started painting again. I really wanted to focus on the painting part of my practice. I also started to focus on my body… putting myself in the center of the work… it was about me working through feelings I had about my relationship with my father. At the time, I was coming out—well, I was out already, but I was coming to terms with how I saw myself. I started thinking about my relationship with my father. The work was tough, intense. I was making these self-portraits that a professor described as car crashes—
LAN Car crashes?
DAC I loved that descriptor (laughter), but he didn't mean it in a good way. I took it as a positive. It's impossible to walk by a car crash and not look, right?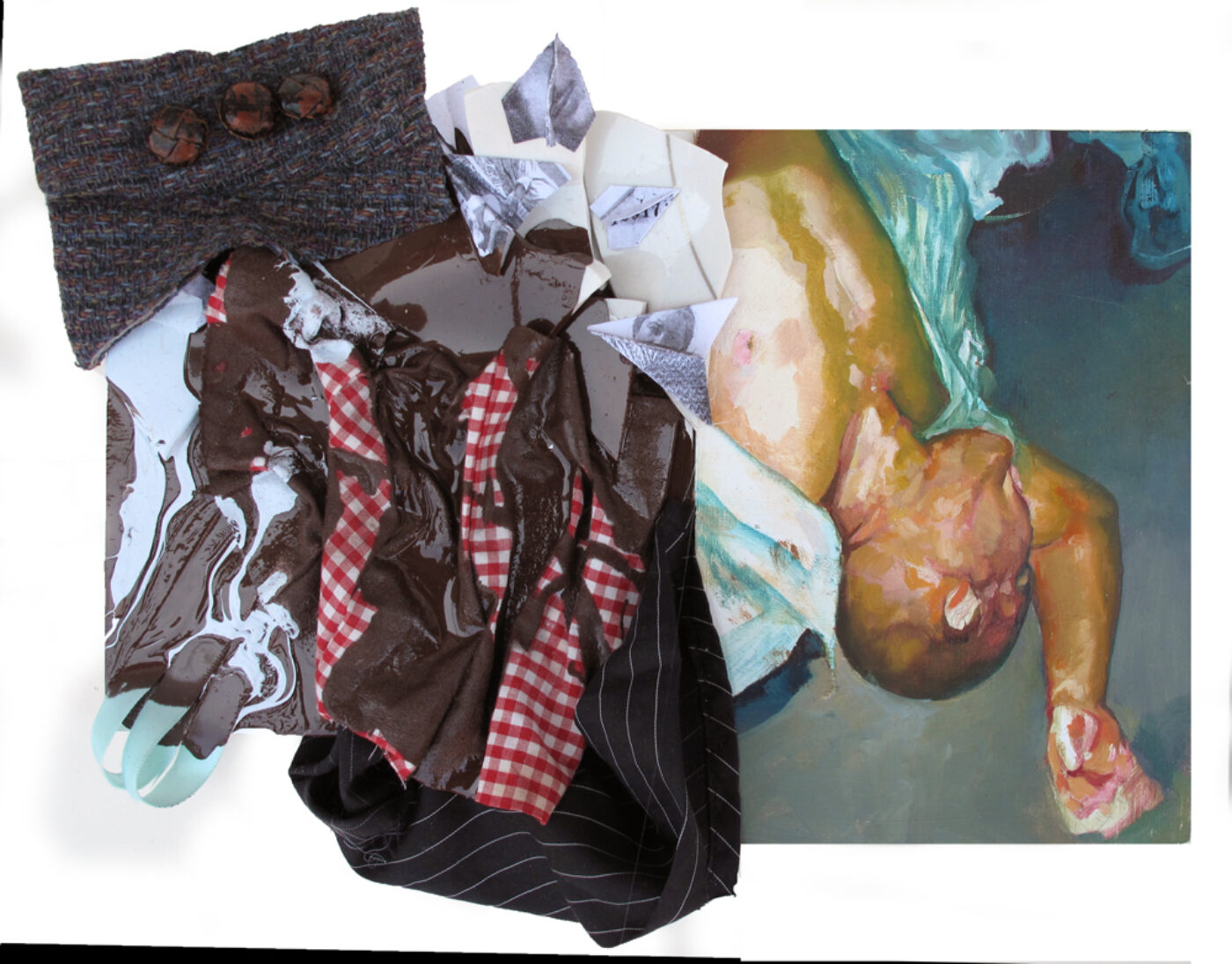 LAN As an art critic, I want that—I want a work to make me stop, like I have to look at it… I want to linger. So likening your work to a car crash is a compliment.
DAC The worst thing for an artist is to have people walk by and not look at the work—forget about processing it. One of the last pieces I showed from that body of work is called The Puerto Rican Pieta(2006), at the Tropicalisms exhibition, curated by Rocio Aranda-Alvarado at the Jersey City Museum. During that opening, a guest got very angry and yelled at me. He was very religious and was offended by the painting, which I can understand. That work pushed buttons. I've become sensitive about how a viewer reads my work. That work made its point, but I wanted to make sure that viewers were engaged in a different way. In about 2006 things changed—I got into Skowhegan, I quit my job, took that year off, and then I got into Yale for graduate school, took a huge risk, and it paid off.
I took myself and the figure completely out of the work. It took about a year and a half for me to understand that I was interested in the relationship between space and the body. I started making sculptures made out of candy—it was a hot mess… sugar everywhere! It was fun—viewers were allowed to eat the pieces, and I would even work with things I was allergic to.
LAN It seems like even though you wanted to get away from this body-based work, in some ways you couldn't escape it.
DAC I didn't want to explore the representation of the body anymore, so I shifted the [site of] desire from skin to a different place. While I was at Yale, I also started working in video. I made this video called The Piano Piece (2008-13)… did you see that?
LAN Yeah, it's on your Vimeo.
DAC Did you watch the whole thing… ?
LAN Yeah. (laughter) And I was like, Okay, I'm gonna stick with this!
DAC Oh wow! (laughter) I commend you. Sitting through the performance and watching the video is quite a different thing. I remember Peter Haley telling me that I should consider taking a video class after I made this and think more about how I was documenting my performances. When I gave instructions to people recording my performances, I didn't really prepare them. I just told them to film it like they were a viewer: Don't intrude, don't stop me, but that's it. Traci Tullius was coming to teach an undergraduate class—I knew her from New York. I asked her if I could take her class. She allowed me to, and my first assignment was crappy. (laughter)
By mid-semester, I went to Washington and shot He Knows I Been Friends with the Juju (2008); that became my first serious project. I was doing a lot of research on temperate rainforests and that fueled my interest in that space we can't name. Later, I started to think about a queer space that's ever shifting, about my parent's history in Puerto Rico and the mainland, and what happens when you're a first-generation kid trying to negotiate these two spaces while trying to get your footing, but not really being of one or the other.
I asked a good friend to come with me, I brought my costumes, some boots, my camera, and a raincoat, and we took off. We didn't know anybody, but it was one of the most wonderful experiences I've ever had. We were around all of these reservations, and I thought, I really need to consider what I'm doing and think about the space here. I knew I wanted to dance in the space, so I started researching the Native American tribes in the area. I looked at Native American warrior dances, Zulu dances and the Puerto Rican Plena—all ritualistic dances that place an equal focus on the movement, chant and clothing. I started thinking about fabric in relation to the body… from that moment, I felt like my work completely changed. I was at this place where I was enjoying painting, performing, and video, so the question became how to tie them all together. Now, when I think about TAKEABITE (2012– 13), I think about the whole thing from the paintings to the video and sound pieces…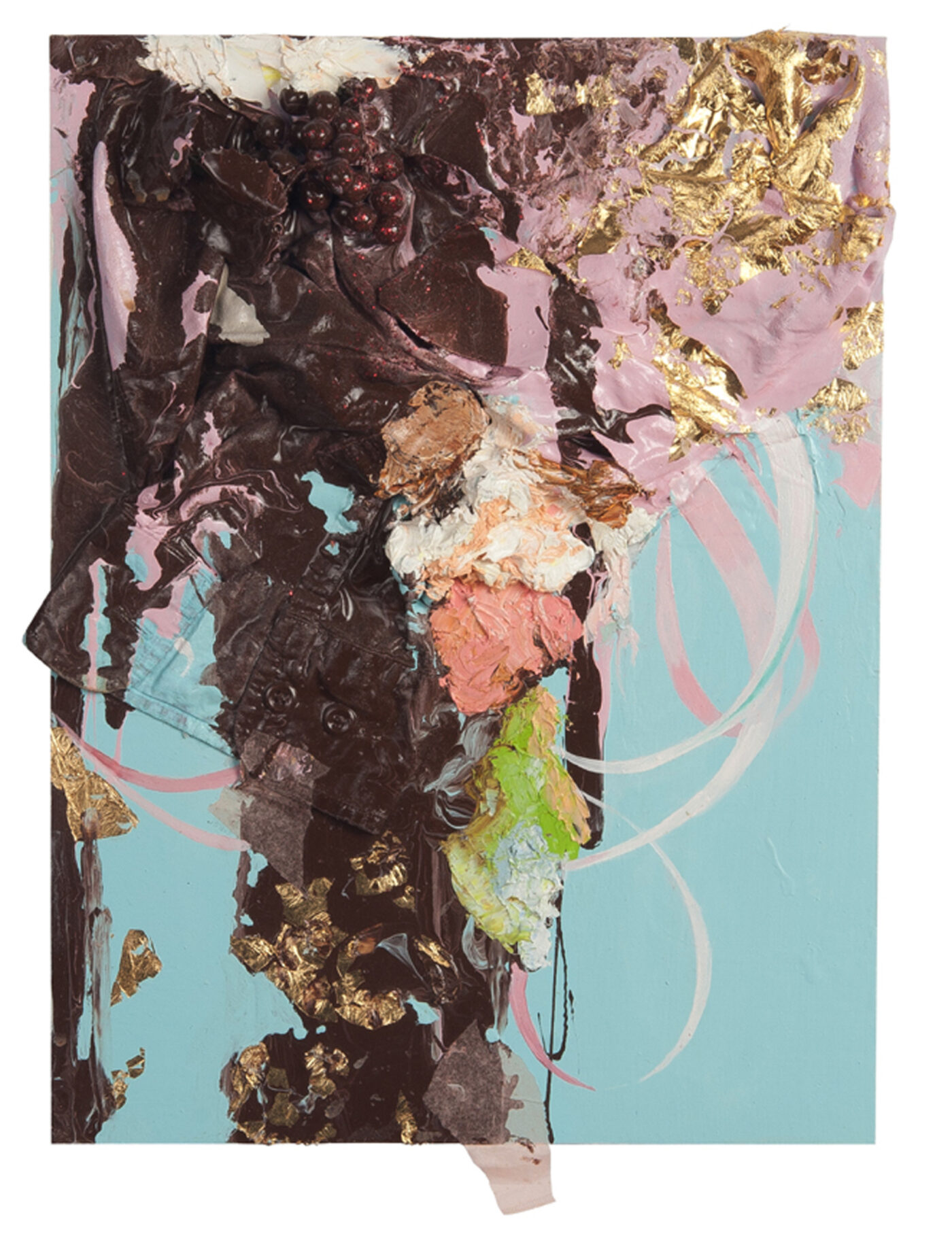 LAN I think people who work in multiple media think about how to express or convey an idea best—like maybe it's through an object one moment, or text another… It's exciting to hear you say that there seems to be less separation in your work, as if your ideas are expressed now through everything that you're doing.
DAC Nina Simone sings a version of the Leonard Cohen song Suzanne (1969) that I love. There's a line in it about how she will lead you to the flowers in the garbage—I think of my work like that—mess and beauty. You focus on the flowers for a hot second and are seduced by them, but when your eyes refocus, you realize you're in the middle of this mess. I think about what happens in that moment, what is that negotiation…
One of the things behind TAKEABITE, elduendealwaystravelslight—the opera—is Federico García Lorca's theory of el duende. You have to be able get to that really ugly place for the magic to happen. The audio for TAKEABITE—
LAN It's kind of intense—
DAC It's very intense. (laughter)
LAN But I loved it! You worked with someone to create that. Can you talk a little about the process?
DAC Andrea Janev makes music for me. We used to work a lot together—he would compose things or I would show him work and ask him to compose something. For TAKEABITE, he asked me to go through his files and pick something, so I ended up choosing something that he originally composed for a horror film.
LAN (laughter) Aha! There it is!
DAC What I normally do when we work like this is chop the track up, and then slowly layer sound into it, rearrange it. There are a lot of 1950s references—Elia Alba's character is based on June Cleaver… Some of the sounds are racist comments in Leave it to Beaver and cartoons… I also became really interested in the sound of desperation in Puccini's Tosca (1900), and specific ideas from Cinderella about desire and expectation [to go to the party]. Snow White also—that's where the title, TAKEABITE, comes from. The second part of the title comes from Lorca—that's where you hear the screaming.
LAN It's like Snow White's screaming underscores the whole thing! (laughter)
DAC Right, I love it! It's so hysterical and ridiculous. There's also sound from A Streetcar Named Desire(1951) where Brando says to Leigh: "You think you're a princess now…" but you never hear her response. Shirley Horne singing I Loves You Porgy is played backwards; La Lupe singing Que Quiera; moments from Misery (1990) where Bates says: "I know you don't love me; don't say that you do." There's so much… Also Rebecca (1940) by Hitchcock… There is a conversation that is repeated between me and Mickalene [Thomas]; have you seen the film?
LAN It's that scene where you are standing across from each other at this table—
DAC Right—in the movie, the nameless second wife runs into the bedroom and it's the first time you see her agitated. She asks the maid why she hates her so much, but she loses her power and the maid almost makes her jump out the window. I told Mickalene when we started shooting to watch that scene and memorize the lines, and that's it; there's really no script. She was in residence in Paris, and I told that that if I came over, I would have to shoot. (laughter) She said sure.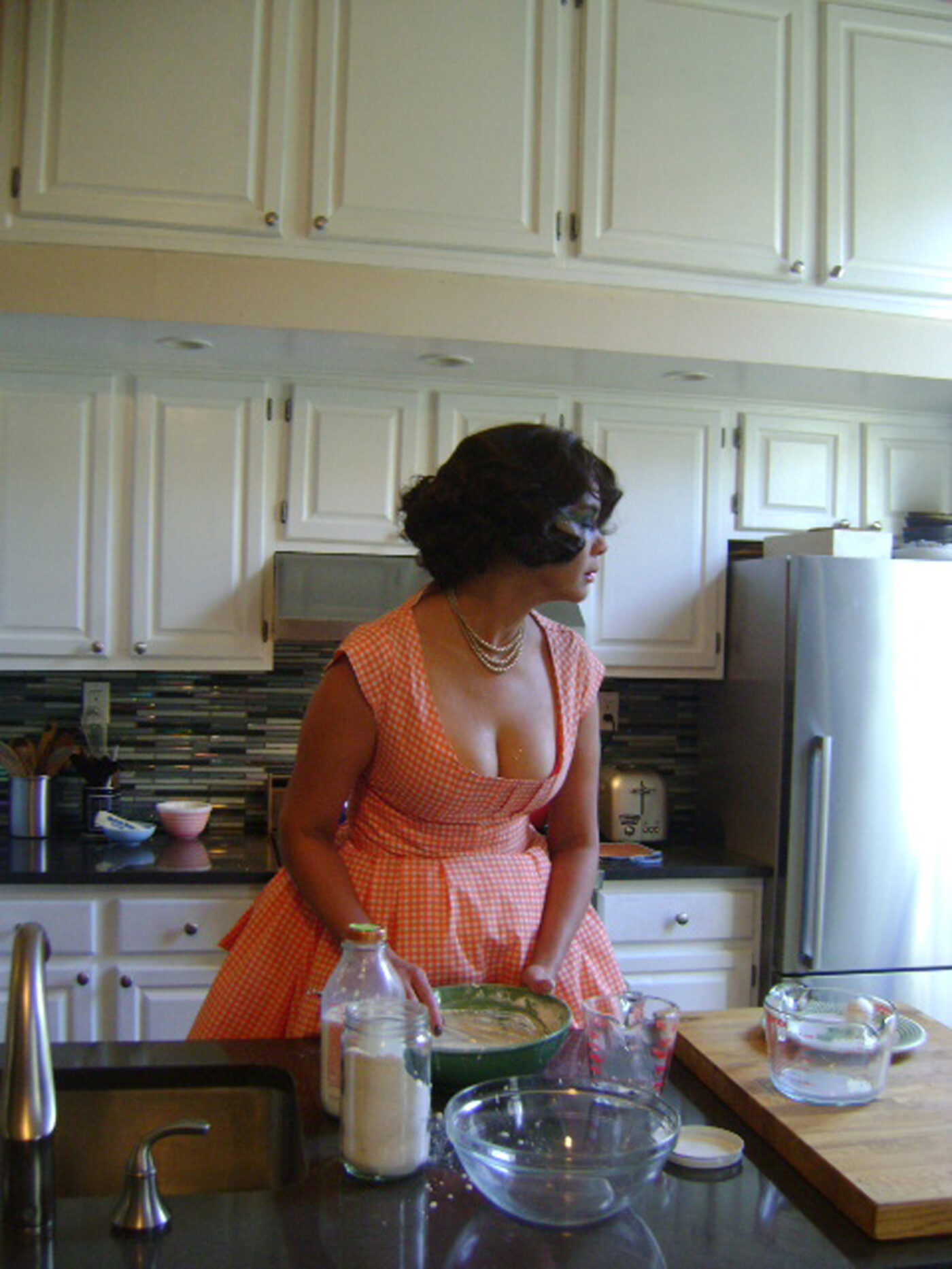 LAN How did Mickalene get involved? Did you have her in mind already?
DAC I've worked with her before in the No Returns Project (2011), which was based on when [Puerto Rican nationalist] Lolita Lebron charged the US House of Representatives in 1954. I asked Mickalene to be one of the four people to repeat the act in the video. I asked her to work with me again and she was excited to do it. When I got to Monet's garden in Giverny though, she had not asked for permission for me to shoot. She put the costume on, loved it, and called the director of the space down and said, "Don't you love it?" And that's kind of how she asked for permission for us to film there. I've known Mickalene for about 19 years now—we met right after I moved to New York.
I start working on TAKEABITE about a year after I lost my father to cancer… that's the first time I've ever seen anyone afflicted by cancer, and it really affected me—seeing the body just eat itself like that was a really difficult experience. There are a lot of "appendages" on the costumes and brown blobs, which were really about me remembering looking at X-rays. One of my earliest memories as a child is looking at work by Dali, quite violent pieces like Premonition of War (1936), The Enigma of William Tell (1933)… how the body was being pulled into these unnatural states in those paintings influenced the costumes for TAKEABITE. There's also candy-colored stitching and fabric… so violent and ugly, but presented in a really beautiful way.
LAN Right, all of the contrasts between the pretty and the ugly make sense. Even Elia's violent act of smashing the cake in contrast to her response of cleaning up that mess and making the cake as she wears those beautiful sparkly shoes. It all makes sense. There are so many details!
DAC I love her shoes. (laughter) Her shoes were emerald—when I did the No Returns Project, the performers all wore ruby slippers. I wanted to go to a different place this time for that magic, like Emerald City—
LAN (laughter) I want a pair. They are gorgeous!
DAC They are made with so many different materials. They have the fairy dust makeup on them—it's like glass—so it sits and shimmers very different than just glitter.
We made about three or four cakes for her to destroy. It was an intense shoot in Brooklyn. It was just us; no one else was there. I promised Elia that anything she said would not be repeated. When you're working with other artists, you take a little of their essence as well when you present their face, their body. You can't really divorce that work from that person's work…
On stage, she won't be smashing cakes, but her lines are difficult. She has to say that line from Misery, which is a really hard thing to have to say in front of a group.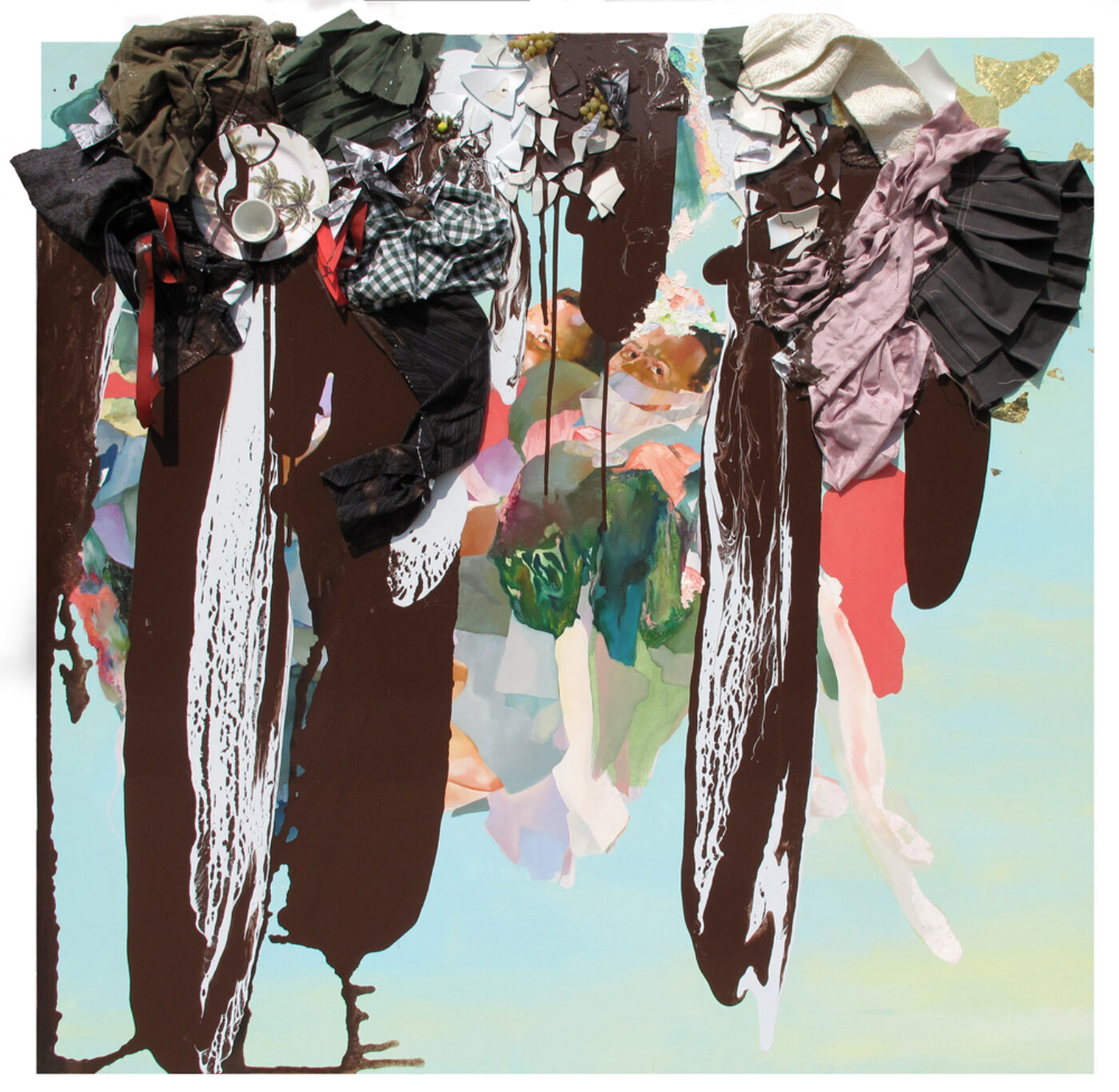 LAN Have you ever studied theater or music in high school, or taken a class later in life or learned formally about directing? RoseLee Goldberg asks visually based artists to do something performative for the Performa festival, but there isn't a lot of direction from what I understand. It's more like, Let's see what interesting things can happen. Some people struggle with that, but you really seem to thrive… where will TAKEABITE in this theatrical form take place?
DAC It's happening at El Museo's historic Heckscher Theater. The history behind the theater is interesting—it used to be the theater for an orphanage. All of the murals are based on fairy tales. Right now I'm filming a little piece at El Museo as an opener—so much about TAKEABITE is about location, where it's been—so this will ground the audience in the space. The piece will begin where it ends, with the last song from Tosca. The stage goes black, then the glow from the lightboxes we'll be standing on begins, and you'll hear the (rhythmic fingers snapping). I want you to be taken in by the sound; the raindrops, the choir singing… it will be quite an event.
TAKEABITE:The Opera premieres on November 20 at El Museo del Barrio.
Lee Ann Norman is a culture maker and bridge builder whose interests lie in the ways others read the world, and how their reading(s) influence everything. She uses her formal education along with her street smarts, intuition, and wit to fuel a penchant for shaking things up in the world.