Mining the Gap: Darol Olu Kae Interviewed by Megan Steinman
The filmmaker on love, life, death, and survival.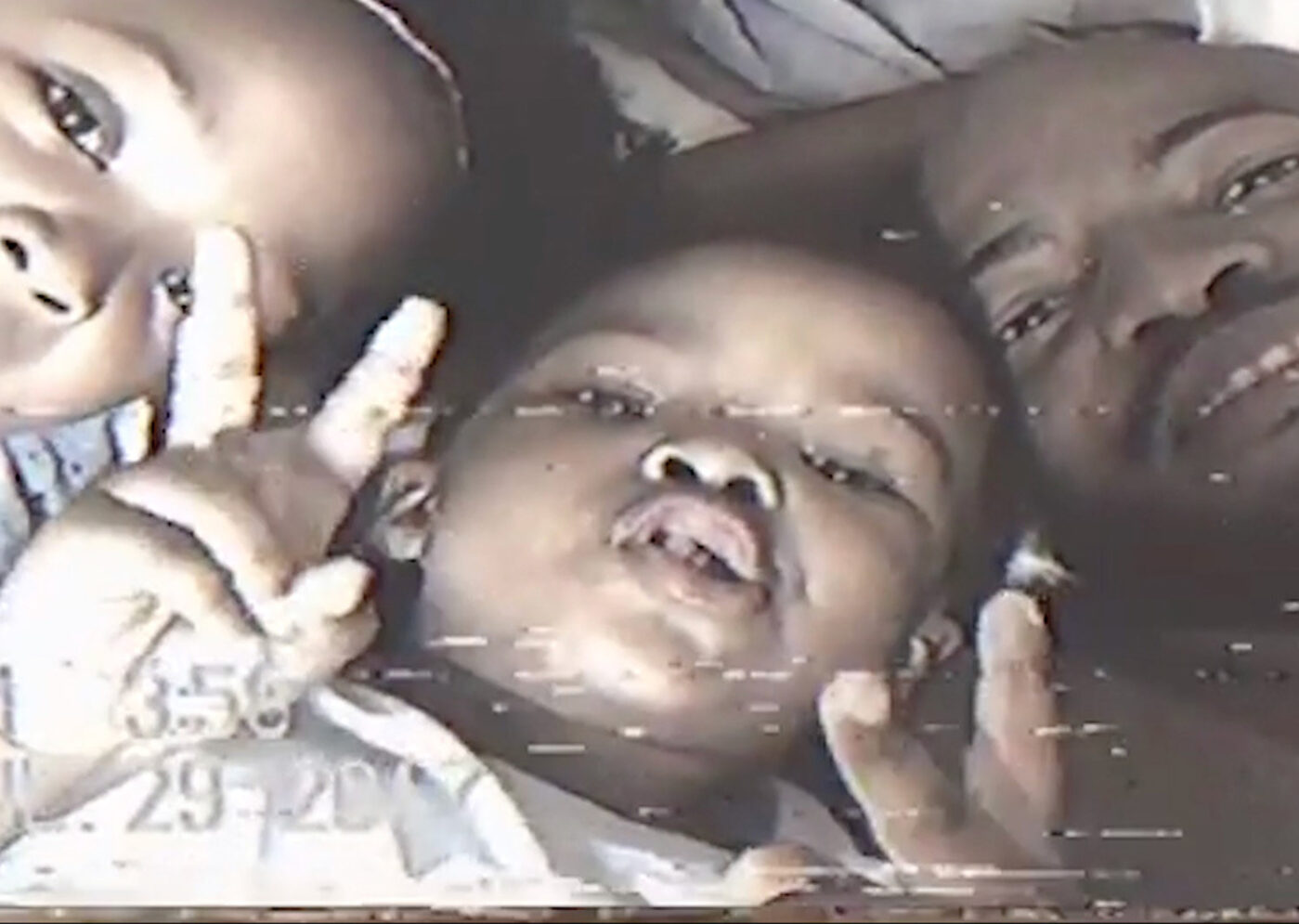 Darol Olu Kae and I have been in conversation on the topics of love, life, death, and art for over four years now. We met at the Underground Museum in Los Angeles, standing in either the garden, or the galleries, or the bookstore. I can't remember exactly, much in the way I can't remember the museum itself without Darol in it. We've spent our time there immersed in the work of artists such as Deana Lawson, Roy DeCarava, Arthur Jafa, and Kahlil Joseph who, like Darol, find form in the raw material of life. You will no doubt read reverberations of their works' central themes in our words—themes of cosmology, circular time, notions of treatment (of objects and of people), and living rooms that contain entire universes.
Darol's film, I ran from it and was still in it, is an ocean of familial loss and separation. Watching it, I was reminded of a quote that I pulled from the New York Times in mid-April at the infancy of this pandemic profoundly defined by loss and endless separation. It read, "We must reconcile the tenuousness of our existence with the preciousness of what we stand to lose." The author was talking about love, life, and death. She was talking about survival.
—Megan Steinman
Megan Steinman Could you talk about the process of interweaving your own story with selections of found and archival footage? I have a sense that this relationship is symbiotic and flows in both directions. In the portion of your film where a father records himself in the car, he speaks about his love for his daughter, making an archive for himself with active outreach at its core. His video is a storage space for those emotions that he (and we) can return to, a place for us to land. There is a tethering happening between us via the medium itself.
Darol Olu Kae Part of the archival process is searching for yourself. Searching for something that resonates within you, or with a feeling you have, that allows you to empathize with yourself or give yourself space to process those feelings. I was familiar with a lot of the material already. I had maybe half of the footage already in a personal archive that I had been growing for around five years. The archive is, in part, a storage house for feelings. In the found footage, I am able to locate core, or guttural, feelings.
When I started making this film, I hadn't wrestled with loss. Or, rather, I hadn't processed that emotion in the real world or in real time. So the film became a place where feelings could be worked out through the material itself. I'm thinking specifically of the footage in the film from the Breakfast Club interview in which rapper Styles P breaks down and says, "Give me a second." He's talking about the loss of his daughter. Now, he's talking about a different kind of loss from my own, but I still recognize that moment, and I am able to mark it as a reference or connection point that opens up a space of deeper understanding for me about my own experience. I guess what I'm getting at is the interplay between intimate, personal moments and broader collective experiences around loss and suffering, love and death. I'm drawn to the love that resides in the cracks. So often we focus on the spectacle of suffering, specifically Black suffering, but there's something really interesting about looking toward death, looking at loss. It strangely brings into sharper focus the abundance of life that is always already present.
I try to identify material that lingers with my spirit. I'm able to recall an interview, for instance; and maybe at first I don't know exactly what it contains, but there's a force that draws me to it. I investigate and explore networks of feelings and intuitively follow them. After gaining a certain amount of depth, I'm able to distill them down to what I consider to be their emotional center and really hone in on those moments.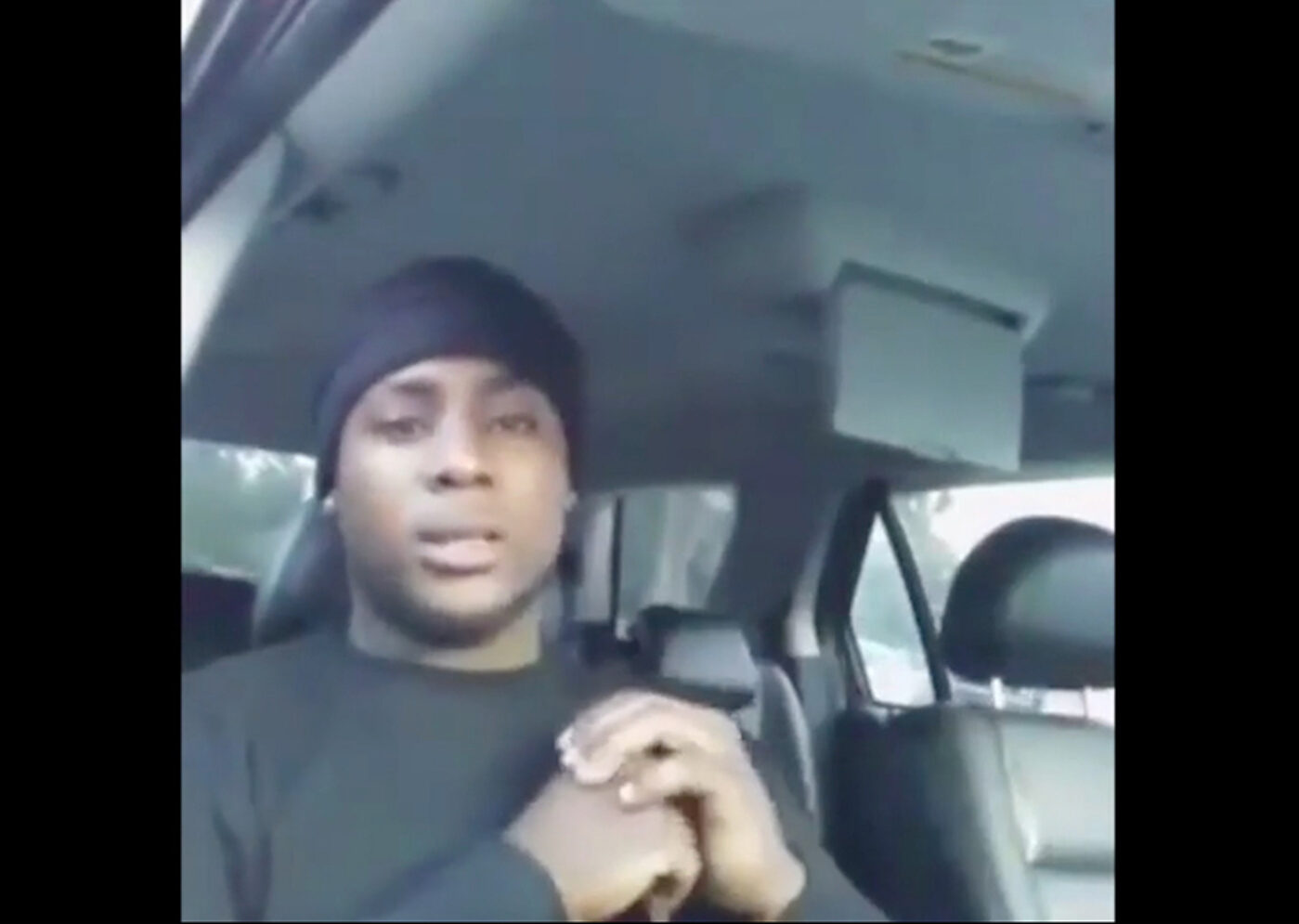 MS After a certain time, do your memories of the material become your own memory? In other words, has your relationship to the material transformed so that it is no longer found outside of you, but rather exists inside of you, and is of you?
DOK I'm interested in the Black "autobiographical" tradition and how it is just as much about self-invention and imagination as it is about supposed "facts" and "truth." I wanted to create a semi-autobiography that reveals itself to be less about the facts that condition Black life and more about its fabrication, its radical self-making techniques. I find it incredibly interesting how fiction often gets us closer to a truer picture of the self, the collective, than most nonfiction. I believe in a kind of sculptural way of making, where the work is empowered by the process of its own production, where how it came together is just as important as the "finished" work itself.
MS Zora Neale Hurston is a master of this process. She was an incredible anthropologist and ethnographer who often portrayed her research in the form of storytelling. She also placed herself within those stories, and in that way she was not othered or erased from the history she told; it was her story.
DOK Absolutely. I think I was trying to locate my father in his own story without having access to his past. I only had my memories of him and some objects that he had left behind. The photographs that you see at the end are my father's, and yet I don't know any of the people in them. We are presumably family, but I can't say with any certainty who these people are or identify my father. It's a troubling thing to confront, and I am sitting in and with this history, not attempting to smooth over the difficulties. In this way, the personal is very much at the core of the story.
I like the idea of mining gaps as opposed to trying to fill them in. Mining a gap has to do with the extraction of something, presumably something of value, from a break or hole that's defined by loss. It's fascinating to think about. I'm not interested in the recovery of a utopian idea of wholeness at all. Ours is a history that hurts. I believe we must confront these realities, but also reveal how different dimensions exist within those histories. Love; it's in there. Joy, too.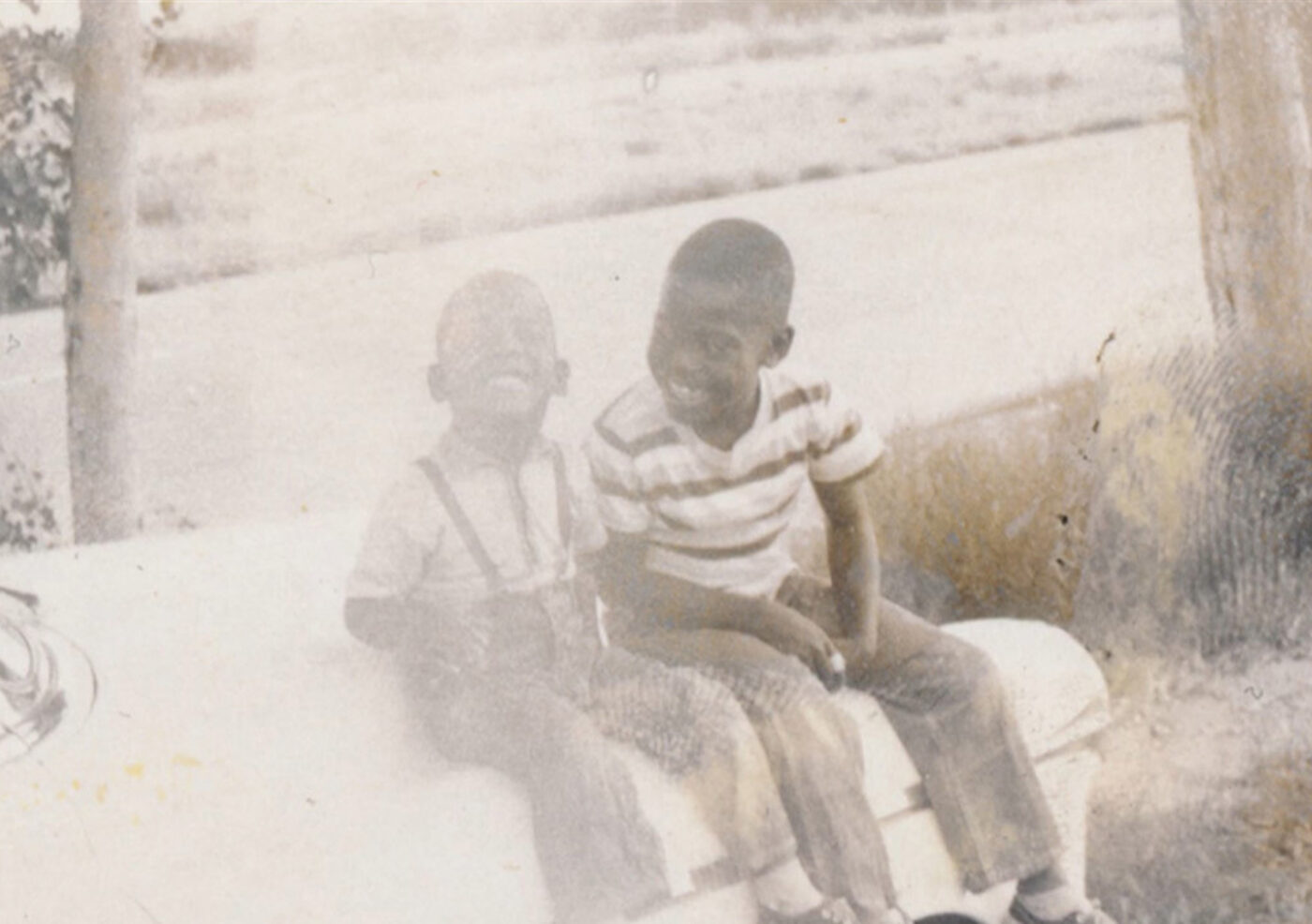 MS There's this great moment in Jason Moran's In My Mind: Monk at Town Hall, 1959 when Thelonious Monk is describing his work with a full orchestra of musicians. He says he's going to give the group one bar of sheet music to work with, assuming that within that one bar there were infinite orchestral moves. It speaks to the infinity of this gap you're mining.
DOK For me, it is also about the fragment containing the whole. In the image you get a reverberation of continuity. In the process of making the work I could have easily given up and said, "Well, I don't have access to my father's past." But his absence told a larger story. I found meaning in fragments, and honestly all we ever have within our grasp are fragments. But these fragments contain a universe of meanings and possibilities.
MS It's also interesting to think of it in terms of what kind of information is given to us by our parents or others: what we give, what's available to us, and ultimately what we need. Especially now, with so much information available to us, how can absence actually help us to process it all?
DOK Negative space became a device that I used to access my father's history. I was able to gain an understanding of something not by its presence but through its absence. I had to create connections where they didn't exist. I was thinking a lot about the idea of Black inheritance not being simply something that is passed down to you but rather something that you choose. You invent it. Kevin Young talks about this in his book The Grey Album: On the Blackness of Blackness and ends by declaring that "just because you need to invent it, or forge and find it, after all, does not mean it's not there." That point deeply resonates with me and with much of my work.
MS You were talking about a Buddhist principle; one of the first pillars of love is that you have to be there. You have to be there. What do you think of this principle when faced with negative space? Or an empty bed?
DOK Being there doesn't necessarily mean being physically present. Like, I love my children, but I live in California, and they live in Philadelphia. Being present means finding different ways of expressing my love to them. They see me through a screen mostly. I'm there, but I'm not there. It's a ghostly experience. I honestly don't have an answer. I'm trying to figure all of this out. The separation is painful. But I just hope that they can look back on this moment when they are older and find useful pieces of memory. I'd like to think that there is a power that connects us that defies spatial and temporal boundaries. But to get to your question in a roundabout way, there's definitely a tension at play that's kind of inescapable. I think that's actually where much of the film sits, especially the parts or feelings concerning my father. In a way, being there is about lingering in the irreconcilable space between mourning and memory.
MS Death is the moment that we become a memory.
DOK Yeah, death presents itself as an end, but it is also a beginning. I think of the single-cell organism at the end of the film. It's actually a recording of the death of this organism that I manipulate by playing it in reverse as a way to punctuate how death contains life and vice versa. It's also the idea of regeneration.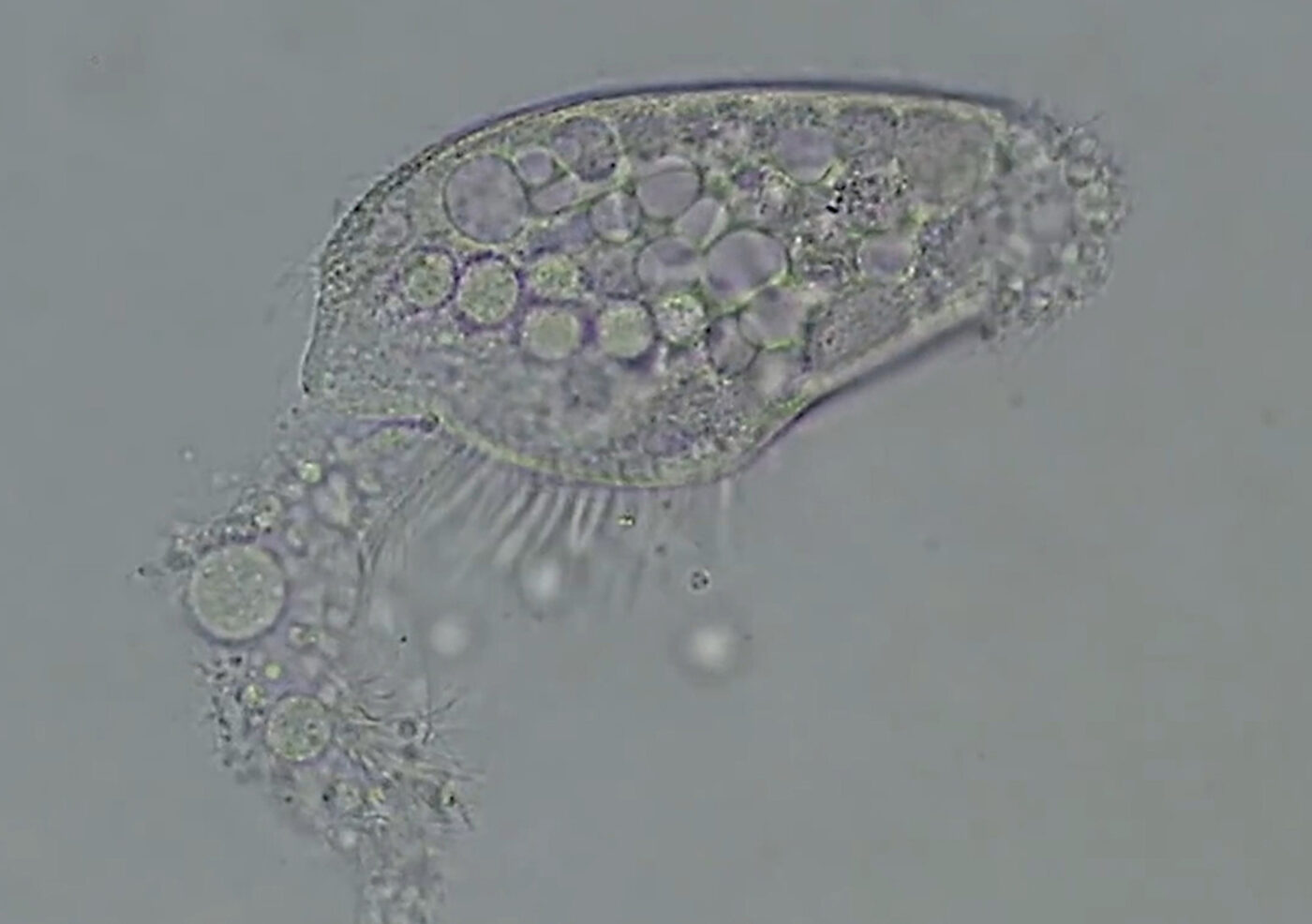 MS We don't know that that cell is dying. I wouldn't have known unless you told me. I thought that we were ending on a birth.

DOK That's good, because that was the implicit thing. I wanted that moment to be marked. The moment of life in general. You start with a single-cell organism. I wanted to feel like you could loop it and not know where the beginning or ending was.
MS Yes! That loop opens onto an infinite space of possibility and a longness of time. How does love travel across time?
DOK Maybe that's the thing right there. Love can be there without me. The things that we do, the empowering acts between the beginning and the end, they carry a certain energy. It's like the archival footage and how we grab things. You put out as much as you can in hopes that those after you will have a reservoir, or storage space, to pull from. When they need it, they can go to this well and mine what they need—maybe not knowing what they're grabbing, but getting the necessary things so that they can move on.
MS Also, we are not always the ones that produce the love we experience: your children's love for you, the father in the car speaking about his daughter who was not in the car with him. And yet, it was an entire scene about her presence. The production of the love that binds us is not only one person's to make.
DOK Exactly. There's a beautiful interplay between absence and presence on display in that particular scene. Your reflection on love is profound and on point too. Love is by no means an individual act. It's collaborative work. And I think it's important to always remember that.
Darol Olu Kae's I ran from it and was still in it will be screening at BlackStar Film Festival on August 25.

Megan Steinman is Director of the Underground Museum in Los Angeles where she has recently organized solo exhibitions by Deana Lawson, Roy DeCarava, and Rodney McMillian. Her independent curatorial projects exploring performance, photography, and new media art have been shown at Museo Pecci Milano, Moogfest, Dolby Gallery, Sonos Studio Los Angeles, Santa Monica Museum of Art, District Berlin, and the MAK Center for Art and Architecture. She has written for and/or produced several artist books and catalogues, including Edges of the Experiment by Marie-Josè Jongerius, Dance/Draw by Helen Molesworth, and American Music by Annie Leibovitz. In 2021, Steinman will launch a new exhibition at Los Angeles International Airport, awarded by the city's Department of Cultural Affairs.