Discover MFA Programs in Art and Writing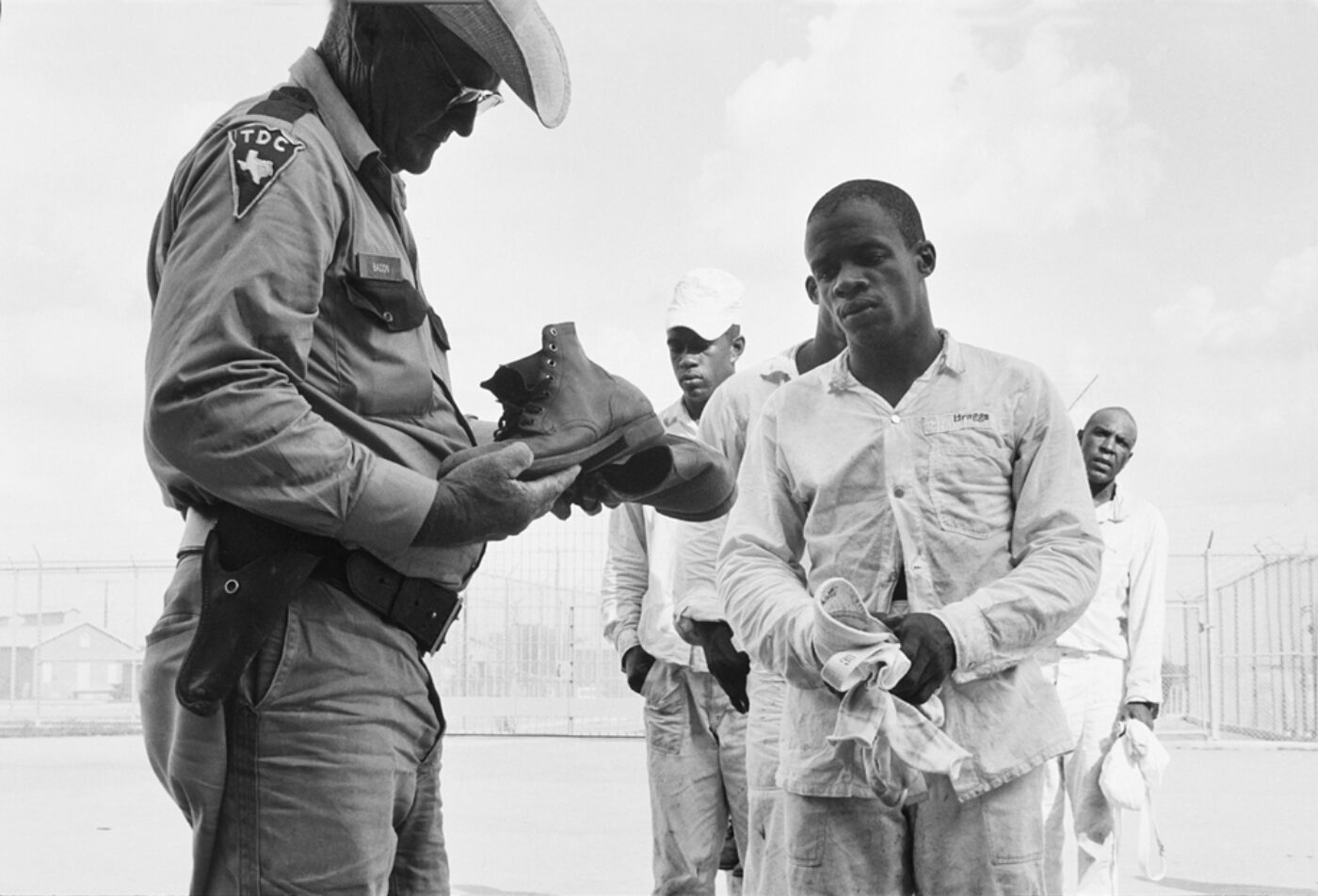 I first met Danny Lyon in the photographers' room at Magnum Photos. It was 1976, he was passing through and I had just joined the collective. He greeted me by saying that he had just stolen my book Carnival Strippers from a local bookstore.
Danny was already a myth to me, with his immersive approach during the civil rights movement in the south. I was envious, having been too young to go myself. Then I bought The Bikeriders just as I began to do photography, but never thought I'd meet the man who took to the roads with them. He really became legendary with his powerful series on Texas prisoners Conversations with the Dead.
We didn't see each other often, but when I went off to the insurrection in Nicaragua a few years later, Danny sent me a bulletproof vest. In fact it weighed too much for me to ever really use, but it meant a lot to me that he cared enough to send it.
We've now crossed paths for years, sharing our books and some stories, with a sense of kinship, though definitely some differences. We both dive in, but I like to go back again and again to my subjects, he likes to move on.
Danny likes to talk, I tend to listen, so here we are 36 years later, still getting to know each other.
You might want to check out his blog.
—Susan Meiselas
Susan Meiselas Hello? Is this the real Danny Lyon?
Danny Lyon Richard Avedon asked me that once; it was embarrassing. We were at a workshop he did with Marvin Israel at Avedon's studio on 58th Street—one of these super vicious Manhattan art scenes. I'm guessing that the year was 1969. I showed pictures I made in whorehouses in Colombia in 1964, a slideshow with music. They lacerated my work.
SM  Really?
DL  Avedon's father had just died, and he'd photographed him in his coffin. He was putting the pictures on the wall and kept sticking pushpins into the prints. I was horrified. "Who's the real Danny Lyon?" he said. "You photographed civil rights, you photographed prostitutes, you photographed bikers." I was so upset that I went home and destroyed the work. It had Ricky Nelson on the soundtrack singing "Hello Mary Lou," an incredible song I had heard in a whorehouse in Colombia.
SM So will the real Danny Lyon please stand up? (laughter)
DL Claude Lanzmann, in his new biography, talks about Jews having masks. Maybe this is an inherited survival skill. My greatest strength has been empathy with others different from myself.
SM So, would you give me a sense of your show at the Menil Collection?
DL In 1968, I was photographing the Texas prison system, and, when I was evicted from a farm I had rented next to the prisons, I ended up living in Houston. People quickly linked me up with Dominique de Menil. I ended up knowing Addie [Adelaide de Menil] really well through her work in the Hamptons—she remains a friend of mine. Addie and her late husband, Ted Carpenter, donated a big collection of my civil rights and prison work to the Menil Collection, which Dominique and John, her parents, had started. The genesis of the show was to honor this gift. Then Toby Kamps, the curator, and I added a lot of things. Leon Henkin, my first cousin, was a genius in mathematics who studied with Einstein. He and his wife Ginette donated about 20 vintage prints that I'd given them over the years. That took it up into the Colombian pictures and Los Niños Abandonados, which I made in 1974. The show has nine montages in it, some of which were shown at my Whitney Museum show in 2008, and some of which are new. It also has a couple drawings by Billy McCune—one is a copy of a bikerider photograph. It has a couple of the SNCC [Student Nonviolent Coordinating Committee] posters, four of the China photographs from Deep Sea Diver, and three of the ones I did at Occupy when I was staying in your house and borrowed your batteries to photograph Zucotti Park. One from Occupy LA was made last November. That brings it up to the present.
SM So it's a mix, but what makes it coherent?
DL That's a good question. It's not a retrospective; there are only 50 or 60 pieces in it. I like to break things up. I learned a lot of this from showing pictures with Mr. Hugh Edwards at the Art Institute of Chicago. I mix color and black-and-white and mix different sizes to have it be a good experience.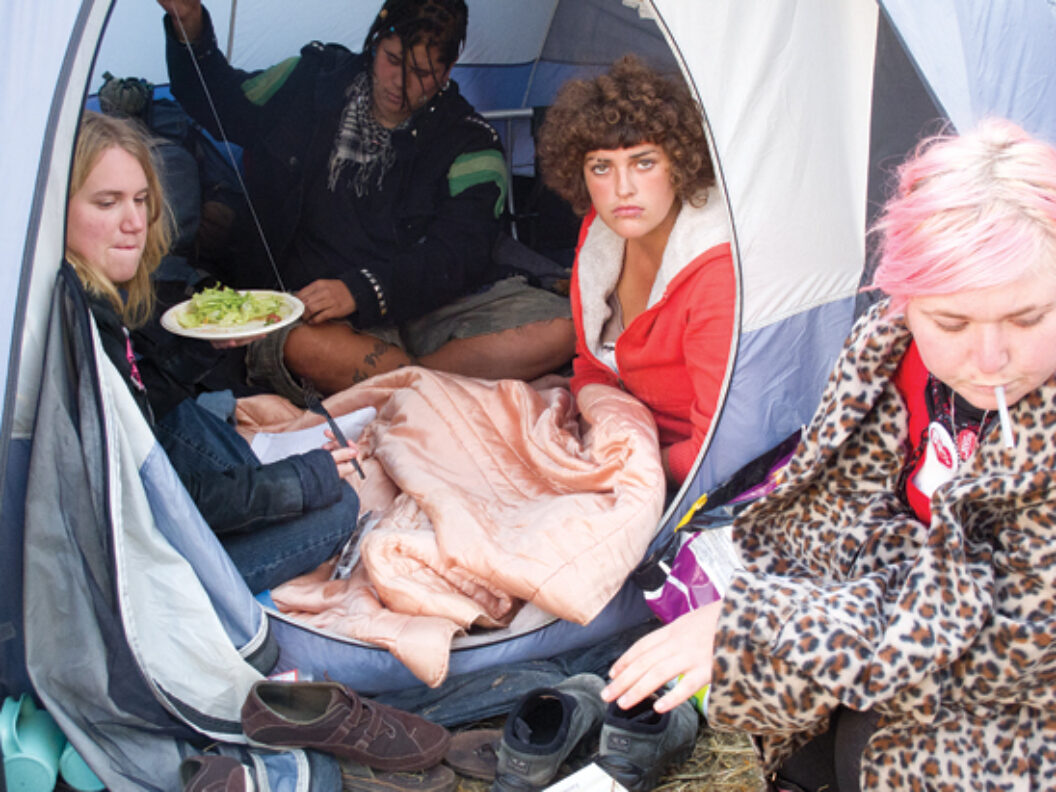 SM Is there something important missing?
DL For the Whitney show, I'd made a selection that I had sequenced in this rational order. I came in the day they were hanging the show. The pictures were all leaning up against the walls. There were these three guys from the union standing with their uniforms on. I'm looking at the work and what I see is simple montages: a picture with Stephanie in it, a picture with Rachel in it, a picture with Nancy in it. I'm thinking, Did Elisabeth Sussman put this up? I've got to be careful with what I say, she's the curator.
SM Hmm.
DL So I finally ask, "Elisabeth, who arranged this?" She shrugs and says, "It's not arranged yet." One of these union guys starts waving. "This is great!" I say. And they're going, "We're the union, we did it!" They had laid out the pictures in this totally cockamamy way: they had my two wives plus a girlfriend all together. I'm like, Well, that can't survive! I said to Elisabeth, "This is much better than the rational sequence that I had with series, and chronology, and trying to make sense of the world and my work. Why don't we leave it and just try and improve it?" So we broke up the three women and moved a couple things around and the show was great. It was totally irrational. It made individual things much stronger, and it didn't impose a mindset on the viewer.
SM You do so much with fragments but also sequences, books, films, and collages. You're always working toward something beyond the single frame.
DL So this time I show up in Houston to hang the show. Toby Kamps explains it needs to be chronological, beginning with my SNCC work and ending with Occupy 50 years later. In other words, everything I hate. The next morning I come into the empty gallery—the entire show is matted and framed and all laid out on the floor, in chronological order. Nobody but me is in the room, not even a guard. I look around. Not bad, I think. Then I move one picture, just one. Then I move another. By the time Toby shows up I've moved eight or nine. He looks mortified. "You're not allowed to do that," he says. "I'll move them back," I say. "No, you can't touch them," and he calls a union guy to put the pictures back where they were. I'm doing a slow boil as Toby rejects out of hand every suggestion I make. He sticks to his guns. Then Josef Helfenstein, the Menil's director, looks it over and says there were too many prints. I love removing things. In the end, it came out better than the Whitney.
SM How did you experience the work when you let it live on the wall isolated versus recontextualized in the way you were heading for originally?
DL When we were young, we knew what we were doing. If I had asked you questions when you were in your early twenties, you probably would have given me very solid answers for them. I knew exactly what I was doing then. When you age, you don't have that arrogance.
You and I both graduated with a university degree. Some years ago, I was wondering if this university education helped me or hurt me as an artist. That's where the question of being rational comes in. It's problematic. [Hugh] Edwards said something brilliant to me in a letter that I got when I was 21. I carried it around for five years, but I didn't understand it. He'd seen what would become The Bikeriders for the first time. This was '63, so these were the earliest bikerider photographs. He loved the pictures and wrote, "Now for the first time you've stepped out from between the camera and the subject and, because of that, there's more of you in these pictures than in anything you've ever done before." There is this total contradiction.
SM What had he seen before that to say that?
DL The civil rights stuff. He hated it. He was from Kentucky. His great-uncle almost died at Shiloh, fighting for the Union. He looked closely at the pictures and said, "What are they trying to do? Start the Civil War all over again?" But back to this question about being rational when hanging photographs. I did learn from him that opposites help in photography. You tend to hurt pictures when they're with similar things. The idea of taking 50 pictures that are in a show and shuffling them like a deck of cards is irrational, but it makes them stronger. You're breaking down the concepts that you're imposing on the people looking at the pictures.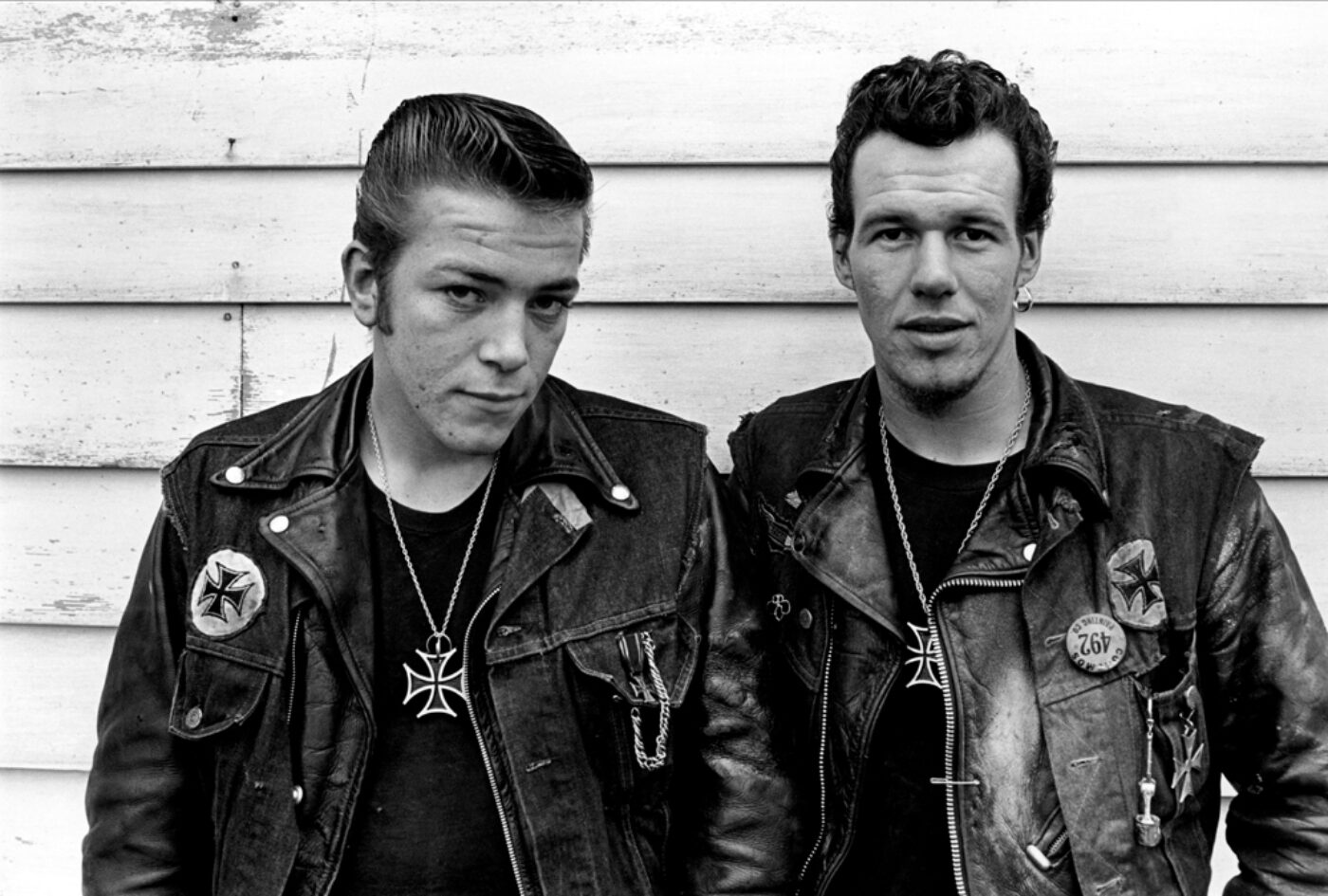 SM I'm interested in the difference of doing that with a space and doing that with a book. When you're making a book, you're making very intentional juxtapositions and sequences.
DL Well, I'm doing a book now that covers a huge period of time. I decided to do it backward—that's the first irrational thing. And I'll bring text to it. Old letters, for instance. Have you ever read a letter that you wrote when you were 20?
SM If you have them it's fantastic, of course.
DL I have some letters to me from Hunter Thompson.
SM He saw Bikeriders?
DL We exchanged postcards and some letters during that period. He talks about how you've got to wear a helmet on a motorcycle because it's so dangerous. I was a big risk taker, and I hated the helmet. Thompson got beaten up badly by the Hells Angels. I hung out with the Outlaws and had no trouble with them. So it's nice to have texts in the book, though they're like smoking guns. You know, women were "chicks" at this time.
SM You said earlier that you like to mix color and black-and-white pictures. When did color come into your vocabulary?
DL In 1964, I photographed the whorehouses of Cartagena, a big business. It's the same business that the Secret Service is now sinning with. They can't seem to tell the difference between a hooker, a call girl, and a woman in a short skirt at a bar. Only I did this 48 years ago, in color.
SM That's interesting. Undoubtedly, in this collection on view at the Menil there's a lot of decision making on formats and mediums.
DL Correct.
SM So you're mostly working with 35 mm, but you shift to 2 1/4 inch and go back and forth? The civil rights period is all 35 mm and then with The Destruction of Lower Manhattan you're working with a different format for the first time, right?
DL Edwards had loaned me his Rolleiflex—that was the first 2 1/4 inch I used. And I must have taken it south, because some of those pictures are square format. I had a funky old Leica M2 that scratched every picture. Eventually, the Nikon F would be my real workhorse. With The Bikeriders, I didn't use a Leica. It was a Nikon Reflex, that early, single-lens Reflex. It was such a fabulous camera with a prism on it—no light meter. I had a 2 1/4 inch for The Bikeriders also. When I got to Manhattan in 1967 and realized what I was getting into, making architectural pictures, I went to Olden's on Broadway and 43rd Street and got the cheapest view camera you could get—a Calumet.
SM So to what extent were you intentionally shifting formats? You're doing it throughout your life, shifting from color to black-and-white, still photography to films, etcetera.
DL I have a very low attention span. It's near zero.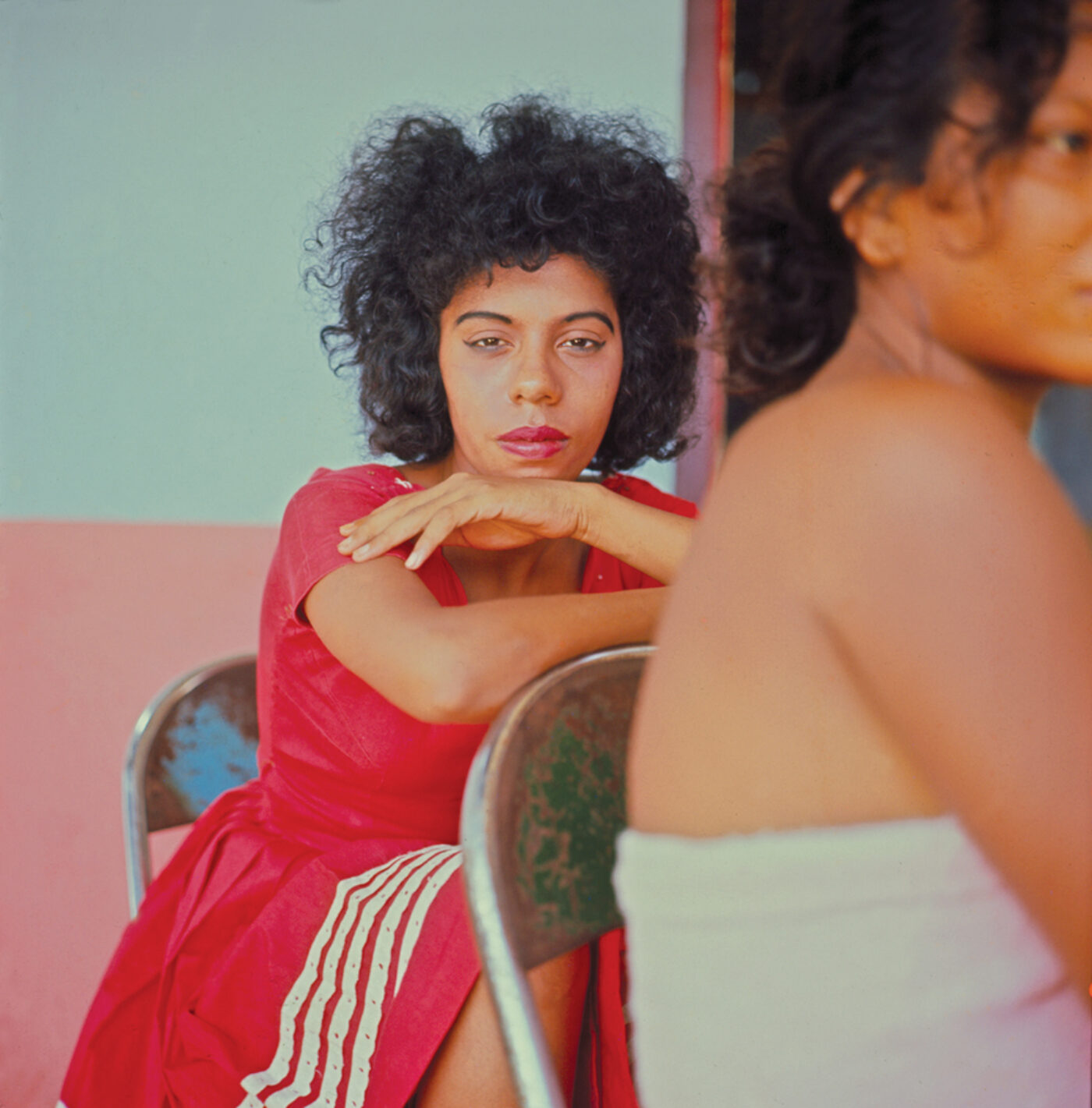 SM And there's this tension between the intentional relationship that you pursue and the role played by the incidental or the accidental.
DL In the early period, I did so much in a very short time span—about seven years. I started in Albany, Georgia, with the civil rights movement and came out the other end with the Texas prison system—with SNCC, the Outlaws, and Lower Manhattan in between. I was in my twenties during the entire time. When I was done, I was done with photography. I didn't see any more worlds to conquer or a way to make a better photography book than Conversations with the Dead, so I came out here to New Mexico. I'm still out here in exactly the same spot. And when I left, I never looked back. I didn't go visit those people, I didn't call them. I used them as subjects, as a journalist, then I moved on. Can you imagine? I leave SNCC in late 1964 and within two years I'm a member of an Outlaw motorcycle group that goes on a picnic and has a nine-foot original Nazi flag marking the spot. And I'm one of these guys?
SM And you never wanted to know what happened to those people over time?
DL The point is, I was a professional, these people were subjects, and it was time to move on. I had other things to do. I'm not a prisoner, I'm not a bikerider. I'm not a civil rights activist like the now Congressmen John Lewis or Julian Bond. I'm Danny Lyon. I had my own thing that I was trying to do to the media and to the world, and I needed an overwhelmingly powerful subject in order to do it.
SM Okay.
DL Over time, an unstoppable river, I did keep up with people. Some I still know. Cal was my best friend in The Bikeriders and the lead narrator of the book. He was a Hells Angel. He called me from Long Island once after I had left the Outlaws, and I met him. Cal was a house painter; later, he fell off a ladder and broke his neck. His son called me two years ago. And I'm still friendly with Congressmen Lewis and Bond and others from SNCC. In Texas, I recently visited a man who killed his wife and mother-in-law in succession. He was sentenced to life in prison when I met him in 1969. Glenn was let out after nine years because in the old days people were much more humane about prison sentences. He's been out and fine ever since. He just wrote to say that he and his wife would visit the show in Houston. "Don't steal anything," I wrote back.
SM Wow. That's a lot to absorb. How did you see the bikeriders and prisoners? Were they heroes then, or did they become that over time?
DL I was very romantic—they were heroes to me, all of these people. I'm a kid from Queens. My father was a doctor. I spent the first ten years of my life in a small two-bedroom apartment on Metropolitan Avenue in Kew Gardens looking out at the trolley cars going by. I remember Roosevelt's funeral. I was three years old. They had a parade down the street and airplanes flying over. I wasn't tough. Everything was kind of given to me. I went into the world not knowing how to change tires or the oil on a motorcycle. I never had grease on my hands.
I remember hitchhiking from Los Angeles and trying to get back to Chicago. I was 20 or 21. A pool shark picked me up. A white hustler. He gave me a ride and we were all stoned. I fell asleep. He unfolded my hands, looked at them, and said, "You've never worked, have you?" He was right. I had never worked, not with my hands. I have a Mexican working for me, Juan—I'm a proud employer of an illegal alien. I was showing him my hands recently. I said, "Juan, look how lucky I've been." You can imagine what his hands look like. He's 40. He just left for Mexico because his mother died, in Durango. To return, he has to walk six days through the desert, 140 miles to Phoenix, hunted all the way.
When I was in China, I was photographing a coal worker who was a year younger than me who'd lived through the Cultural Revolution. He survived Mao. His jacket was torn and his face was creased—he was very polite. I looked at his hands; they had the skin of an elephant. That man had been picking up coal and rocks and shovels his entire life.
SM Of course, I immediately jump to the heroes of Occupy. How are they different than the heroes of SNCC? What's the magnetic attraction to both?
DL It's interesting to think about Occupy and SNCC. Occupy happens, and it happens in Albuquerque. I live on a farm 25 miles north. I say, Holy fuck! They've occupied a park on campus. They're here! The first time I went down, I just had my cellphone. I'm enthralled looking at these people. Here are the girls with the orange hair and a 50-year-old guy with a bullhorn on a horse. There are a lot of dykes there. And I'm trying to pick out the leaders. There's a lesbian woman who looks like she's about 50; I can tell she's a leader. There's an American Indian woman who looks 45 and clearly is one of the so-called ringleaders. I take pictures with my iPhone. I go back. The next time I bring my NYPD press shield, and my little Canon G11.
I wanted to make a speech about the civil rights movement, but before I could get up and speak, this Chicano guy my age gave a long, unbelievably boring speech about Chicano politics. So I didn't say anything. Later, I was talking with Mary Charlotte on Radio Café, her show on KSFR, here in Santa Fe, and she said, "What are you going to tell them? About a sit-in, or about black people who went to jail or who got killed?" What's so wonderful about this country is that this stuff is in their blood. They don't have to know Gandhi. They are Gandhi. They don't have to know about the Freedom Riders. They're doing this marvelous stuff. This chanting, the mic check, it's like Sophocles. I'm into it because it's theater. "My name is Danny," I say. "My name is Danny," they answer. "I was in jail." "I was in jail." "With Martin Luther King." "With Martin Luther King." I got real worked up—everybody was chanting and it was really emotional. I loved it. That's the only time I ever really spoke at any of these meetings.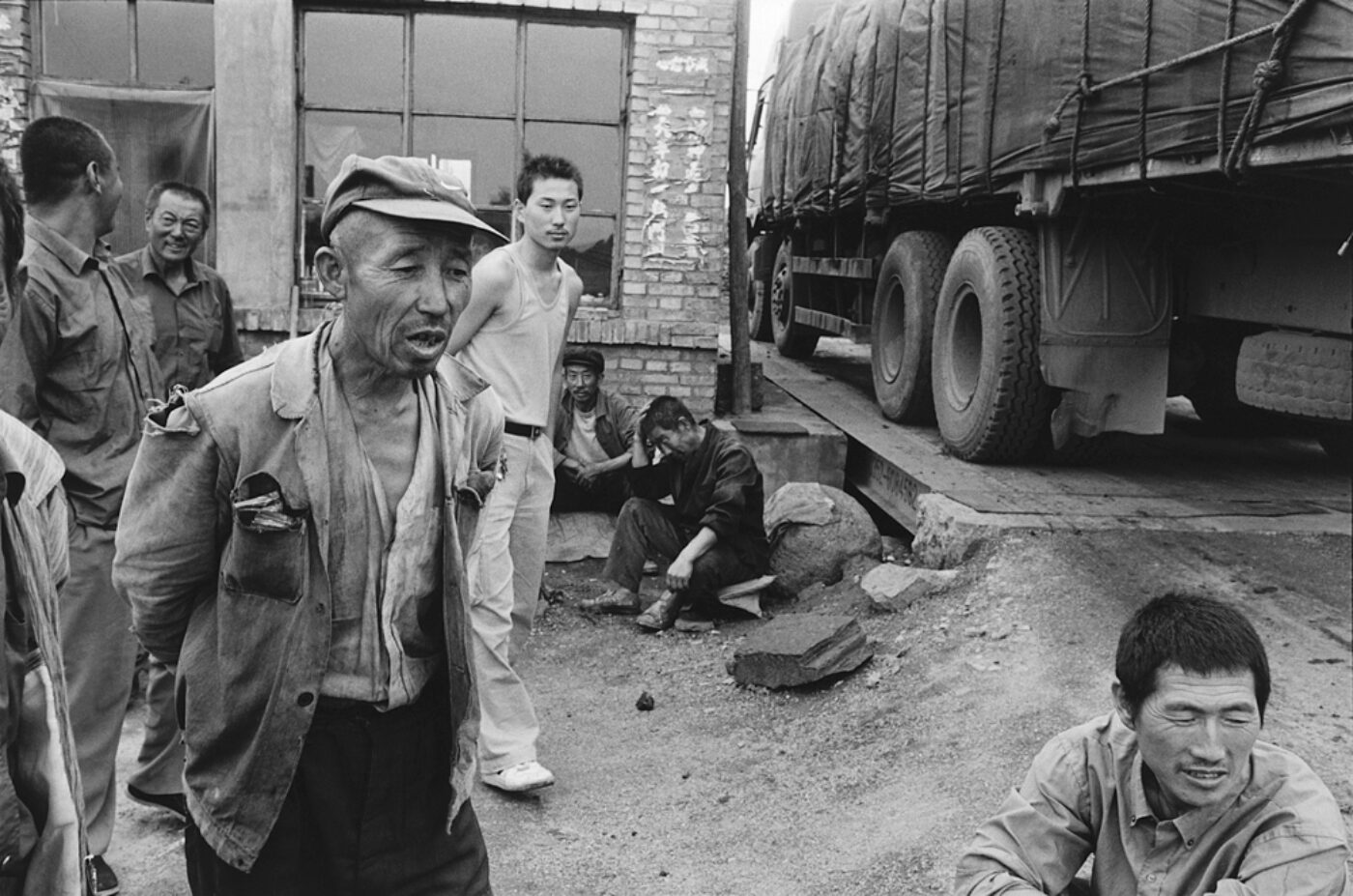 SM Well, that takes me in two directions. On one hand, you're seeing it as theater, but I can imagine with SNCC it wasn't like you were on a reality show. I mean, how distanced could you be in the early years of SNCC?
DL I'm a Jewish kid from Queens and I'm in Alabama. I'm the only white person there. When I was doing the Texas prison photographs, I never went there at night. I never owned a flash. I went in the daylight, when there was this beautiful light. One night I got into a fight with Rachel, and I went in to hang out with my buddies. I might have been stoned. They were the only guys I knew and they were inside the prison. I could just walk in. When I signed in, I wrote, "Danny Lyon, Visitor." As to purpose of visit, I wrote, "Spy."
SM (laughter)
DL So I go inside and they're watching a football game on this old black-and-white TV. Hours later, when I'm leaving, I see these guards standing there at the main entrance. They've got wooden clubs, they're tapping their feet, and they say, "You. Did you write that?" And now I'm dealing with these crackers—it's the real deal. I take a few deep breaths and say, "Why, yes, I did, sir." And they say, "What do you think this is, a joke? This is an official document of the state of Texas." Whoah. Well, you know, I was a spy. They shouldn't have let me in there.
I hate fucking prisons.
SM Wait a sec. Is that crossing a line between observing and then interacting or acting upon?
DL I carry a press pass because it's power. But I was in LA a few months ago, and I had a real problem with the police. I came within 20 seconds of doing a classic nonviolent sit-down in the street. They were just pushing me around telling me, "Stand over there!" All this asinine stuff they do to photographers. I was caught up in the excitement of Occupy LA; I wanted to be part of it. The kids were getting arrested. I wanted to get attention and say the cops were wrong and I was right. I think that's crossing the line.
SM I'm thinking about how people are now using iPhones. Everyone is documenting themselves being in the action.
DL We're in a new world. There are a billion cameras out there. A billion eyes and ears. Rodney King was a kind of fluke—someone was on a porch with a video camera. Now there are cameras on every block. In terms of the forces of good versus evil, it's a wonderful thing.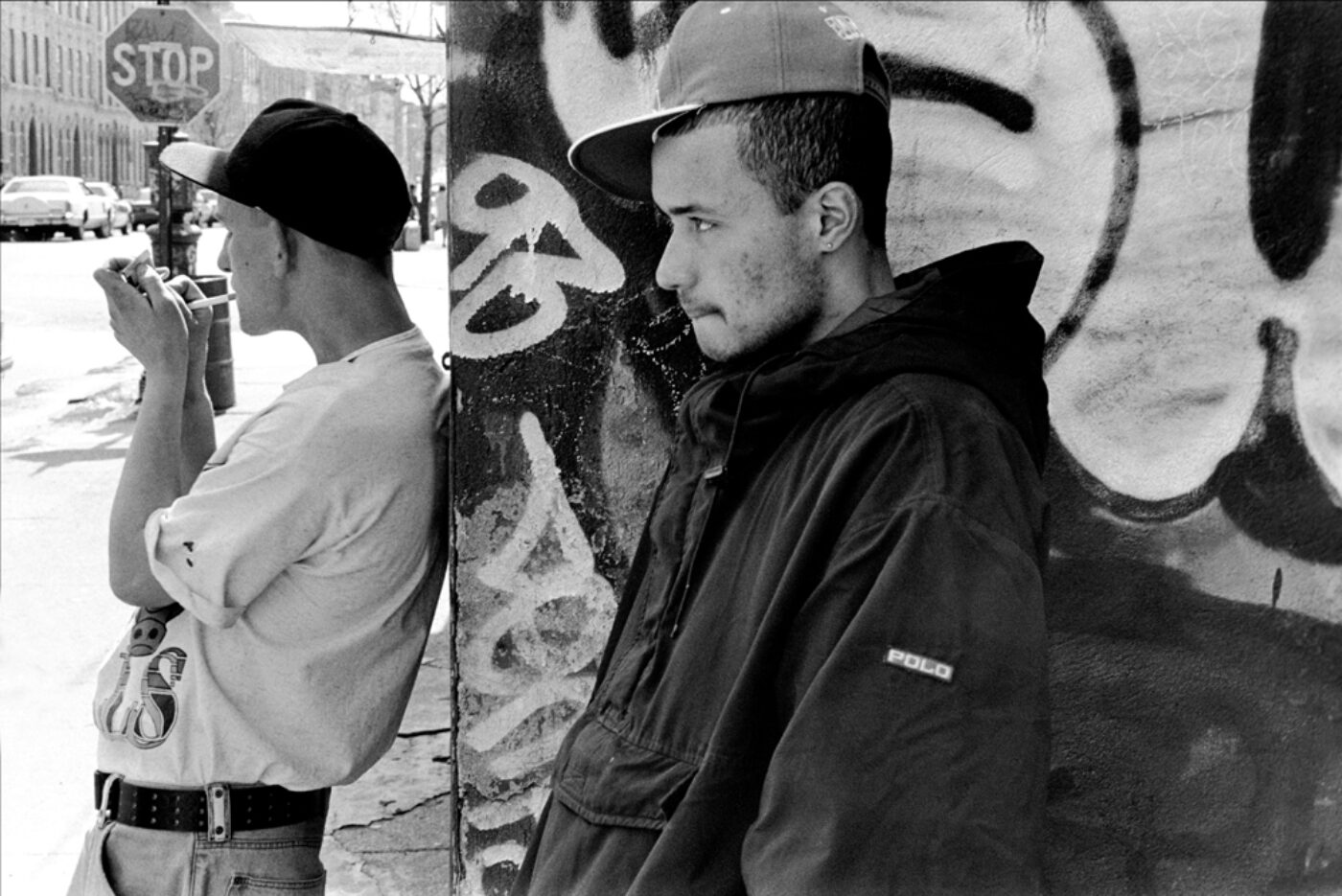 SM Do you think there will be an ongoing role for the insiders versus the outsiders that we're talking about?
DL Well, there's a professional versus a nonprofessional. I've never really cared about that line. I'm more interested in the truth and that the good guys win. I like to make photographs of things that don't show other cameras in the frame. That's become almost impossible to do. I have a great picture in downtown LA with a bunch of people holding cameras up.
SM If you have images of people making images, then it's a set of mirrors.
DL There's a lot of great beauty in amateur photography. What is the difference between a member of Magnum and an amateur photographer? My father was one, and I'm crazy about what he left behind. There's always been this dichotomy. Photography is vast. "You push a button, we do the rest." The real loss in the digital revolution is the print.
SM The physicality of prints?
DL That's correct. I had an editor here to work on a film, and I was showing her my first digital album. The prints were made at Walgreens. And then I showed her another album of Polaroids that I'd kind of abandoned. I said, "Look how beautiful the Polaroids are and look how shit-horrible digital prints are."
SM For many people, it's not even about ever making a print—it's just virally passing images around. Everything's ricocheting. You don't know the artist behind the images.
DL Larry McMurtry said we come from a different age. My target was reality and influencing Americans through television and the printed form. Back then, there were three magazines—Life, Look, and McCall's—and CBS, NBC, and Walter Cronkite. That was the media. The alternative was the Nation. Now you're talking about something so vast that everything's lost in it.
SM If you were riding on the back of the motorcycle now and the guy in front of you was shooting as he went with his iPhone—which is probably what he'd be doing today—what would you make? Would you be making it collaboratively with him in the way that you did Conversations with the Dead, with Billy McCune drawing and not using a camera at all?
DL You know, I can't stand collaboration. McCune was mentally ill, but he was a genius. I really cared about him, and about the work. Out of him poured this incredible body of work over a period of two or three years. Stuck into envelopes and mailed to me, a lot of it to Robert Frank's apartment, of all places—that's where I was living then. So that's a relationship with a single person. If someone were taking pictures on the motorcycle, I wouldn't want to be on the motorcycle with them. And I wouldn't want to take pictures of them. I liked the motorcyclists because they were down and dirty and antiestablishment big time.
SM What do you mean when you say that you "can't stand collaboration"? You don't think with Billy you were, in some way, collaborating?
DL My first film was of a tattoo artist. He was also a severe alcoholic. I never showed him the film. He'd get drunk and humiliate himself. I thought he was like Falstaff. I filmed him, and the guy was brilliant. It was clear in my mind that I was using this guy to make a film.
SM What about the bikeriders? Did they see the work?
DL Just the negatives, the tapes I had made. I left town with all my stuff. I assembled the book and then hustled it in New York City. Someone sent me a photograph from Canada of Cal reading The Bikeriders. They printed 12,000 copies, which sold for $2.95 each. Maybe he bought one, maybe I sent it.
SM How many years later?
DL Soon after it was published. Cal and I kept in touch. But no, I never went back to their club and said, "Here guys. Here's what I was doing." I got inside—I was a devious person and I didn't give a fuck about what anyone felt. I got on my horse like the Lone Ranger and went on till I found something else to keep me busy.
SM What an image. (laughter)
DL The Lone Ranger was my hero as a child. I'd watch the TV show. In fact, the Lone Ranger was a Texas Ranger—the Texas version of the Ku Klux Klan. Their target was Mexican Americans. The Lone Ranger was one of these guys; he had fucked up in his past, so he put this mask on. Yet in the '50s he was this superhero I identified with. His best friend was a person of color.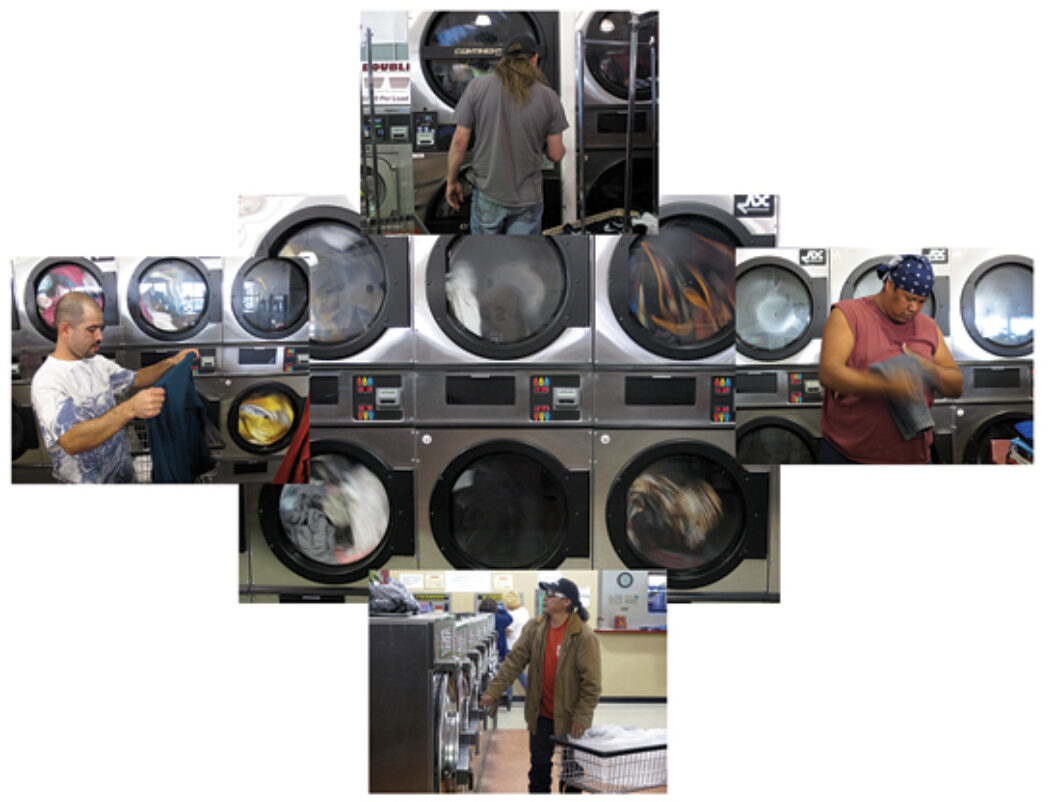 SM So why when you're working on the book Indian Nations do you want to give them the pictures? What changed? Was that just the trick of the trade?
DL That was in the 1980s. I want to be honest about this person I was 40 years ago. In my generation, you were not supposed to live to be 30. You were supposed to die. Many of my friends died in airplane crashes, car crashes, they OD'd, they got murdered. And I didn't die. My life went on. As I age, I love the idea of showing these pictures to my subjects and having them come see them.
Forty years after I did Uptown, Chicago, I got an email from one of the girls I had photographed. When I did Uptown, Chicago, that neighborhood was inhabited by some of the poorest white Americans. They were from Appalachia and lived in wretched conditions on a couple of streets on the North Side. Years later, I get a letter from this woman, Rita: "I'm the girl in the doorway. It's my sister who's holding the baby." I'm enchanted. This is very hard to explain—in the '60s, in the '50s, these people were really not considered people. They were like untouchables. The media didn't deal with them. Nobody dealt with them. But by now this woman is a middle-class person. She lives in a suburb, in Jolietville, Indiana, and writes me an amazing email saying that most of her friends had died young. And here's what sent chills down my spine: She writes that she loved being in Uptown. That it was a magical time in her life. When she dies, she wants her friends to sneak her ashes back into the neighborhood and dump them in the dirt on Clifton Street, where I made those photographs. She gave me permission to publish her email in the first Phaidon book, Memories of Myself. She died later.
SM The big thing that has changed for you is your caring or wanting your subjects to know how you represented them. Also, everybody sees stuff pretty fast. Anybody can Google you. You can't hide anything.
DL When I went to China, I was worried about that. I wanted to photograph coal miners, and I was concerned that they'd check on me. Nobody did anything—I never did get into the coal mines, though. They were closed.
SM Maybe they didn't think you were dangerous enough. (laughter)
DL Now it's a different story in China. Everybody's watching everyone. I can't imagine anyone spending a month wandering around in Shanxi with two Leicas without state security saying, "Hey, what are you doing?" Seven years ago there was an opening and I took it.
SM I'm thinking about the days in which you believed that by documenting something, and exposing it, something was going to happen.
DL For the first ten years of my work, from '62 to '72, that was my motivation. That you could influence America—and affect people with books, magazine articles, and films—was a real thing.
SM And now?
DL I thought of myself as a journalist back then, but I'm something else now. When I ran around at Occupy, I tried to play that role. There's still a place for someone like me, however many cameras there are out there. First of all, 99 percent of those people don't have a fucking clue in terms of what they're doing taking pictures. Second, most of these people in Oakland can't go to Zucotti Park. They're busy. They're cooking lunch for each other or cleaning up their tents. They're not wandering around taking pictures like me. It's my profession, and I bring my editing to it, my mind, and the whole history of photography. In the end, I edit hundreds of images down to ten, or two—I present a vision. It's a lot of work.
SM What's the difference of that vision versus the vision from within, you know, shooting the demo from being in the demo?
DL I'm a visionary. If my work doesn't survive, it'll be because people will say, "Anyone can do that!" But it will survive, that's why I do it. Also, I don't have any sense of time. Pictures have no mortality to them. The moment they're made, they go into the future. I deal with that and I love it.
I don't know about you, but when I was a little boy, I said, I'm going to do something with my life. My mother had this library: Einstein was in there, Freud, Trotsky, Henry Kissinger. "Henry Kissinger! He's a total pig," I said to my mother. She replied, "But he's Jewish! He's a German immigrant! Look what he accomplished." That's the background I came from.
SM Yeah. The other interesting thing is how much you looked at others in the early period. Then you made this shift—collaging the family photos, for instance. You're looking inward now.
DL I made myself a subject. I have four children and they became my subject also. I'm working on my third Phaidon book, in which I would like to achieve a deeper level of honesty. My dog Sam, an 85-pound Australian shepherd, died—it was the biggest event of my life. This new book begins with his death. I was struck by the fact that I wept so much longer when he passed than I did when my first cousin died. We have tremendous emotion as humans. If I can bring some of that to my work and get it out on ink and paper and pass it to others and have that then resonate with their own latent emotions, that's great. We all have these turbulent emotions. We're all connected in our consciousness. It's miraculous. We have the work of people in museums who are honored because they're artists—they help move that human amoeba forward an inch by a quarter of an inch at a time by digging through with their own vision and consciousness. It's not a common thing. It's a vision that I protect and do not want to share until it's ready, done, and published.
Originally published in
Featuring interviews with Danny Lyon, Tom Murphy, Cass McCombs and Ariel Pink, Brian Evenson, John Newman and B. Wurtz, Ralph Lemon, Eija-Liisa Ahtila, and Wayne Koestenbaum.