Discover MFA Programs in Art and Writing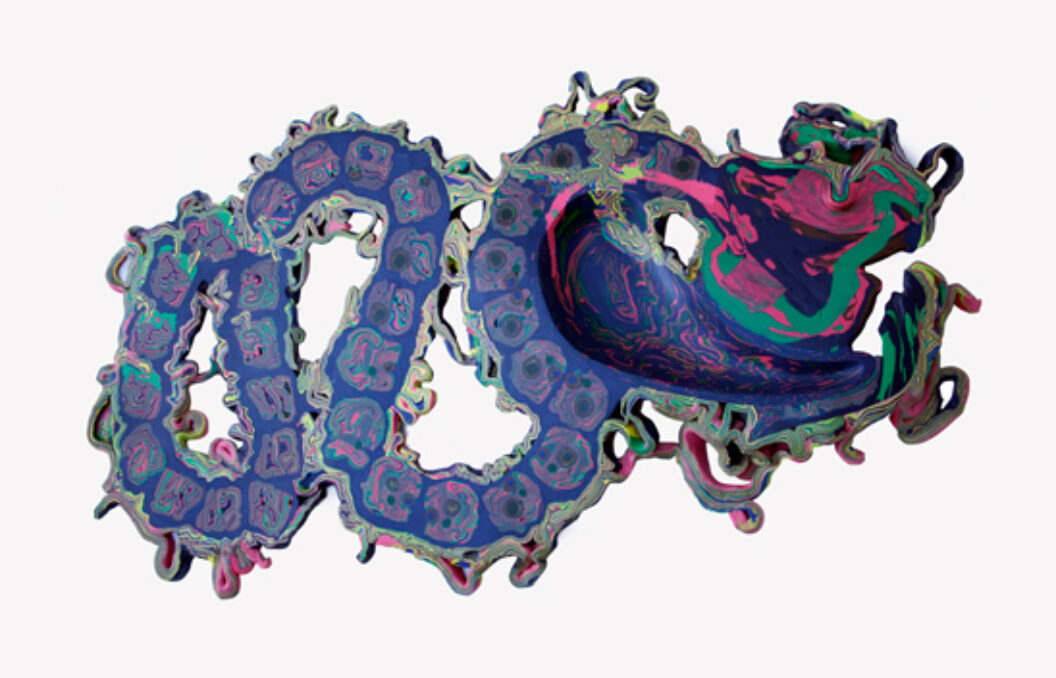 "Wow, that's quite a baroque nightmare happening there on your wall … . It's petrified dragon skin, right?" I'm imagining dinner guests arriving at some home where Daniel Wiener's acid-trip sculpture Flame Meander is threatening to crawl down and fuse with someone's spinal column. They are saying things to their hostess like, "I trust you haven't paid for this yet, you're just trying it out to see … " Yet by the end of the evening, my fantasy continues, after having sat with glasses of wine on a Wiener "bench" sculpture, with their fanny fat Sagging into the Space Between the Slats, (2011, Apoxie Sculpt and metal) they are thinking that they too need one of Wiener's alien-bog artifacts for their own homes.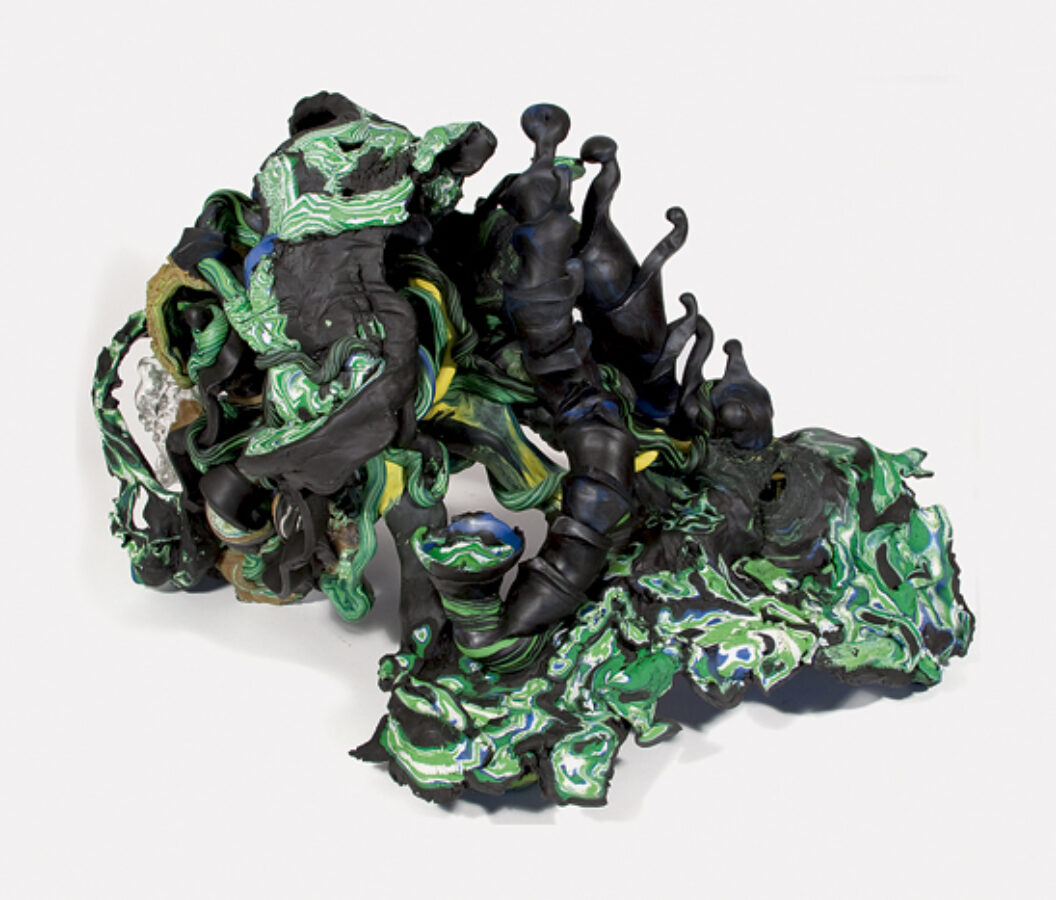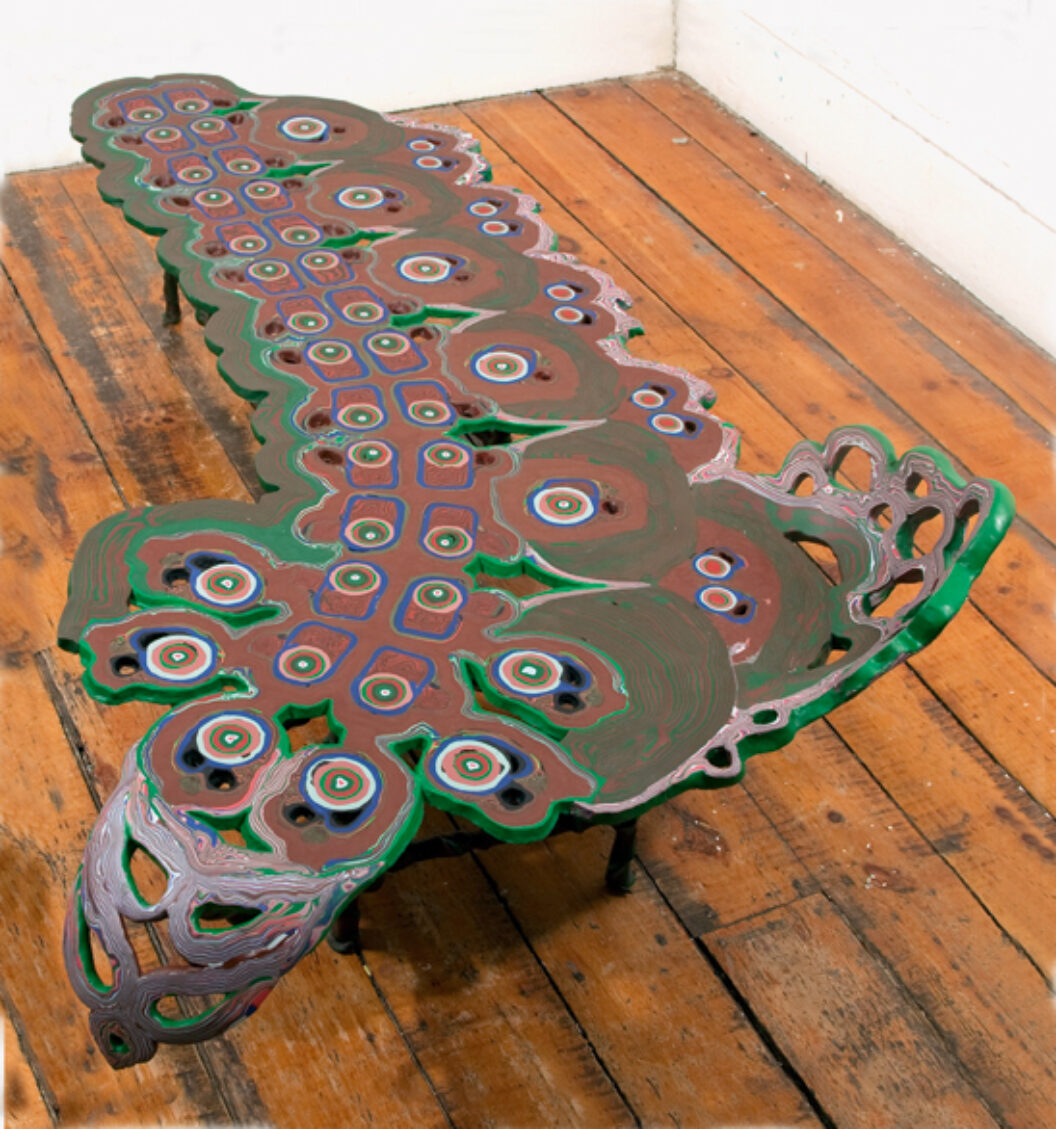 These art objects attract and eventually seduce because Wiener works with his hands and his tools firstly, as a process in motion for finding and inventing. This is a refreshing approach in our current gallery-museum stream of one-liner idea art. His "workmanship" process also playfully trounces on territory occupied by that vast tribe of craftspeople who like to hand-make everyday things for human uses. Objects such as pedestals, vases, tables, stools, and even "wall pictures" are readdressed in rivers and wads of molten color, like smushed-up, melted crayons that have congealed to then be sliced, polished, and madly junk-assembled. Or left off as halfhunks. Or twisted and pulled and ripped. Or wound around and added onto, or just jellied, jabbed, and joined. One piece is named after a frog! Some have thick glass baubles enmeshed. One hunky chunk of a thing juts from the wall. It contains sculpted letters that say "making is thinking" in a childishly gooey non-font.
Yes, I'm very interested in all this muscular, colorful plasticity. Some of it is ugly. Many of the pieces are insanely gorgeous. A few are actually elegant. Take, for example, Blooming, a green vase on a tall green stand, from 2009. Here Wiener has crafted a supremely weird bio-vase using a traditional, rubber mold that he has hand-pressed hot, colored epoxy into. It comes across as a balled-up, cephalopod-shaped juice jug and it is entwined with its stand the way coral grows around sea rocks. I am reminded of Chinese scholars' rocks and their custom-made rock stands. I am reminded of 1960s sci-fi illustrations. I even hear prog rock when I put my ear up to it, ha!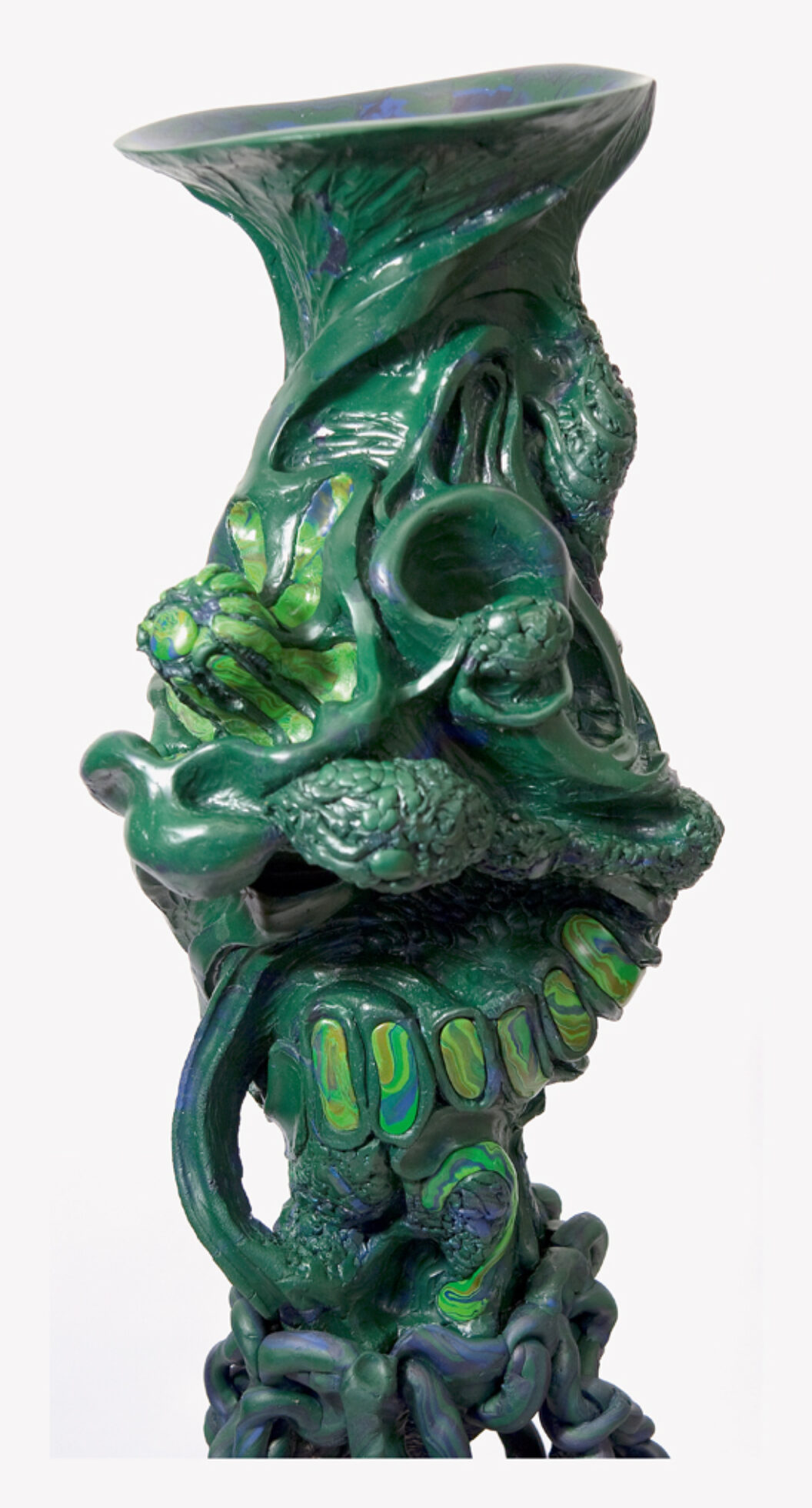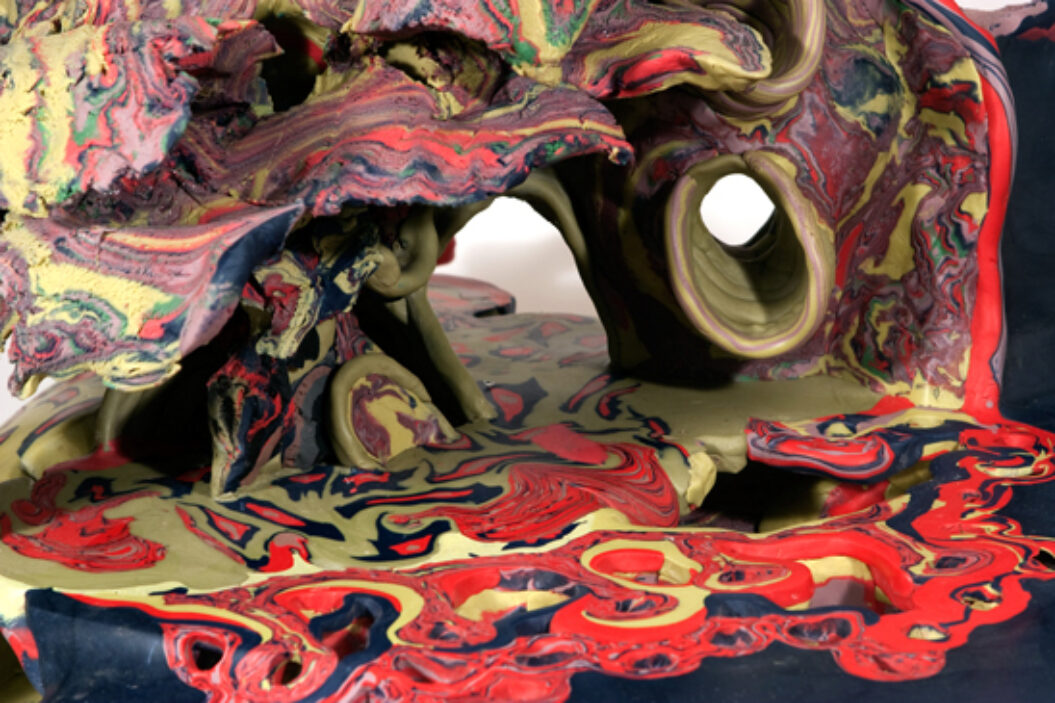 This guy Wiener is active. He makes QuickTime animations. He makes fast sculpture sketches that sit on ledges. He makes labor-intensive tabletops and their labor-intensive table legs. He photo documents his working methods and posts them on his website as tutorials. He also posts his studio notes and subsequent thoughts and frustrations. And he makes fantastic watercolors too! This is a whole 'nother topic, of course, but one that needs to be addressed. The works on paper that I have seen each consist of one or two large "accidents" of aqueous color into which the artist has carefully rendered very small extensions to the spills. These incredibly fanciful additions might be eyes, arachnid tails, abstract knots, people's legs, towns, landscapes, minidragons, patterns, cartoons, or assorted flat shapes. That they border on being illustrations sort of seals the deal that Daniel Wiener is in essence a painter's sculptor. In a way, his sculptures are actually made out of tough, hardened paint. Yay!
Alexander Ross makes paintings and drawings in a studio in Red Hook, Brooklyn. He is represented by David Nolan Gallery, New York, and will have a solo show at Nolan Judin, Berlin, in March of this year.
Originally published in
Featuring interviews with Charles Long, Liz Deschenes, K8 Hardy, Heidi Julavits, Nicolás Pereda and Gerardo Naranjo, Mohsen Namjoo, Dean Moss, and Ingo Schulze.