Discover MFA Programs in Art and Writing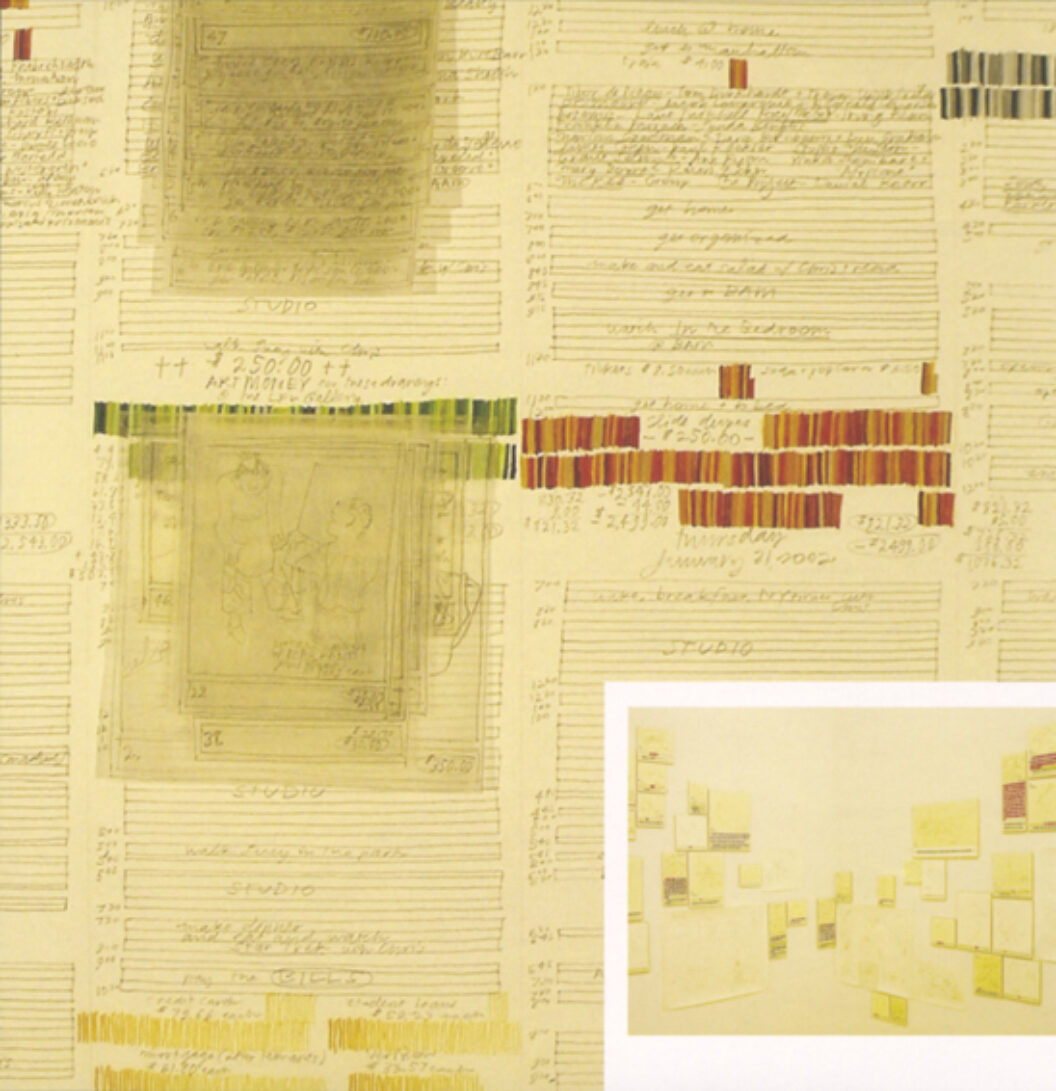 My accountant recently alerted me to a nuance of the Bush Administration: an upswing in artist audits. He mentioned the need to carefully record claims, while the two of us silently considered how much there would actually be to shake from this tree and how this might be simply a distraction technique to keep the artist occupied, lest he/she use that extra time (not to mention income) to…riot?
If we're rioting, then I'm for Danica Phelps's form of revolution. She is not distracted by issues like transcendence; she is making everything she can out of what she has at her immediate disposal. Everyday occurrences fuel her work. Entering her home and its studio space is overwhelming. Balancing precariously between surrendering to the complex clutter of life and painstakingly attempting to keep track of it all, her home is an installation of piles, lists, salon-style wall hanging, strewn laundry, and probably something cooking on the stove. If one singles out the "art works" in the visual array, they are precise, meticulous renderings of everyday transactions, recorded in list form, in calendar-like adaptations and in isolated, somewhat transparently drawn images. A thorough, slightly convoluted accounting system keeps line-by-line track of daily income and outflow, coded green and red respectively, and single dollars noted by small, single brush strokes. The resulting tallies are mounted matter-of-factly on light board, and then hung in expansive clusters that rarely read in a linear fashion. Thus a hierarchical system gives way to a more democratic one. Everything counts.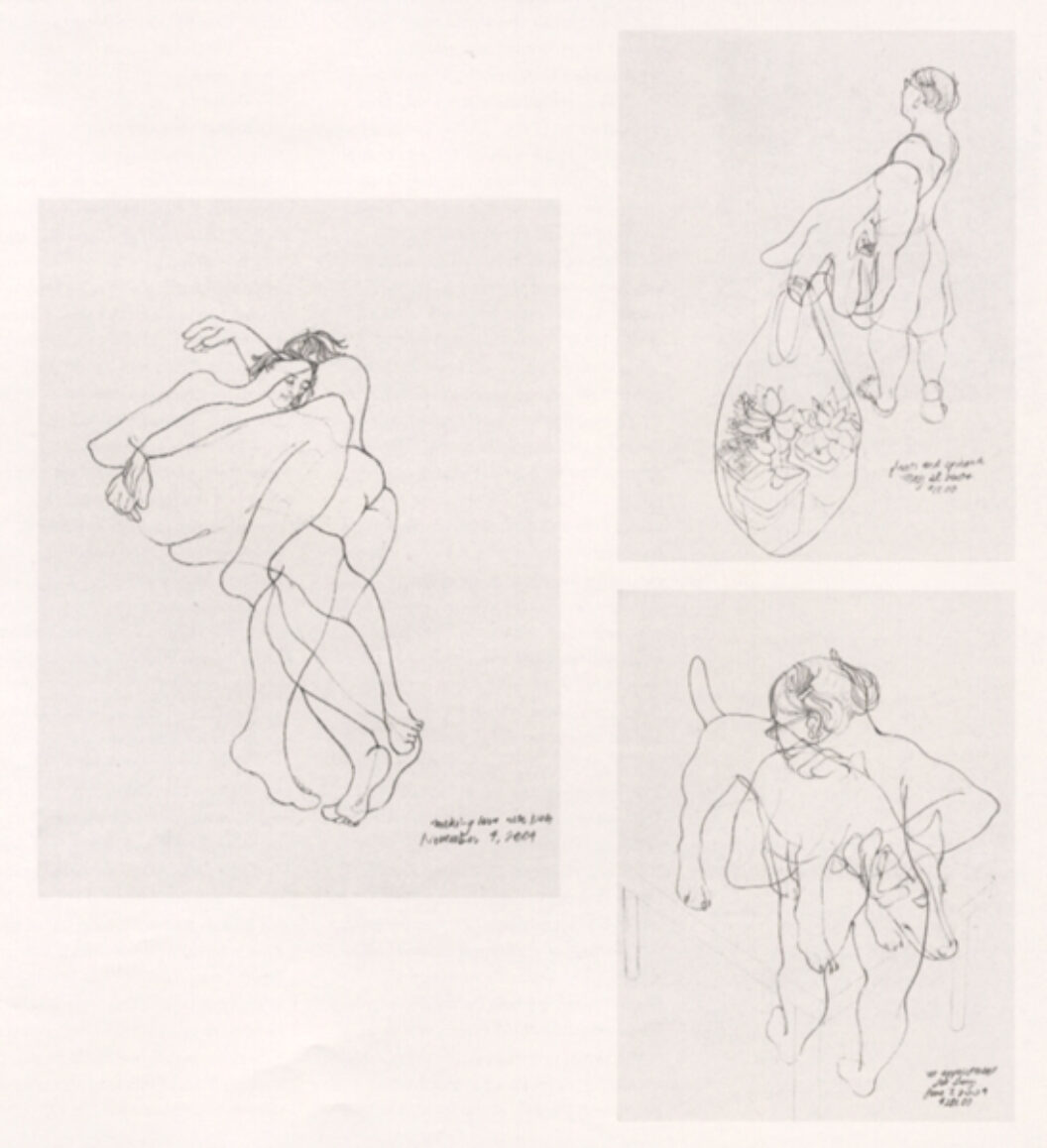 Phelps insists on baring her intimate information, and therefore establishes a playing field of forthrightness and directness. There's also something to be said for saying that which is usually left unsaid. "Full financial disclosure" in Phelp's case means revealing details that, in polite company, we are told we better squelch—from credit-card debt to sexual habits.
Her inversion/re-interpretation of "value" is empowering. It's the ultimate sign of freedom and intelligence to be self-determining. Keeping track implies significance. Keeping score implies progress. Phelp's tallies aren't really about the sort of "accumulation" the American system prioritizes. The American Dream is about charting progress, or so we are told. Prescribed progress includes striving for better living conditions, accumulating frequent flier miles, taking advantage of seasonal sales, upgrading computer technology and, of course, more cash. As an antidote, counter-offer or supplement, Phelps maintains that the evolution of relationships—to other people, to oneself, to one's routines—is a better currency, and that being acutely aware and respectful of the detailed exchanges in life equals wealth.
Phelp's exhibitions and projects—Artist, Curator, Collector, Spy (pointing out the economics and transparency of the art world, not to mention plainly admitting covetousness); Trade Two(establishing a barter system among artists, in a classic display of "sharing the wealth"); Walking 9-5 (tracing accidental encounters in one's daily trek and incorporating rigor and determination into her agenda); Integrating Sex into Everyday Life (displaying a candid tally of mounting debt but also divulging an exceptional increase in frequency in her lovemaking, which certainly can be perceived as wealth)—are all about tracking the progress of life.
1. Detail from the exhibition Artist, Collector, Curator, Spy at LFL Gallery, New York, 2002, pencil and gouache. Courtesy of the artist and Zach Feuer (LFL) Gallery. Inset: Installation view of Integrating Sex Into Everyday Life, February 6–28, 2004, Allston Skirt Gallery. Courtesy of the artist and Allston Skirt Gallery.
2.Clockwise from left: Danica Phelps, Making Love with Debi, November 4, 2004, pencil on paper, 9 × 12″; Plants and Spinach, May 28, 2004, pencil on paper, 9 × 12″; Vet Appointment, June 7, 2004, pencil on paper, 9 × 12″. Photos by Debi Ray-Chaudhuri. Courtesy of the artist and Zach Feurer (LFL) Gallery.
Originally published in
Featuring interviews with Constant Nieuwenhuys and Linda Boersma, Julie Mehretu, Alexi Worth, Pearl Abraham and Aryeh Lev Stollman, Robert Antoni and Lawrence Scott, Kiyoshi Kurosawa and Jim O'Rourke, Roscoe Mitchell and Anthony Coleman, Brad Cloepfil and Stuart Horodner, and Bruce Mau and Kathryn Simon.