Dancing with the Architecture: Lucinda Childs Interviewed by Ivan Talijancic
Available Light returns to New York.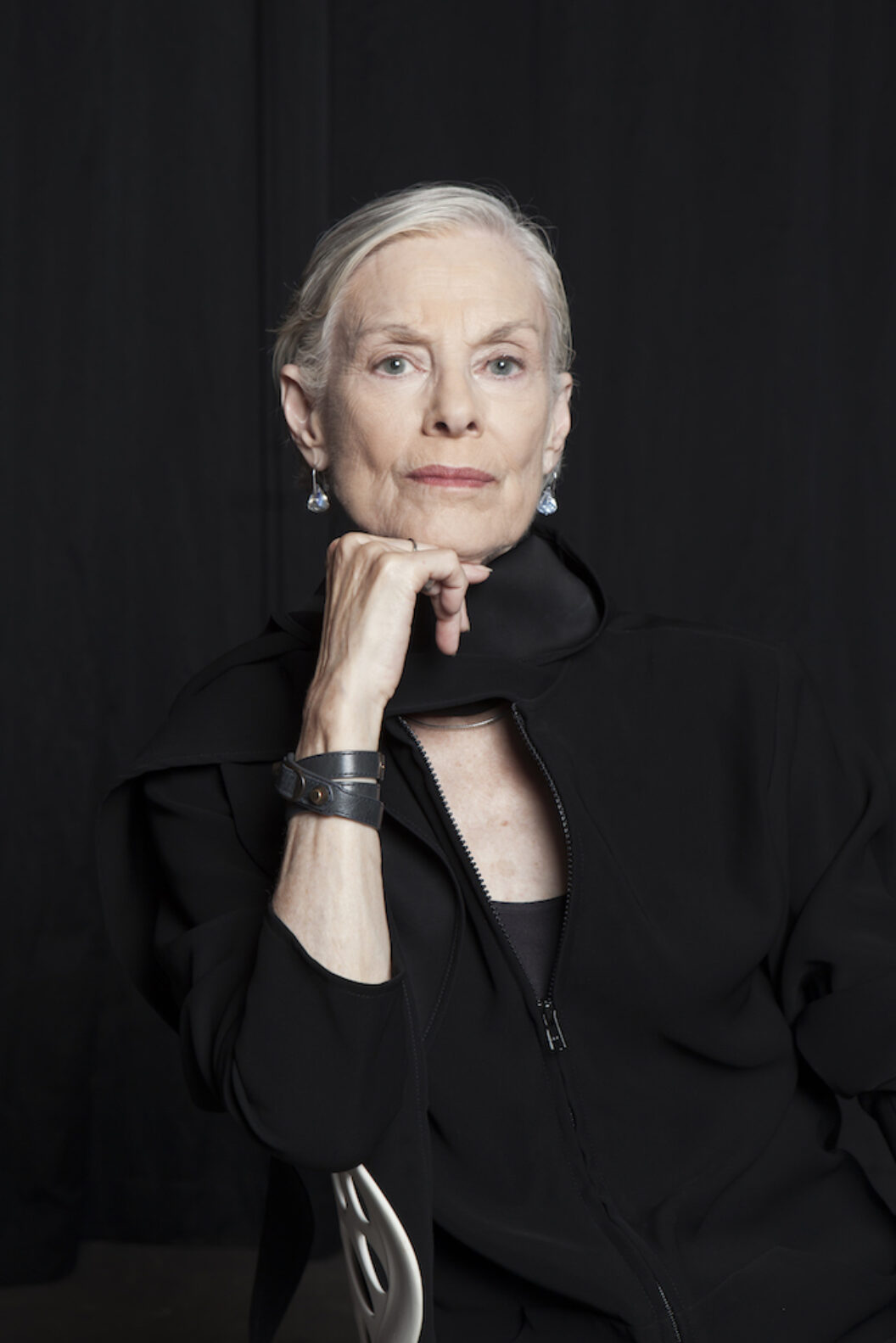 Since launching her career at the Judson Dance Theatre in the 1960s, Lucinda Childs has created an extensive body of work marked by distinctive collaborations with many luminary contemporary artists. Some of her most prominent endeavors include Einstein on the Beach with Philip Glass and Robert Wilson; Dance with Sol LeWitt; and Available Light—with music by John Adams and scenery by Frank Gehry—now set for a two-night revival this summer at Lincoln Center. Originally staged in 1983, Childs's minimalist, hypnotic choreography is masterfully integrated with Gehry's two-tiered set, where the dancers—to quote my mentor Anne Bogart—use the architecture as their dancing partner. Timeless in its abstraction, this work appears strikingly contemporary, as much as I imagine it did when it was first created over three decades ago. I spoke with the iconic choreographer last week, as she prepared for what will be one of the final performance engagements with the Lucinda Childs Dance Company.
—Ivan Talijancic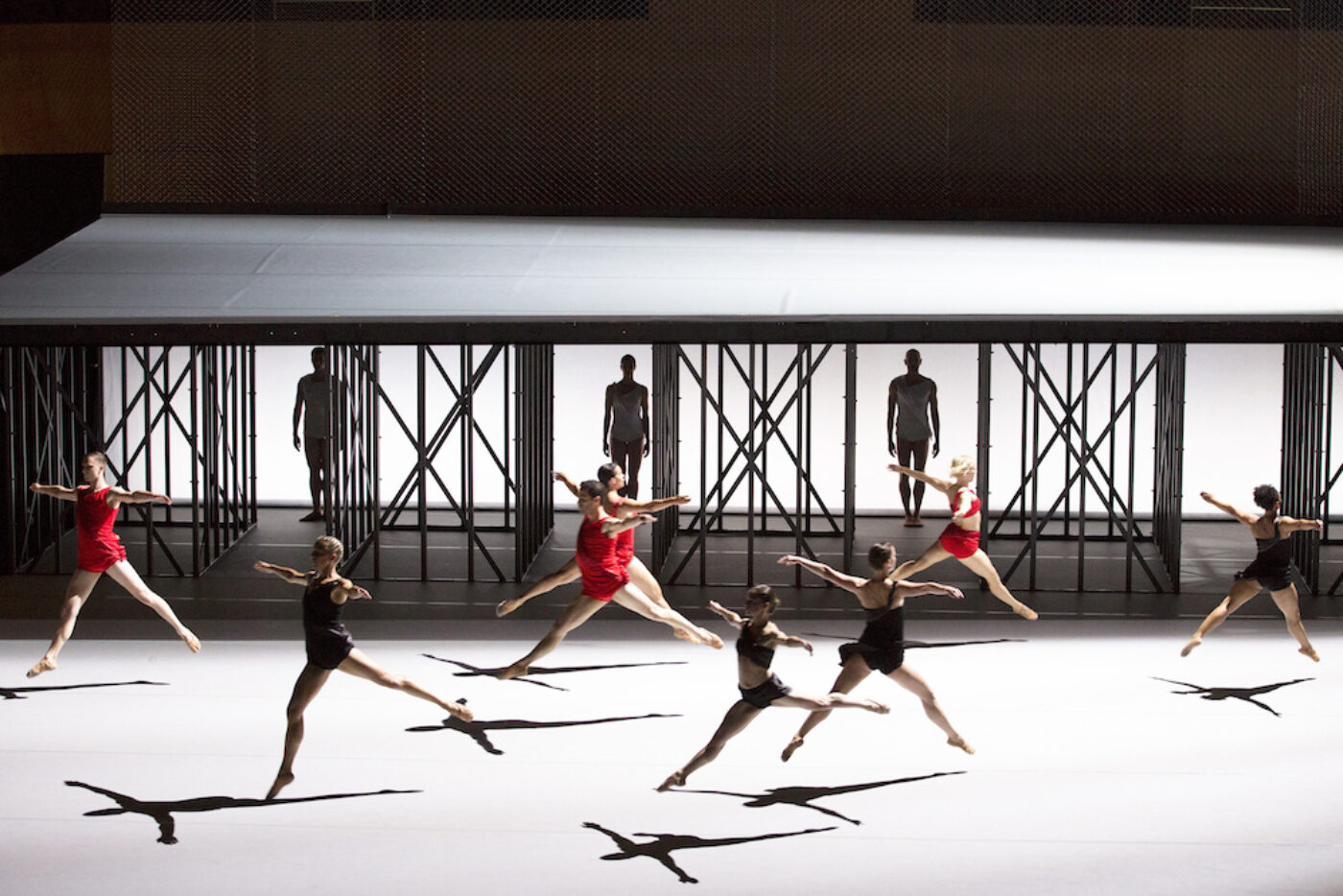 Ivan TalijancicWhen I first heard about Available Light, I was really first struck just by its title.
Lucinda ChildsThis piece was originally commissioned by the Museum of Contemporary Art in Los Angeles, and we decided we wanted to use an alternative space—not a traditional studio space—at that time. Frank Gehry found this beautiful abandoned warehouse, an enormous space that had skylights all around it. When he was working with my lighting designer, we decided that we should beam in artificial lights through the skylights into the space at night. And that is how we got Available Light.
ITBeautiful. As so much of your work is collaborative, can you talk a bit about how you worked with your performers to come up with a piece?
LCReally up until then, I had worked only with Philip Glass, but working with a new composer in John Adams, I found it inspiring as he would send me parts of the music. With the dancers, the process is very intuitive: listening to the music and getting the feeling of it—which is so different from Glass, even though they sometimes get put in the same category—then working very technically in the studio to create movement material for the dancers. One of the beautiful qualities of the score is that there's no apparent metric system; in its place, there are a lot of accelerations and decelerations and periods of time when there's no actual pulse. So, the dancers have to be incredibly tuned into each other, to work like a team, to maintain certain time periods very precisely from one point to another. And that's one of the things that people pick up on: how the performers work together, even though sometimes they can't even see each other. That's a part of the piece that I'm very happy about—and it makes me happy to revisit this kind of work.
ITAs you mentioned, a key collaborator in all of this was the architect Frank Gehry, who designed the set. How did you both arrive at the visual environment for the piece?
LCI had the idea for the split-level set—dancers on one level doubling the movement of dancers on another—I love that separation of space and enhancement of the teamwork. But what Gehry felt, and I felt too, was the desire to think about some ideas together. And he said: "It really would feel best if you come to my studio and we can actually work together." I made trips to be with him and talk through different ideas for the split-level set.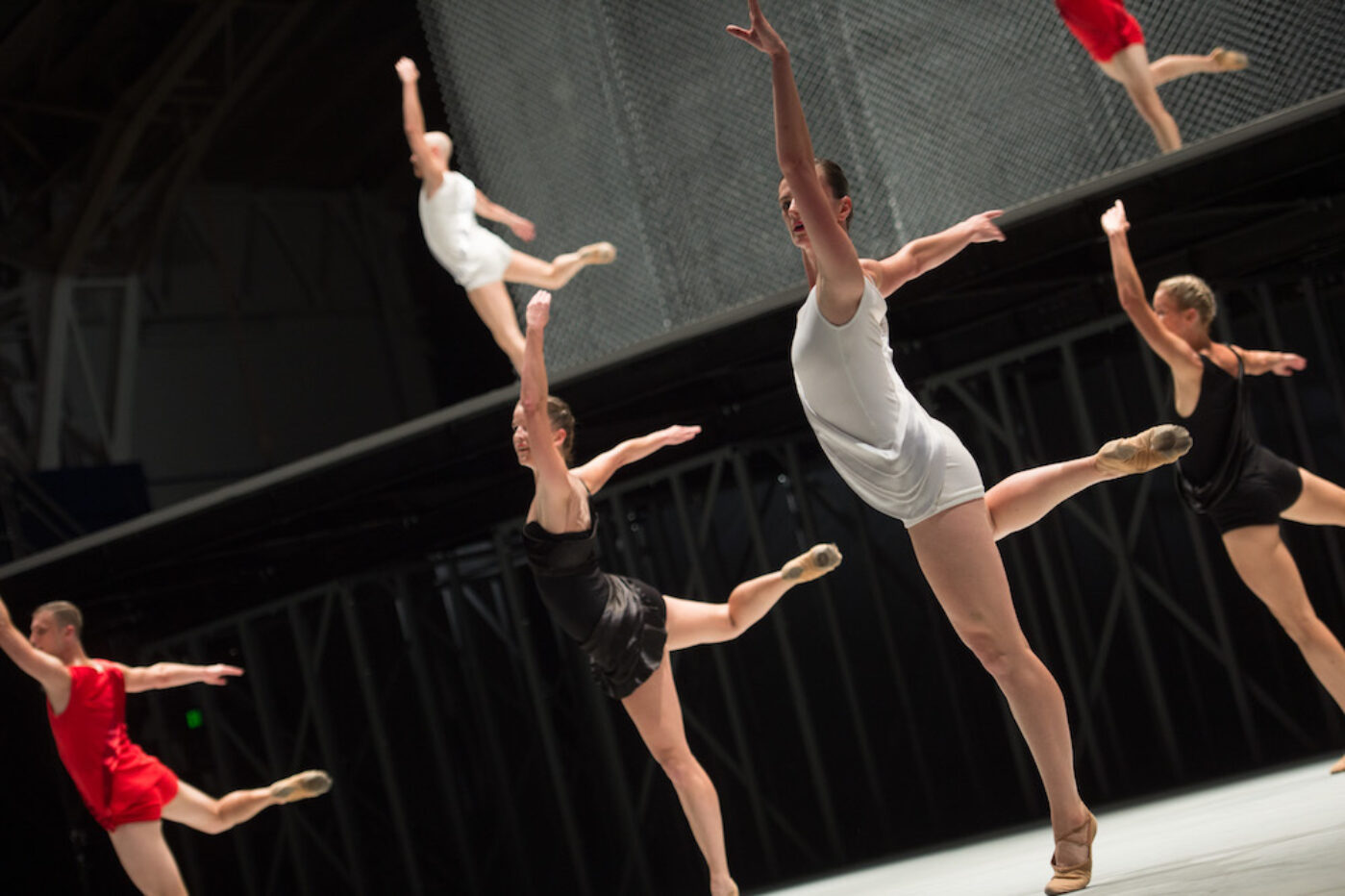 ITAs the piece was originally staged in the '80s, I'm curious to hear what prompted your decision to bring it back some thirty years later?
LCAt first, as you know, the work was done site-specifically in Los Angeles and Harvey Lichtenstein wanted the piece to come to New York to be part of the Next Wave Festival at the Brooklyn Academy of Music. So Gehry agreed to redesign a version of the set, now with the overlapping split-level, which I actually liked very much. It was very generous of him to go through that process and agree to this other presentation of the piece. So when the idea of reviving it came up, there was a lot of interest because it's really the only way to see this kind of work, similarly to Einstein on the Beach and Dance. This was very high up on my list, to see if there was a possibility, and when I talked to Gehry about it, I said: "Do you think we can design a set that would work in an outdoor space as well as an indoor space and be something that we could travel with?" It's almost impossible to build something on site that perfectly matches Gehry's concept, and it's so much better for the dancers to have an existing set that, no matter where they are, it gives them a structure that they're used to working on. So we've been blessed that that came to pass and it has to do with the interest in collaboration. Everyone agreed—John Adams, Frank Gehry, myself—that this was something we really wanted to do.
ITI imagine the revival must be quite exhilarating. How have you found that things have changed?
LCBecause of the new technology, there were some things that John Adams could work on and improve. He said he's very happy with the fact that he's able to tune in in a different way because of the technology, even though the material is exactly the same. I feel that way too: the material is exactly the same, but it's a different group of dancers and a different time.
ITWe were just talking about the unique quality of John Adams's music and the fact that you need a cast that is incredibly tuned in not just with the music but also with each other, which feels like such a singular dynamic. How was it for you to have to revisit that and to recreate that dynamic all over again?
LCI'm very fortunate that in 2009 this particular company also came together for the revival of Dance. We never imagined that ten years later we'd still be doing this. Many of the dancers are the same ones that joined the company in 2009, so that's a huge advantage for me, to have dancers that had been with me for that long and have worked on all the different pieces. Available Light is without a doubt the most challenging for them, and I think they've done a wonderful job, and it couldn't be a better situation because it would be very, very difficult to start a new group and train it for this piece.
ITSpeaking of the company, I hear that this production is part of its final season. What comes next for you?  
LCI'll be working on an evening-length program with Wendy Whelan and the cellist Maya Beiser. And I'll be working in Europe on different projects.
Lucinda Childs's Available Light will be performed at Lincoln Center as part of Mostly Mozart Festival on Thursday, July 12 and Friday, July 13.
Ivan Talijancic is a founder and artistic co-director of WaxFactory, a New York-based interdisciplinary art group. He is currently completing his first feature film, 416 MINUTES, and regularly writes on the arts for BOMB, London-based Bachtrack, and The Brooklyn Rail.