Discover MFA Programs in Art and Writing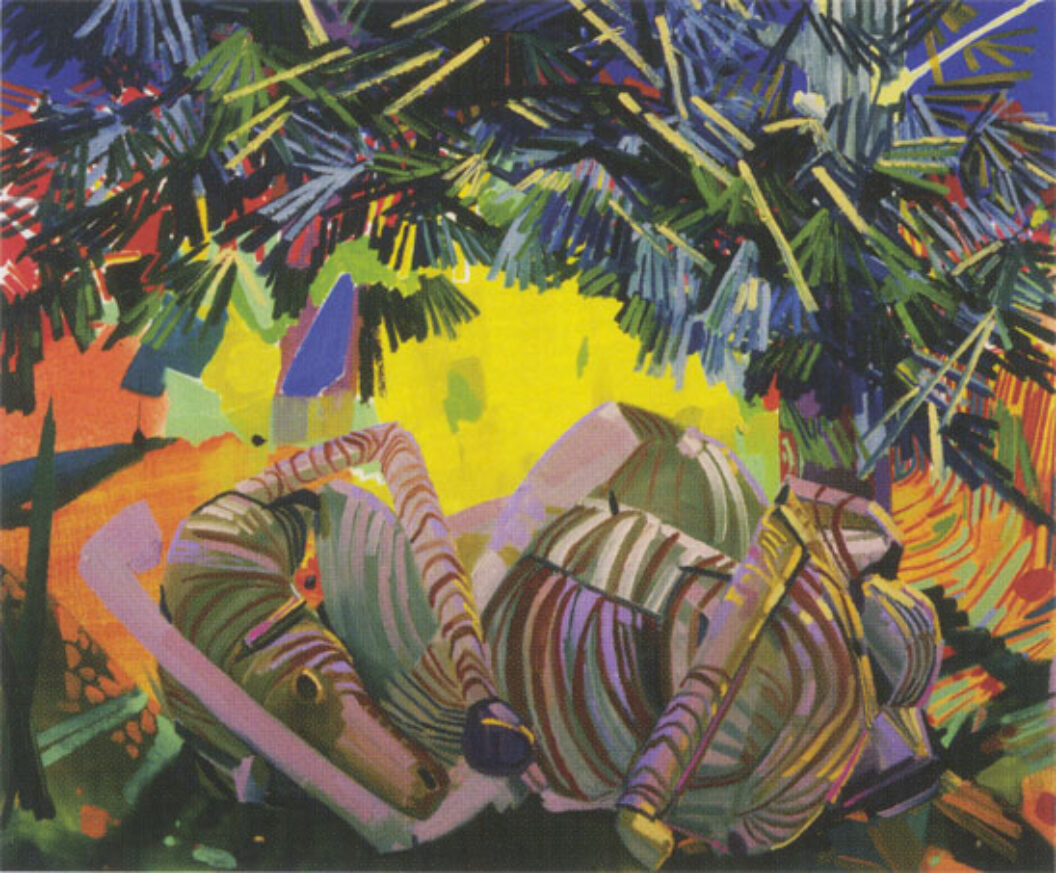 In a Flash Art interview from fall of 2002, John Currin stated, "Even if you are a shitty painter, any mark you make is going to have a lot of referential weight attached to it. Part of the trick is to let that happen, and to let all the references happen without worrying about them. The trick is to put some of yourself back into some kind of ignorant state."
Around the same time, Dana Schutz was having her first solo show at LFL Gallery in New York, a body of work premised on an inventive charge: to paint a "fictional man from observation:' She outlined her mission in the exhibition's press release: "The man and I are the last people on earth. The man is the last subject and the last audience, and because the man isn't making any paintings, I am the last painter." In accordance with Currin's advice, Schutz's ecstatic style synthesizes a who's who of Painting's past—Matisse, Marsden Hartley, various Bay Area masters, late Guston, Alice Neel, Malcolm Morley, and the bad-boy Germans of the '80s—but when I asked her about possible favorites, she said simply, "Different artists do different things, like vitamins."
In Frank as a Proboscis Monkey, a scruffy blond emerges from dense foliage with a glassy-eyed stare and hyper-erect nipples that extend off the canvas. With Night in Day, the isolated togetherness turns macabre. Frank has been dismembered: his folded hands, skull and sections of leg and hair are piled up to form a makeshift sculpture. The impulse to build then collapse bodies is becoming the artist's modus operandi, as the recent Dead Zebra reveals. An endearingly thick animal is folded in on itself, shaded by hatch-marked Fauvist trees. Sunlight hits the zebra's haunches in tender and articulate ways. Discussing her future work, Schutz says, "Right now I am thinking of painting a group of people who can eat themselves. They're not cannibals—they just eat themselves to survive. It's regenerative and destructive. They would just die but they also can remake themselves from poop. That's really gross. They don't have hands, but they could sculpt with their feet."
Given Schutz's absorption of high and low painting traditions, her zany imagination and freedom with the medium, we'd be in fine hands if she were the last painter.
—Stuart Horodner
Dana Schutz will have a solo show at LFL Gallery, New York, in November 2004.
Originally published in
Featuring interviews with John Waters, Shirley Jaffe, James Welling, Nuruddin Farah, Alma Guillermoprieto, Olu Oguibe, Hanif Kureishi, Ra'anan Alexandrowicz, and Howe Gelb.