Discover MFA Programs in Art and Writing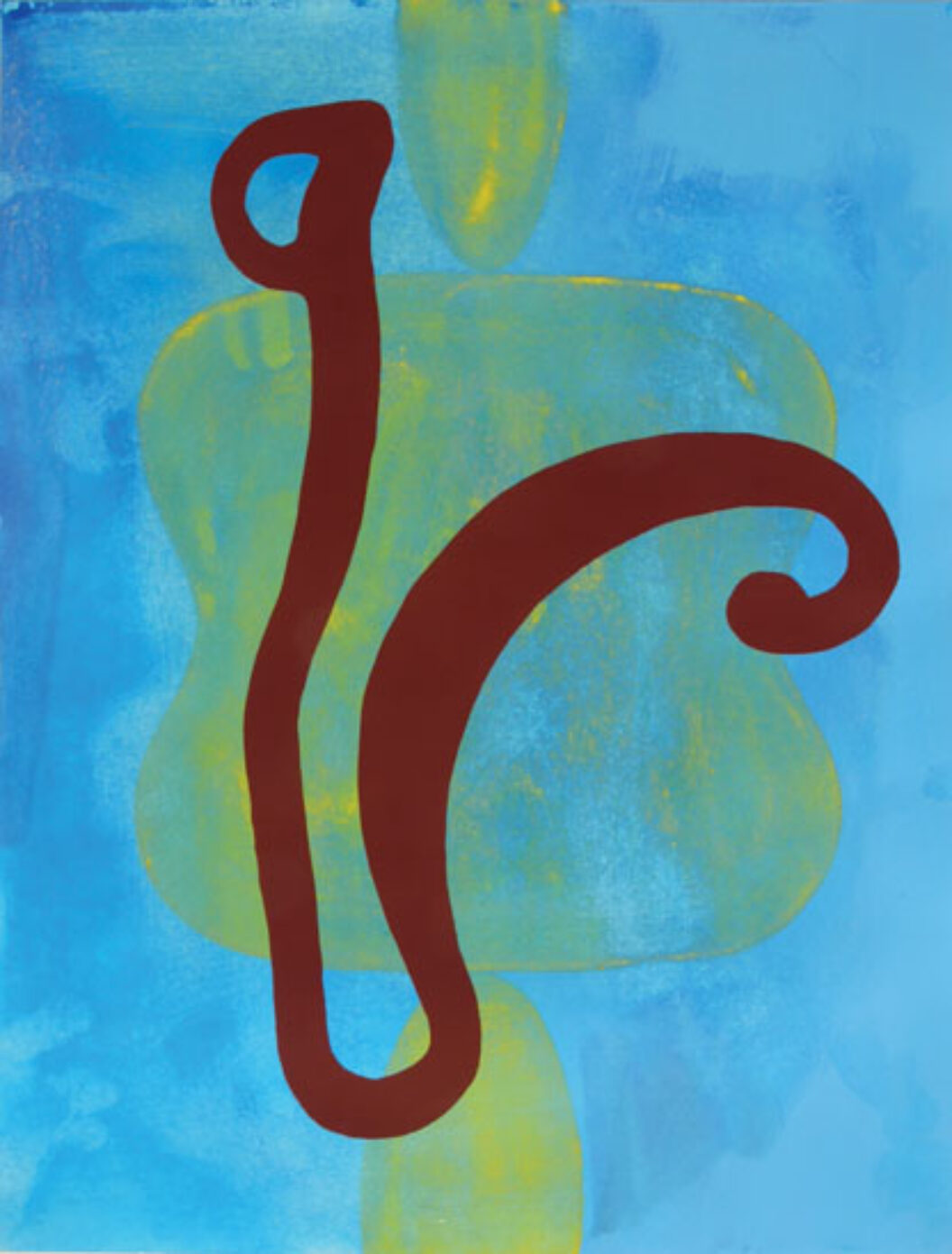 Picture a man in New York City, wandering its busy streets. He spies a battered piece of small cast plastic on the sidewalk. Its shape is familiar to the eye and hand; it is intact but not instantly identifiable. He puts it in his pocket, goes to a photocopy shop, and has it enlarged 300 percent. After taking the enlargement home, he makes carbon transfers of the shape onto paper and wood. It's a glyphlike form; there's a section that redoubles halfway, culminating in a small hook facing the same direction as its counterpart. The material is rounded, not stamped out, and the man's transfer carries over that rounded quality. He remembers to put the original object (a sock hanger) in an accordion file filled with strange found pieces of cardboard and plastic: shapes that evoke shields from a children's army, vases with impossible necks, bent and distorted swords, collars from cubist oxen.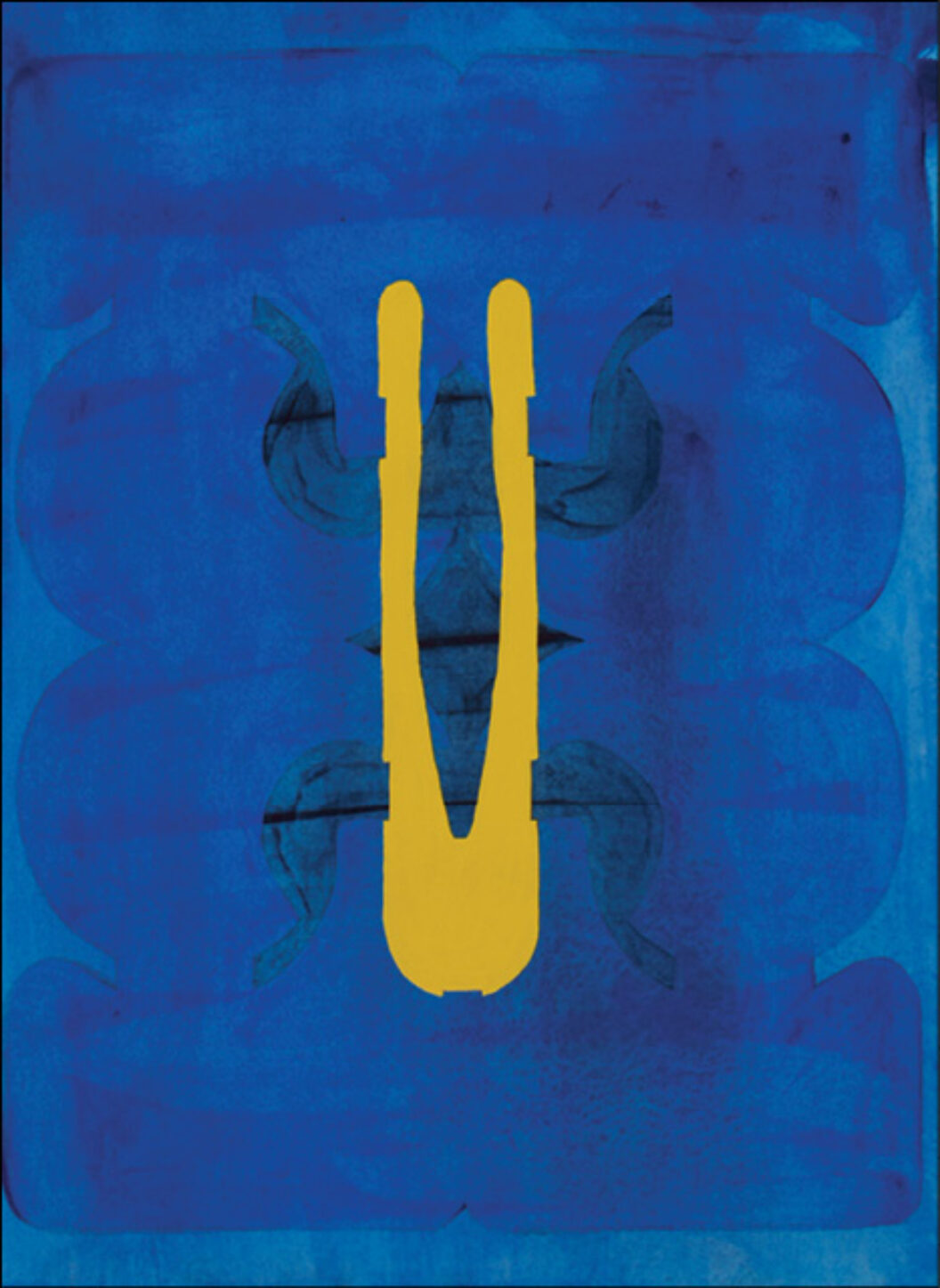 The man works in a small, neat room. Typewriters with long carriages rest atop one bookshelf, and the walls are lined with hundreds of books in glassed-in cases. The books! There are too many to describe: a cacophony of text and image. It's not a library, though. It's Dan Schmidt's studio, and he prepares to work with his arsenal of modest shapes surrounded by the work of others, both literary and art-historical (the books), and industrial (the packaging he scavenges from the street, and sometimes even pays for at local drugstores or dollar stores). Ironically, out of this condition—this immersion in "others"—he creates his own work. It is among the most personal and human work I know. As he makes paintings and works on paper using these shapes—six-pack cartons, collar stays, toothbrush bubble wrap, and the like—he considers the anonymous designers who dreamt them up, but never expected these shapes to take on the resonance and meaning he is giving them. Schmidt says about these shapes, "They have an utterly desirable symmetry and perfection and rightness … it would be impossible for me to have originated any of them … [but] as with all commercial design, use value almost destroys it and makes it nearly invisible."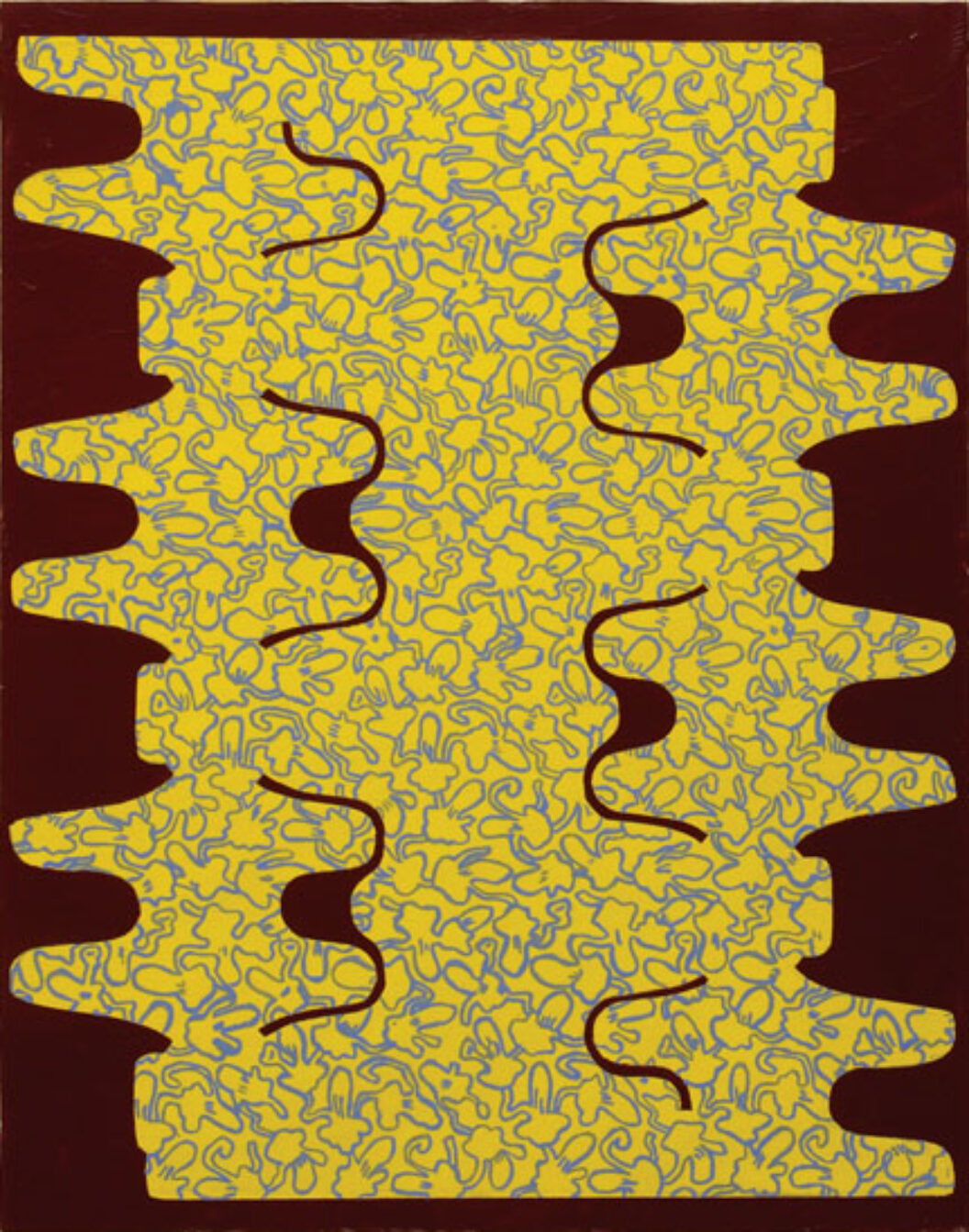 Schmidt makes his own decisions, to be sure—about color, scale, surface, material—in fact, many of his gouaches make trips to the sink to be rinsed off when they're not quite right, but not wrong enough for the circular file, and the cumulative effect of latent images rewards the eye with pleasure and mystery while the final ur-form steals its way into the viewer's wheelhouse before she knows it. On the other hand, his panels are, like all devotional painting, pre-ordained. Two constant elements are his use of various security-envelope patterns (one wonders at the meaning of his use of forms whose original purpose is to prevent things from being seen!) and the forms from the accordion archive (Schmidt calls them "figures"). The figures leap forward from their humble beginnings when, as three-dimensional objects, they housed sippy cups, ink cartridges, and air fresheners: the stuff of human life. Schmidt's paintings materialize what is intended to be invisible. The capitalist world is a world where shapes toil unnoticed and unappreciated; Schmidt brings the work of unacknowledged artisans into the light, and seamlessly blends it with his own rich experiences. While he's extraordinarily well read and well versed in literature and art history, his work reveals a different world: one where the boundary between conscious and accidental, unexpected meaning is breached. It's on the sidewalk or at the dollar store, where there's not a customs agent in sight.
James Siena is an artist who lives and works in New York and the Berkshires.
Originally published in
Featuring interviews with Allen Ruppersberg and Cheryl Donegan, Allora & Calzadilla, Joel Shapiro, Lydia Peelle, Rebecca Solnit, Cherien Dabis, Karole Armitage and Lukas Ligeti, and Thomas Bradshaw.