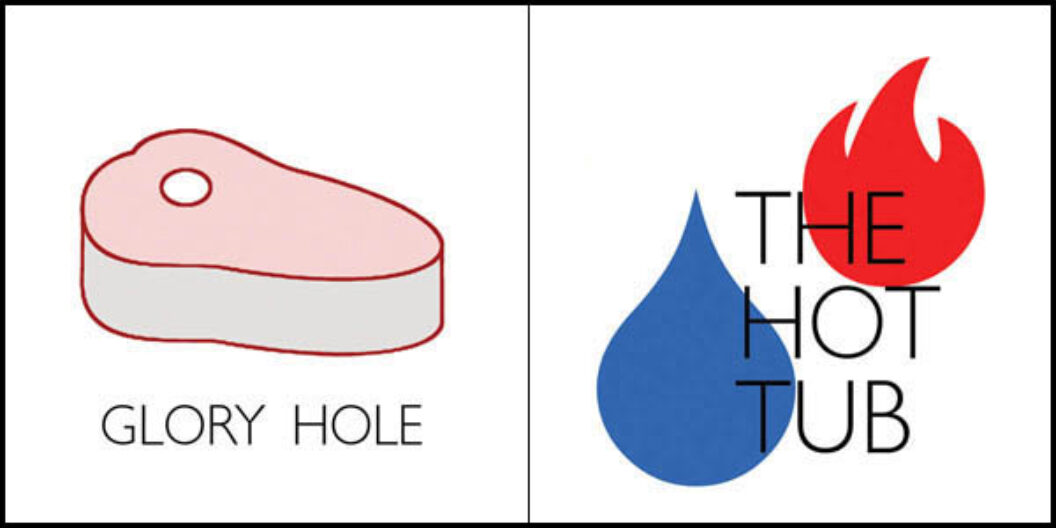 Remember the old pulp novels—two-in-one, back-to-back and upside-down? When you finished one, you could flip the book over and read the other. This binding style, called tête-bêche (head-to-toe) was never taken up by "finer" literature (but imagine a Jean Rhys tête-bêche with The Crack-Up)—until now, with Mal-O-Mar's release of Dan Hoy and Jon Leon's poetry collections, The Hot Tub and Glory Hole. The two collections are one book with two jackets, face-out, like orphanage twins or, ahem, the number six and the number nine.
Mal-O-Mar (whose name invokes Mallarmé, marshmallows, and ills of la mer and les meres), is the vision of poet Ariana Reines—a series that aims to sweeten "literary engagements with the abyss," as Reines puts it, and will feature vending machines around New York City, in which M-O-M editions and other select works will be sold in place of cookies.
Let's flip a coin and start with The Hot Tub. Leon's poems are petite, rectangular mini-narratives like Joe Wenderoth's Letters to Wendy's, but their antihero—a smartass who drinks "vodka from a vodka bottle," then soaks with babes in white bikinis "like snowflakes in tangerine boots"—is closer to a Bret Easton Ellis character. Whoever he is, I wish he'd been with me at the awful Karl Lagerfeld party when I understood that one can't escape age by covering the neck and hands in chiffon and leather, respectively. To read The Hot Tub is to bathe in the shallow glittery world you dream of and hate, with just the right remove.
Glory Hole, whose promotional video features a man falling and burning, reads like a life flashing before someone's eyes. The voice, unlike Leon's, is post-sex, post-American Apparel, but preordained ("I like faces that take my thoughts and make them better") and vampiric ("after nine thousand years, pretty much everything is a waste of time"). It's unclear if this is God or, like, Dracula. Either way, these are the frank admissions of someone, possibly eternal, bending over his own reflection and watching himself see—an image of Narcissus that brings us, naturally, to Baudelaire: M-O-M's next edition will be a much needed new translation of My Heart Laid Bare.
Rachel Kushner's novel Telex from Cuba was a finalist for the 2008 National Book Award. She is a contributing editor to BOMB.
Glory Hole and The Hot Tub are out now from Mal-O-Mar.
Originally published in
Featuring interviews with Allen Ruppersberg and Cheryl Donegan, Allora & Calzadilla, Joel Shapiro, Lydia Peelle, Rebecca Solnit, Cherien Dabis, Karole Armitage and Lukas Ligeti, and Thomas Bradshaw.