Curating as Storytelling: Omar Kholeif Interviewed by Osman Can Yerebakan
Slowing down images and information.

Discover MFA Programs in Art and Writing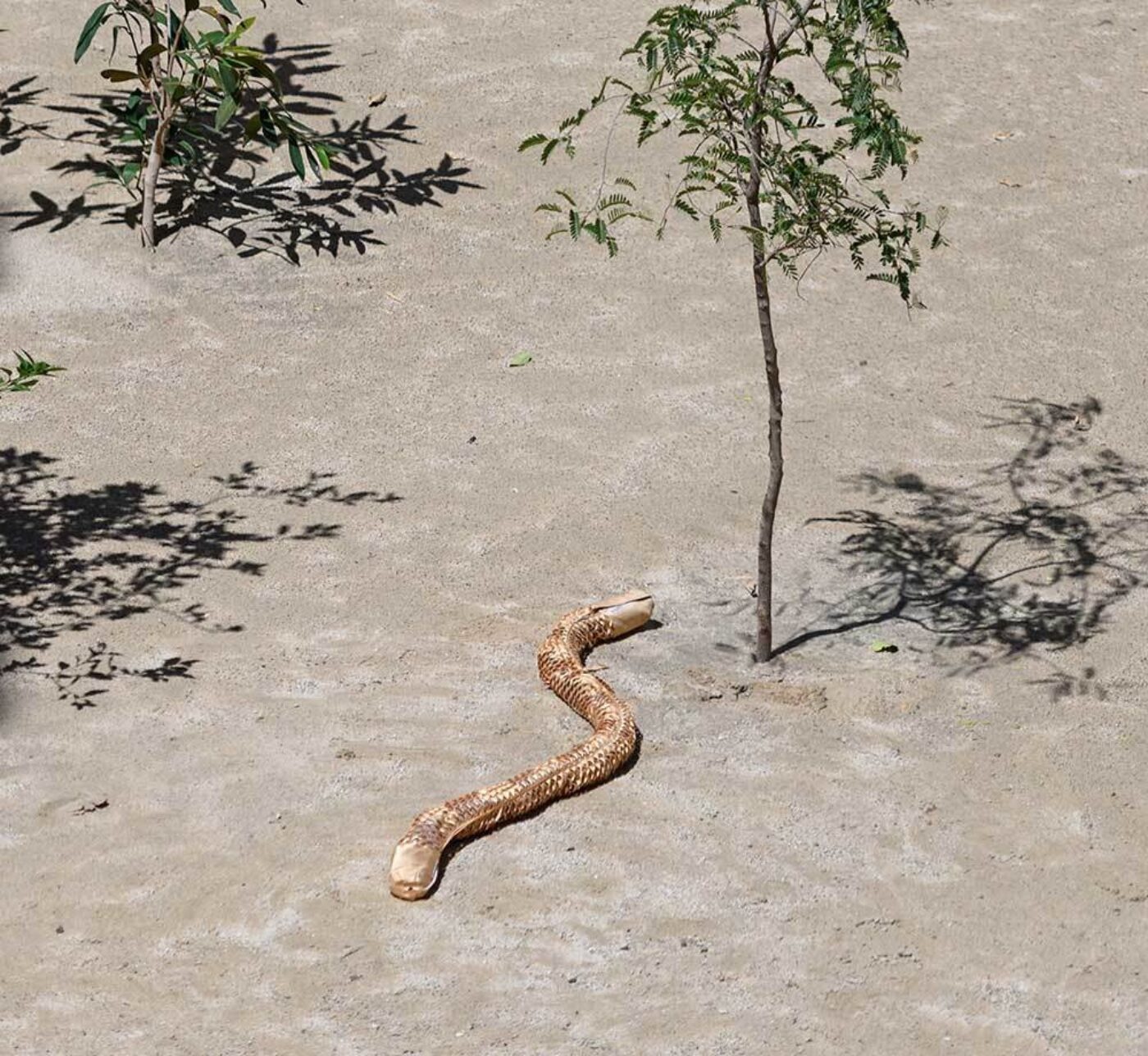 I met London-based curator Omar Kholeif in Sharjah, the third-largest state of the United Arab Emirates, during the opening week of Sharjah Biennial 14: Leaving the Echo Chamber, which Kholeif co-curated with Zoe Butt and Claire Tancons. Kholeif has a longstanding interest in technology's relationship with the body, and he uses his platform to raise questions about the possibility of filtering images and information away from the constant flux of data and toward a more direct human perception, as well as more generally addressing the outcomes of these processes in a world of rapid exchanges and transformation.
—Osman Can Yerebakan
Osman Can Yerebakan The biennial has subtitles for each curator's segment: Butt's Journey Beyond the Arrow signals departure from the echo chamber; Tancons's Look for Me All Around You is about a search following that departure; and your Making New Time connotes contemplation and experiencing the experience. Was this transition between titles and concepts a natural process?
Omar Kholeif It was a natural evolution. We independently did research and approached the idea of leaving the echo chamber. We inevitably contoured the idea in different ways and asked the audience what it means to demand your own image and speak your own truth in a world where everything becomes fractured through social media. The dizziness creates a continual propaganda to deviate from "the actual thing," which in this case is art, along with objects and artifacts. Each title is a journey and continuation of this evolution, but we all ask what it means to decode images.
OCY I was waiting for the robot snake in Pamela Rosenkranz's Healer (2019) to move, and it never did. I had to sit and wait for twenty minutes by the glass window around the courtyard to see the snake start crawling. All I could do was to contemplate while waiting, which I believe is the work's core incentive.
OK Exactly. The work demands to be patiently looked at. It ironically has an algorithm of a computational technology eventually designed to accelerate our lives, but, here, the idea is used counterintuitively. I am interested in the aesthetic such exchange produces—the marks a snake leaves on the sand or how people wait for it to move. A snake bot is generally used for medical improvements and rescue missions, and snakes historically have a relationship with the idea of divine. I urge people to ask if this work is meant to be something that just exists. Does it have its own notion of time? We constantly demand things to perform and deliver. The US election in 2016, for example, created a continual obsession with what's next on social media. The immense impatience has been evident. We lack the patience to inhale and process the situations.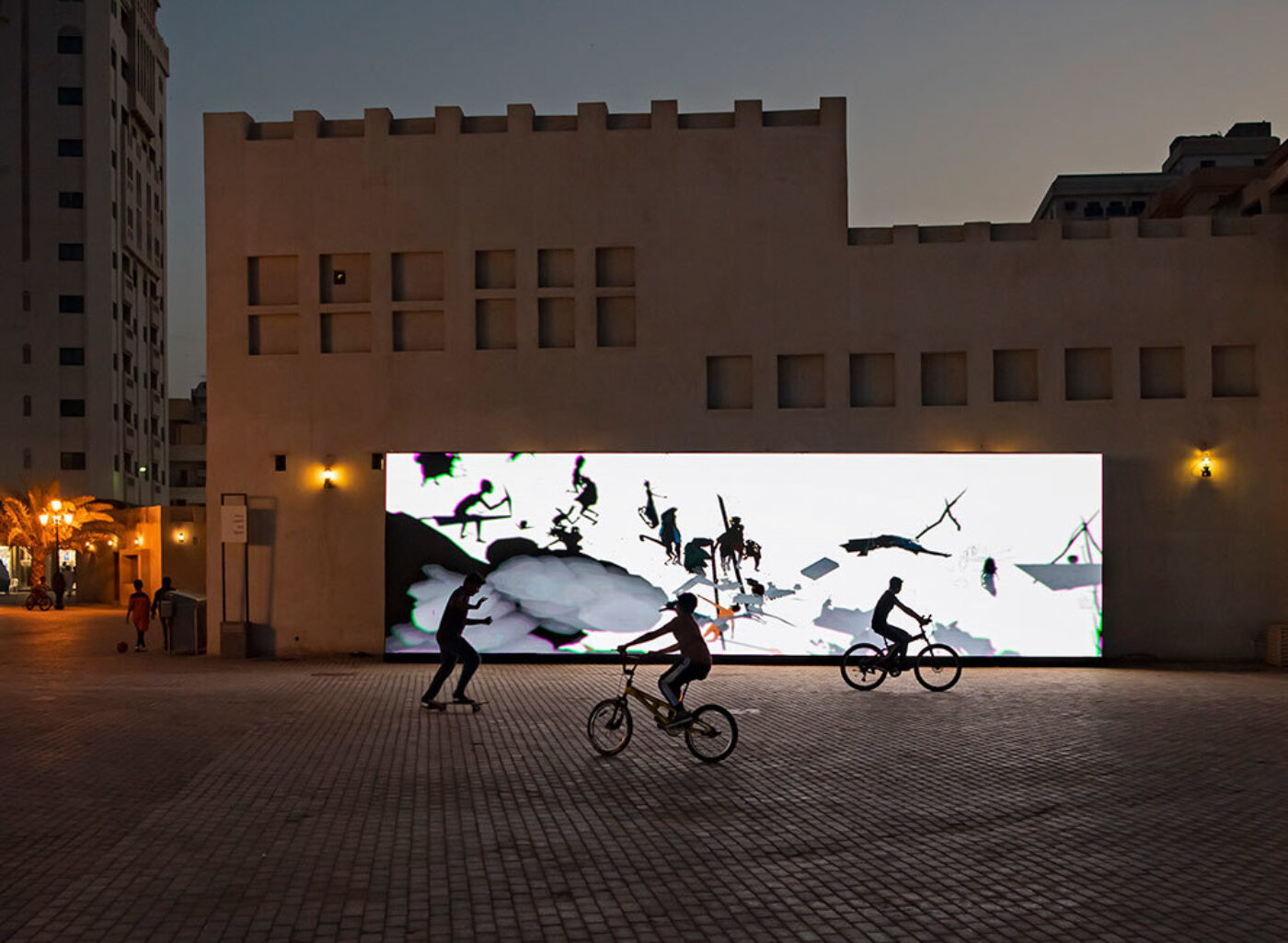 OCY Ian Cheng had once given me the example of Harry Potter to explain his methodology to create his live simulation Emissaries series (2015–17). We only know the climatic moments in Harry's life but lack knowledge on what he does when he wakes up and continues an uneventful day. While looking at Cheng's work on a giant LED screen in Arts Square today, a kid passed by on a bicycle, which was a rapid intervention of the mundane into something high-tech happening before my eyes.
OK This biennial is about how we see public space in terms of collectivity and crowds. Singularity of viewing art is important for such a massive, citywide art exhibition. There are infinite possibilities for each viewer interacting with the works. A trustee from Dia Art Foundation once asked my opinion about tech-generated art and if I believe computers will replace artists. They asked if I think what computers make is art. I don't think computer-generated art is replacing any traditional form. Abstract Expressionism, or Post-Minimalist sculpture, or any other avant-garde movement of its time prompted questions about the future of art production. An algorithm is not unlike a paintbrush with endless possibilities in the artist's hand.
OCY There is a balance between works that use high-tech means and paintings by mostly female artists using figuration, especially faces.
OK I used the Sharjah Art Museum to convey embodiment as a counterpart to the idea of experiencing time. Entering the galleries, visitors are greeted by Lubaina Himid's paintings, which juxtapose black lives that have long remained concealed. And there are paintings by the late Turkish artist Semiha Berksoy who has been outside the public eye due to neglect. Lebanese painter Huguette Caland's faces are not just faces—they blur the line between abstraction and figuration. Abstraction asks where the body is and why it is not present, which I think is political. We also have to think about the museum as a body of collective space containing subjective experiences.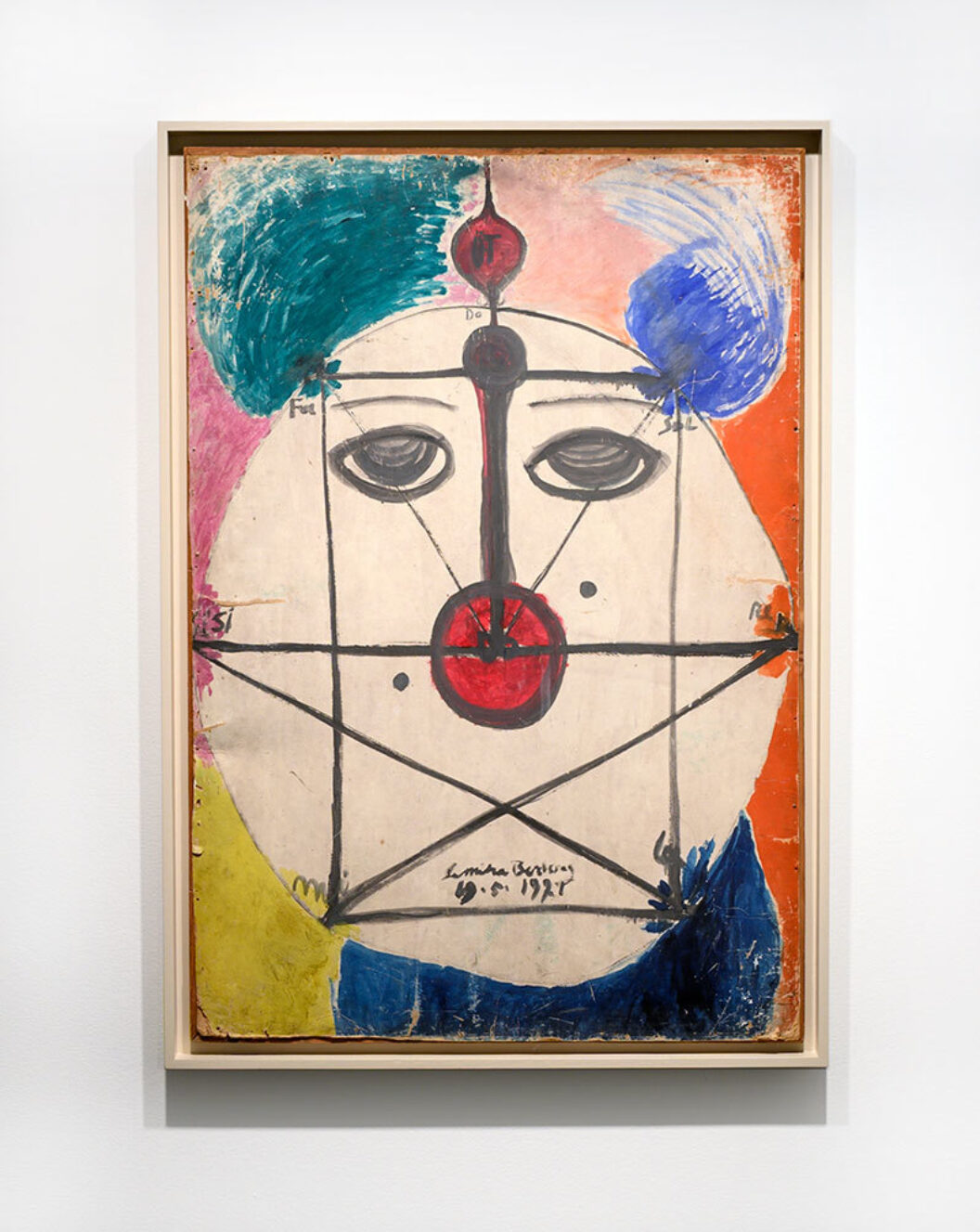 OCY I've always been a fan of Berksoy's work since growing up in Turkey. How did you encounter her art and decide to include it in the show?
OK I was doing research for an article I was writing about the rise of older female artists when I first encountered her work. She came up during research for another article I wrote called "Wake Up Before It's Too Late: The Art of Middle Eastern Women." I first showed some of her paintings at Abu Dhabi Art in November 2017, but I wanted to give her another platform. Her work perfectly responded to ideas of portraiture and abstraction. They are driven by the interiority of the soul and face as a topographical surface—almost similar to landscapes. Portraiture becomes political in the context of these overlooked woman artists, I think.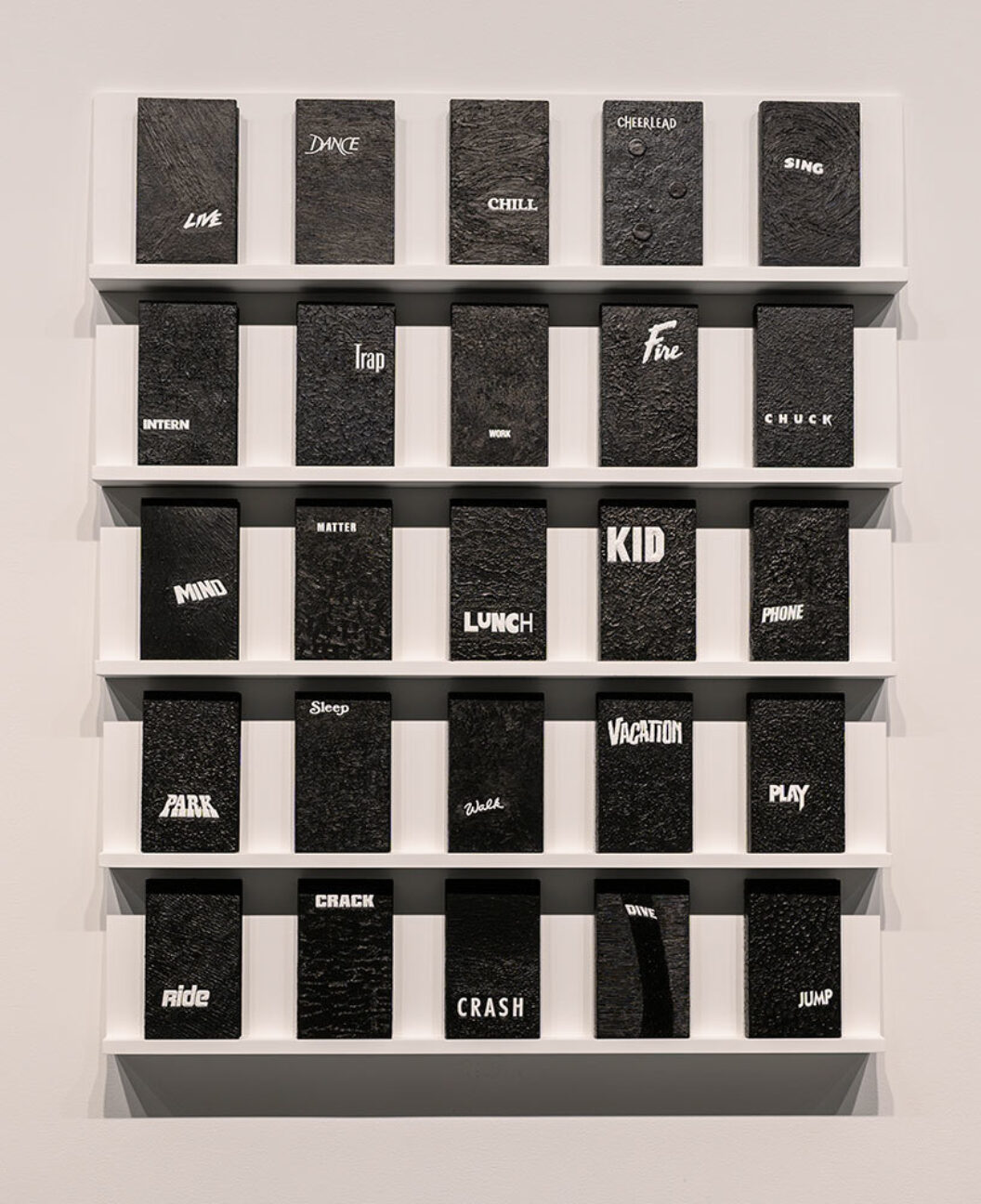 OCY Did you think about the idea of the face in our selfie age? People are taking selfies around the show and distributing them via social media. The show almost extends from Sharjah in this way.
OK I was definitely thinking about those ideas; however, I made a deliberate decision not to include work that directly references these ideas. Candice Breitz's Digest (2019) is an installation of three hundred tombstones of video cassettes that she painted over with acrylic. They are abstract, but they also look like iPhone screens. Smartphones have led to the death of a certain kind of subjectivity and prompted a sharing culture, which is reflected with a cemetery of a video store.
OCY Your curatorial statement mentions the reality of constantly being fed ideas and images. Curating, in a way, is also spoonfeeding. What do you think about choosing what people look at?
OK Curating is an act of storytelling. Viewers share their own subjectivity and own stories. It is not about a newsfeed constantly concealing or revealing information. This is an open process with concepts that could or should have been included, but eventually this is an arrangement that provokes viewers to craft their own narratives, and is another way to democratize multiple stories to dive into.
OCY Let's talk about the life of a biennial after its opening week. What do you think about monitoring the works and observing the viewers' association with them?
OK Biennials for me are about locality—that's why I assign particular pieces to particular places. Works have lives after the opening week. I will continue to come back and make another book for which we just received the green light. It will be called Making New Time and will raise questions about the effects of the biennial. Over time, the snake will have made marks on sand; booklets will have disappeared; people will have snapped pictures. I am invested in documenting this constant evolution between the opening week and closing.
Sharjah Biennial 14: Leaving the Echo Chamber is on view across Sharjah and Kalba through June 10.
Osman Can Yerebakan is a curator and art writer based in New York. His writing has appeared in T: The New York Times Style Magazine, Paris Review, Artforum, Brooklyn Rail, BOMB, Vulture and The Cut (both New York Magazine), Wallpaper*, Elephant, ArtAsiaPacific, Village Voice, Harper's Bazaar Arabia, L'Officiel, Flaunt, Galerie Magazine, Cultured, and elsewhere.