Critical Practices, INC. at the Whitney Biennial / "Supposium 2014" at MoMA by Mónica de la Torre​

Discover MFA Programs in Art and Writing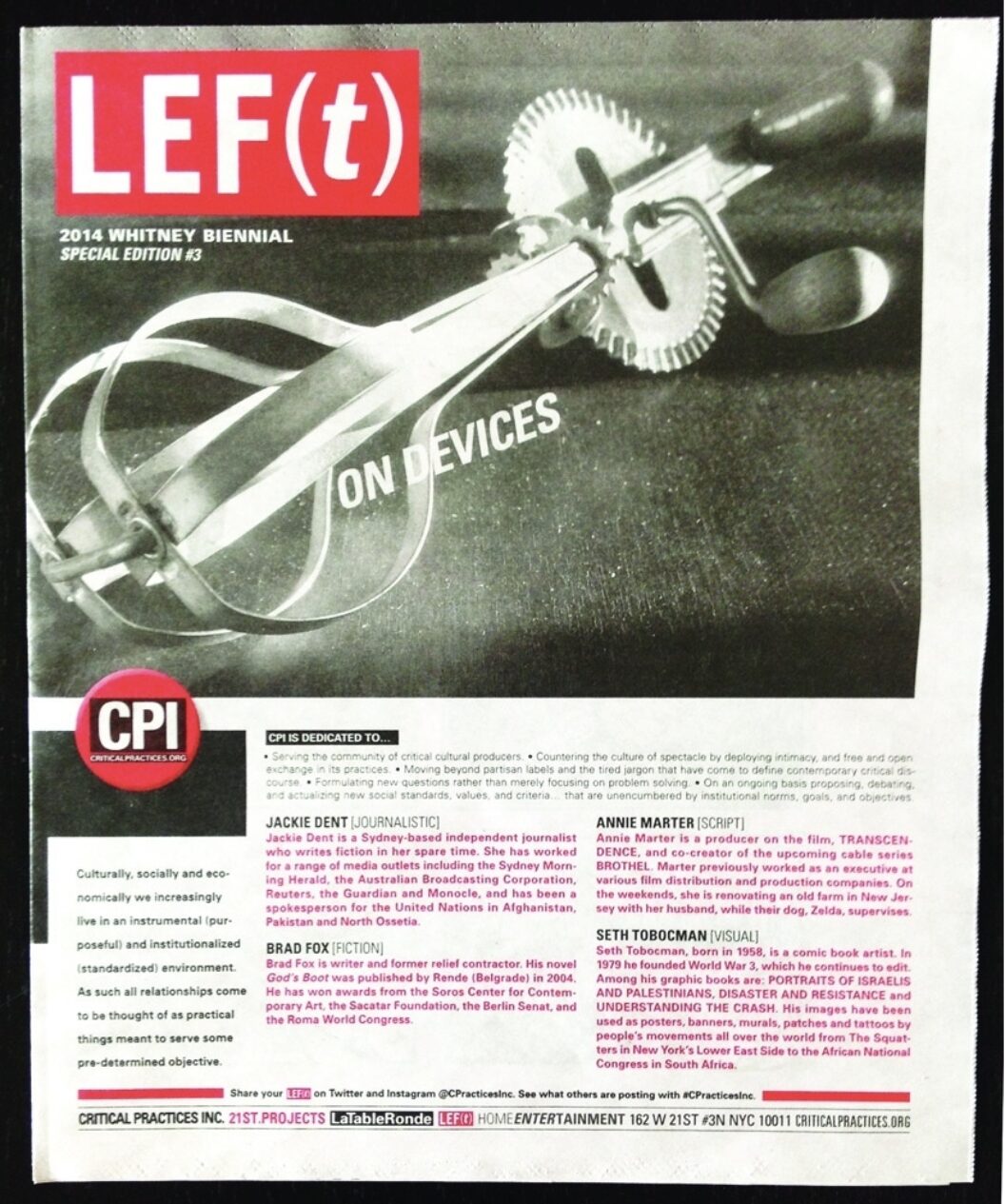 Pythagoras taught behind a veil to avoid distracting his students with his bodily appearance, which he considered an impediment to their pursuit of pure knowledge. His voice was an acousmatic one—its origin could not be identified.
Critical Practices, Inc., a Manhattan-based organization founded by critic Saul Ostrow in 2010, has been implementing a related approach, aimed, if not at disembodying voices, at least temporarily and to whatever degree possible, at disassociating them from their bearers' social standings. For LaTableRonde, an ongoing series of by-invitation-only roundtable discussions CPI has been hosting periodically, a person is invited to submit prompts for the session at which they are also expected to offer brief opening remarks. Attendees know in advance who this person will be, but the rest of the participants remain unidentified. No one moderates and nobody is introduced. During ninety minutes' worth of conversation, people are what they say, and to say it, they often have to jump in or interrupt someone else who's begun to trail off.
CPI participated in the 2014 Whitney Biennial by distributing the free broadsheet LEF(t) at the museum lobby and hosting three offsite discussions. In late April, artist Michelle Grabner, the biennial's co-curator, introduced the session "On Curating and Authorship," which carried out CPI's mission to formulate "new questions rather than merely focusing on problem solving." Among those raised were: Is the Whitney Biennial a failed conceit? Can it represent what contemporary art in America is, when broader conditions have changed? Isn't every exhibition already a failed exhibition? We focus on artists as curators, but I'd be curious to hear what the artists in shows curated by artists have to say about the experience. Is it any different from being in a show organized by a professional curator? What if there were no gatekeepers and every artist in the … city, nation, world? … who wanted to be in a show could be in a show? Why not exhibit everyone? Have you heard of the Internet? What is so special about artists serving as curators? In other less professionalized fields, where there is less money—say, poetry or dance—poets or dancers are the ones curating events. Are curators mere administrators? Why do we persist in thinking of institutions as monoliths? Remember, institutions are people too!
Back in early March, Adam Pendleton and Joan Retallack assembled a group of artists, poets, and scholars at a "Supposium" held at MoMA. The audience first listened to six provocative "thought experiments" presented by Pendleton, Retallack, and guests speakers including poets Fred Moten and Anne Carson. After the speakers' brief talks, the sizeable audience was broken down into small groups instructed to produce collective responses to the presentations, whose topics ranged from decolonizing architecture to simulation theory and the black radical tradition. Although Retallack had compellingly urged all of us in attendance to collectively "disturb one another" and attempt to negotiate complexity in order to redirect our "default geometries of attention," the groups' statements were whimsical, yet highly deferential to the noted speakers' presentations.
Okay, the questions that arise at any given LaTableRonde session might not be terribly original—unlike those posed by the presenters at the "Supposium"—but if the discussions' format produces one noticeable effect, it's that it dissolves the hierarchies between neophytes and professionals, invariably redistributing people's attentions. Each statement, be it naïve or sophisticated, insightful or irksome, has the same value. They're bound to clash inevitably, go seemingly nowhere, and, as the ancient Greeks would have it, conclude in aporias.
Mónica de la Torre is a poet and BOMB's senior editor. A new chapbook, The Happy End, is just out from The Song Cave.
Originally published in
Featuring interviews with John Ashbery, Charlemagne Palestine, Juan Isle, Giuliana Bruno, Lola Arias, Roxane Gay, Tania Bruguera, and Joe Sola.