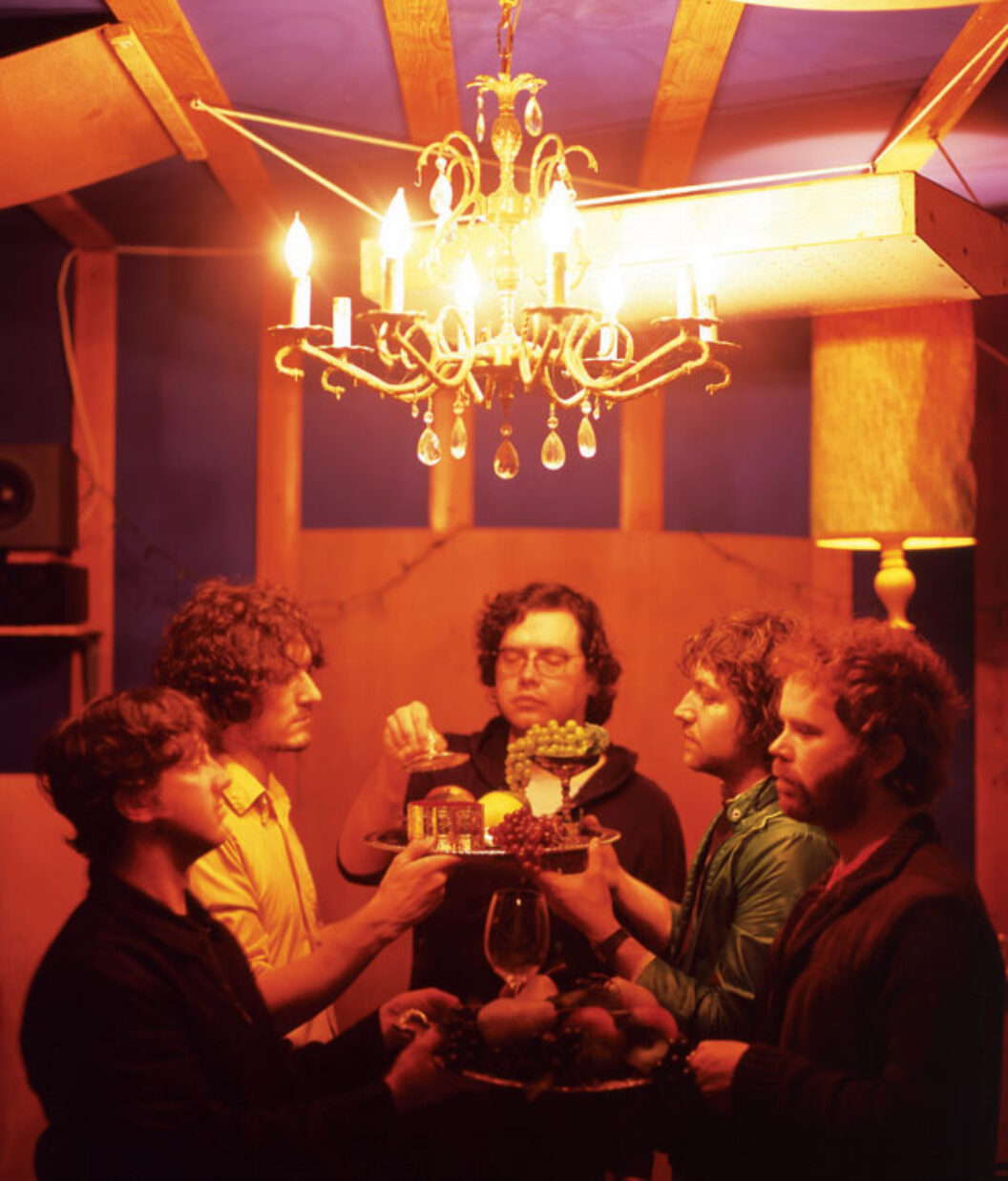 Crime in Choir's third album, Trumpery Métier—an English/French combo-phrase meaning something like "pointless trade"—is a triumphant, prog-soaked instrumental rock album by five highly stoned and proficient musicians from San Francisco. Centered around the astral electric piano and synthesizer riffs of Kenny Hopper, the songs stay committed to heavy rock at all times. Whatever cosmic heights the group achieves on the wings of Hopper's soaring synth themes, at no point can the majestic and total heaviness of their vessel be denied.
The album's main inspiration—in addition to '70s prog influences like King Crimson, early Genesis, and Pink Floyd's Animals—is (the band claims) the disgusting and hilarious 1973 French film La Grande Bouffe. Although Trumpery Métier doesn't really resemble Philippe Sarde's orchestral score, the album works as an updated rock score for the film. Pert and sometimes angry-sounding, the songs play perfectly under scenes of debased '70s French gourmands gorging on food and sex in their decaying villa. (In this way, Crime in Choir resemble a more muscular version of the French band Air, who also make synthy, druggy, film-ready albums.)
Cinematic music that's unconnected to a particular film readily activates the imagination. (This is a potential definition for "good driving music.") When the band works so hard to create an atmosphere of panic, struggle, and triumph, the mind naturally wonders what story or images they're really describing. On more than one occasion, hearing these songs invoked for me a colossal, tuxedoed canine floating in outer space, adjusting his gilded bowtie in slow motion while, beneath his top-hat, the malice in his eyes rapidly intensifies.
The band's intensity is thanks in part to their addition of drummer Tim Soete, who also plays in The Fucking Champs—another instrumental, nostalgic rock band monomaniacally devoted to virtuosity and heaviness. The result is a group focused equally on precision and righteousness. The songs never stay panicked for too long. The riff always soars in to the rescue, as if to say, "Grab my talon as I ascend, young panicked one! We will rise!" One is always saved by something—either Matt Waters's glorious space-noodle of saxophone drifting into the frame, or a sudden half-time breakdown, cinematically invoking, perhaps, a frozen lasagna rotating in the orange light of a microwave. In outer space.
Trumpery Métier will be released in October by GSL.
Originally published in
Featuring interviews with Anthony McCall, Sasha Chavchavadze, Tod Papageorge, Lynne Tillman, Nichole Argo, Steven Shainberg, Amina Claudine Myers, Theresa Rebeck, William Katavolos, Judith Linhares.