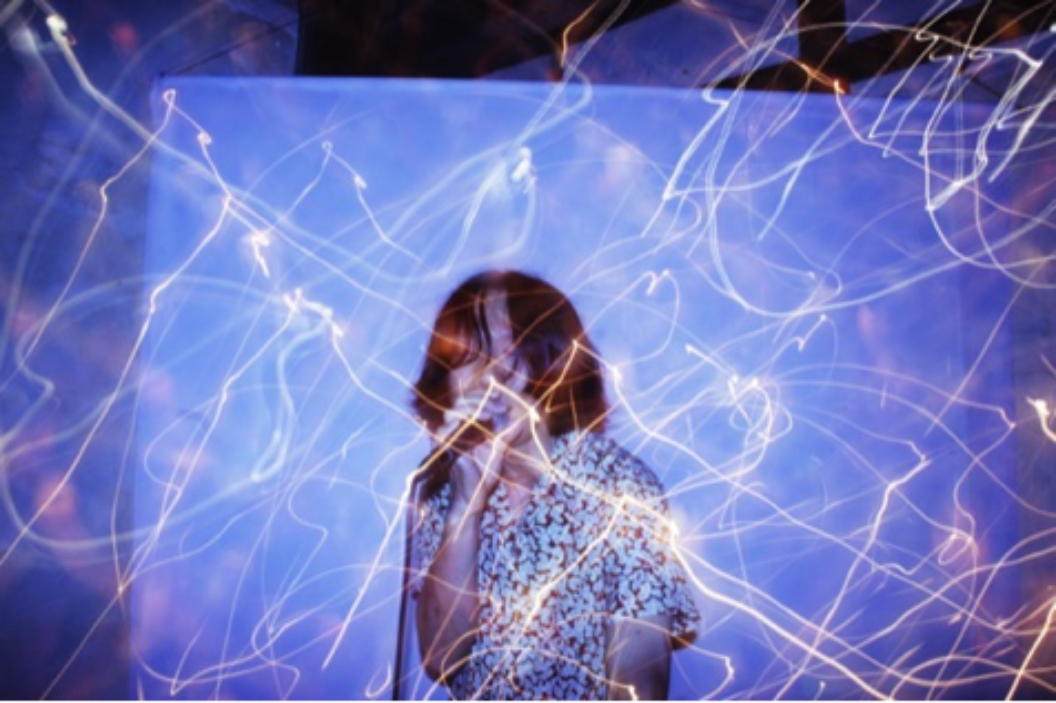 I first heard of Oorutaichi in 2005 when I was buying everything that came out on the Idjut Boys label, Bear Funk. Misen Gymnastics was a playful, poppy jam that seemed to come from another planet with focused distortion, strange vocal verses, original melodies, and a strong percussion laden rhythm. The track and its two smoothed-out remixes stayed in rotation longer than most. Fast forward to 2011 and the release of his third full length album, Cosmic Coco , Singing for a Billion Imu's Hearty Pi . Released only in Japan, it is a colorful tapestry which sounds as fresh now as it did then. I want to call it future pop, but it proves that the future is now. The album also features amazing remixes of the single, Futurelina, by Daedelus and EYE from Boredoms .
Oorutaichi is truly an original artist with a unique vision. An ardent collaborator, his music seems almost ego-less, to be enjoyed by young and old alike, from a kindergarten to the dancefloor. On Friday November 16, Japan Society will host Cosmic Coco with Oorutaichifeaturing an always energetic multimedia performance. We spoke briefly through email in October about the advantages of technology in art, the importance of collaboration, and the meaning of Oorutaichi.
Translated by Monika Uchiyama.
Scott Davis What were you like as a child? Where did you grow up?

Oorutaichi I think I was a very shy and well behaved child. I grew up in a slightly deserted town in Nara, Japan.
SD What are some early musical memories?
O I was influenced by Shinro Ohtake and EYE's "Puzzle Punks" when I was in high school, and I have fond memories of going to the park or scrap yard with a cassette recorder to make improvised recordings.
SD Do you think your surroundings influence your music?
O Nara, where I grew up, wasn't a place where I could make the music that I wanted. There were venues that banned loud music, and I couldn't find band members with similar tastes. Also, I didn't fit in with school group activities, so all these negative aspects drove me to music even more. I also was drawn to the city next to mine, Osaka, where musicians such as Boredoms and Shonen Knife were active. The Kansai noise, scum, alternative, and hardcore scene back then was really interesting.
SD Your music is extremely colorful. Do you think you are synesthetic?
O Yeah, I think it's very colorful. Personally, I like monotonous music too, so I don't know why my own music is so colorful. It just comes naturally when I express myself.
SD Your music is also playful and friendly, do you hope for that? Why?
O Yes, I think that also comes naturally. I don't really know why … The unexpected direction a song takes, or how the chaotic or unfamiliar sounds that I lean towards probably lends to the playfulness of it. And because I want to take that and create a pop song, that might be what makes the listener feel that it is friendly.
SD You play acoustic instruments but also make music using new technology. How do you think the instrument or tool helps to guide the inspiration?
O Lately, I've once again realized how wonderful acoustic instruments are, or even simply singing. The feelings that become apparent through playing and singing are very interesting. I've gained a lot of things from technology. I get a lot of inspiration from programs on new instruments or software that fits my vibe. Even though I haven't had an education in musical theory, I can write something substantial on a computer, and it's clear if you look at the current electronic music scene that if you have good sense and soul, that's all you need to connect to the world from your bedroom. Even if you can't play an instrument, you can still delve into your inner musicality. I think it's wonderful that technology has provided a lot of people with chances like this. However, no matter what era or what surroundings I was born into, I think I would have been enjoying music and been inspired by many things. In the end, I think in order to play music, neither technology or even instruments are necessary.
SD Are those words that you sing? How do you feel your use of vocal sounds instead of words helps you in the music process?
O Incorporating my own voice and singing in the music is very important to me. The moment that I record my own voice, the song transforms into something that is more my own, and I'm able to immerse myself in to the song even further.
SD Do you do/have any other creative interests other than music? I know you often collaborate with modern dancers.
O I provide music to dance companies often. Collaborating with dancer Masako Yasumoto is always exciting. Recently I was in charge of music and sound for director Masaaki Yuasa's animated film Kick-Heart. Both of them are wonderful artists that have a very free style of expression and they believe in themselves and the power of art.
SD It seems you also like to collaborate musically. Do you think collaborating allows new things to be discovered? Musically or artistically in general …
O Many things can be discovered musically, but more than that I'd say I am interested in the process of making work together. Communicating through producing work is an aspect I'm very interested in. My attitude when collaborating with an artist of a different genre is very instinctive. When I decide on a theme or make an outline beforehand it often doesn't go well, but if I understand the other artists intentions fully and let the process flow naturally, the outcome is usually good.
SD You remix a lot too. What is it about remixing that you like? How do you decide what to remix? Do you think remixing is easier or funner than writing your own music sometimes? Is it also a way to just stay busy? Jurasy Human is great. I can't believe that was three years ago!
O The process of remixing is very interesting. Rather than simply remixing, I always think about how I can meld together the person's song and my own world view.There's usually a deadline, so it's hard to be completely satisfied, but when it goes well it's very exciting.
SD Oorutaichi means 'all Taichi' right? You play so many instruments and record everything, and mix yourself. How did you start playing music, and how did you come to decide that 'all Taichi' works best?
O I started out playing with just my acoustic guitar, and then formed a couple bands. I thought about enrolling in college for music or studying theory, but gave up quickly. I think that from the beginning, I strongly intended to complete songs myself. Sometimes I even master the music myself. Of course, I understand that it is fun to work together with other people, but for Oorutaichi as a solo project it's important to me to see how deeply I can express my inner feelings, so when it comes time to make an album I want to be particular about everything from the sound to the album art. However, I've changed in the way I think recently, and I've become interested in silencing my own world. I've learned that there are things to be discovered by doing that.
SD How do you think your process has changed since Yori Yoyo, Drifting My Folklore, and on to Cosmic Coco?
O When I made Yori Yoyo and Drifting My Folklore, I think my interest in making distorted music was stronger than it is now. My world view at the time was warped, and I had a strong drive to make music that was unique to me. For Cosmic Coco I took a more a straight dance music approach and focused on how I would construct the rhythm or the texture of the sounds. I think in dance music the textures of each separate sound, and of course the rhythm, are very important elements.
SD How did you hook up with Bear Funk? They've put out so much good music.
O I gave the label owner Steve a demo CD when he came to Osaka to DJ.
I was a big fan of Bear Funk. A week later I got a reply asking if I'd like to put out a record. It ended up taking nearly two years for the actual release (laughing).
SD How did Urichipangoon start? And what is happening with it? I liked Giant Club when it came out.
O Urichipangoon first started with me and my wife. It was completely lo-fi bedroom music. For the second album Giant Club, we wanted more of a band sound, so we added two more members. Unfortunately, now each of us are busy so the band is on hiatus.
SD I discovered Urichipangoon from Muneomi Senju when he was playing with Boredoms. Do you still jam with Senju?
O We don't jam often, but occasionally we'll join eachother on stage. I think he's a wonderful drummer.
SD I saw the magazine IN/SECTS with EYE-Chan. I know he remixed Futurelina. How did you meet EYE and do you plan to work together?
O When I first started playing as Oorutaichi, by coincidence EYE was at an event I was playing at and caught my show, and that was the first time I talked to him. The remix came about by asking him. I was very happy about it since EYE is someone that I deeply respect.
SD You played the Cake Shop in New York City in 2009. Was that the last time you played in New York? Do you tour very much? Do you plan to tour in the U.S.?
O Yeah, the last time I played in New York was at Cake Shop in 2009. Since then I've toured Europe, Australia, Korea, and Taiwan at a pace of once or twice a year. I'll go to New York, San Francisco, and Los Angeles again in November. I definitely want to play abroad more often.
SD How did the event with Japan Society come to be? I'm really looking forward to it. I think it's going to be fun. What are your hopes from this trip to New York and the future of Oorutaichi?
O The director of Japan Society, Yoko Shioya, saw my collaboration with Masako Yasumoto in Yokohama in March, and that led to the event.
The atmosphere in New York is overflowing with a lively power that Japan lacks. I'd like to take that active energy back with me.
For more information on Oorutaichi, please visit: http://www.okimirecords.com/.
Scott Davis is an artist and musician living in New York.