Complicating Meaning: Jibade-Khalil Huffman Interviewed by Elisa Linn
Video and collage work that investigate anxiety and Blackness.

Discover MFA Programs in Art and Writing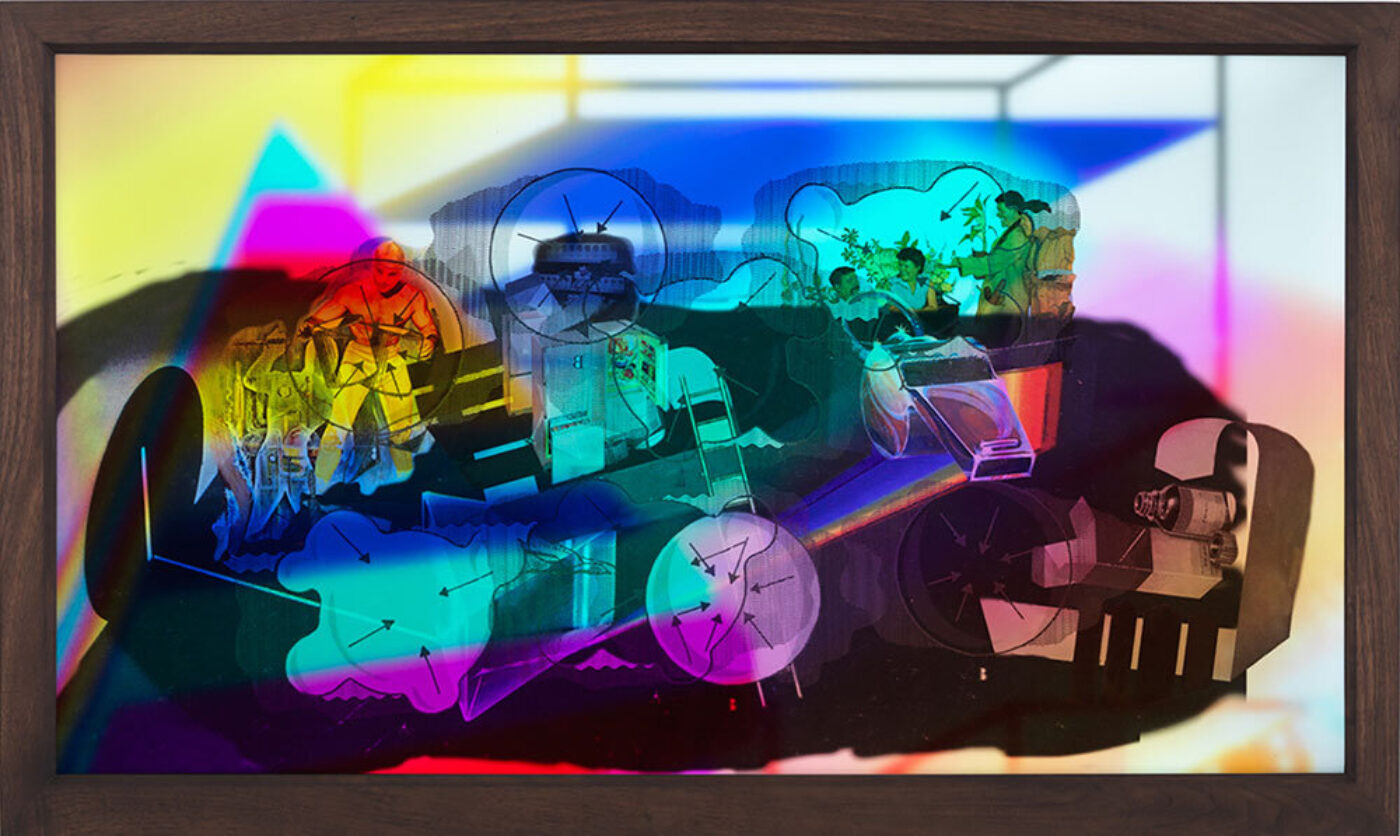 Jibade-Khalil Huffman's artwork employs images, audio, and film footage from both current and nostalgic media. His intertwining of visual registers often ignites a personal absurdist cinema of the unconscious that transgresses the distorted and oppressive image paradigms through which Black subjectivity might be understood today. I had the opportunity to work with Huffman on a show in New York City in 2017. Recently, we sat down in front of our screens to talk about his work and what it has been like to live through the pandemic.
—Elisa Linn
Elisa Linn It's been a while since we last saw each other. Can you tell me a little bit about your recent show at Tufts University Art Galleries, Now That I Can Dance, which opened and closed during the pandemic?
Jibade-Khalil Huffman It was a long process working with a museum versus a commercial gallery; and in particular, following last year's protests after George Floyd's death, artists of color were bombarded with questions. There is an expectation around being a service-built person for this moment. So I just had to say: We need to reconsider how we ask these questions since I have to perform this labor.
EL This type of labor appears central to many art institutions' solidarity declarations that are in contrast with their unwillingness to address racial and class inequalities in their own organizations.
JKH These institutions need to go beyond panels and even shows. How can institutions help communities empower themselves? The institution as an educational resource for communities is one start: acting not just as a site for programming to satisfy donors but for organizing actions, talks, and debates in and around that community.
EL This makes me think of your recent single-channel video installation The Circle (2020). It presents itself as a subjective media fiction, triggering a kind of affective vulnerability within a pleasure/violence nexus.
JKH It became so much about this idea I don't have the words for. I didn't want it to be the piece about COVID or an explicit reaction toward it. It's about anxiety. I have been dealing with it in previous works, and it's an extension of this interest; but at the same time, it can't not be about this thing we are all experiencing.
EL You used audio snippets from a speech that actor Leslie Nielsen gives in Project: Kill. His voice is burned into the collective memory and inevitably brings to mind the bumbling plainclothes cop Frank Drebin from The Naked Gun.
JKH What was interesting to me is this absurdity of authority of various kinds. Part of Nielsen's genius is that he has this all-American, grandfatherly white-male voice—ninety percent of the time in the service of something to not be taken too seriously.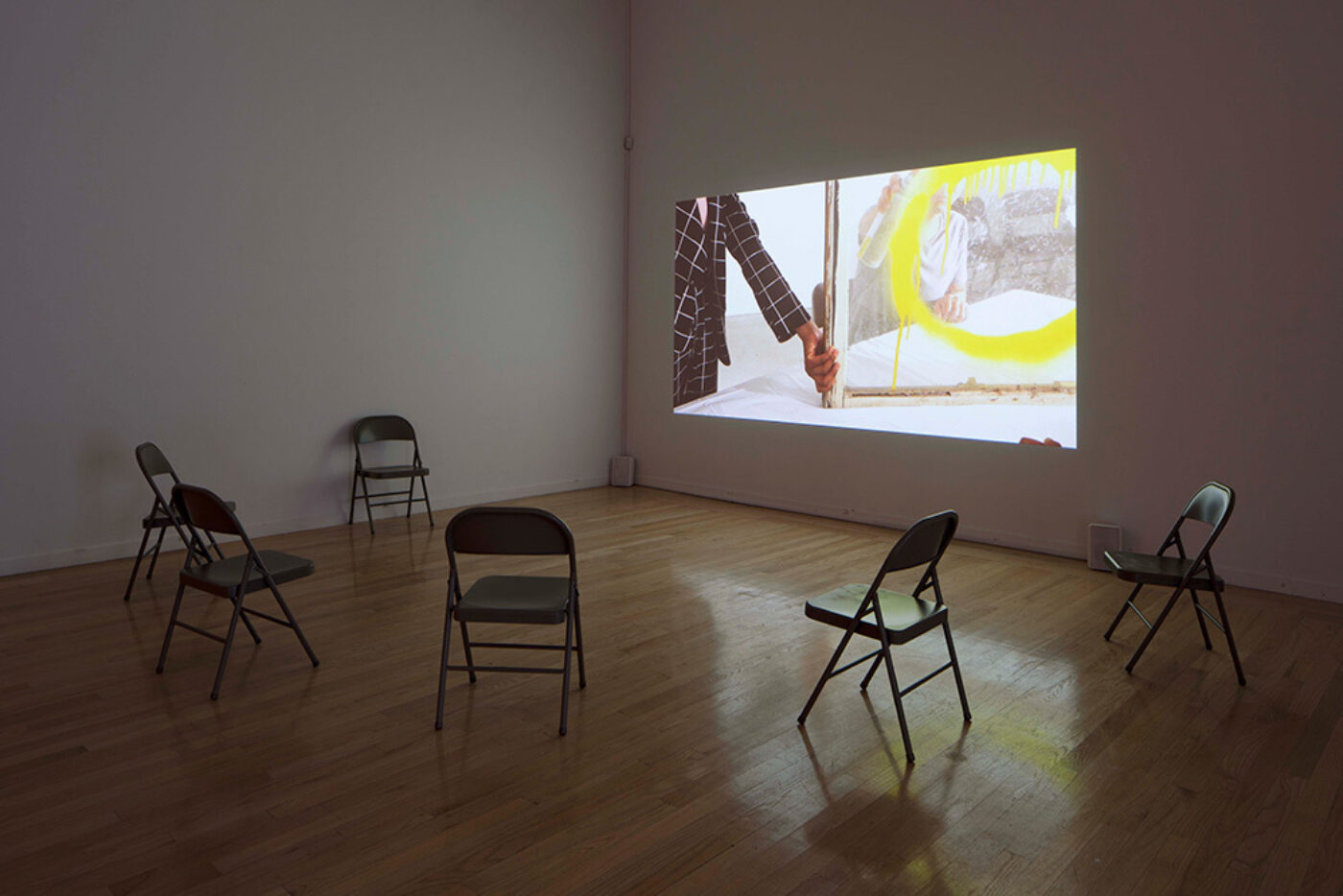 EL In front of The Circle at Tufts you installed several chairs in a circular formation. They could be interpreted as a scene waiting to accommodate a panel discussion—the ubiquitous format of art-world discursivity—in which speaking becomes a tool for self-expression, performativity, and to claim your voice.
JKH Yes, the viewing setup implied a support group AA meeting. It also relates to my thinking and making work about anxiety. I'm interested in that particular performativity.
EL In the lightbox work Mirror (2017), a portrait of the actor and singer Lou Rawls is overlaid with a pierced Plexiglas shield and underlaid with a video collage featuring footage from Sanford and Sons. It seems as if subjects were dissolved in your works throughout Now That I Can Dance.
JKH Yes. We ended up installing another piece in the downstairs space at Tufts. It is based around digital cellphone images that show a teenager's birthday party in Texas that got raided by the cops. I cut out the center of these images. When it's mounted, it looks like a smashed window and somewhat cartoon-like since you see the naked fluorescent bulbs that are shining back at you. Here the brutality against the Black body is undercut by an act of resistance to that. To complicate this further I installed the piece with the work of artist ariella tai in a conversation about appropriation and the violence in all of this.
EL The sensation of something shining back at the viewers and holding up a mirror to them seems to manifest itself in other works, for instance, in your lightbox Black People Explain "The Facts of Life" to Me from 2017.
JKH That piece is also addressing a specific Black authority figure. I'm definitely interested in the back and forth between my own awkward expression as it is materialized in the familiar face of Kim Fields in The Facts of Life. The awkward look on her face is my own awkward sense of feeling this pressure to explain, to be a credit to the cause or one that is less complicated, when the complication is for me the most interesting thing.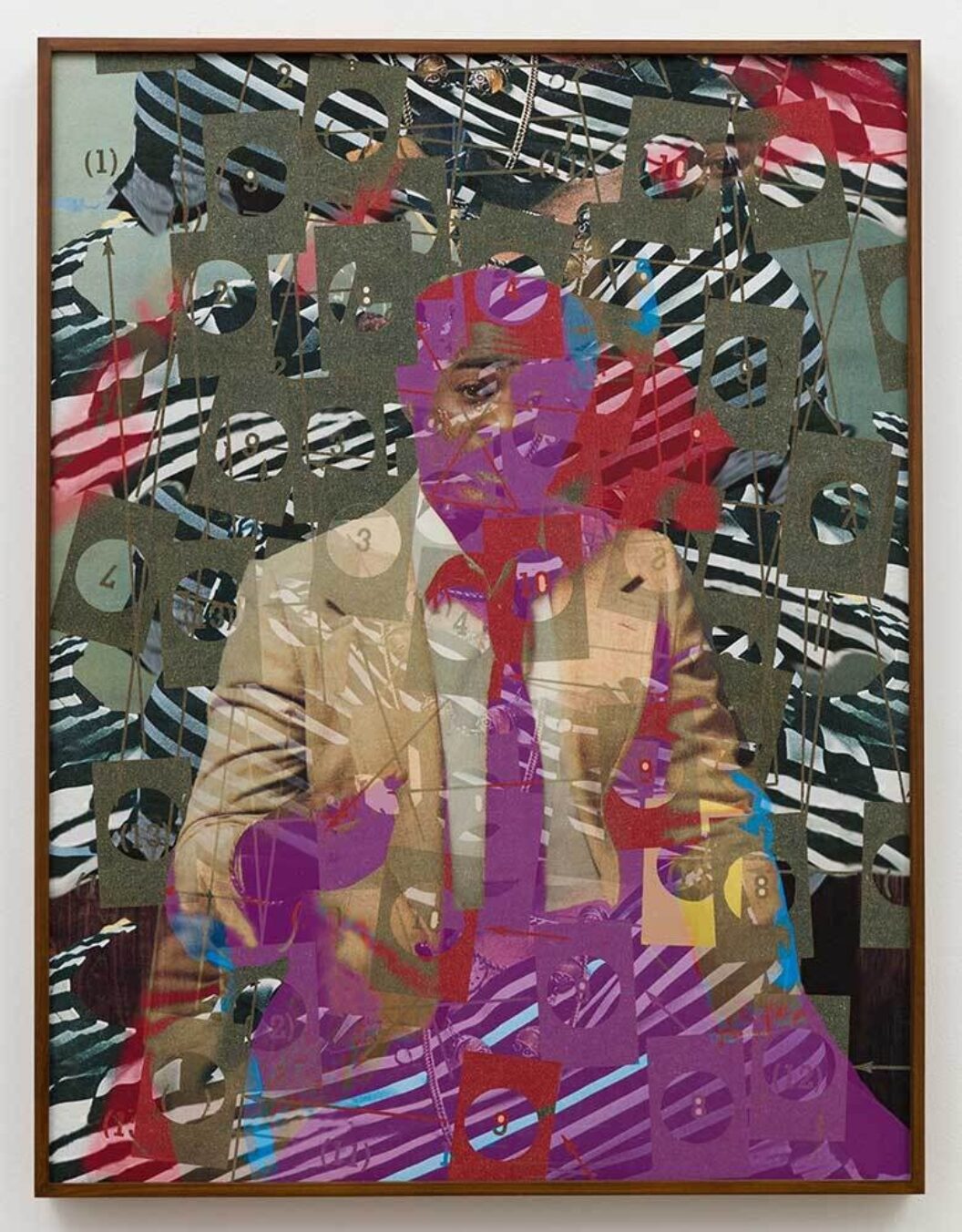 EL It also brings to mind the hashtag #IfTheyGunnedMeDown, a response to Michael Brown's initial portrayal in mainstream media and a challenge to the assumption that different audiences see the same thing when viewing. For the work Prism (2020) you used footage from the TV show Lassie, in which the collie attacks different animals and figures. One might see a reciprocal relation between the "Lassie effect"—the idealized bond between the dog and the white boy and the idea that dogs can be real-life heroes to their owners in distress—with K9 dog attacks. These are praised as a reasonable form of nonlethal violence to tame "suspects," who are often unarmed and innocent.
JKH I'm definitely thinking about police dogs in that piece, of a kind of authority, different from Nielsen but on the same spectrum of whiteness or the representation of authority. Being bound up in a combination of repulsion to this brutality and dependence on it is part of this as well.
Thinking about interiority first and then drawing out this inner turmoil is basically always my starting place. I guess it's a literary impulse or not even an impulse; it's simply how I can't help but frame things. Poetry allows you to not have to exhibit counterarguments but rather stage a different encounter altogether—one that may not or probably doesn't offer the kind of answers or attempts at answers that nonfiction does.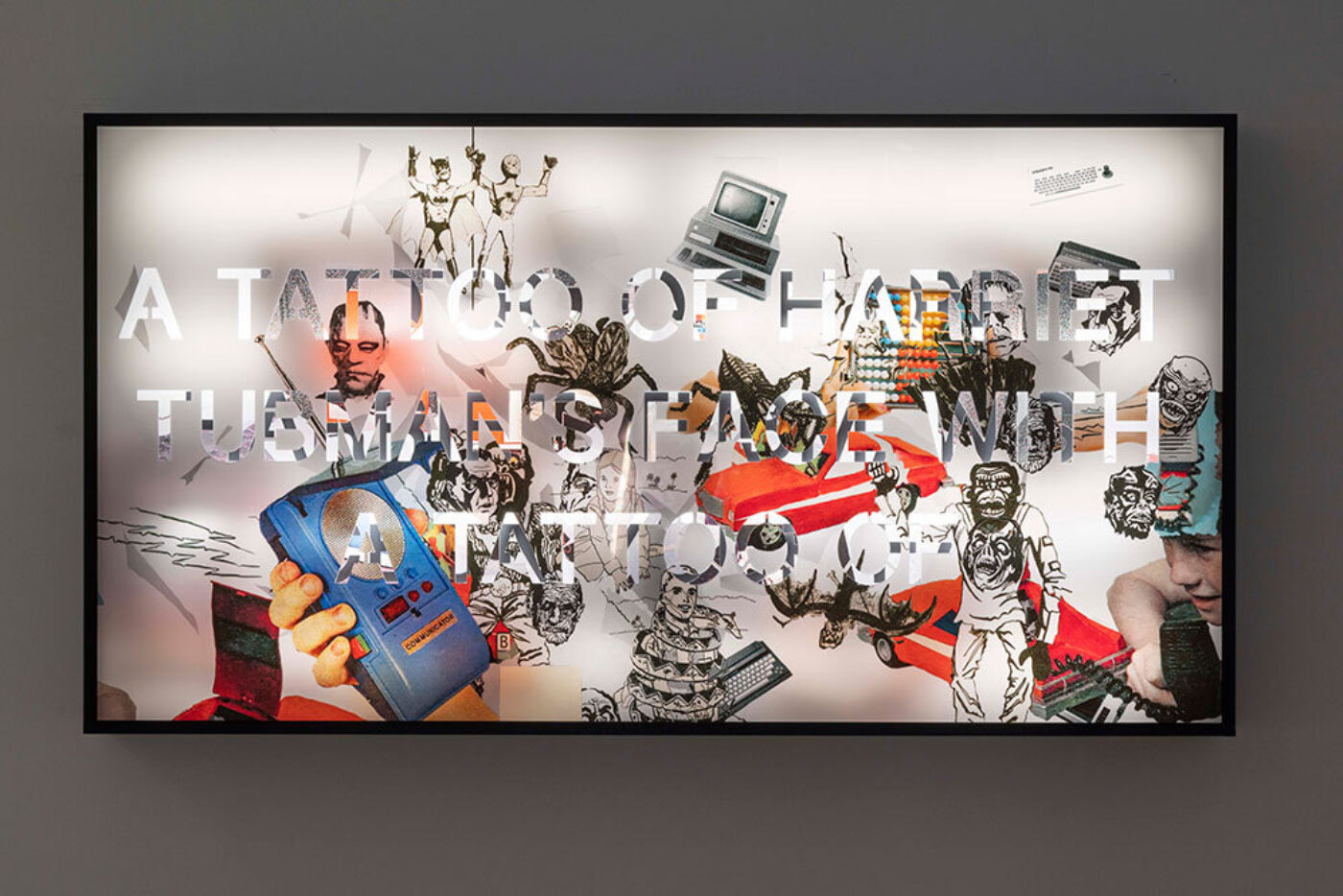 EL In your work, codes from various representational systems interfere with each other and create completely different lines of thought like tangents. What role does montage as a tool of de- and reconstructing language and semiotics play for you?
JKH That interiority and interest in monologuing is again a poetic impulse. While I do want to write work more in the zone of nonfiction, I've only ever or mostly ever dwelled in this space. It's like when Alice Notley insists in her biography that she only has tried to be a poet. But I've always taken that to heart as being "enough" of a reason. I've always maintained that because what I'm asking folks to do is complicated enough as viewers in that the visual games I'm interested in playing, including montage, are mostly dumb jokes that complicate meaning, like, say, gallows humor complicates the meaning of death. So the reconstruction of language is more about reordering plot via the indeterminacy of this particular kind of language.
EL Rosalind Krauss wrote about Paul Sharits's Soundstrip/Filmstrip (1972): "We are … at a tangent to the illusion, forcibly aware of the generative pair: projector/projected." Both your film and lightboxes make me think of Sharits's reflections on filmic illusion or Stan Brakhage's interplay between hypnagogic vision and words, the effect of the one upon the other to destabilize the mechanisms of seeing.
JKH I just love Sharits. "Opening up the visible" is also really apt. It's a much more generous gesture, I think. Complicated can still be generous. Therapy is similarly generous in this way in how it opens things up as opposed to simply reducing visible trauma. Or that's what it can do. Or attempt and fail to do so. But as ever, I'm more interested in the attempt.
Jibade-Khalil Huffman: You Are Here is on view at the Halsey Institute of Contemporary Art in Charleston, South Carolina, until July 17.
Elisa R. Linn is a curator, writer, and educator based in Berlin. In her practice she is concerned with politics of self-organization, representation, and collectivity in exhibition-making. Recent projects include exhibitions, performances, screenings, and lectures at Center For Experimental Lectures, New York; Kunsthaus Glarus, Glarus; Museo Nivola Sardinia, Sardinia; Umeå Academy of Fine Arts, Umeå; Museum für Fotografie, Berlin; National Gallery Prague; Barnard College, New York; Bronx Museum of the Arts, New York; South London Gallery, London; Royal Academy Of Arts, London; The Kitchen, New York; Whitney Museum of American Art, New York; British School at Rome, Rome; Neuer Aachener Kunstverein, Aachen.