Community Engagement: Joy Labinjo Interviewed by Rianna Jade Parker
Painting as storytelling.

Discover MFA Programs in Art and Writing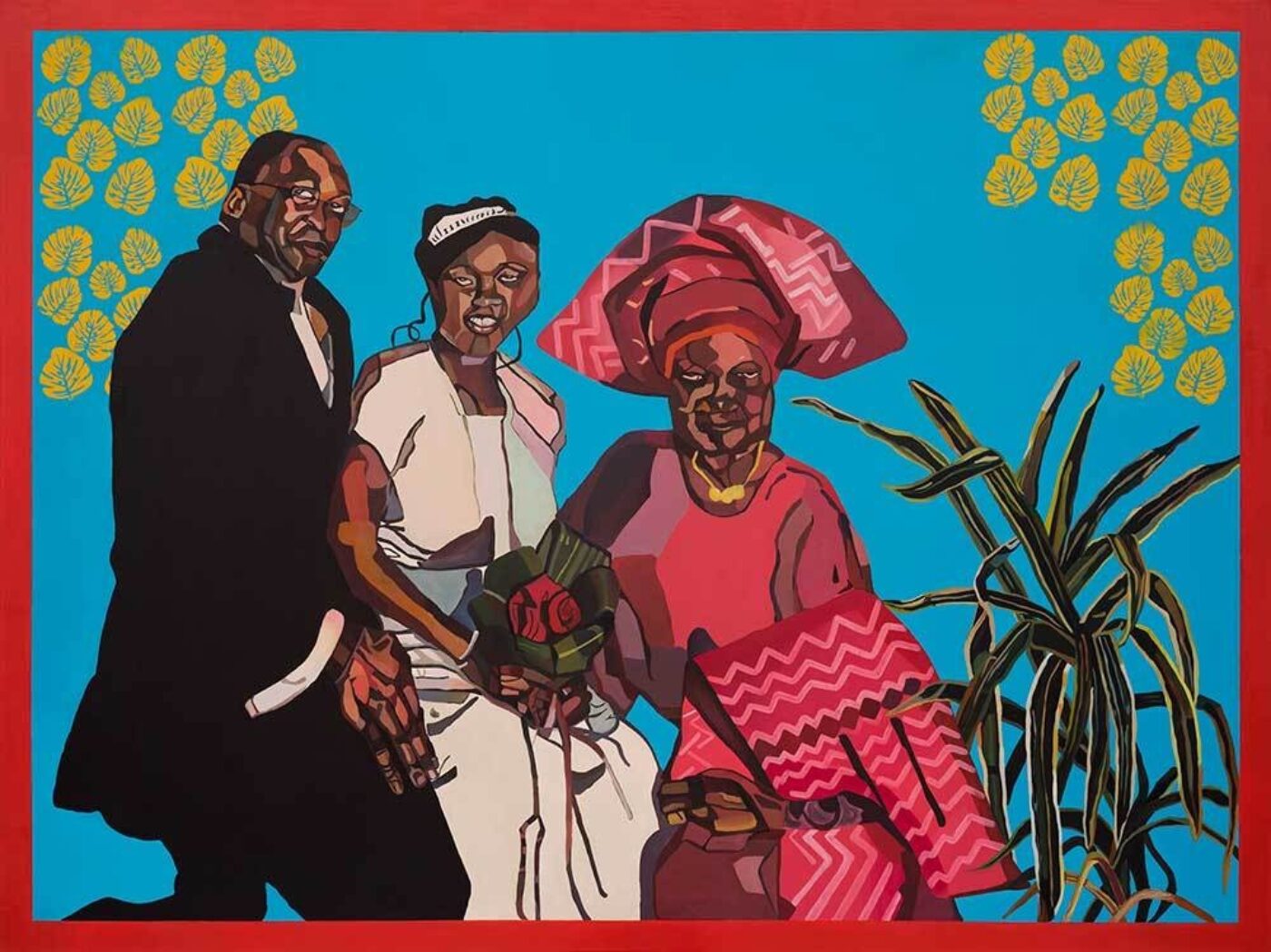 Trained as an artist in Newcastle upon Tyne, Joy Labinjo now works from a studio in South London where she prepared a new collection of work for her first institutional solo exhibition, Our histories cling to us, at the BALTIC Centre for Contemporary Art in Gateshead, UK. The British Nigerian artist's subjects are Black relatives and their social circles as found mostly in overlooked family photo albums from the 1990s. Close friends and lovers are also resituated in formal occasions like weddings and in parties and living rooms. Detailed green ferns and palms stand out in some of the canvases, and blocks of luminous colors and textile patterns frequently frame the figures.
Labinjo borrowed the title of her exhibition from Nigerian author and feminist Chimamanda Ngozi Adichie's 2012 Commonwealth Lecture. In it, Adichie professes: "Our histories cling to us. We are shaped by where we come from." It is the background for her motivation to retell the bloody history of Biafra in her novel, Half of a Yellow Sun. Similarly, Labinjo is motivated to redress the past with oil on canvas, inviting viewers into the worlds she creates.
—Rianna Jade Parker
Rianna Jade Parker If you were not a painter, what do you think you would be doing right now? I ask because I wonder if the process of painting is more attractive to you than being a painter repped by a commercial gallery.
Joy Labinjo That's a hard question that I sometimes ask myself. I think I need to answer it in two parts. I love painting, and throughout art school I was only ever really interested in painting. If I was going to be an artist, I would be a painter. I had done a couple of marketing and social media internships while at university and thought I might go into those fields. Upon graduating I only applied to two graduate jobs. The application forms were lengthy, and I realized that if I can't be bothered to apply, I don't want the job. I also started to apply for a masters in Town Planning but didn't finish the application for similar reasons. My heart wasn't in either of those things, and I realized that I didn't see myself doing anything other than painting, so I decided to give it everything. As long as I had enough money to pay my bills, etc., I knew I'd be happy. I think I'd planned to give it a couple of years and see what happened. I owed it to myself to try because the only people that "make it" are the ones that keep going.
RJP I for one am glad you chose the painter's life. Your canvases are so grand and engulfing in the best way. When I visited BALTIC I was so impressed with your new work. I really want Jane and Mary Jane (2019) in my living room! When I stood closer, it impressed on me a long and historied friendship like Sula and Nel's in Toni Morrison's novel of the same name. Who are the subjects, and how did you construct that scene?
JL Thank you so much. Jane and Mary Jane was the second painting made for the exhibition, and it was really instinctive. The background color and plant were taken from a clothing shop window display that I'd seen a couple of weeks before. A Celebration of Sorts (2019) also uses part of the window display, but I'd cropped that image. I decided that I wanted this painting to be more realistic with less obvious cropping. So I already knew what I wanted the background to be; I just needed to find figures that would complement the background. I looked through my photographs but didn't find anything that I thought would work. I ended up using an archived image from 1977 that I found online. The sofa and the positions of the figures are from the photograph. It was their clothing that spoke to me. I had to scale the figures and the plant so they'd work next to each other. I wasn't sure what the relationship was between the two women—relatives, friends, or both—but titled them Jane and Mary Jane from Maya Angelou's poem "Human Family." Like you said, I got the feeling of a long, historied friendship.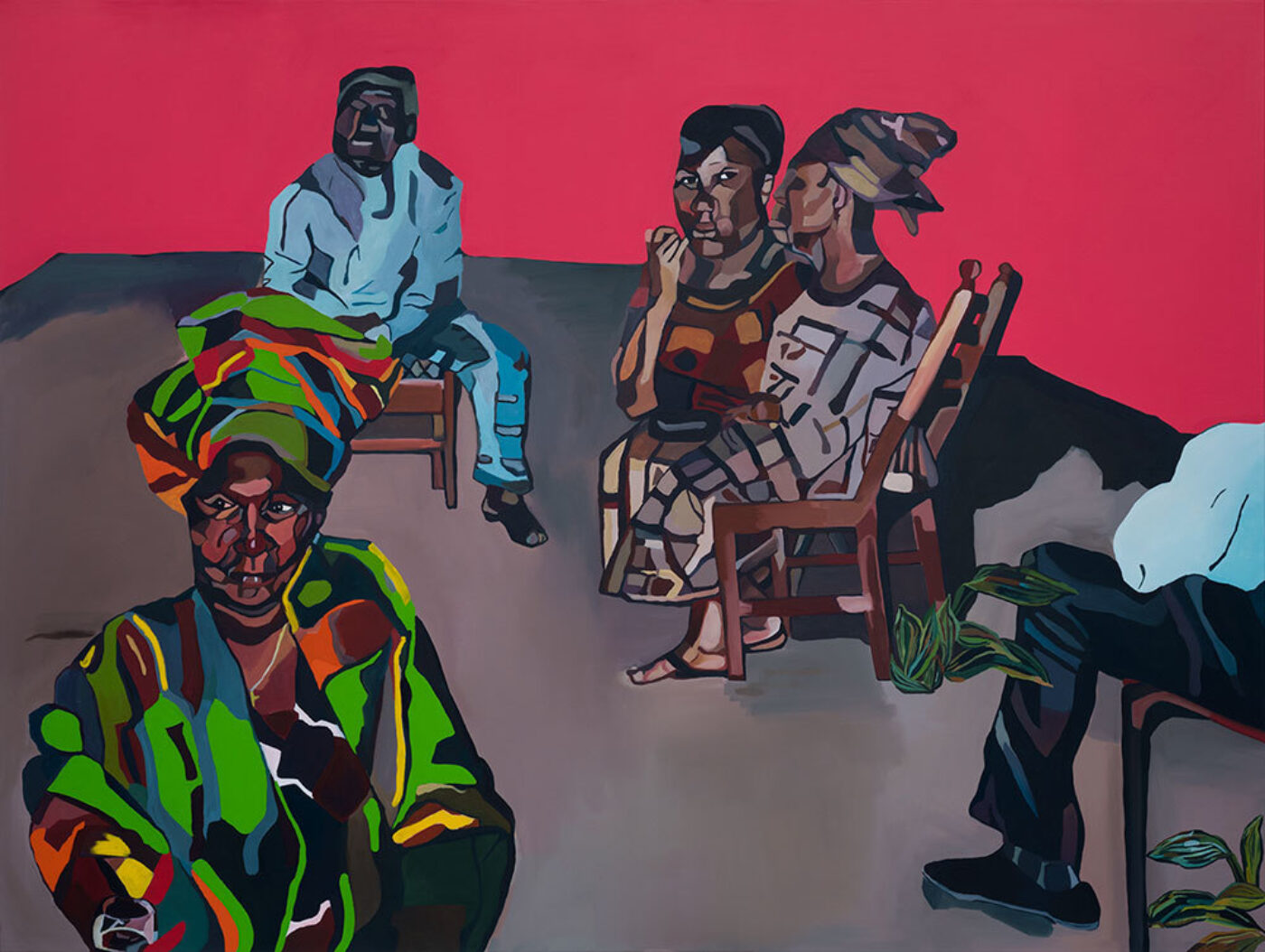 RJP In the last few years we've seen a small but steady emergence of new Black British painters. I find this new generation particularly impressive because of the breadth of work they have already made at such young ages and the variety in their practices, both figurative and abstract, such as yourself, Joy Miessi, and Michaela Yearwood-Dan. Similar to the 1980s British Black Art Movement in the UK that cured artists like Lubaina Himid and Sonia Boyce, some artists work within collectives and organize self-initiated projects. Do you feel this current and a similar sense of community?
JL I feel like there is definitely a sense of community in the UK. We support each other by attending each other's openings and sharing each other's work. Michaela and I are both represented by Tiwani Contemporary, but we've also built a friendship outside of that. There are people within the art world that work hard to bring us together, extend invitations to events and previews. I've met some great Black artists that way.
On the other hand, and maybe this is more of a personal thing, but I've only been working in London for a year, and I've been quite busy in the studio, so I haven't been able to attend as many of these as I would like. Being represented at a young age is in some ways a double-edged sword. I also didn't study in London, so I don't always feel part of that local community, but I can feel the energy around me, and I know that the work others do helps me and vice versa. In 2020, I would like to get even more involved in that community and engage with my peers.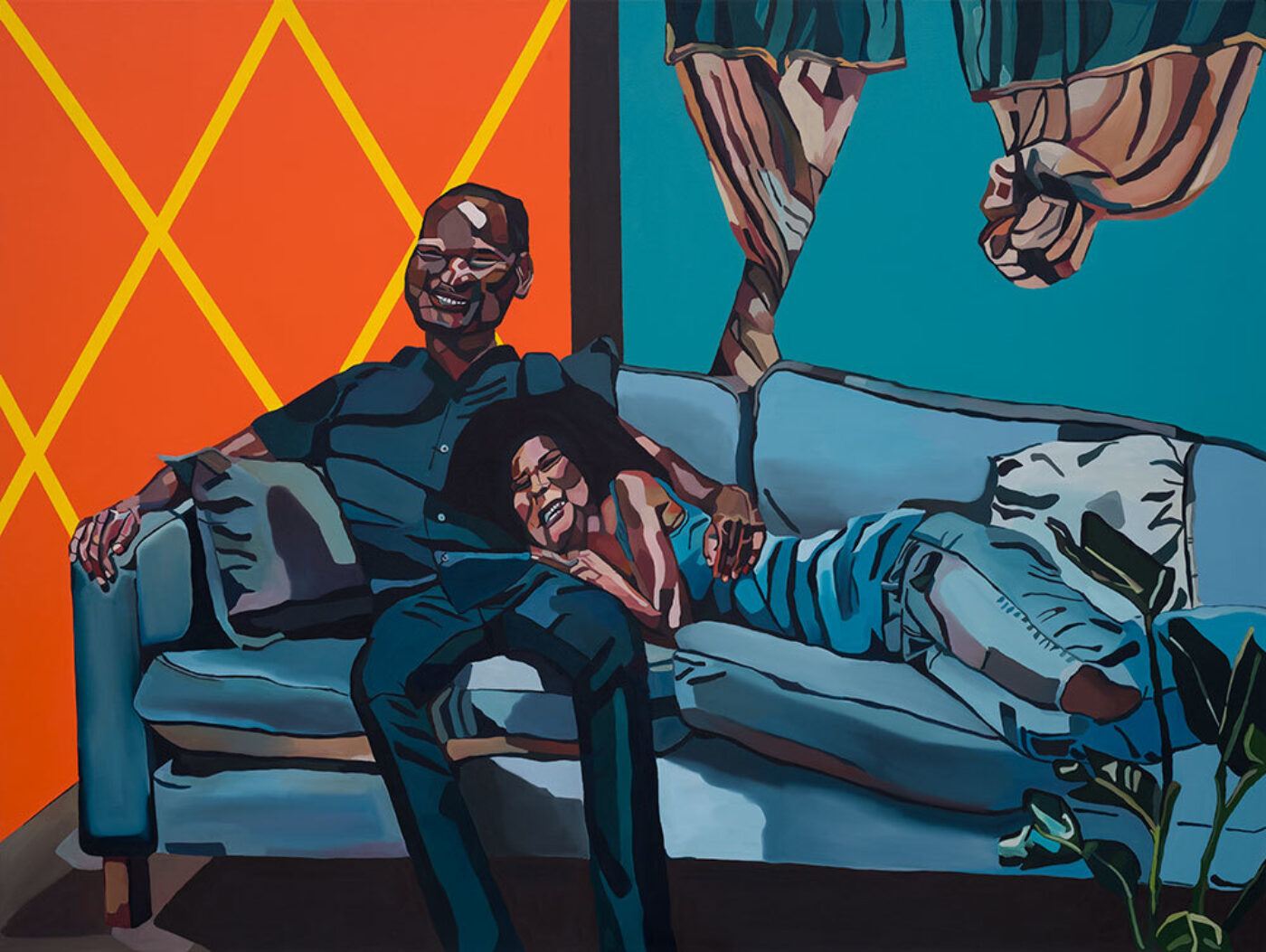 RJP The last time I was at the National Portrait Gallery, Chris Ofili's self-portrait from 1991 was on view. I love to see how artists interpret their likenesses. Is portraiture something you're invested in specifically, or do you have other forms you want to explore? As you continue to ascend and your resources grow, you will be able to push the boundaries in your technique and mediums.
JL I'm really interested in portraiture, mainly because I'm very interested in people and their stories. I've seen the difference in my work as I've invested in better quality paint and canvases. I'm looking forward to seeing how far I can push paint, texture, and color. At the forefront of my work is storytelling, and at the moment that's with paint. I'm not sure that it will always be paint, as this is just the beginning.
RJP In your ideal artist studio, what would be present?
JL My ideal artist studio would have four sections: a kitchen-living room area to take a break as well as a study area/desk to do research; an area for storing paintings; and the biggest section would be a space to make a few paintings on the go. As I'd spend so much time there, I'd want it to be really comfortable and spacious. I'd really like a Scandinavian look, and I picture all of this to be in a warehouse. Maybe one day!?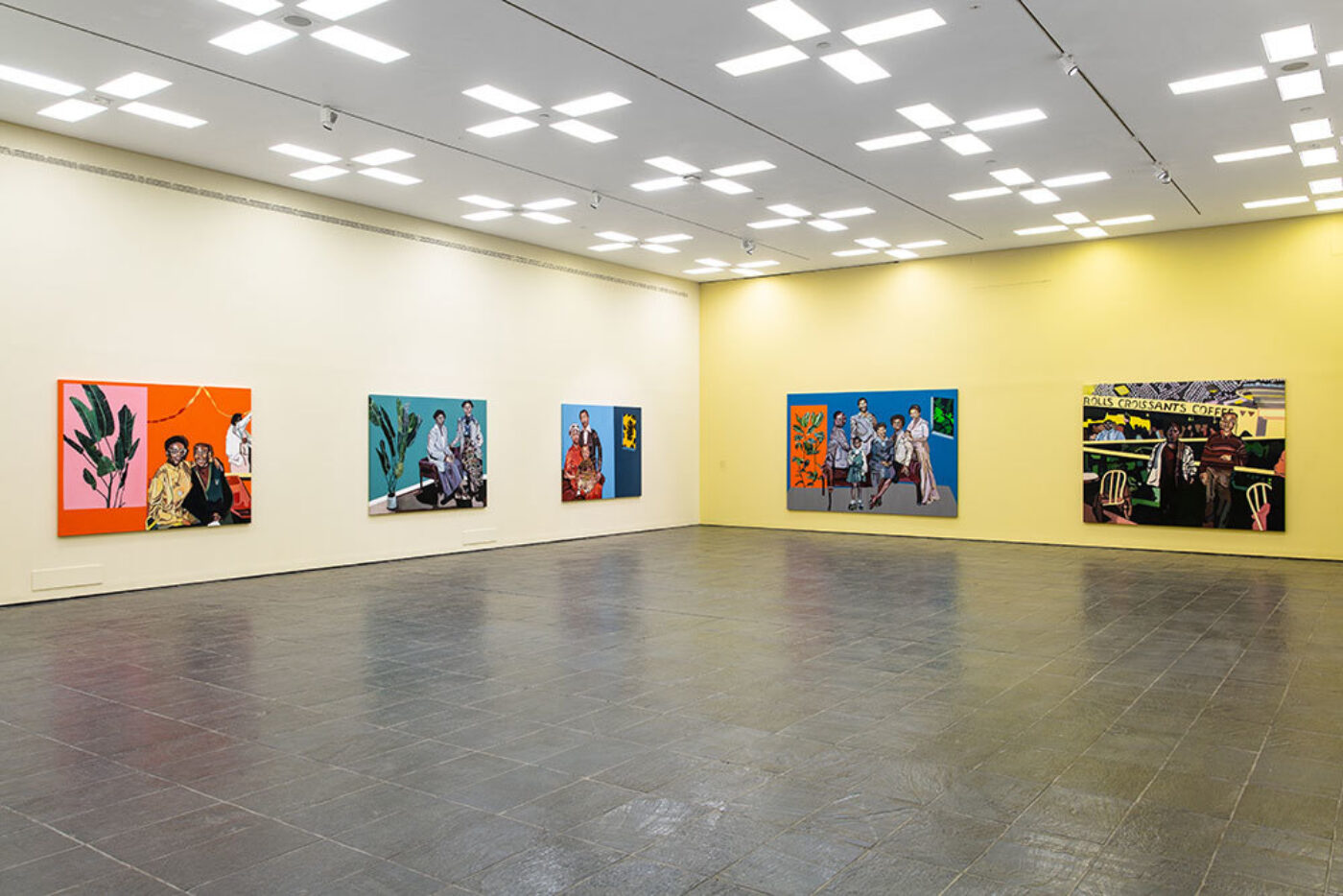 RJP Yes, one day! Remember to invite me over for dinner. If money, time, and space were irrelevant factors, how would you imagine your debut solo exhibition in Nigeria?
JL I will, for sure! Hmm, that's a good question. It would be in Lagos for sure. I imagine a really large space with bi-folding doors leading to an outdoor patio area. One of my favorite things about Nigeria is being outside late into the night and not being cold! I can see people roaming in and out, drinks and food in hand, socializing freely with a DJ playing Afrobeats, hip hop, and trap music.
I would like an opening that was more of an event; sometimes these two-hour previews end too quickly. The paintings would have to be displays in a fun and interesting way. I really liked the patterned wallpaper I designed for Frieze London and the colored walls at the BALTIC—maybe there is a way of combining the two. Mostly, I would just want people to feel welcome.
Joy Labinjo: Our Histories Cling to Us is on view at the BALTIC Centre for Contemporary Art in Gateshead, UK, until February 23.
Rianna Jade Parker is a writer, critic, and researcher based in London. She is a founding member of the interdisciplinary collective Thick/er Black Lines and is a contributing editor at Frieze.