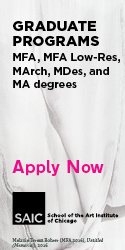 Ruel is crying.
He has decided to fall in love.
This writing is a fabrication of strategically placed truths.
They sat at a cafe, independently.
He'd seen him once before.
Eyes veiled commit crimes.
Ruel stole a glance
behind headlines.
I steal a glance.
The nerve to sit directly facing me,
boldly where no man has gone before.
He wondered if he's here for him.
Committed eyes veil crimes.
He distracts my window view of the streetlife.
Hope there aren't any drive-by shootings today.
The sun shines from his behind.
He is a vision, an angel sipping hot tea.
Our eyes meet,
parting quickly to avoid the collision
of stars.
After all, it is not polite
to stare.
Outside, a woman begs for some change.
Anything can happen in a month.
In a month, two balikbayan boxes bearing his
name and birthplace will be sitting at the
womb of the plane;
he will be perching at its tit.
First class. Smoking section.
This is a special trip,
the Mother of all trips.
In a month he would've let his pierced ears close.
In a month he would've lost his 30%
employee discount on books.
In a month he would've graduated from
school; International Business.
In a month he would've landed in the
Philippines: the Business of Family.
In a month he would've stopped hearing
raccoons clawing their way between his
studio walls.
In a month he would've burned his
loveless letters.
In a month, there would've been no place like
home.
It is true:
dying glorifies life.
And never feeling so handsome before,
Ruel exerts a forward smile.
Come.
Anything can happen in a month.
Anything cannot happen in a month.
Life is my vehicle.
I'm on a joyride
my destination is you.
They ate in the Tenderloin, dependently.
He laughs at my jokes,
the tender of my loin.
Vietnamese coffee drips with succulent
velocity,
his eyes depart mine.
At the Detour, a friend and I compared our
criteria for boyfriends.
"To equality!"
Only in America.
He can't look me straight in the eyes,
because I won't let him.
The phone rings.
"I am harboring these intense feelings for you.
I have … missed you … all … … . week."
He echoes my sentiments.
I don't want a fucking echo,
I want some originality!
Ruel has reasons to cry.
He has underestimated the boundaries of his
own detachments.  
He tackles school with a sense of morality.
Each work reflects his soul.
His soul reflects each work.
A reflection of his perfection.
He receives an LBC package from his mother.
Mongo and black bean hopias,
langka/ube/macapuno pastillas,
papaya atchara, underwear, tsimis.
The usual.
But,
a longer letter.
He tolerates her illegible handwriting.
She suffers from a mild muscular affliction.
Come.
Your room is ready. The town is prepared. The pig has
been selected. The mayor has an only daughter …
Ruel weighs the pasalubongs.
2 boxes maximum.
Each box shall not weigh more than 70 lbs.
The total dimensions shall not exceed 108
inches.
The commandments of balikbayans.
Chivas Regal Blended Scotch Whiskey
Levi's Buttonfly 501 Blue Jeans
Beautiful by Estée Lauder
See's Candies Nuts and Chews Since 1908
Mrs. Field's Chocolate Chip Cookies
Chunks of the American landscape
Opiates of the tropical mind.
He ties the rope
that extends
across the ocean
that seals the box
shut.
2 balikbayan boxes,
bloated.
70 lbs. of hope.
Bundles of joy,
The burden of dreams.
Pandora's pair-o-boxes.  
At night,
he thought he heard him call his name.
He wakes up.
Inside the walls,
a wedged raccoon claws for freedom.
He decides to call the landlord tomorrow.
They migrate from the hills at night
to binge in trash.  
As a child he remembers his mother telling
him to think only of good thoughts of the
rats that infest the house.
If you curse them, they will eat your good shoes.
Come out?
You don't understand …
in the Philippines, we are Middle Class …
The Name. The Shame. The Sham.
He receives an adequate monthly allowance.
He works,
to live alone.
He likes to watch,
the blurs of the street,
from the safety of cafes.
An anchored vessel,
floating in the sea of reverie.
He envisions getting shot on the street.
He is walking, not thinking about driveby
shootings at all.
It is night.
The car is American, '70s model.
The street, empty with parked cars.
I am walking up.
They are driving down.
Inside the moving car 3 men sit motionless,
bound.
The window cracks open.
Soft light glows from under the dashboard like
in the movies.
The sawed-off shotgun is lifted.
A gust of wind shaves the heavy silence.
The trigger is pulled,
the bullet is expelled,
its bed, my flesh.
They screech off.
Pieces of flesh splatter across windshields.
I study my bleeding,
my long trek home.
No pain. No gain.
Fucking.
They come,
one before the other.
A bonding,
between flesh and perfection,
Ruel presses for communion.
The futon collapses.
The soundtrack: the struggle for freedom.
I don't care about the past
I care less about the future
What only matters is the present
And I love you now …  
I squat,
shitting words,
spring cleaning,
on white paper,
exorcising demons,
from the bowels,
of my soul.
The smell is real.  
Like the most shameful of crimes,
it was masked.
Fists flew under a blanket of stars.
A gleam of steel
disappears into flesh.
The pavement was hard.
His Coach wallet, gone.
This was not in the script!
Under a gutter of stars,
Ruel fingers the slit,
its rhythmic pulse,
the street heaves,
from its breathing.
Ruel is crying.
Welcome home.
Pablo Tapay Bautista is a poet and media maker living in San Francisco.
Originally published in
Featuring interviews with Tony Kushner, Ousmane Sembene, Jeanette Winterson, Andres Serrano, Faye Myenne Ng, Vernon Reid, Gillian Armstrong, Andrew MacNair, Laurie Carlos, Srinivas Krishna, Mira Schor, and Barbara Hammer.