Colm Toíbín discusses the power of the written word upon the completion of his first novel The South in conversation with Lynne Tillman from 1992.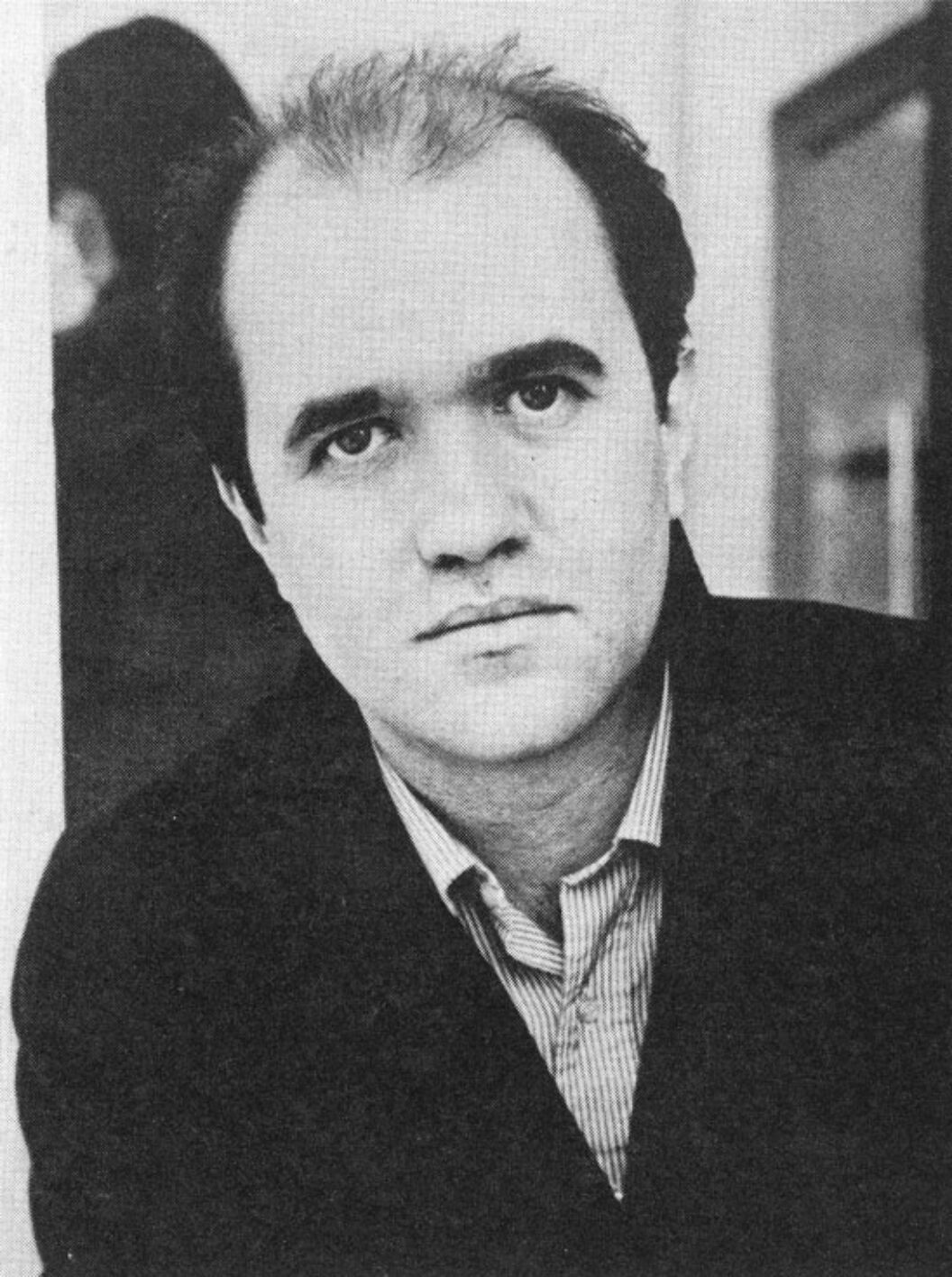 Colm Tóibín is an impassioned man, who listens intently and answers questions generously, making one realize that being engaging depends upon being engaged. Author of several books of nonfiction, including Homage to Barcelona (S&S, London, 1990), Walking Along the Border (Queen Anne Press, London, 1987), and The Trial of the Generals (Raven Arts Press, Dublin, 1990), he's been writing a weekly column for the Sunday Independent for six years, on subjects ranging from Ireland's competing for the World Cup to a law requiring a doctor's prescription for condoms. His first novel, The South, published here this past October by Viking, recently won Ireland's prestigious literary award, Aer Lingus/Irish Times Award.
Lynne Tillman I see a relationship in the writing, especially in your essay on Argentina, "The Trial of the Generals," and this novel, The South.
Colm Tóibín I came to journalism at a time in Ireland when a few people had really been influenced by The New Journalism by Tom Wolfe and got control of magazines. In Dublin, there were two magazines that encouraged you to write like an American—to have interesting openings, work on the ending a lot and to use language, not just to pinpoint something exactly as a news-journalist would, but mysteriously. To get involved as much as you could in the mystery of sentences and form. What you were encouraged to create as much as possible was a very formal sort of piece of journalism. I never had the sweaty newsroom or following the fire brigade. Then I became an editor myself.
LT What I thought was different about your journalism from so-called Gonzo journalism is that you attempt to expose the contradictions and complexities in a way that's not necessarily about making yourself the most important player in the story. Often, with that kind of journalism, there was an inordinate emphasis on the journalist, as hero, anti-hero.
CT It wasn't a direct apeing; there were reasons for not wanting to do that. There was too much to say and too little being written about what was going on. You didn't have time to worry about yourself. As an editor, I wouldn't have even had to discourage it; people weren't inclined to do it.
LT In The South, the way that the protagonist Katherine Proctor survives, in a sense, is by leaving Ireland, an enduring theme—the Irish person who leaves. But you made that character a woman. And she leaves not just Ireland, but also her husband and 10-year-old son. A woman who leaves and who also represents Ireland…
CT No, she's not representing Ireland.
LT But she encapsulates a certain aspect of Irish history, which she carries with her to Barcelona.
CT I think that she's essentially her mind; her temperament is that of a colonizer. I don't want to be too crude about this, but as to her relationship with land and landscape—she says, at one point, about her lover Miguel, "We could have loved each other anywhere." Ireland or the Pyrenees are simply places where she is. They simply have no importance for her other than where she is.
LT Why should place be important?
CT For me that Wexford landscape [where Katherine's from] is resonant. It's where I'm from, where history has taken place that, in some way, had been fundamental for me; and for her, it's not the case.
LT Maybe she has a different relationship to that land because her husband was cruel to the people working it. She leaves him after she can't change that. You see her as a colonizer; in a sense she's also colonized.
CT As a woman, sure, as a woman.
LT She comes from the landed, and yet she's dispossessed as a woman. She's not a simple colonial figure, really, is she?
CT She's also extremely confident, and yet she has no power. And if she were a man, she wouldn't know if she had any problem. There's a dual issue, one of which is a modern problem. The marriage, and level of repression in the marriage, and the level of social intercourse which is so ghastly and dull.
LT And there's the Protestant-Catholic split, the way she, a Protestant, is with Miguel, and then later, her mother's objection to a subsequent lover, Michael.
CT The refusal of people to join together, that's all there. I come from a lower-middle-class Catholic family and grew up in a housing estate in Enniscorthy—the novel is, in some way, an imagination of what my parents could have done with their lives had they made other decisions. Had my mother decided to fuck off. Not that she had any particular reason to. But you know, you imagine what your parents could have done with their lives other than what they did.
LT Michael, an Irishman from the same town as Katherine, but a Catholic, appears in Barcelona and seems to be in love with her. He's a curious, mysterious creature, like a specter.
CT He's a mixture of two people—of an uncle I had who died when he was in his early twenties. I never knew him. He died of tuberculosis; he was talked about a lot in the family. And then, me.
LT I wondered if he was you because, like the writer of the book, he was an observer to the action.
CT Yes, he's very Jamesian and James often has someone like that. In The Portrait of a Lady, Richard Touchett, funny, watching everything and trying to stir things up.
LT Michael watches Miguel and Katherine, he seems to be there for her if she wants him, but she really doesn't want him. Ultimately, she ends up with him.
CT I'm very fond of him. I love some of the things he says.
LT The relationship he watches between Miguel and Katherine: how did you see that in terms of colonizer and colonized? In terms of his fight against Franco and her going to a country that was still under a dictatorship?
CT What all of us want, I suppose, more than anything, is to be able to escape from history, is to be able to say that we choose our own destiny, that there's nobody coming after us from the past. In Ireland, it's a big issue. I want to be through with history. I want it all over. Start again with our lives. Katherine believes she can escape from history. And what she walks into without knowing is the worst possible situation—Spain, 1950—and to someone who was involved in the Civil War and wants desperately to go back. I've always been fascinated by uncompromising people. I'm very compromising. I'll always work out another way of doing things if they're not working the way I want them to. But I tend to know and like people who don't do that.
LT That's why, maybe, I've been wondering about the discussions of torture in your work. Torture in The Trial of the Generals and in The South. Torture may relate to this notion of the uncompromising; somebody who is uncompromising meets his or her match when meeting the torturer. When you were in Argentina covering the trial of the generals, was that the first time you had been so close to a situation in which people were tortured in a wholesale way?
CT I was absolutely horrified, and I did sit there day after day. I did start thinking about how I would write it and how I would do it. No one had agreed to send me there or use the piece. And it's so dramatic, isn't it? Torture is, I suppose, the best sort of melodrama you could get. If you're looking for melodrama. The screaming figure, the darkroom, the unimaginable business. I was born on a battlefield, you know. The town itself has a hill over it called Vinegar Hill, the site of a huge battle in 1798. I was brought up on the stories. I swear that my mother—they always blame Irish mothers for spreading the news of what was done, you know. She told me about pitch cups when I was small.
LT Pitch cups?
CT I think you get your head covered in hot tar. And then it's pulled off. In 1916, in the rebellion, the town rose up as well and my uncle was tortured by the British. Not badly, but he certainly was beaten by them. And then, later in the Civil War, my uncle was on hunger strike. All that's around, you know, in your head. Those in Ireland in the 1916 rising, three or four of whom were poets, they rose up in order to be martyrs, not to win. They didn't take over Dublin Castle and try to win. They took over the post office and the main street to try and lose, to stir people up, and so their own political activity was in itself like a poem—literature's job is like a pebble in a pool, to cause people to feel things, to sort of ripple out, to move out. Politics begins to take the shape of literature. That's the way the state was founded. Some of my family are still alive who were involved in that struggle. It's not as though it was a long time ago. I was interested in this character in the novel who wanted to shake all that off her, get away from it, as you want to do if you're writing in that environment. The Irish novel is intensely related to the body politic.
LT Couldn't you say that somebody like George Eliot was also…
CT Yes, the 19th-century tradition in Britain which shapes a lot of the 20th century Irish—Dickens, wonderful, even Jane Austen to give her her due. It's a great tradition. Recently Edmund White said, at a literary conference in Dublin, that while you don't write for a community, you're aware that the community will read you. That gives you a different feeling.
LT Through his writing, Ed White has helped to create a community. He's not just responding to a community. For me, writing is always about resisting or refusing certain categories.
CT Certainly not joining anything. I asked the Irish novelist John McGahern, who isn't much given to creating myths around himself and who writes very plainly and talks very plainly, if he ever felt the burden of the Irish past inherent in him. It's a terrible business that our ancestors had nothing. The idea that anyone's grandpa could be a painter or writer is sort of impossible to imagine. I can show you where my grandfather's father was evicted from at the time of the evictions. The records of the famine where I'm from are unimaginable to deal with. In the files of the internment camp in Wales after the 1916 rising, I can find my grandfather's name. But more than that is the terrible feeling of silence. First of all, at some stage in the past, my ancestors spoke Irish and at some stage they moved to speak English. But nothing, there's no poem or song, nothing.
LT Maybe you're one of the ones who's recording that.
CT I asked McGahern if he felt the burden of that ever. He said, "Oh, yeah. All the time. Yeah." Even to write certain names down, just to put a name down, to mention certain streets. There's some sort of notion that no one's gotten the chance to do this before and you're out on your own. You tend, I suppose, to concentrate more on the story, as the story's not been told before. No one has ever gotten the chance to have their consciousness explored before. I'm not talking about that you just sit down and write a story because you want it to be simple and it's never been told before. You also use whatever things are available to you and you get yourself as well-educated as you can and you add to your store all the time.
LT Don't you think that's a driving force for writers who feel themselves to be in the margin or on the outside, to write down the names that haven't been written down. You want to cite something that no one has mentioned.
CT I really like that in fiction, that feeling that things are being mentioned for a good reason. You can wrap an emotion around a name really well.
LT As for naming, do you ever feel frustrated by the way in which Ireland is written about outside Ireland?
CT No, I don't care about that at all.
Lynne Tillman is the author of the novels Haunted Houses and Motion Sickness, and a collection of short fiction Absence Makes the Heart. This spring, Semiotexte Native Agents will publish The Madame Realism Complex, a collection of stories/criticism. Lynne Tillman is currently finishing a novel.
Originally published in
Featuring interviews with Edward Albee, Caryl Phillips by Graham Swift, Barbara Kopple, Mike Kelley, Colm Tóibín, Valerie Jaudon, Robbie Robertson, Brigitte Rouan, Nicole Burdette, Clutter, Todd Ayoung, Exene Cervenka, and Carolyn See.