Collective Resistance: Karen-Kaia Livers, Alison Parker, and Dread Scott Interviewed by Bob Snead
A public art project in New Orleans reenacts a slave revolt.
Dread Scott's Slave Rebellion Reenactment is a large-scale community-engaged art performance and film project restaging the largest rebellion of enslaved people in the United States in an effort to reclaim a narrative, redefine freedom, and revive a story of revolutionary action. Hundreds of recruited volunteers will march for twenty-six miles over two days to bring to life an episode in American history long hidden from conventional accounts. Presented by Antenna, a New Orleans based multi-arts organization, Slave Rebellion Reenactment is a project about resistance and freedom, exploring a significant moment in history to reflect on how the past informs the present.
—Bob Snead, Executive Director, Antenna
Bob Snead In the weeks leading up to the Slave Rebellion Reenactment you reach beyond the march itself by facilitating community events such as sewing circles and town hall meetings in the local parishes where the 1811 Slave Revolt took place. What factored into the decision to host these supporting events, and what role do they play in the larger art performance?
Dread Scott (Lead Artist: Performance) Slave Rebellion Reenactment is a community-engaged project. The reenactment itself will be amazing both for the audience and reenactors, but for the project to be successful, many people have to engage with it. The sewing circles provide a way for people to learn and teach sewing while thinking about the importance of their shared history. The town hall meetings have enabled people in New Orleans, LaPlace, and St. Rose (all in Louisiana) to learn about and reflect on the story of the 1811 Revolt, as well as give feedback. It has also enabled many who want to embody this history of freedom and emancipation to become reenactors in the project.
BS How has your relationship with the New Orleans community strengthened your artistic process in developing the Slave Rebellion Reenactment?
DS This is a collective project. I initiated it, but it really is much larger than me. Without the insight and work of people in the community, the project wouldn't exist. This community includes artists and activists in New Orleans, scholars in New Orleans and elsewhere, St. John the Baptist Parish Council members, and church leaders in some of the River Parishes (the region upriver from New Orleans where the 1811 Revolt occurred and reenactment will take place), as well as many others. The conversations that took place while organizing the reenactment, which involves over five hundred people, are crucial to the work.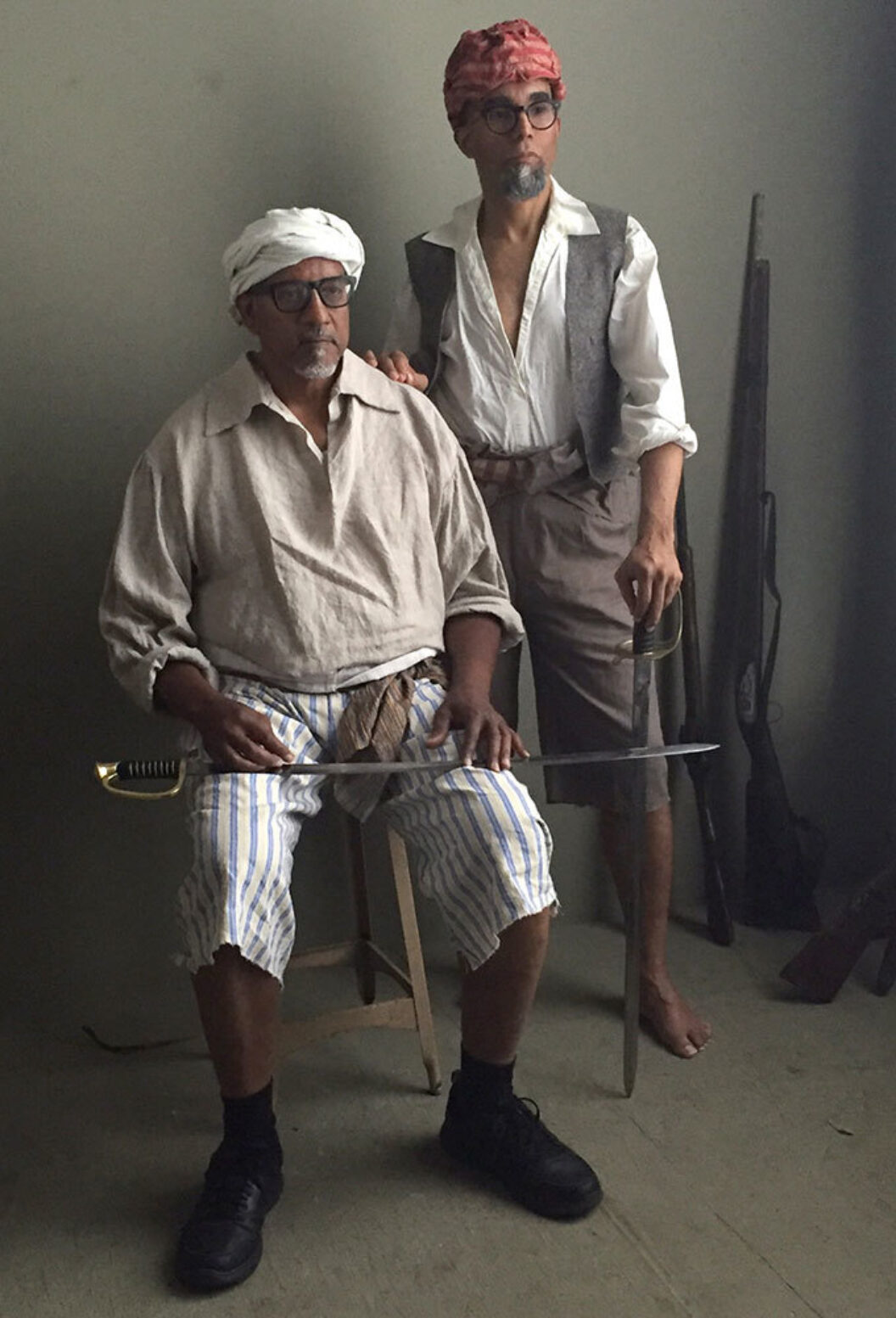 BS Karen, how does your background as a native New Orleanian inform your approach as community outreach coordinator for the Slave Rebellion Reenactment?
Karen-Kaia Livers (Community Outreach) My father was a lover of New Orleans history. He had a tour business in which he shared the stories of our family heritage, and his passion created a desire in me to continue to tell the stories of our ancestors. I became a living history actor and trainer over twenty-five years ago, and was one of the founders of the Louisiana Living History Foundation. Additionally, I served as trainer and company manager for the first certified living history company in the state of Pennsylvania: PA Past Players. Living history actors have to embrace the stories and histories of the character they're playing. To truly capture the spirit of that historical figure, you have to dig deep into the world in which they lived.
My work in black community theater as an actress, director, teacher, and administrator for over forty years, along with my participation and artistic collaborations with socially conscious organizations, has helped shape me into an organizer. When I work in a community or with a group of people, I embrace their history and culture. You can't go into a community and expect them to buy into what you're bringing. It's important to include them in the process. The key element to organizing people is listening.
When I first read about the 1811 Revolt back in the '90s, I took such pride in the fact that the enslaved people of Louisiana fought back. I was the first person to write a theatrical presentation about this, and the play was performed by kids for a couple years.
My current hat in the film industry is that of historical consultant. I've worked on movies like 12 Years a Slave, and TV series including HBO's Treme, Underground, Cloak & Dagger, and American Horror Story. In this role, I assist actors in developing movement and behavior accurate to the time period, and help them to understand what their character may have experienced or felt in that context.
BS Slave Rebellion Reenactment is prioritizing youth education. Have local youth audiences, such as university students, been receptive? How have they gotten involved with the performance?
DS I have been invited to speak about the project at Xavier University, Dillard University, Louisiana State University, Tulane University, and Loyola University. Our team has also done work at State University of New Orleans, University of New Orleans, and other institutions. In general, students have been quite receptive. Most hadn't learned the full history.
Many black youths feel a sense of shame about slavery. They don't understand how their ancestors became slaves. But when they learn about the process of their ancestors' enslavement, that this was something that was done to them, and that there were over two hundred and fifty documented instances of ten or more people participating in revolts, it lifts a weight off them, and they want to know more. And when presented with the opportunity to participate in a project that portrays enslaved people with agency, with this radical vision of freedom, many want to do so. Others have participated by making costumes or helping us go door to door in the neighborhoods that the march will pass through to alert people about the reenactment.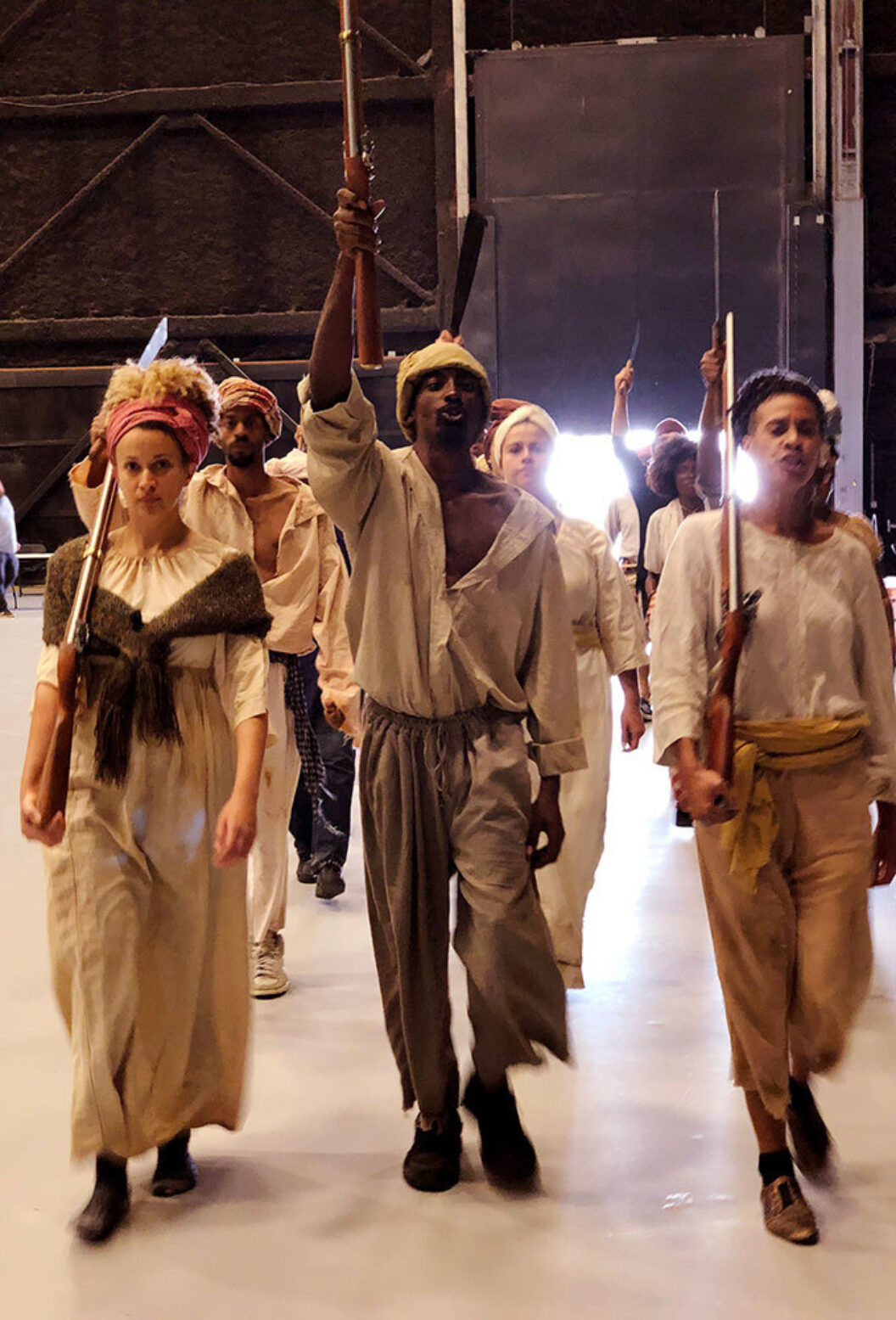 BS Do you feel an elevated sense of responsibility to ensure that the piece resonates with your community?
KKL The story of the 1811 Slave Revolt has been suppressed for centuries. It's currently being told on tours of the plantations where the revolt took placed. But these stories are recounted from the perspective of the enslaver, portraying them as victims of the revolt. This project enables the parishes to embrace the whole story.
The African American community in St. John the Baptist Parish has long wanted to celebrate this history as an official annual tradition. This project foregrounds the need to celebrate this act for freedom, all while helping to bring the community together. During events like "Remembrance of the Past," residents come out to hear the elders share stories about growing up in the River Parishes and what they'd been told by family members about the revolt. Because of Slave Rebellion Reenactment, the community has now formed the Annual 1811 Slave Rebellion Commemoration Committee to honor those heroic ancestors every January.
BS Alison, you've worked on a variety of projects, from TV shows like Girls and NCIS to theatrical productions like Cirque du Soleil. Slave Rebellion Reenactment presents a bit of a thematic shift. Would you talk about the research that went into designing costumes for Slave Rebellion Reenactment, and how this preparation differed from that of your past projects?
Alison Parker (Costume Designer) Unlike other projects, Slave Rebellion Reenactment required me to discern which materials were credible and which weren't. I dove into images from other countries, like Brazil and the Caribbean islands, where abducted Africans were brought during the same era to be sold into a life of slavery. For example, the paintings from Haiti by Agostino Brunias and depictions of Brazil by Jean-Baptiste Debret showed more realistic representations of slave life. We also read and dissected runaway slave ads that appeared in newspapers. They often had pretty thorough descriptions of the runaway's attire: "was last seen wearing yellow Nankeen pantaloons and fine white cotton shirt." We sifted through hundreds of those, and determined there would be one look for the enslaved who were tethered to a plantation and another for the maroons who were runaways or living off the land.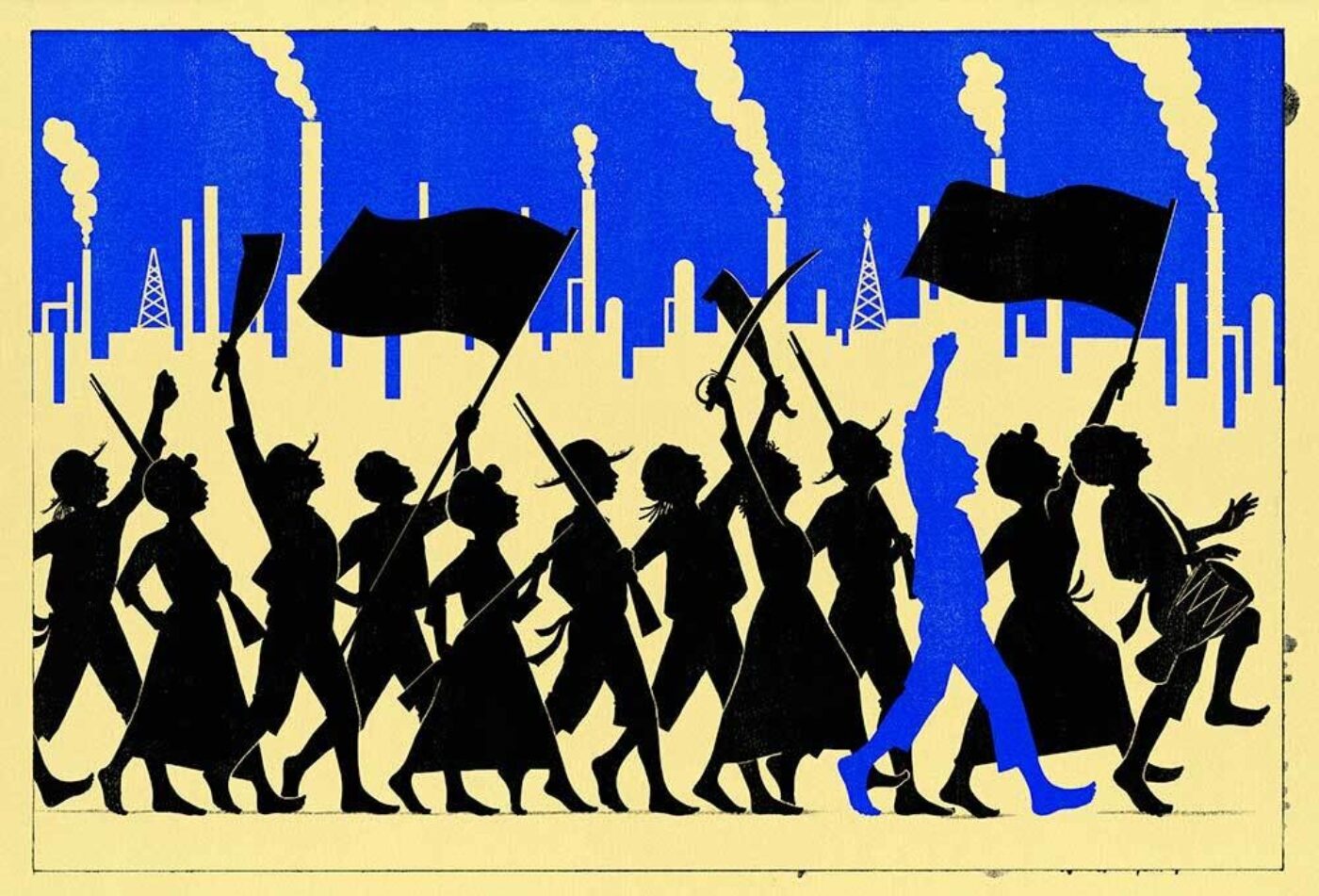 BS What story do you hope to help Dread tell through your design work?
AP In doing the costume research, I dove into both the written and visual history of the enslaved. I found it disturbing, sad, and disgraceful to see books and images still portraying the lives of the enslaved as happy and satisfying. I came across images of the enslaved smiling, and others that portrayed them as living a "normal" existence: marriages, celebrations, comfortable living conditions, and schooling. But in reality, the enslaved were treated like animals, raped of their human rights and dignity, absolutely denied education, forcibly separated from their family members, not to mention the physical and sexual abuse.
The story I hope to help tell is one of humanity and truth.
Slave Rebellion Reenactment will take place outside of New Orleans along the River Parishes in Louisiana on November 8 & 9.
Slave Rebellion Reenactment is presented by Antenna, a New Orleans based multi-arts organization. As the project's principal sponsor, the organization has led community engagement for SRR. The organization was founded in 2005 with a mission to promote art and literature in the community through events, publications, and art education.