Collaborative Feminism: Yana Schnitzler Interviewed by Patti Jordan
A durational performance that knits a room-sized skirt.

Discover MFA Programs in Art and Writing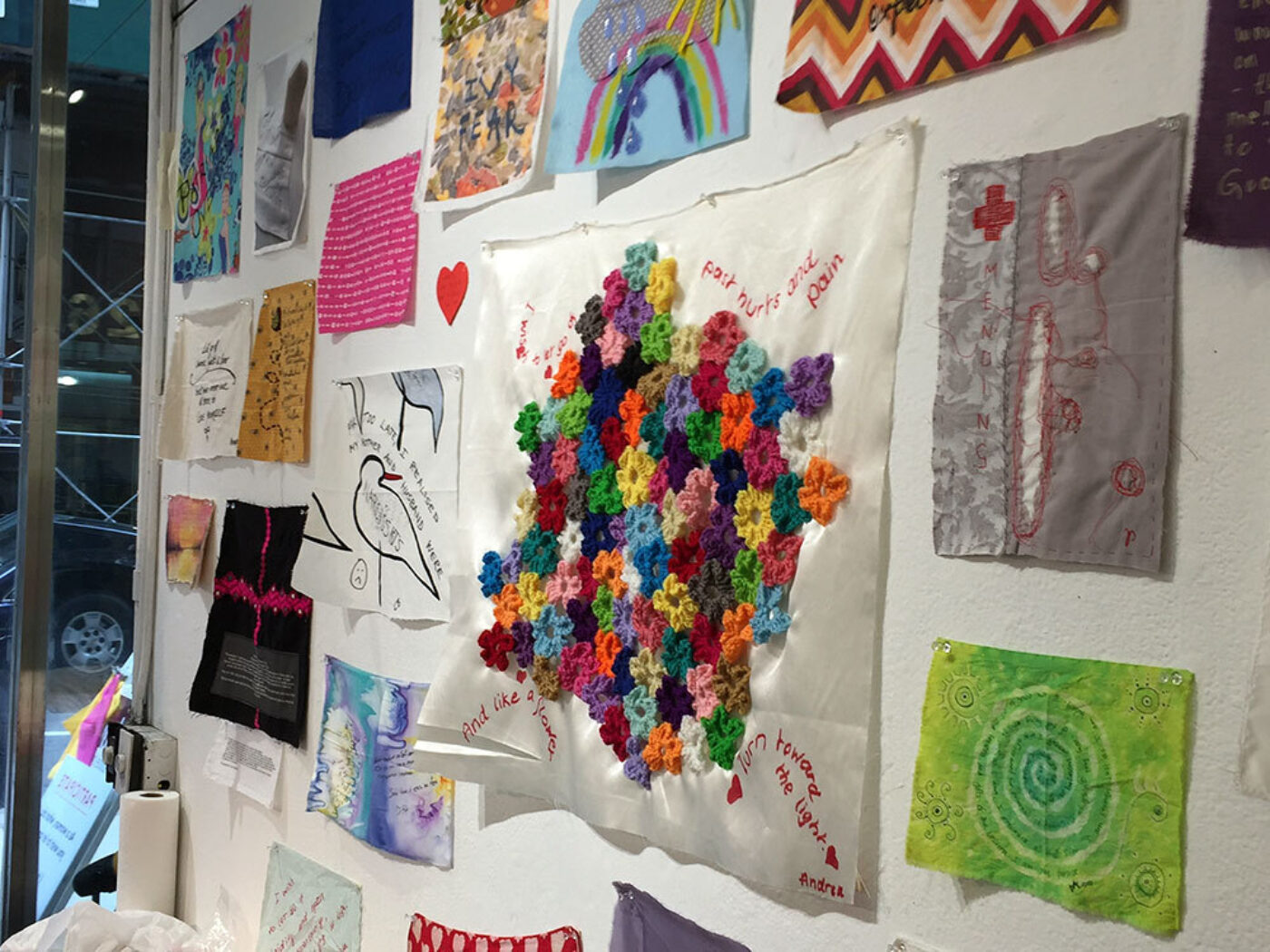 Glancing into Chashama Gallery in New York City's garment district, a passerby might see a figure seated in its storefront window, stitching. The gallery is currently hosting a four-week durational event in which interdisciplinary artist Yana Schnitzler fabricates a room-filling skirt in a meditative live performance. In tandem with the show's theme, title, and location, as well as functioning as a symbol of release and letting go, this collaborative feminist project involves the assemblage of fabric fragments from a transnational community of women from over forty countries. Each textile inscribes in the artist's native language what she most wishes to relinquish from her life at present. Schnitzler then hand sews these pieces onto her wearable garment that will eventually become the circumference of the gallery. As Schnitzler explains in our interview, her site-responsive installation is a bifold dance of destruction and renewal.
—Patti Jordan
Patti Jordan What were the preliminary stages of this global feminist art project, which involves you in the front of the gallery stitching?
Yana Schnitzler Stitching is amazing and is so associated as an activity with the stereotype of the domesticity of women, yet deliberately interjected here into an art context. I feel very strongly about the significance of stitching because, like textile and fiber art, it is considered an inferior art form and is still not recognized. That needs to change. Most of these fabric fragments the participating women constructed are very quiet except for a few where you really feel the rage; one can sense the protest in some of the textual statements. Much of the work, however, is asking for your full attention in its quietude. This space where I create an original fabrication from all the pieces stitched into a skirt serves as a prelude to my stitching performance. The durational component does take time and is a buildup to the final ritualistic component of the destruction of the skirt in order to "let it all go," which will occur later this year.
PJ Origins feature strongly as a theme in your work, including prior projects that incorporate ideas of space-time. The myth of the phoenix spread from its ancient origins in classical folklore through extended connotations beyond the classical, and contemporary interpretations continue to engender ideas of renewal and rebirth as well as conceptions of time. How do such narratives lend shape to the project, and in what ways does the tale of the phoenix apply?
YS The story of the phoenix is a well-known myth these days. I see The Letting Go Project as a feminist expression of all of these elements in that each participant is facing obstacles in her life that she aims to release. To invite change to something that she has been holding onto for some time, she must symbolically enable its death to occur. She then creates grounds for renewal and evolves beyond what held her back. The women define intentions by pouring their energy into designs that are amplified through the kinesthetic act of construction. I stitch these pieces together into a room-filling skirt. Partaking worldwide in this ceremonial act, the women form a multicultural expression of the collective feminine voice. The phoenix, whether classical or contemporary, carries a thread of energy from life to death to rebirth and is a symbol of immortality. The life-force the skirt embodies when finalized will radiate as it travels to consecutive locations before its ultimate destruction, giving way for "the new" to arise and unfold. The cyclic and durational aspect is a constant in my work; each phase pulses at its unique rhythm, altering perceptions of time and reality.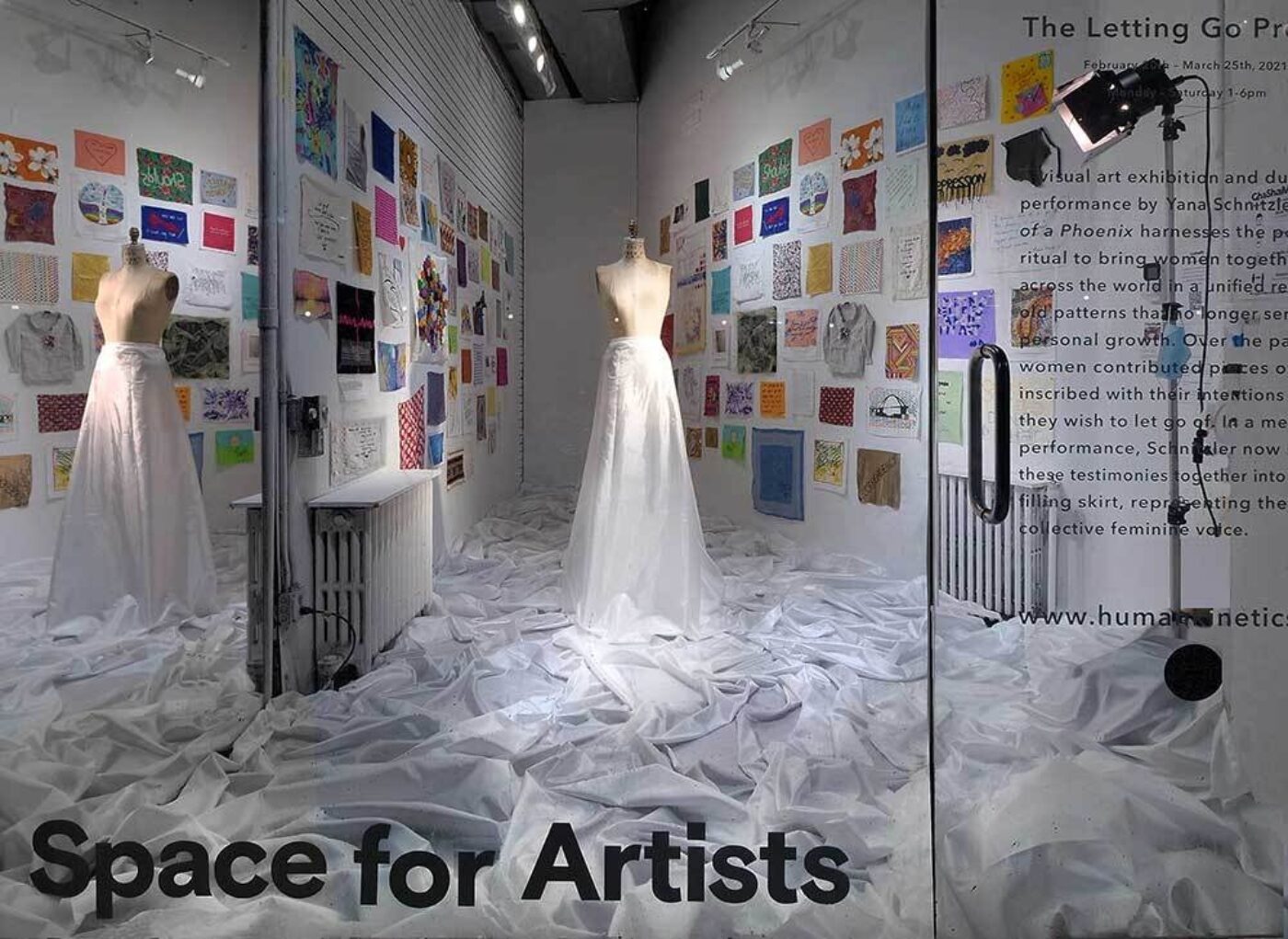 PJ Tales of rebirth and regeneration also underscore our sweeping pandemic circumstances. Have any of the initial motivating factors for the creation of this piece altered as we've entered the COVID-19 era?
YS We are faced with a new reality under COVID-19. Things we took for granted function differently now, which affected this process in timeline and purpose. As for myself and the community of collaborating voices, we got to spend more time understanding just what we are letting go of through patience and practice; perhaps I then reached a greater number of women. Though the project began pre-COVID, its cause seems magnified by the lack of socializing. Economic challenges and uncertainties have also had a tremendous impact on mental health. Yet opportunities to reflect on values—to come back to what is important in life and let go of what we no longer want—were created. In this way, I feel this is a very timely project.
PJ As conjured throughout history, the phoenix is also the essence of fire. Does your previous prioritization of the color red feature in this work where other women have provided the varied materials?
YS Red is reminiscent of love, sex, blood, and violence, and it appears as a current that runs through my work either as an aesthetic choice or indicator of what women sacrifice under the male gaze. For The Letting Go Project, color choices were in the hands of each individual, and it is interesting now to observe the fabric swatches through the lens of color theory to interpret each section both by itself and as a collective voice.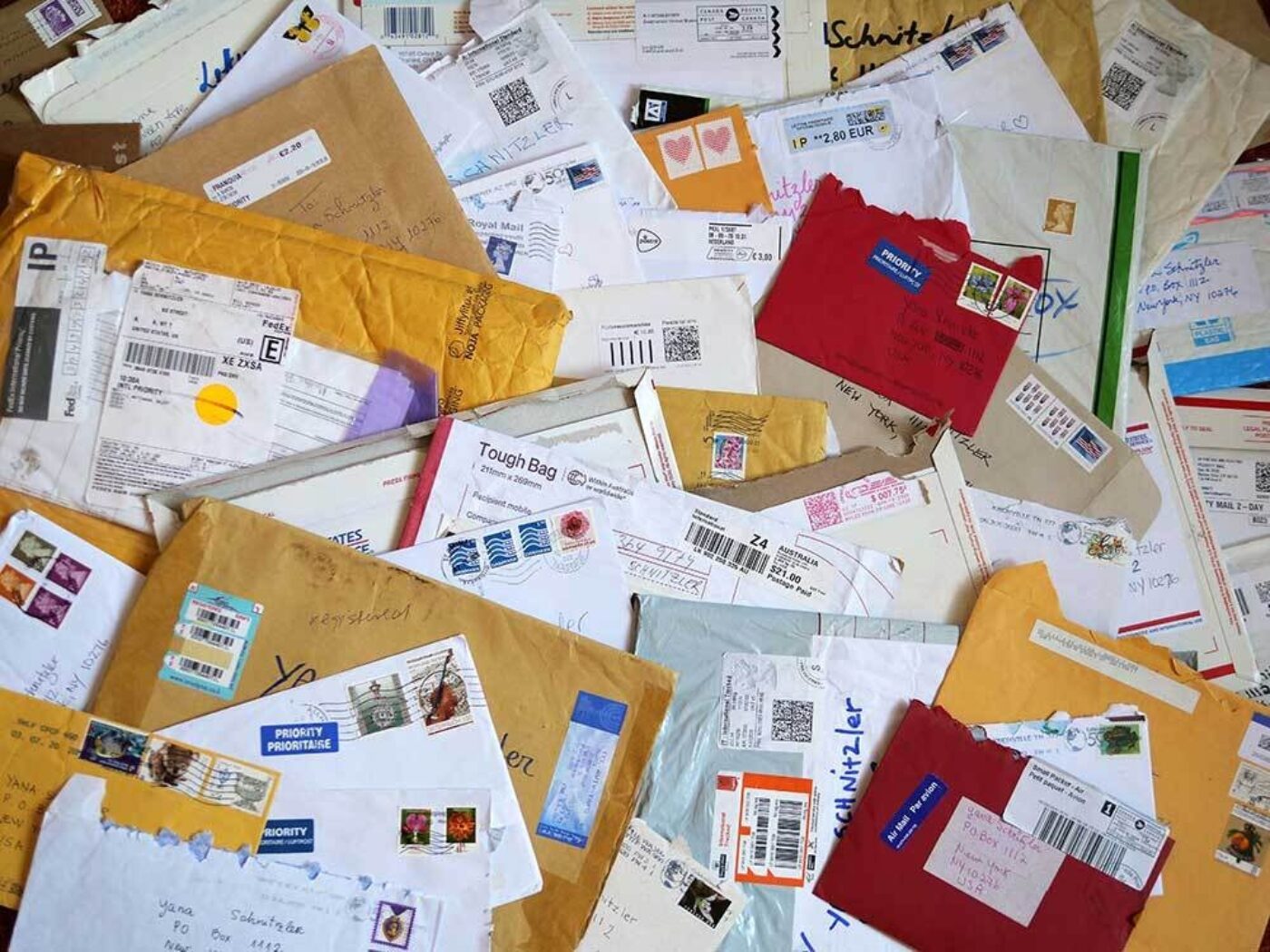 PJ You identify precise junctures that unfold this global narrative. It appears that numerous stages discretely demarcate time: from the gallery install, to the sewing, to the ritual dance performance, and the skirt's eventual destruction. Can you qualify these demarcations and any hierarchy endemic to either their content or formal qualities?
YS Time is central to my work, specifically, interconnections of time and space. We can think of the past and the future, but being in the present is a challenge. Continually focusing on the past and future creates a linear landscape in our minds that equates to a virtual reality where memories and end-gains converge. Durational processes are my means of investigating presence and timelessness; the project is full of moments that speak to the time it takes to see change and its manifestations. True change takes more than today or tomorrow, and patience is required because of the framework one is bound by. My work is deeply rooted in these concepts.
PJ The inner and outer views of the installation also add levels of complexity in their inferences to space and time. Concerns for other basic principles you mention seem to arise here, such as tensions between restriction and expansion, or stasis and metamorphosis. Is there a connection between such investigations in your work?
YS Restriction as a means of expansion is present in this work and fans the frictional drive toward opportunities for growth. Such confrontation is unsettling and throws one out of one's comfort zone into creative problem solving. Every participant's story is indicative of a desire to let go of traces of the past that plague an inner journey, and this initial restriction delivers opportunities for expansion through metamorphosis, like a flame reaching out from the fire. By becoming aware of obstacles, one gains greater potential for deeper processing to actualize true transformation.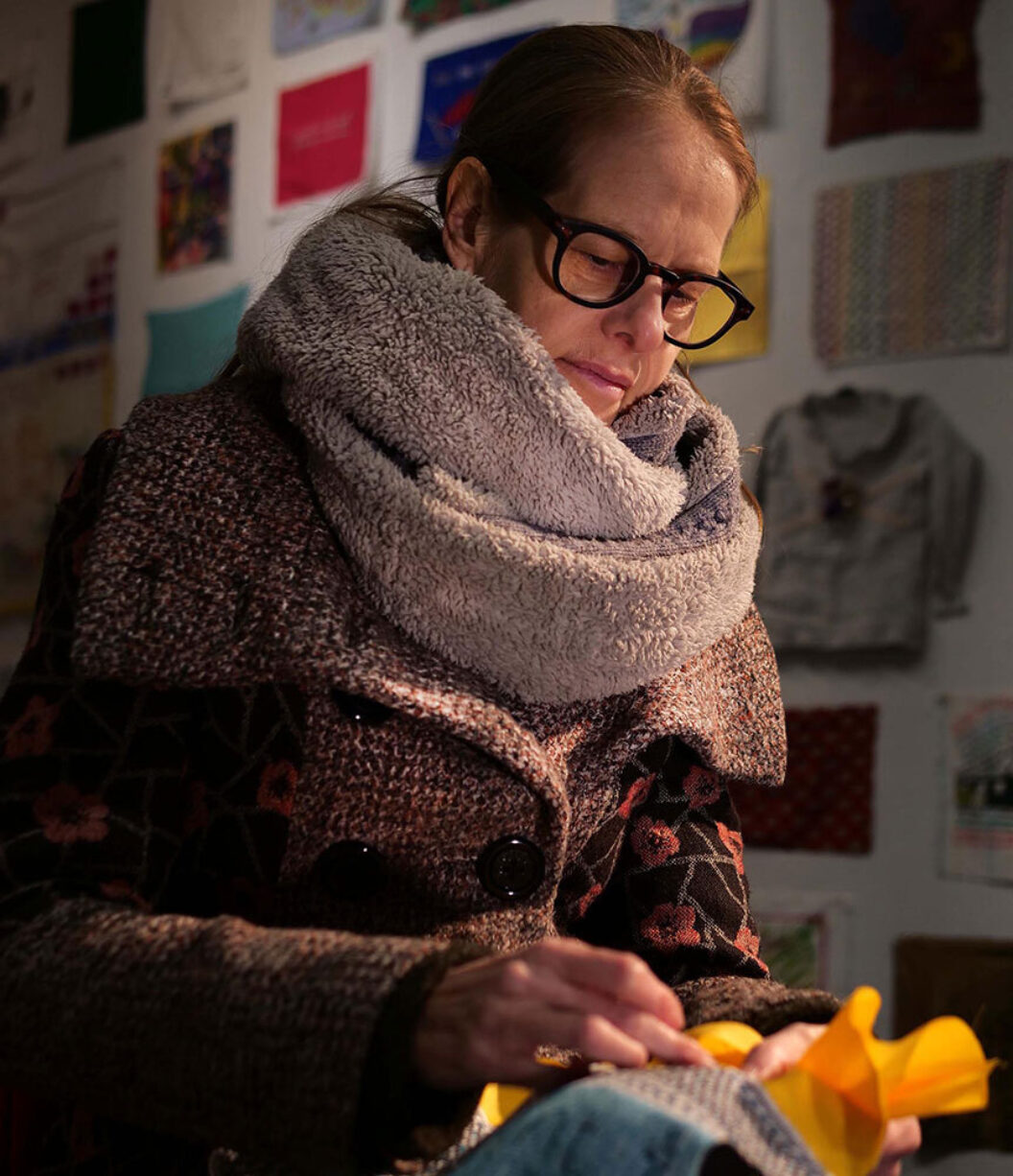 PJ Your garment mediates personal narratives of women's struggle: a sacred object signifying the collective fears and obstacles of women. Is the movement in The Letting Go Project between action and object akin to the phoenix's continual metamorphosis whereby the end is merely the beginning, including the final dance performance in which the skirt is publicly destroyed?
YS Just as the phoenix implies that the end is the beginning, the destruction of the skirt welcomes each woman to rise past release to higher levels of personal journey. Cyclical natures are mirrored in the ebb and flow of action and object in the work's physicality, functionality, and relationship to viewers and participants. Women create fabrics that I collect and display at the gallery. I stitch them together before they travel to subsequent exhibitions. I then dance in the skirt and relinquish women's proclamations for new beginnings. Though they display a multitude of struggles and fears, there is a profound commonality in these pieces that powerfully illustrates women's interconnectedness.
Yana Schnitzler: Tales of a Phoenix: The Letting Go Project is supported by Chashama and the Feminist Art Project and is on view at Chashama in New York City until March 29.
Patti Jordan is a visual artist, writer, and independent educator based in the New York City region. She is a Member-at-Large of the Women's Caucus of Art and currently serves as a managing editor for the bi-annual feminist art publication ARTLINES. Her writing appears in ARTE FUSE, Intellect Books, Bloomsbury Fashion Central, and AS / Artist Studios, among other publications.