Collaborative Creation: Tahir Karmali Interviewed by Danni Shen
Art that investigates sustainable and unsustainable materials.

Discover MFA Programs in Art and Writing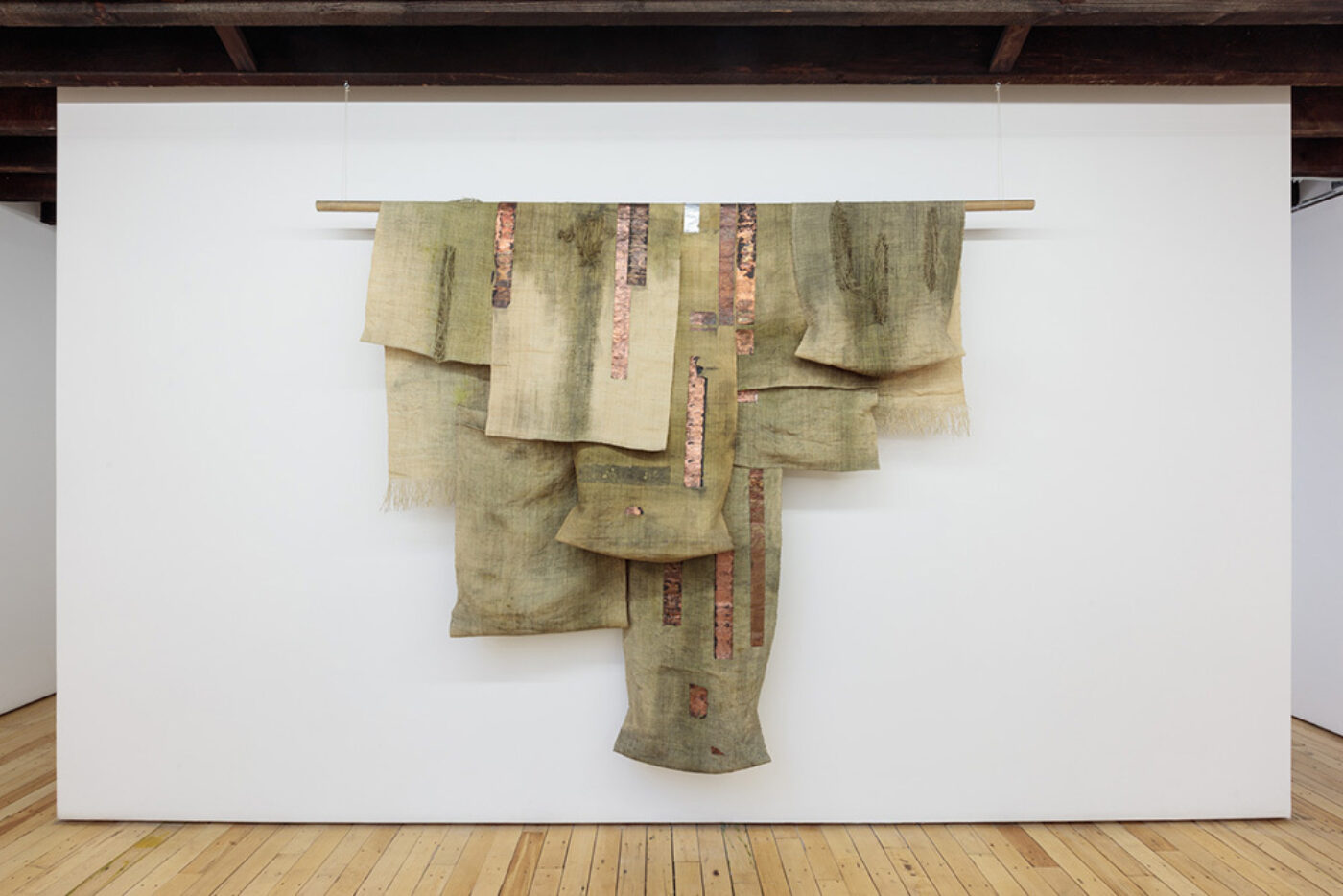 Cobalt oxide, copper, and aluminum from the lithium-ion batteries of defunct cell phones; suicide netting from outside factories in Shenzhen, China; raffia cloth native to the Democratic Republic of the Congo and Madagascar; organic, raw canvas sourced from the United States; and silk from East Africa—each of these forms the material makeup of Tahir Karmali's practice. The Nairobi-born, New York-based artist's research-oriented approach reflects on the processes that make materiality possible, including vernacular histories, labor, sourcing, industrial production, dissemination, and circulation through the global supply chain. In doing so, his work forms narratives concerning the socioeconomic and geopolitical networks that circulate goods and people. With an increasing focus on fair-trade sourcing from empowered communities that produce self-sustainably, while also considering low-waste design functions and infrastructures, Karmali's practice engages the possibilities of collaborative creation in a globally interlinked, ever precarious economy.
—Danni Shen
Danni Shen I was curious to hear about your background in international hospitality and food. Does that still inform your practice as an artist?
Tahir Karmali I always wanted to become an artist. In high school I did not know what the path would look like. Most of the artists I knew personally in Nairobi at the time came from a craft-based tradition. A career as an artist was also foreign to my family, and questions about how to make a living made me hesitant to study fine art. As a queer kid growing up in Nairobi, feeling out of place in society, I lived between the fantasy of what could be and thoughts of ending it all.
During this time my brother, who was studying in England, passed away in his sleep on his birthday. His death put a lot of strain on my relationship with my family and isolated me from them. I started to rely on art-making to express my grief. Yet I could not bring myself to apply for art school, although all I wanted was to leave Nairobi. So, I figured that if I loved cooking maybe food would be the best way to go that would also not cause more distance with my folks. I went on to study hospitality and marketing in Switzerland, which taught me more than anything else. In Geneva and Singapore, I went from the kitchen to being a concierge in hotels. There is a kind of method, process, and reason to how everything must be executed in the luxury-service world. Within the kitchen, the sourcing and combining of ingredients to create a narrative on the plate really resonated. Operating between two disparate worlds in luxury hotels also shaped my worldview; in a span of seconds, on the banks of Lake Geneva, I could be taking a celebrity's teacup and handing it to an asylum seeker operating the dishwasher.
DS How did your move into art-making come about?
TK I never really stopped making art. After moving back to Nairobi, I started painting again, reading art magazines and journals, just wishing to be a part of the art world. A close friend named Ami Doshi Shah and I used to work in the same building. We would share moments on the roof looking out at the leafy Nairobi skyline, broken with shards of new glass buildings, and discuss a sense of dissatisfaction with our lives. Ami supported my work in a way I had never received before, which encouraged me to push forward. I eventually left full-time job life and got a studio in Nairobi at Kuona Trust, a subsidized artist studio and residency facility. There were so many young artists trying to do new things while pushing the envelope of Kenyan art and craft. Tourists would come to open studios and buy things, expecting curio-touristy types of trinkets. It felt exciting to be pushing against that and trying to change perceptions of what our roles as artists could be in this rapidly changing metropolis.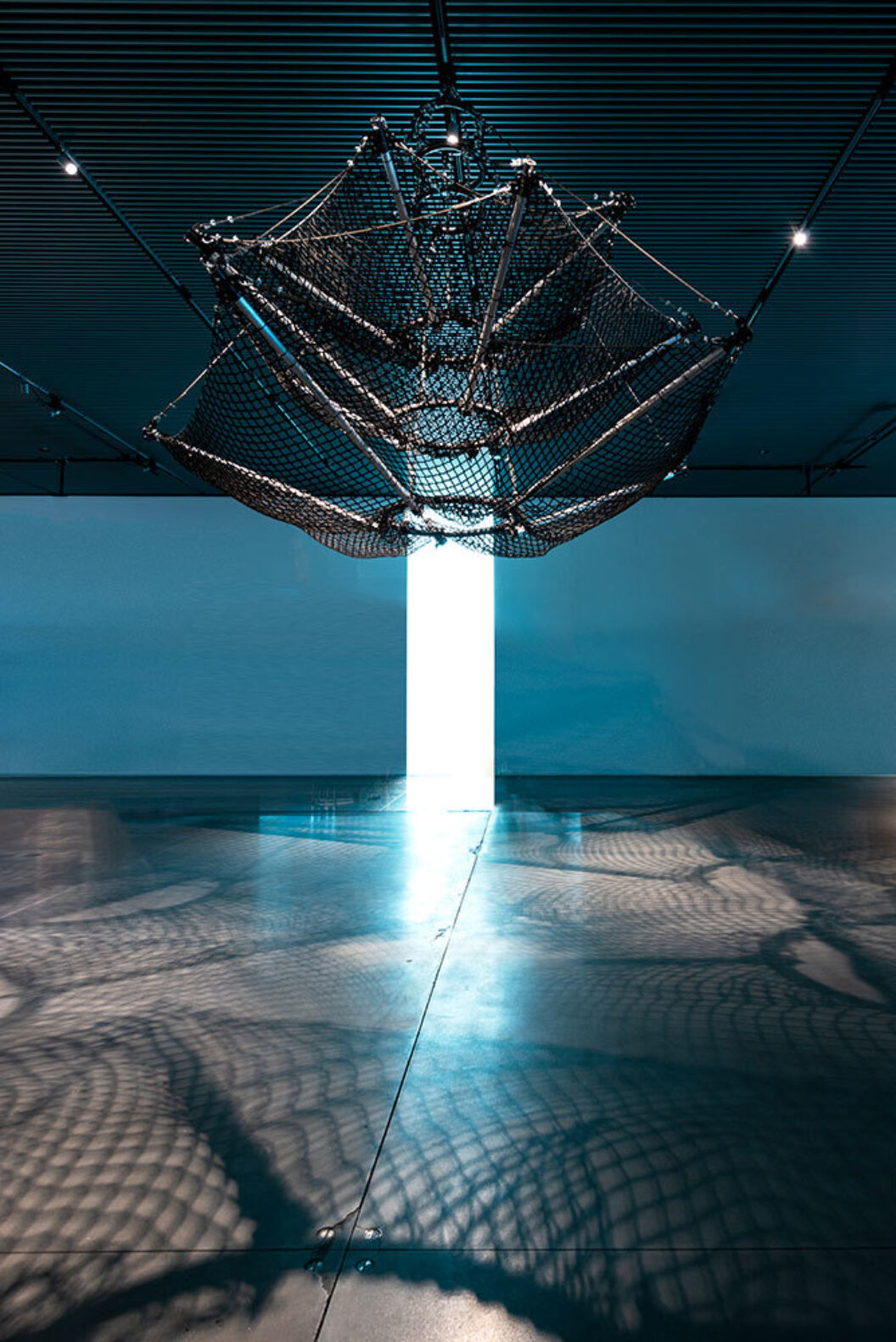 DS Your practice involves complicating and manipulating the materials that perpetuate colonialism. You mentioned how these materials are further transformed in the context of the art world. I'm interested in your thoughts on materiality and its relationship to greater systems of dissemination. What lies in that manipulation for you?
TK This is something I think about all the time—a material's life cycle and the deliberate intention for it to live as a statement. Yet outside of its history, the material can be understood for the formal quality that it is prescribed. I want viewers to have a choice with how to engage, for someone to debate whether this is good work and what those merits are. The material should beg the question of what the art world is buying into.
But the reality is that this is an awkward position to be in by trying to draw attention to a problem that I can potentially monetize. This is not something you can really reconcile with. This might be one of the reasons why my material choices are pivoting. Confronting this also allows you to innovate and complicate the work further. For the series STRATA (2019), which deals with the problematic trade of cobalt to create lithium-ion batteries for new technology, I sourced raffia from communities in the Democratic Republic of the Congo that would benefit from the trade and worked with people that practiced ethical production of the fabric. Staining this material with cobalt sourced from dead cellphone batteries made more sense than just using the cobalt by itself. This material pairing further places into dialogue the degradation of these communities.
I have also come to a realization that it is incredibly hard to find a material that does not somehow perpetuate neo-colonialism. Now, instead of zeroing in on it, I expect it is already understood.
DS How does your process usually unfold?
TK It is different for every project. My process is similar to the design process in that the solution to the problem is the artwork, although all the planning and research will never predict the outcome. I rely on the material to tell me what it wants to become.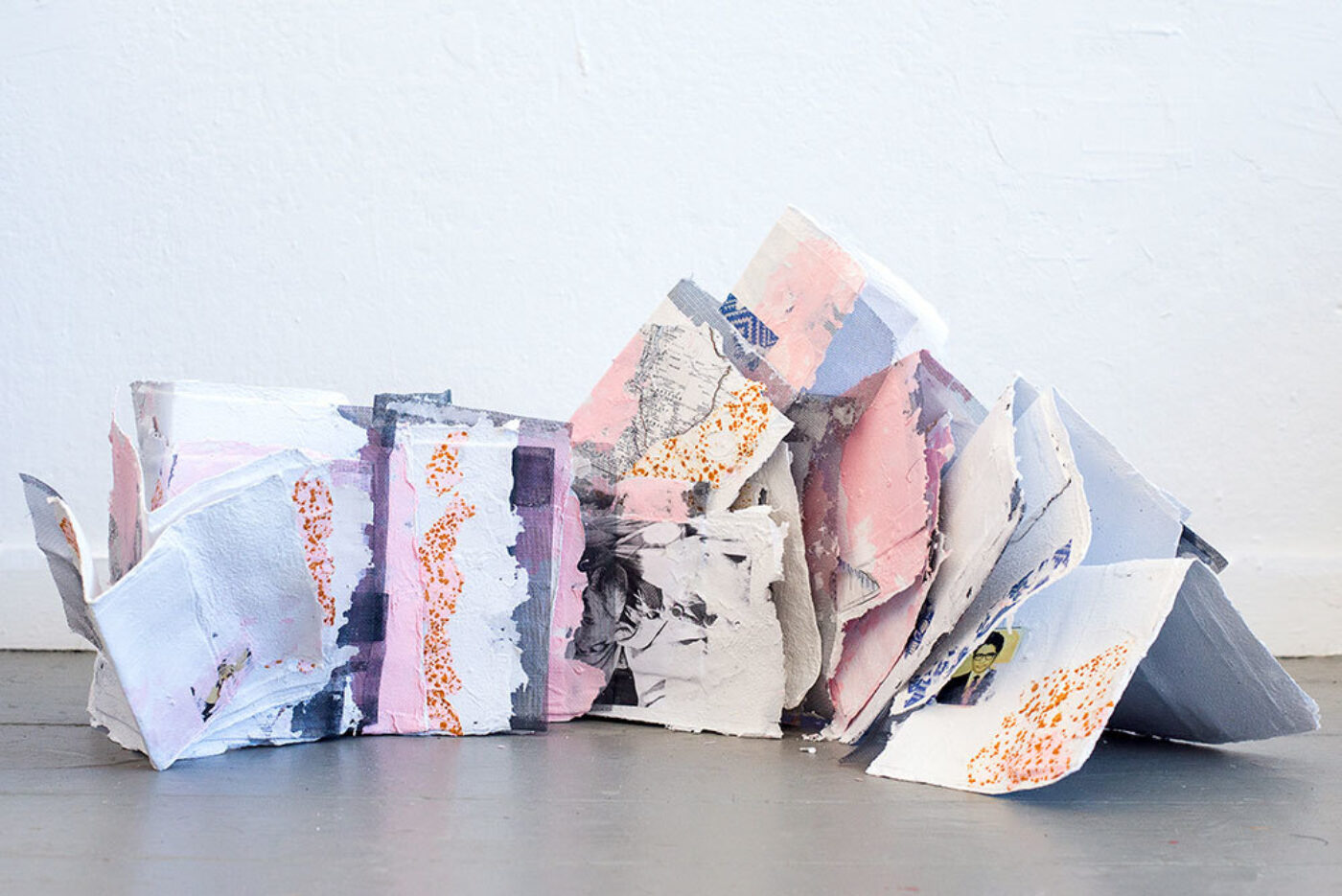 DS Your more recent projects dive deeply into locality, sustainability, design, and low or zero-waste production. What's on the horizon for you?
TK I've been thinking a lot about belonging, home, and ideas of wholesomeness. Living as an immigrant in New York City during this shaky administration has made it hard to feel comfort. Paradise (2019) is a recent series of works that depicts a time my family spent in the Seychelles, where my mother is from. Each image is set in this idyllic landscape yet deals with ideas of death, frustration, fatigue, longing, and fantasy. They are deceptive and haunting yet "pretty," made with low-waste screen-printing on organic fair-trade cotton canvas and dyed with organic natural dyes. I figured works about the Seychelles should be environmentally responsible, as the islands will be gone within my lifetime if things keep going the way they are. I also enjoyed the collaborative process which involved working with a dye and textile specialist named Jessi Highet to create the dip dyes and choose the right canvas. For the screen-printing, I worked with master printer Luther Davis to generate the least waste possible. There is little room for error because of the waste consideration, as everything after discussion is a final decision.
The environment is definitely what we all need to be reflecting on right now. I recently began reading a lot of United Nations High Commissioner for Refugees reports and white papers about climate apartheid. It's shocking how close to home this is, with Dadaab and Kakuma among the most effected communities on earth. This lead me to look at the design of refugee camps and the tools that environmental refugees use to survive. The more I researched these architectures, the less I felt comfortable reusing the same materials to reconfigure the design vernacular into an art object. An important question now becomes, How can I use what I've learned from Paradise to discuss these topics of research?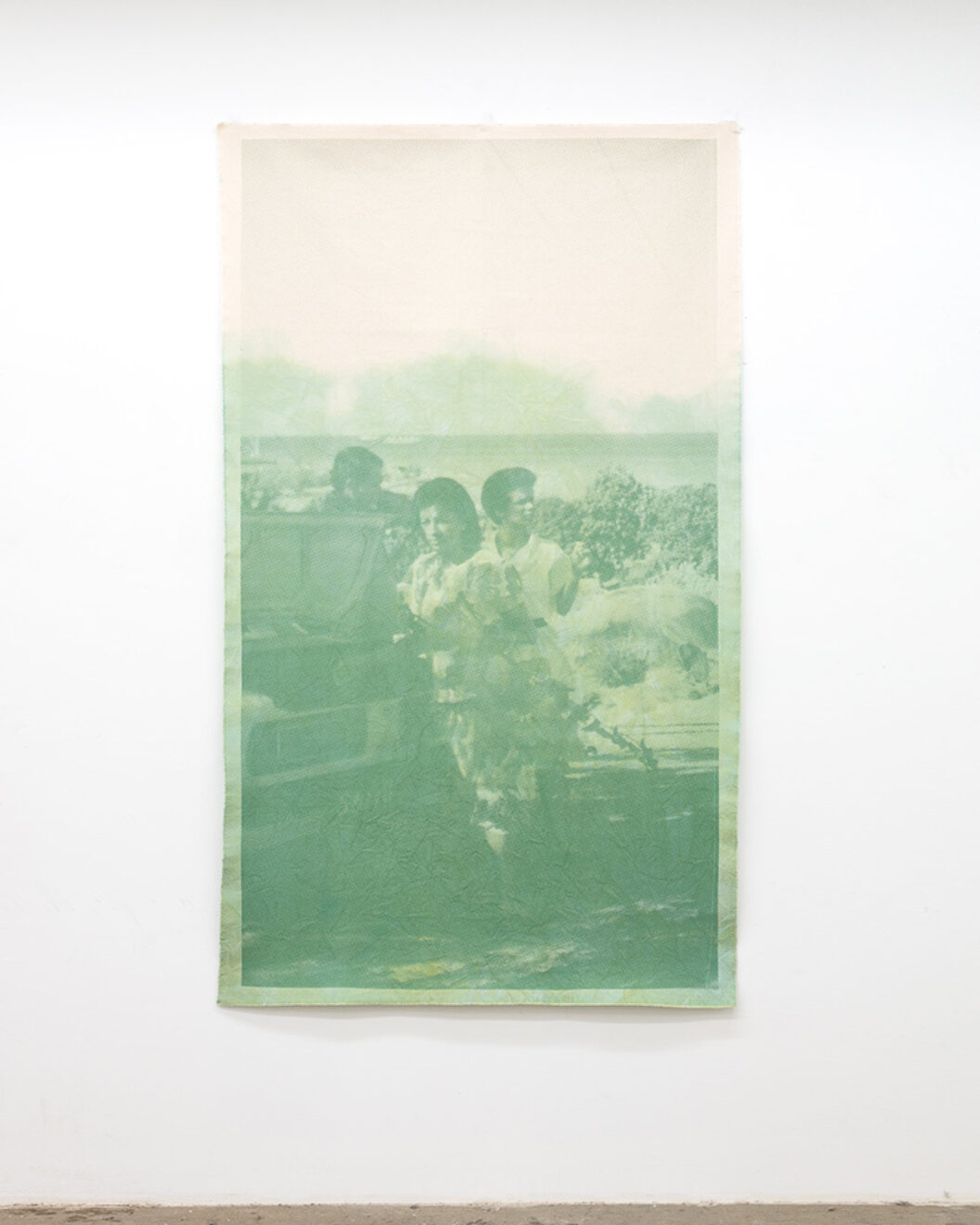 DS The transparency and specificity in which you list the materials used and locales sourced from seems important to me. Continuing these research trajectories, what are some materials that you hope to work with in the future?
TK I would like to work with silk and also look at vernaculars of temporary or migratory structures. There is a complexity about silk being a former dwelling where a creature metamorphosed that humans then take to make fabric. I just found an amazing East African ethical supplier and company that uses a procedure that does not require the worm to be killed in the production of the silk. Further, the company is involved in community development and the empowerment of women through fair employment. New work and materials will focus on sourcing responsibly, which is a difficult process; by responsible I mean that it comes from a sustainable source, that the material production helps a community, and that it is not terrible for the environment. Art production is actually very destructive. However, this is not necessarily to make a comment about art and its production; it is just what I find interesting. With the rising numbers of social-enterprise startups in the economy, I want my work to reflect that and highlight some of the attempts at being responsible to and within those worlds.
Paper Borders: Emma Nishimura and Tahir Carl Karmali is on view at International Print Center New York in New York City until December 18.
Danni Shen is an independent curator and writer. Previous curatorial roles include at SPRING/BREAK Art Show LA and NY, and Empty Gallery, a black-cube space dedicated to time-based, non-object-oriented, interdisciplinary practices physically located in Hong Kong. She is based in New York, where she was a Curatorial Fellow at Wave Hill and Curator-in-Residence at Residency Unlimited. She is a contributor to various publications including the Brooklyn Rail, Hyperallergic, Rhizome, SCREEN界面, and has written catalogue essays for artists Jillian Mayer, Mo Kong, Wonjung Choi, Esperanza Cortés, and Rina Banerjee, among others.