Discover MFA Programs in Art and Writing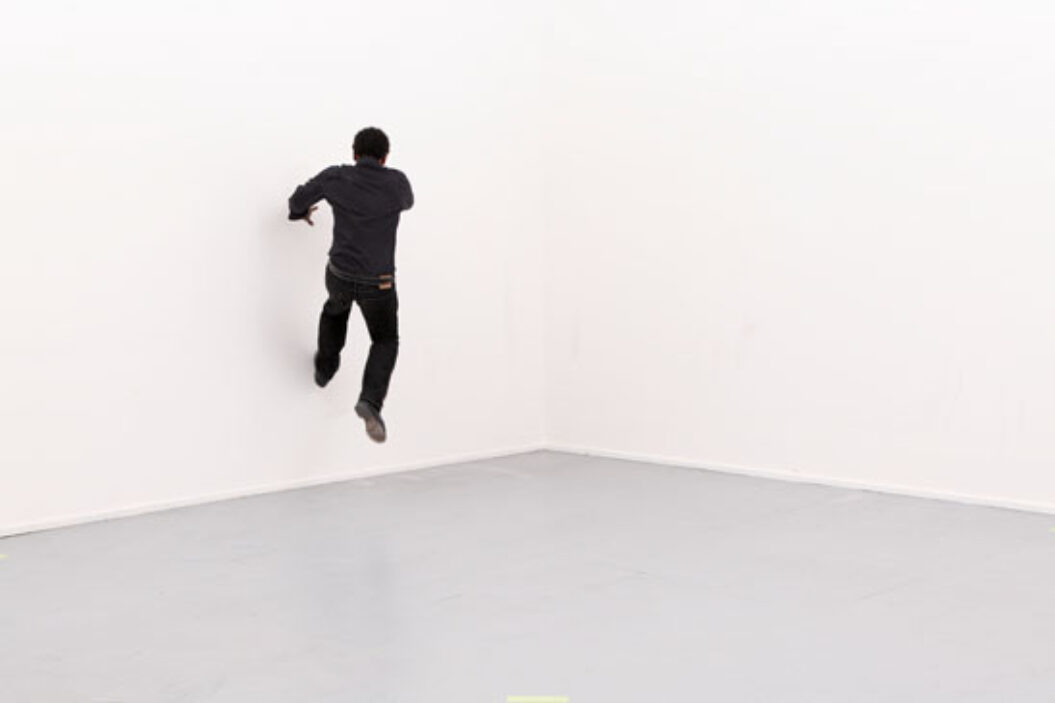 Like 70 or 80 others, I was there.
Last winter, Clifford Owens performed the third iteration of Photographs with an Audience at the Contemporary Arts Museum Houston for the opening night of his first solo museum exhibition. Those who fit squeezed into a little anteroom in the museum's basement and plopped down on the floor. A medium-format camera (which is large, by current standards) loomed.
Nobody knew what would happen. The title is a clue, and there were images of prior versions of the performance in Owens's exhibition, but how these photographs with an audience were arrived at was unknown. The mood was tense—a little suspicious.
Owens appeared and gradually deflated the tension with casual conversation, probing the group in search of commonalities: "Who voted for Bush? Who is a father? Who thinks 'performance art' means someone takes their clothes off?" Those who raised their hands were then lured into the path of the camera eye and captured together for the first and, most likely, only time.
Everything was going well. Owens's affable manner invited participation; people were responding thoughtfully to an increasingly philosophical line of questioning, they were willingly posing for portraits, and suspicion had given way to a buzz of alertness. Enter Enrique.
Enrique was heard before he was seen. Making oneself a focal point during someone else's performance is one of the unspoken taboos of the genre, a violation of art code. But Owens's work is anti-theatrical. It doesn't deny the situation; for him to continue as if the strutting, catcalling Enrique weren't in the room would have been disingenuous, impossible. So, everything stopped. Owens began posing questions to Enrique, who pulled down his lower lip and mugged a tattoo hidden in there.
I think most people—museum officials, attendees, probably Owens himself—were afraid. It was Enrique against the room, and the room was more vulnerable for sure. Here's what happened over the next ten minutes: Enrique volunteered that he was a Mexican immigrant, worked three jobs, did so to get out of a gang, and was at the museum because he heard there was an art thing happening. Like a few others in the room at the time, and since vulnerability was an unspoken theme of the performance, Enrique took off all his clothes and bared himself to the eyes of strangers who primarily represented radically different class interests and tax brackets. Still nude, he embraced Owens—who, in spite of himself, started crying—for a portrait. He spoke so lucidly about the value of art in society that a cynic might suspect Owens planted him. It was the most exposed I had ever seen a person.
Who knows if the Houston version of Photographs with an Audience will become a media legend on the level of Vito Acconci's Seedbed or Shoot, but something happened between the people in that room—for an hour or so, we were responsible for one another's vulnerabilities and fragilities. The communion was very real.
Owens is now a resident artist at MoMA PS1 and is having an exhibition of his current project, Anthology, there in the fall. For this, Owens collected performance scores from other American black artists, which he then realized, often involving the audience. Over the summer some of the performances were repeated multiple times; all of them were videotaped and archived. On one hand, Anthology is an extension of earlier pieces like the Studio Visits series, where Owens invited legendary performance artists to his studio with the intention of making a collaborative piece, using the recent history of performance art like a medium. On the other, the project of engendering a broader understanding that the history of performance work by American black artists is much larger than Adrian Piper and David Hammons is expansive enough to occupy him for a lifetime. When I asked Owens what made him realize he needed to take on something so daunting, he responded, "Because we're invisible."
Nick Stillman Where was it that you began to form opinions on the kind of art you were into and wanted to make?
Clifford Owens It happened a little before I studied with Barbara DeGenevieve at the School of the Art Institute of Chicago. When I was 19 and studying at University of Maryland, my professor was the art historian Kathy O'Dell who wrote this great book Contract with the Skin: Masochism, Performance Art, and the 1970s. When I was a very young artist, like so many very young artists entering art school, I wanted to follow artists like Duchamp. I had come to art through photography, and now—this is the early '90s—I was introduced to performance art through Kathy O'Dell and to conceptual art through Natalie Bookchin. I first learned about Fluxus in these art-history classes. Of course, Fluxus is not a movement; it's a way of life. I was interested in that. I started to understand that my work could be more multidimensional as I became invested in art about ideas. From there I figured out ways to integrate my interest in photography into performance and other modes and modalities of art production.
NS You have integrated photography into your performance art for many years now. This includes the Studio Visits series from 2004 where you invited performance artists into your studio to make collaborative works. How did you proceed? You reached out to them, and then what?
CO Before I went to Skowhegan I didn't have a studio. I'm an artist based in New York City … So I wasn't, nor have I ever been, a traditional studio artist. At Skowhegan I had to figure out how to use a designated studio space for the summer. I was thinking about extending Daniel Buren's terrific short essay "The Function of the Studio" into the question: what is the function of a studio visit? The Skowhegan program is structured in such a way that the participating artists meet with the faculty artists a number of times throughout the summer, so I was thinking of ways to engage with them as an artist in a traditional studio setting. I was interested in the implicit social contract of a studio visit. As a curator, you go to an artist's studio to look at work, but there's a social dynamic at play. I was completely disinterested in experiencing a visitor's engagement in a kind of disinterested contemplation of an art object. I wanted to create a social dynamic during the studio visit where the visitor becomes an active participant. It was thinking about the practice of each visitor and crafting a unique performance for that audience of one.
NS In 2005, you did another round of Studio Visits in the context of Performa 2005 with some pretty major performance art figures: Carolee Schneemann, Joan Jonas, Patty Chang, and William Pope.L. To what extent did the qualities of those artists' performative works determine what you had them do with you? How did you work that out in your own head and present that information to them?
CO RoseLee Goldberg asked if I wanted to extend the Skowhegan project into Performa. I submitted a long list of artists who worked in performance art and whom I wanted to meet with for studio visits. Some—Marina Abramovic, Vito Acconci, and others—were busy, or not interested, or just never responded to the letter. For the visits that actually occurred, I was responding to those artists' practice but I was certainly not re-performing one of their earlier works. For instance, Carolee Schneemann has historically been fascinated with the female body, specifically her own. So in her visit with me, I asked her to rub lotion on my naked body. This simple act brought us physically close, there was a shared intimacy. Joan Jonas has done a lot of work with performance drawings, so I thought about using my body as the material for creating drawings with her. Jesper Just: I sang love songs to him because of the Finnish Screaming Men's Choir.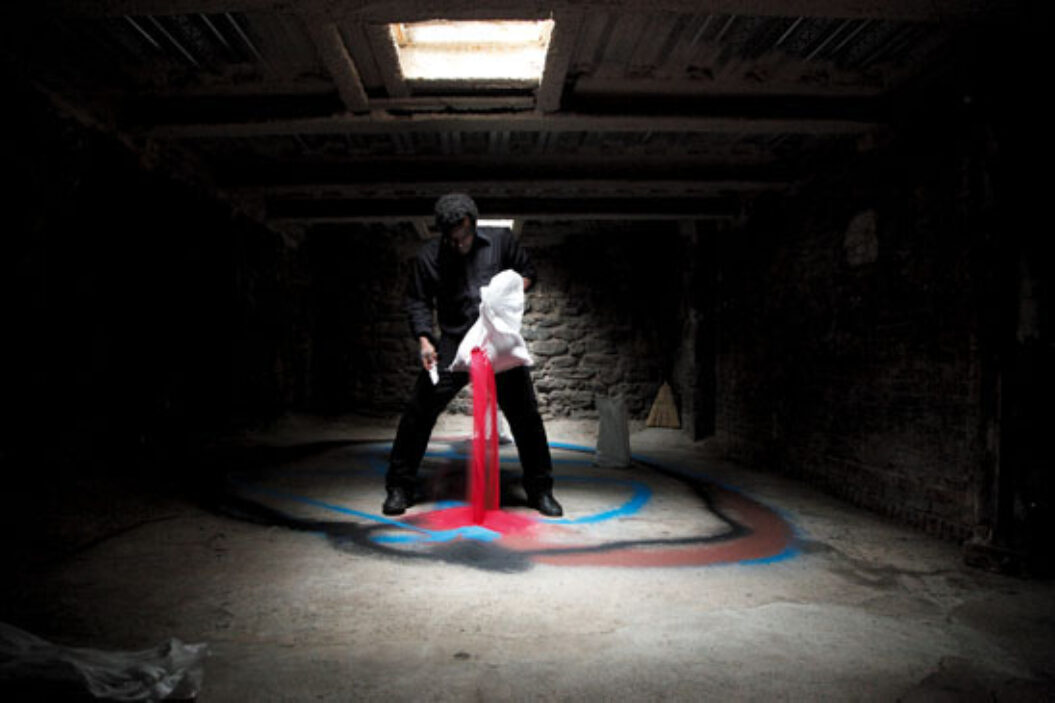 NS It seems like that was a work of yours that carried over to the work you're doing now. So many young artists seem either in awe of, deferential to, unaware of, or uninterested in the historical significance of their predecessors. I get none of that from you. It was almost like you were working with performance-art history as a medium in that project.
CO Absolutely. Young artists have no sense of history.
NS Why, Cliff? Not enough teaching?
CO (laughter) Not enough good teaching, perhaps. But I'm not sure it even comes through academia. Something else is happening right now with younger artists and their sense of history. It's as if what preceded them is of no value or never really happened. I'm always amazed when I talk to women artists in college who have no interest in feminist art. There seems to be this frightening, alarming return to the modernist notion of the self-contained, genius originator. Young artists in particular don't want to acknowledge antecedents. I'm not really interested in recuperating history and I'm certainly not interested in romantic nostalgia for the past, but I'm very aware of the history of art that preceded me. Every artist works through history. I mean, painters are always painting against the history of painting. Performance art seems so new, but there's been so much development in the past 40 or 50 years.
NS The point of performance, in my opinion, is to put people on the spot a little, to force the action, mental or otherwise. I guess my question here is what, for you, are the optimal conditions for your performance?
CO I want people to experience performance artwork in a museum or gallery under the same sort of conditions they would see an exhibition of painting, sculpture, photography, or whatever. One of the things I love about doing my project at MoMA PS1 is that you can come here to see the Alejandro Jodorowsky film and, on your way, my studio door will be open and you'll see me making a performance. You can enter into that space, experience it if you're interested, or simply walk away. You can look at the gorgeous Nancy Grossman sculptures downstairs or come from the Ryan Trecartin show and then come up here and there's going to be something happening. So the optimum conditions for me are offered right here, at the residency at MoMA PS1: live action or performance in the museum. I'm not a performing artist. I don't make work for theater or dance. I'm not interested in the audience-performer split of black-box theater, which I did when I was a very young artist. I'm completely disinterested in that. I'm a visual artist, so my optimum conditions for doing my work is in a visual-art context.
NS You're also not operating under a schedule. That part of it seems important. You're just kind of there, and someone can walk in at any time of day and see a totally different thing happening—have a conversation with you as this kind of character that we see in some of your performances, a conversation which interrupts you from doing your taxes or messing around on your phone. That open-endedness of possible experience seems important.
CO Absolutely, though I would say that I don't ever appear as a character. There are a number of performance artists who appear as characters, personas, or archetypes, but that's not the case with my practice. I tend to externalize. My performances are very audience-sensitive. When people experience my work, they are part and parcel of it. It's not me but them portraying a character or persona or archetype. It's just me, as an artist, trying to pull the audience into the work in a way that could be meaningful to them. You were at the CAM Houston performance, and I think you have a real sense of how I try to connect with audience. That's very important to me.
NS Your work with other artists and with art history is clearly a major pivot in what you're doing in this current mega-piece, Anthology. It could've been a book, an exhibition, a lecture, a lot of things. How did you arrive at asking other African-American artists for performance scores that you would then interpret?
CO In the canon of performance-art history, we just don't exist. We're invisible. The only artists who are part of the canon are the two usual suspects: David Hammons and Adrian Piper. It's as if US black artists didn't do any performance art at all since the '50s.
NS That's why I got so into Senga Nengudi's work this summer. I was shocked to find out about this collective of African-American artists in Los Angeles in the '70s making collaborative, ritual-based performances by Nengudi, Hammons, Maren Hassinger, and lots of other people whom nobody seemed to know much about.
CO Exactly. Or about Benjamin Patterson, a major architect in the early formation of Fluxus.
NS So that invisibility was obviously a driving force.
CO And my frustration with that. It was partly caused by going to a number of performance-art seminars at MoMA over two years and hearing barely any conversation about black performance artists in the US. It's like performance art history is fascinated with the white European body or with the black minstrel, but there's never been any kind of serious scholarship or criticism devoted to conceptual, contemporary US black artists working in performance art. But it's been happening since the '50s, starting with Benjamin Patterson, and through the '70s, especially on the West Coast with Senga Nengudi, Maren Hassinger, and other artists. Then in the '80s there were many things going on with black theater artists in terms of dance and avant-garde theater. In this particular moment, there is so much interest in performance art, but we're still absent from the conversation. Whenever I say I'm an artist and I'm asked what I do and I say I'm a performance artist, they ask if I dance or act. There's never been something like what we're doing at MoMA PS1. I don't consider myself just a performance artist, and not everybody in Anthology is a performance artist. Glenn Ligon is not considered a performance artist.
NS Kara Walker.
CO Neither is Kara Walker, nor Rico Gatson, Jennie C. Jones, Sanford Biggers, Shinique Smith, Terry Adkins … Anthology is creating a history that has never existed before. I'm sorry, let me rephrase that. Anthology is reinforcing a history that has been out there for decades. Scholars, academics, and critics haven't done a very good job in writing about and researching performance art of being more inclusive.
NS Walk me through your interpretations of some of the specific scores you've received, most of which you'll have performed by the time this interview appears. Let's start with Pope.L.
CO The William Pope.L score is fascinating, very difficult, and one of my favorites. The score is very simple, it reads: "Be African American. Be very African American." William Pope.L is a genius, of course, and he gave me the greatest challenge in terms of interpreting his score. What does it mean to be very African-American, or, in other words, an authentic African American? So I have to keep asking, What does the representation of an authentic African American look like? There's really no answer in the score; this is its genius. Really, what he's saying is, I think, whenever you try to construct a representation of an African American you are essentializing blackness.
It's a wonderful challenge to think about how one performs blackness, or, more specifically, an African-American identity. In fact, anything I do is performing an African-American identity; every single score is about Pope.L's score. My representation will be in the photographs, the videos, and the audios of the performances. But all the performances are Pope.L's scores. I don't know if that makes sense.
NS It makes a stunning amount of sense. So is the Pope.L score one that you'll perform individually or is it the cloud that hovers over all of these performances?
CO I've done a couple of versions of Pope.L's score.
NS How'd you do it?
CO I don't want to disclose too much, because I may not use what I've done in the exhibition. I will say that I've thought about Pope.L's score in terms of US history, specifically the civil rights and Black Power movements. As children were integral in both those movements to advance the cause, I'm working with a large group of African-American children to realize Pope.L's score. I'm really excited about it. Then there will be other performances of Pope.L's score in which I will be the sole performer. I could sit in front of the video camera and eat a bunch of peanuts, you know? (laughter) I could do absolutely anything.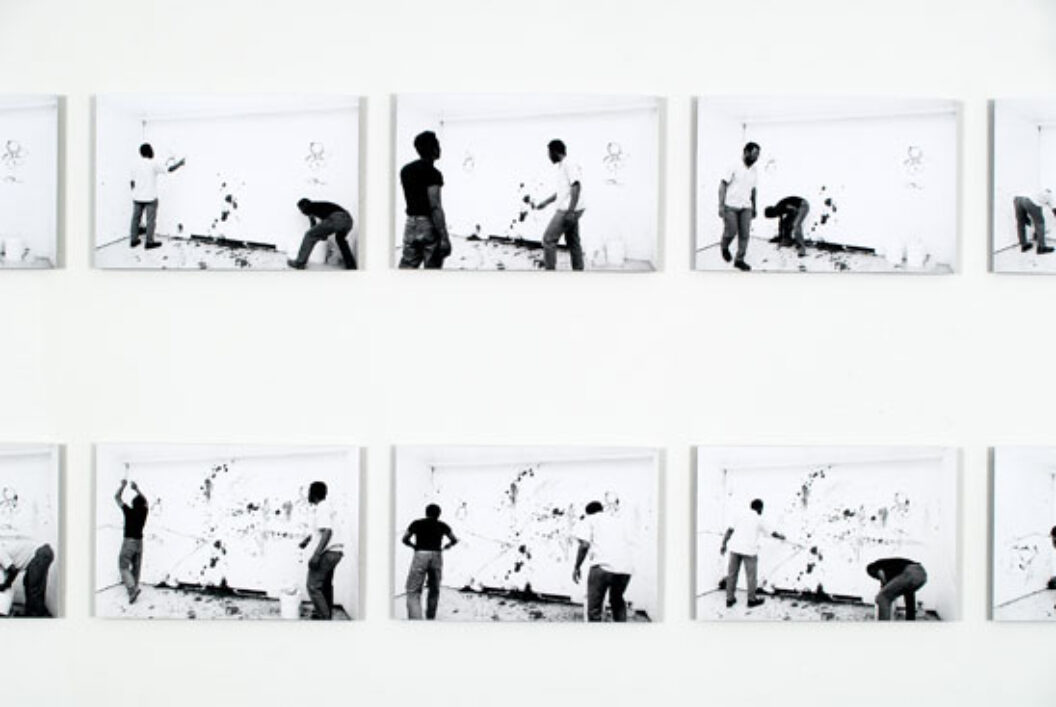 NS This whole Anthology idea—and everything you're doing at PS1—is really unwieldy, and I mean that in a positive way. It's open-ended, it's abstract, it's extremely collaborative … How do you collect all this into an exhibition?
CO That's the curator Christopher Lew's problem. (laughter) I'm just making the work and he has to figure out a way to organize the images, the audio, the video, all the stuff. I think it's a tremendous challenge. There are about six scores that I haven't performed yet and I have about 2,500 photographs. I have hours and hours of footage and audio recordings. Some of the performances will be arranged as installations. As I've done in recent years, there will be photo arrangements, photo installations, simple videos, audio, and objects. I have to work with Lew to figure out the best way to present the scores. Throughout the exhibition I'll be doing performances of five or six of my favorite scores. Anthology was never meant to be a one-off. I always imagined myself doing these performances numerous times, in different iterations, different contexts. It will probably be ongoing for five years, who knows? I want this to have a bit of longevity because I certainly don't think that I've resolved everything in the project so far. It would be terrific if I acquired more scores over time; so far I think there are 23. They're really starting to speak to each other. Pope.L's is in conversation with Sanford Biggers's Lift Ev'ry Voice.
NS Describe what happens in that.
CO For the Sanford Biggers score, I teach the audience the history of the Black National Anthem, "Lift Ev'ry Voice and Sing." I read them the history of the song and why it was written by James Weldon Johnson. I have to teach a lot of random people to sing the anthem. But as I'm interpreting these scores, I recently decided to do one version with just three singers. I'm really changing everything to fit my own interests as an artist. Everything keeps going back to the score from Pope.L, who, incidentally, was the first artist to respond to my request. In, like, 20 minutes he wrote that score. He's fucking with me, but I love it. (laughter)
NS So you're the originator of this project and you commission these scores that become your work. This touches on the idea of re-performance which has always been a part of performance art, but seems especially rich over the past ten years. It was maybe sparked somewhat, on a broader level, by Marina Abramovic's Seven Easy Pieces. Are we just way past the point where performance art was considered the sole property of the originator? Is performance open source?
CO I don't like to equate performance art with music, because performance art is not a popular movement like pop music. But like with music, performance artists are always borrowing and reinventing. I mean, do you copyright a performance? It seems a bit silly. Copyrighting has never really been about art. Copyrighting is about commerce, commodities. One reason I've always been interested in performance art is that it isn't easily commodifiable. Some people are making a living at it. I've been fortunate enough to sell some work, but this practice was never intended as a moneymaker. In fact, it's costing a fortune. (laughter)
NS I want to shift to talking about Photographs with an Audience, a performance you've realized a couple of times. I found it to be one of the unforgettable experiences of my life. Everyone in that room was going to walk away thinking about it for a while.
CO We understand performance art in large measure through the medium of photography. Photographs are easy to produce and they circulate more broadly than a video or a filmed performance piece. Now we have the Internet, but it's a shitty means of getting people to look at performance art. So the project, which started in 2008, is about the construction of a photograph with myself and/or the audience through simple gestures. By interacting with the audience, I generate photographs about the audience and our relationship to each other in a specific space and time through the medium of photography. In the Houston performance you attended, there was a big crowd of people in a space with two large studio strobes and a medium-format camera. Everyone was seated on the floor and I started a conversation that brought them together under certain commonalities, actions, and gestures that would be photographed. I was thinking about how photography can illustrate people's commonalities. So in Houston, a bunch of people who voted for Bush one and Bush two came together for a group portrait. An interesting social dynamic happened in that room. Being photographed is a kind of performance, a presentation of the self. All of us were being photographed. I'm still in my head about that work; it's hard to articulate.
NS What was so gripping was this element of care and empathy that I think you and everyone there experienced. You were putting people in pretty vulnerable positions. People are not only admitting things about themselves that are embarrassing, they're revealing philosophical opinions. Several people took all their clothes off …
In performance work there is an implied contract between performer and audience. What is the contract between you and the audience in that performance?
CO My responsibility in that performance was not to do anything that would harm myself or others. People get so involved, and later they might regret the decisions they made to engage with the performance. Part of the contract is that they enter into the frame. They literally stand in front of the camera. That's a really tricky thing, because they know that their vulnerability will be recorded on film. In those performances I always talk to the audience about the nature of performance art and the artist making him or herself vulnerable. I say, Why don't you make yourself vulnerable here, like I do? The contract is, in a sense, that we are all responsible for each other, because we have more in common than we think. What shocked me, especially in Houston, was how, by the end of the performance, a kind of microcommunity was created. And trust was established in that small room, among strangers. Of course, some people knew each other, but at some point in the performance, we felt responsible for each other, as brothers and sisters.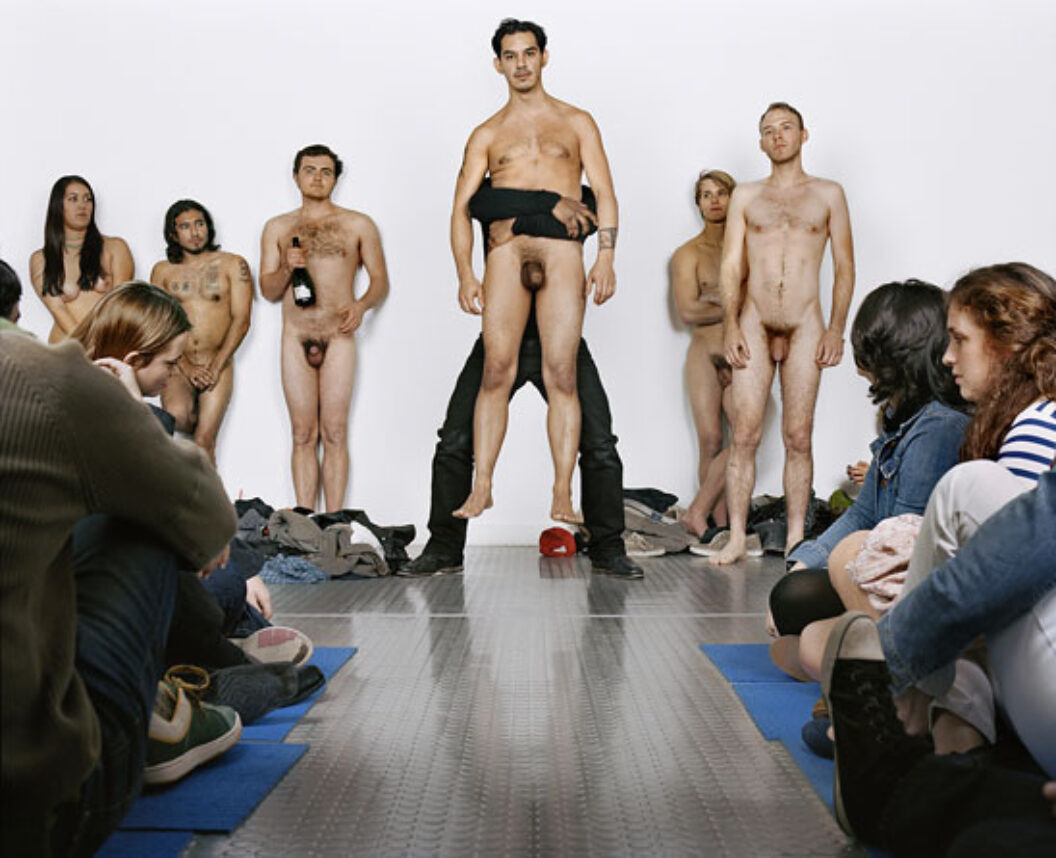 NS One situation congealed that emotion very concisely. This was the situation with Enrique, a youngish Mexican-American man who arrived late and noisily. I guess you would say he had a rough persona—cocksure. He really had his defenses up. However, within five minutes, he was completely involved in the performance, he took his clothes off (which seemed liberating for him), and spoke honestly and extremely convincingly about the importance of art in bridging gaps between people. At first the audience—part of, let's say, the art-going class, that is not necessarily comfortable with the working class from which Enrique comes—despite their class-conscious rhetoric, was agitated or outright freaked by the disruption. But then that disruption became a totally articulate statement of the care that each person in that room had to have for one another within those conditions. Someone who came into that room so guarded—within a few minutes was willing to be wholly vulnerable, and literally naked. That was unforgettable.
CO He really did shift the social dynamic of the space in very unexpected ways. His presence was so poignant and meaningful, and so moving and innocent, that it forced people to confront their own class system, their own racism, and their own sexism. Don't you think?
NS Yeah. Enrique was one of the few volunteers who took his clothes off for a portrait and you two were actually hugging for the photo. You started crying and my feeling was that you couldn't help it, because you understood that you were so responsible for him in that moment. Here's a guy who mentioned his own homophobia before taking his clothes off and still posed for a hypothetically eternal document—naked, hugging a male stranger with 70 or 80 other, mostly white, strangers gawking on. I felt like you were breaking down because of your enormous responsibility in that moment: to not make him feel more exposed, more vulnerable than he had already made himself.
CO You are absolutely right. But I felt the same responsibility for one of the museum's board members who took off her clothes.
NS That was the other situation from that performance I wanted to talk about. Describe what happened.
CO Well, there was an affluent, white European woman, who is a board member of the museum. At one point I asked if anyone would take off their clothes. She was the first to disrobe and be photographed without her clothes on, with me. Then other people started to join her, and she became very uncomfortable and nervous. She was standing there being looked at without her clothes on by people who may also have been board members. She was so undone that I had to come up to her and say, "Okay, why don't you put your clothes on now." I could sense that she was going to a place where she wasn't very comfortable.
NS How is that different from Enrique? I don't think Enrique was totally comfortable with what he was doing either, but he was doing it. They were both acting on impulse, doing things that under normal circumstances they would never do.
CO I think the difference was that she was becoming physically uncomfortable. Enrique, I felt, had more agency. As you mentioned earlier, he came into the space with so much bravado and confidence. Whereas she had a certain kind of social decorum in terms of an art experience.
NS She was maybe more aware of the performance-art contract.
CO Exactly. Which doesn't suggest in any way that Enrique is not an intelligent, thoughtful, self-reflective person. It wasn't because of his class position that he didn't know what was going on. Quite the opposite. I think he was very aware of what was going on and of the fact that he was controlling the audience. He really took over the space, so I had no concern about his level of comfort or confidence in the performance.
NS With the Anthology project, most of your audience members are probably white, or at least not black. Is it one of those things where it just is what it is, or is it rather a situation where you can accentuate an estrangement?
CO Yeah, this isn't lost on me. I'm not sure how to change the racial composition of an audience unless I'm at a predominately black institution. In New York City, that is really only the Studio Museum in Harlem.
NS I'm wondering how it affects the psychology of your performances.
CO For certain pieces it might, like Biggers's or Pope.L's. Shinique Smith's score, a more personal score, is a little bit about racism. But most of the scores are not really about race. Xaviera Simmons's score is about a Richard Serra piece. Dave McKenzie's score is not racially specific at all.
By the way, Anthology is one of the first projects I've done in a decade that is specifically about black people in the US. Every artist who works in performance art thinks about this issue of audience. I've performed mostly for white audiences. It's always been that way. It's not something that I planned; those are just the social and political conditions of the art world. Black people do not come to museums like MoMA PS1 to look at performance shows. That is not the responsibility of artists, but of institutions—to be more inclusive. I can't think of a single US black artist who wouldn't want a more diverse audience. Institutions need to bring in more people of color. But Anthology will result in a book that MoMA PS1 is going to publish about a year after the show goes up. So at least the book can circulate and reach more diverse audiences who may not be able to come in and witness and experience the performances. The project will have a long, vital life beyond what's going to happen at the museum.
Nick Stillman teaches art history at the University of New Orleans and writes about major-league baseball for the New Orleans Times-Picayune. He has recently published essays on Senga Nengudi, Bob Tannen, Chris Burden, Paul Chan, and Brian Wilson (the baseball player, not the Beach Boy).
Originally published in
Featuring interviews with Clifford Owens, Eve Sussman, Lisa Yuskavage, Sanford Biggers, Geoff Dyer, Kenneth Goldsmith, Neil Michael Hagerty, and Peter Eisenman.