Circuit des Yeux & Bitchin Bajas
Barbecues, Night Train, and La Monte Young.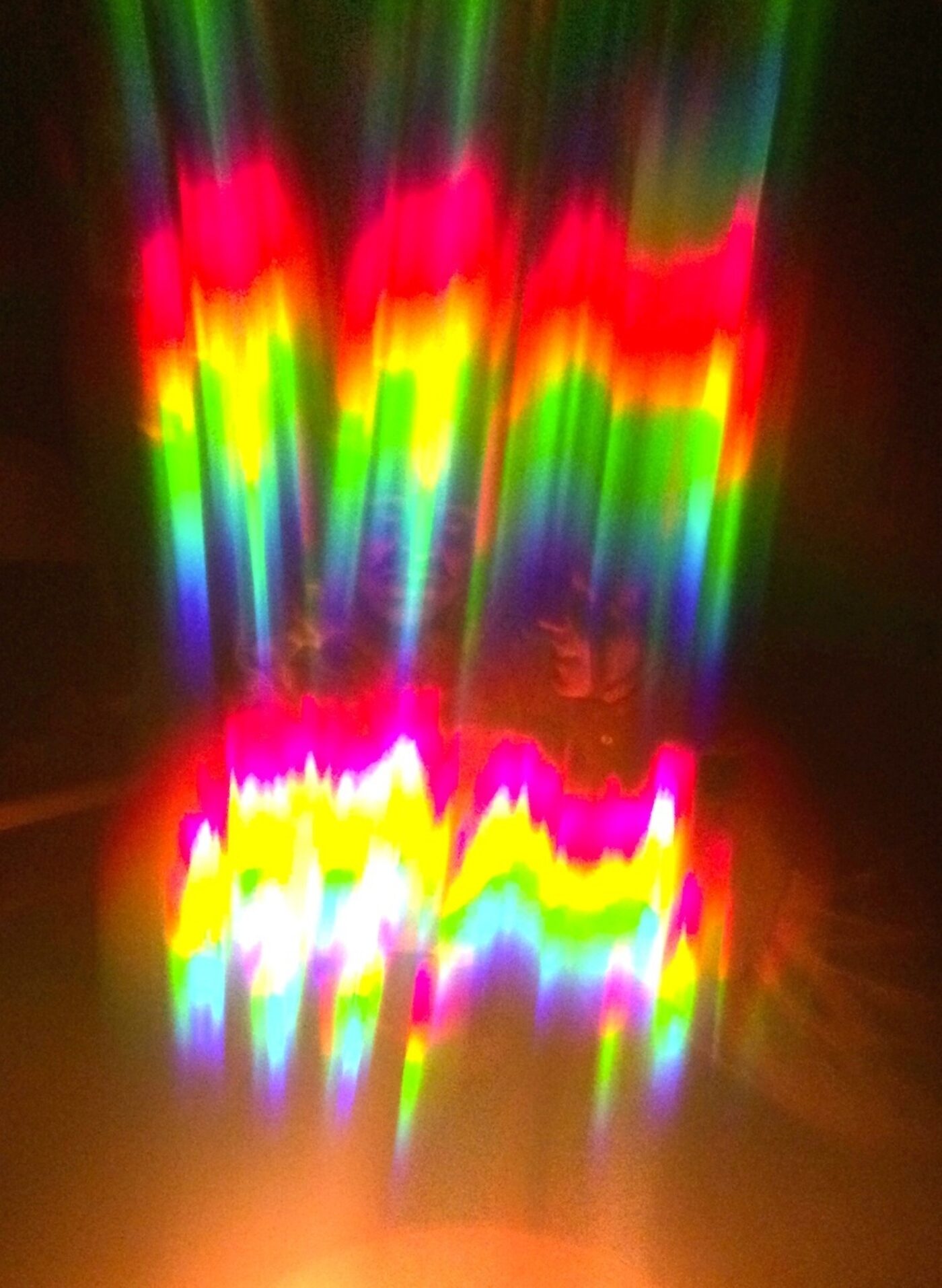 Haley Fohr and I first met in the summer of 2010 in Chicago, where she played one of our "Bitchpork" festivals in Little Village. She kept coming back to the city to play and eventually moved here in the fall of 2012. We started hanging out more and have become close friends. I've had the pleasure of working with her on the Circuit Des Yeux records Portrait, Overdue, and In Plain Speech, out now. I've watched Haley grow in her music, personality, and spirit in the best way over the last few years. We recently met up during a beautiful Chicago sunset in Chinatown's Ping Tom Park with a bottle of Chilean wine and a joint to talk about our upcoming shows, records, how long they can sometimes take, and making music like its a painting.
— Cooper Crain, Bitchin Bajas
CC So, you've got a show in this big church, the Rockefeller Memorial Chapel. What are you going to do? Are you going to have a band? It's going to be a pretty big sound.
HF Yeah, I have to pull it back.
CC Pull it back or overdo it? Get an eighteen-piece band, all acoustic, three upright bass players?
HF I'm thinking about how many bass players I know. No, it's basically going to be just the full band, but I'm practicing next week with Whitney Allen, too—so it'll be a band with two Whitneys.
CC You and two Whitneys, nice. Whitney Johnson and Whitney Allen?
HF Yeah. Whitney Allen plays flute. I think it's going to be good. I want to do a version of "Dream of TV," perhaps an extended version. Make it kind of like the main piece. There's a lot to figure out.
CC It's a great sounding room.
HF I do want to do something special. Brent Heyl from The Empty Bottle seems to have something in his head, too. I think the show at the cathedral from the Bohemian National Cemetery was really great. He pulled it off.
CC But that was just you through a PA.
HF Yeah, it was just me through a PA. For this, I was thinking obviously a PA for vocals.
CC Who knows? You could get in there and see. At the Charlemagne Palestine show I could hear him all the way across the room, drinking his wine. Excuse me, not wine—
HF Cognac.
CC Yes, Cognac.
HF That show was amazing. I love the way he utilizes space, walking up and down the rows.
CC It was like doing a little performance for everybody, singing while there was a little drone underneath it—the pipe organ.
HF Did he break the pipe organ?
CC Yeah, he broke it. He broke one of the voltage-controlled oscillators, I think. He was playing all four organs with, literally, all the stops at once. As soon as the bass kicked in—man, it was so heavy in there—something happened, and he kind of shut them off quickly. That was the end of the set. It was a good hour and a half, or two hours, of pipe-organ drone building and him singing with his crystal glass. It was a pretty heavy show. I've never heard anything sound like that ever. You'll be playing the same room. You should use that pipe organ.
HF Yeah, that's a great idea.
CC Even if it's just for one track!
HF It's definitely going to be something special. It's awesome. I'm not certain why, but everyone's so down to practice all the time. Everyone's excited. And it'll be summertime!
CC Last year, when Bitchin Bajas put out a double record, I wanted to set up a super nice stereo setup and a waterbed in a storefront. It was going to be open for two days, playing all night and all day. But no one wanted to host it. Hopefully, we'll be able to host our own events like these. The doors will just be unlocked. Come on in. Forty-eight hours. Lay on the waterbed. Got this music happening.
HF Sounds like La Monte Young and Marian Zazeela's "Dream House."
CC Yeah, of course. They're only open, what, four days a week? I'm usually there when they're not, which sucks, but during this upcoming tour I'm gonna go.
HF It's amazing. I went there for the first time when I was last in New York, and it was like a spiritual experience. I think Chicago is the type of place where you'll be able to pull something like that off.
CC I don't want it to be—
HF In your bedroom?
CC Well, we don't want it to be exactly like the "Dream House"—that is, an ongoing, forever existing, permanent drone. I think that we'll just do certain events. It might fall along the lines of being open all night and all day for forty-eight hours. It's this repetitive thing, and you can come by as you want. But this show of yours, the Iistening party—you're going to run the record through a PA?
HF I just want the bass to be represented, and that was my solution.
CC There's some good low end on your record. You should celebrate the low.
HF That was my solution to the problem, because I definitely do not have speakers that will do it justice. My original idea was to invite all these people over, listen to the music, and party. Then have a barbecue, where people will talk about it and about their day.
CC Rob will make some jerk chicken?
HF Wait, my Rob? He made jerk chicken?
CC Yeah, didn't he make jerk chicken one time? I had it. I swear it was good.
HF Maybe. Yeah, you're talking about the barbecue last fall? The one Ryley Walker invited everyone to? This one's gonna be a little more low-key.
CC I thought that was low-key. It's gonna be even lower of a key?
CC [sounds of children shouting] Are they gonna throw him in the river?
HF Teenagers are strong and wild creatures.
CC To be a teenager again. Wow.
HF Fully driven by emotions.
CC Maybe I would do something different. If you were a teenager at Ping Tom Park right now, would you be doing anything different? No, we'd be drinking wine; it'd just be shittier wine.
HF Have you had Boones Farm?
CC Only once.
HF Mad Dog?
CC Way more than once. Wild Irish or Wild Horse? What was it?
HF Night Train.
CC Night Train. Working on that night train.
HF Do you feel you're in your prime and on a roll? You're definitely on a roll.
CC On a roll? I do not feel I'm on a roll. Right now, today, while we are talking, I definitely don't feel on a roll.
HF (laughter) I know. I don't feel like I'm on a roll either.
CC I feel like I just did a bunch of traveling that was fun, but also, I don't know, I have to evaluate things in my life for touring. You've got to step back sometimes. But you're about to have a record out, so you're on a roll.
HF You are about to have a record out! It's the same.
CC I was supposed to make these records last year. I remember a year ago—over a year ago—we started recording your record. It takes some time for a record to be out after its finished. I want to go fast, and we get there and it's like, "Okay, I'm ready to mix," and we mix, and "It's gonna come out when?" Six months from now! Wow, it's weird. By the time it comes out and you have to talk about it, you just say, "I don't know. I did it last year. I'm trying to do something else right now." It's just how it is, though it's good to be able to put out records.
HF I feel like I struggled a lot last year managing my time, because I didn't have a job other than touring and being at home. But now I understand, a year later, how to occupy my space. I have another record I've written, and I want to work on another after that. I feel like I'm picking up the pace and figuring out what I want. I feel like there's a rhythm to things.
CC These records you're talking about now, it could be this time next year that any one of them is going come out.
HF This upcoming record happened really quickly for you, right?
CC It took a long time. I borrowed this modular synth last summer. Dan Quinlivan and I recorded, while Rob Frye was doing his birding job out in California. After he came back, all of us listened to it and wondered what to do. A lot of it was more upbeat stuff, so we said, Let's slow down the tape and roll it down. The recording happened over the course of two days, so that's the base of the tracks. Then, six months later, we added things to it and edited it into an EP. It's pretty long, but we felt there were only four ideas. It's supposed to be hypnotic in a polyrhythmic way. There are a lot of percussive elements to it. That was the idea, just an experiment with incorporating those ideas into the mix of sounds we already had and seeing if it worked. And it did work for those tracks. It's nice. But there's some airy stuff too, as usual.
HF It's great—rhythmic, danceable at times. I don't consider Bitchin Bajas a drone band by any means, but it is often slow moving and has minimal sensibilities. I feel like the new stuff, especially "Marimba," has a lot going on. The effect I usually get from Bitchin Bajas is achieved, but perhaps it's a little more concise. If you pay attention to detail, there's a lot more coming out of it, not just a drone.
CC I think in a recording sense, all three of us spent a lot of time on it and have our ideas, and we definitely aren't happy with it until it's done. I think it can be overwhelming in terms of textures and level of detail, if you're hearing it for the first time. But, with this one, we really just wanted to do it all the way, to the limit—layer as many textures, rhythms, and patterns as possible over each other, while still making sense as a track. You can latch onto one element—the synth or the bass, or the high hat. We just wanted to mix it up.
It's not like we just sit there and drone all the time. I'd like to think that we could make a good, textured drone if need be. We've droned it out many a time, and we've done it in a lot of different keys and tunings, but I'd like to think that we're more than just that. I mean, you do the modal thing too, right?
HF Yeah.
CC There are a few songs on your new record, and there are definitely some chord progressions, but they don't happen very often, especially on the track that was once called "Horse Shoe Nail."
HF (laughter) I know. I always do that.
CC Not quite sure on the title.
HF Titles are the last thing I do. Sorry.
CC But that song is definitely one of several moments where there's just one chord, and you're just pushing it. You've got a couple of viola and flute tracks, and Rob and Whitney doing their thing, and you're underneath it. It's a very modal, long piece.
HF I feel if you stay modal, you're able to focus more as a songwriter and a musician on textures. I'm even using the vocabulary of painting. It might sound more abstract, but it's not. It's writing. It's composing a piece, but instead of saying, "It's going to be a C to a B flat, and do it all in four measures," you just say, "Now there are butterflies on this part." You explore the different gradients and shades of the music.
CC It's not abstract sound at all. I would hope if our music was ever portrayed as a painting of what we heard, it would be a beautiful picture, not an abstract or messy image. It'd be a beautiful image that you'd want to look at. What that is might change song-to-song, sound-to-sound, but I would like to think it wouldn't be too abstract. Though I wouldn't say it's totally accessible, either.
HF No.
CC Not that.
HF But that changes too.
CC Well, nowadays I don't know what's accessible and not. Weirder music is just the common thing. I hear new music and think: I don't know if this is real. Is this a song? Some of it's pretty crazy these days, what the kids are doing.
HF It varies. If you're listening to the radio, there are definitely trends that I don't get. It's just beyond me. But I also think there's cool, weird stuff.
CC (distant laughter) Did you hear that?
HF Was that a weird laugh? It sounded like a troll.
CC There's a weird troll at the river under the bridge.

Circuit des Yeux's In Plain Speech is out now on Thrill Jockey Records.
Joshua Abrams's Natural Information and Bitchin Bajas collaborative album, Automaginary, is out August 28th on Drag City Records.
Bitchin Bajas's Transporteur EP is out May 4, 2015 on Hands in the Dark. For tour dates and more, visit their website.