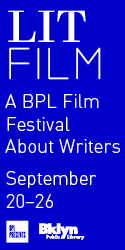 Translated from the Spanish by Montana Ray.
So they invite you to Nueva York, all expenses paid, to participate in an event for Stonewall, twenty years after the police brawl starring the gay girls who, in 1964, took over a bar in the Village. So they tell you the story, and you feel obliged to cross yourself at the site of the event. A dark little bar, shrine of the homosexual cause, where the sodomite tourism comes to deposit its floral offerings. Because there, in the window, they display the faded photos of the hippie-dippie veterans who, for I don't know how many days, resisted the law's harassment, the police raid that tried to oust them unsuccessfully. How could you not shed a tear in this gay Lourdes grotto, sacred altar for thousands of visitors who take off their Calvin Klein visors to respectfully pray for a few seconds while parading past the club. How could you not at least pretend to feel a little sad, if you're a visitor in Nueva York, and they're putting food on your plate and paying for everything, these militant gringas, so saintly and savvy at selling their political history. How could you not politely feign to lose your composure before these faces in the black-and-white photos, which could be from an old movie we never saw. These photos of gay heroes, straight out of Woodstock, crowned with roses and colored ribbons, in the window of the Bar Stonewall, a bar like any other on the block, like any other in the entire Village, decorated like a cake in fancy gay attire. Because when you get off the subway at Christopher Street, you find yourself suddenly among a ton of muscles and bodybuilders in hot pants with waxy bald heads and little earrings, the pairs of men rollerblading hand-in-hand blow by you pretending they didn't see you. And why would they see you, if you're beyond ugly, dragging your loca malnourished thirdworldista ass through the world. Why would they give you the time of day with your dropped Chilean jaw in front of this Olympus of strong and well-fed homosexuals who look as though they might throw up when they look at you, as if to say: we did you a favor, little indigene, bringing you to the cathedral of gay pride. And you walk in a daze through these scenes of the Big World, looking at the shops full of sadomasochist fetishes, nails, clamps, screws, needles, and lots of other metal junk for torturing the skin. Ay, how painful. How shocking to see the leader's group on the corner with their vests, mustaches, leather, combat boots, and that fascist brutality that reminds you of the gangs of machos who, in Chile, you'd cross the street to avoid, walking tensely, pretending to look in the other direction. But here in the Village, in the little plaza in front of the Bar Stonewall, that masculine drive that incites panic, abounds, and reduces you to a little Latin fruit fly trapped in this neighborhood of blond sex. This sector of Manhattan, Nueva York's Zona Rosa, where things cost an arm and a leg, is the epicenter of the tour for homosexuals with dollars who visit the city. Especially, on this global holiday, when the island of Manhattan is decked out in flags with all the colors of the gay rainbow. Which is really one color: white. Because maybe gay is white. Just go into the Bar Stonewall, where it's always night, and you'll see that the patrons are overwhelmingly white, blond, and virile, like from a saloon in a cowboy movie. And if by chance, let's say, there's a black man and a flaming Latina, they're there so no one gets called undemocratic.
So I didn't stay long in that historic little bar, a quick look around and you can tell there's nothing there that doesn't belong on a golden postcard of the classical, muscle-bound aesthetic, the city of Nueva York has other holes where you won't feel so out of place, dingier bars where the Latin spirit salsas its territorial song.
Pedro Lemebel was a Chilean literary and queer icon. His chronicles and novels are characterized by depictions of various Chilean subcultures and mordant anti-imperialist critique. Under Pinochet's regime, during the AIDS crisis, he cofounded, with Francisco Casas Silva, the transvestite performance art duo Las Yeguas del Apocalipsis, whose interventions often took place at state ceremonies and literary events. Later in life, Lemebel was institutionally recognized in Chile, winning the prestigious Premio José Donoso (2013) and securing a nomination for the Premio Nacional de Literatura (2014). He died in January 2015. My Tender Matador: A Novel is available in English translation.
Montana Ray is a feminist poet, translator, and scholar. The author of five chapbooks and artist books, her first full-length collection of visual poetry, (guns & butter), is available from Argos Books. Ray is a PhD student in Comparative Literature at Columbia University and the mom of Amadeus.
Originally published in
Featuring a cover with hand-drawn verse by Eileen Myles. Interviews with Carolee Schneemann, Nicole Eisenman, David Humphrey, Maggie Nelson, Justin Vivian Bond, Robert Grenier, Leigh Ledare, Chris Kraus, Moriah Evans, and more.