Christos Ikonomou's Good Will Come From the Sea by Ellie Robins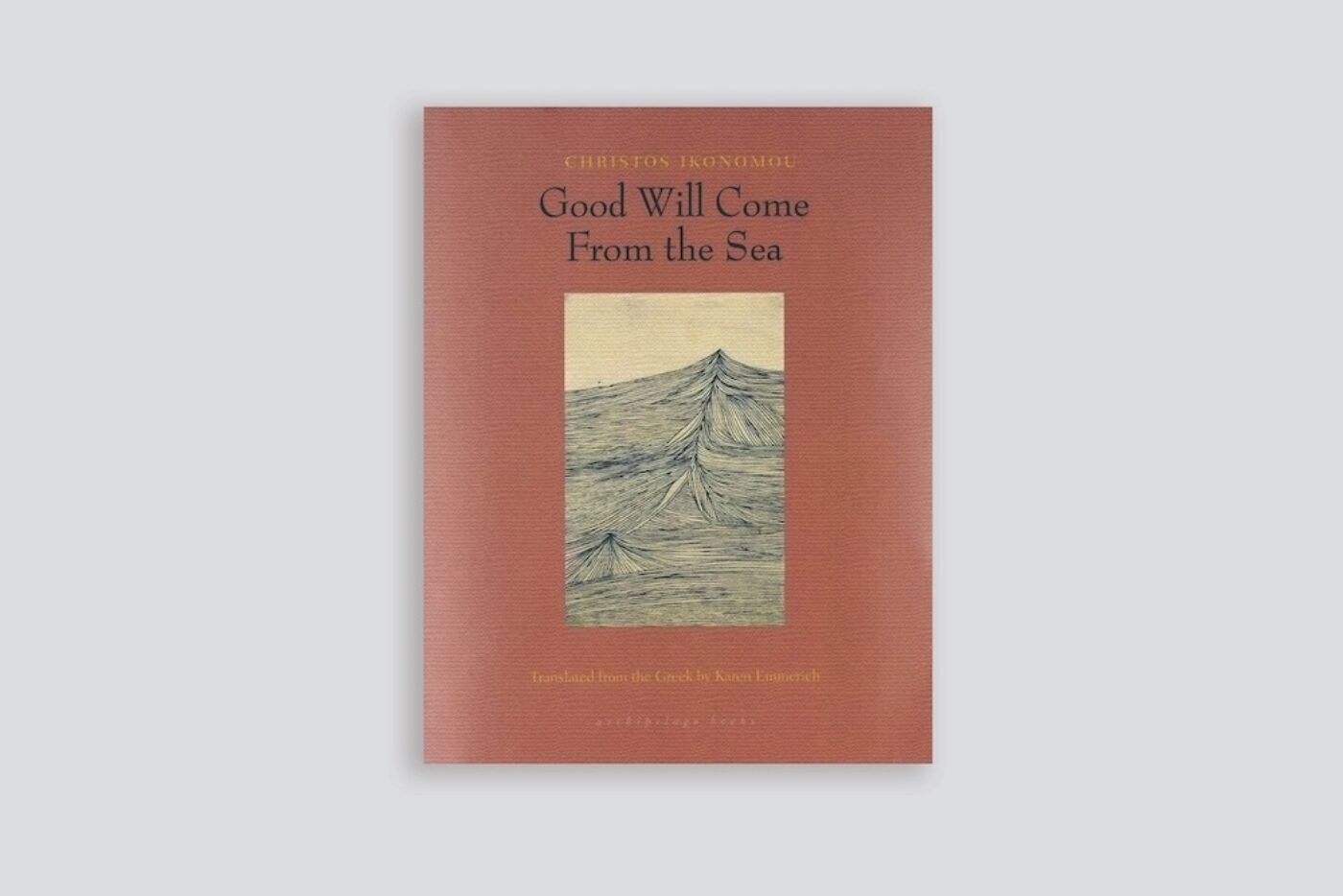 A pose recurs in Christos Ikonomou's Good Will Come From the Sea: one character after another finds themselves on their knees, waiting. For the dawn, for mercy, for love. This is the bodily expression of Ikonomou's Greece: exhausted, weak, humbled by its fight, but daring to hope.
The book, translated by Karen Emmerich, is the author's third story collection, the second published in English. It follows Something Will Happen, You'll See(2016), which, with its gut-wrenching tales of working people struggling to survive, established Ikonomou as the bard of the Greek crisis. This new work charts four stories of ruin and resilience on an unnamed holiday island in the Aegean, its characters internal migrants who've moved there from cities on the mainland, where life was harder still. This outsider's perspective on the island allows Ikonomou to explore the country's internal divisions—for instance, between the often fatalistic and condescending Athenians, who come fleeing urban penury, and the local "rats," who maintain a rigid social order rife with corruption and organized crime. Ikonomou masterfully takes readers inside narrow points of view to reveal both their biases and the deeply felt motives behind those biases. The result is a highly empathetic and often darkly funny portrait of a country at war with itself. (Though he doesn't attribute Greece's plight entirely to domestic strife: one story is titled "Kill the German.")
Scripture and mythology abound—in the opening story, "I'll Swallow Your Dreams," Athenian migrants celebrate Easter at the mouth of a cave, seeking a day's escape from the "rats," who've trampled their hopes of starting over on the island. There's one voice of hope among them: Tasos, who claims good will come from the sea "because the sea has no memory, water doesn't remember." The island's mafiosi have already beaten him brutally for daring to challenge them, and the party brings another confrontation, which results in Tasos running into the cave's interior. Will this Easter bring a new resurrection?
As the collection's title suggests, Ikonomou foregrounds the island's geography. The sea and caves are by turns cruel and fertile with possibility. Ikonomou reminds readers that this is the land that inspired the founding Western myths, and suggests that the Greek crisis may prove the crucible of a new mythology. "Ethics comes from ethos, and ethos means abode, dwelling place," says one character, suggesting that the land itself might hold the answer to the question of how to live now. "You know what's to blame?" says another, echoing the sentiment. "The fact that we never really loved this place. Never.… You have to love your land, feel for it, that's what matters."
The mortality rate in Greece tripled in the six years after the crisis began, as the country reckoned with draconian austerity measures. The country has been stumbling through a dark night of hunger, disease, and death—much like Ikonomou's Lazaros, who wanders the island each night in search of his missing son. We leave Lazaros on his knees at dawn, broken, willing his son to sail back to him over the sea. What comes instead is the sunrise, "like a burning fingertip, a baby giant is raising ever so timidly into the sky, a baby from some other world lifting its finger to touch [the clouds] for the first time." Without denying or belittling his country's pain, Ikonomou writes of a Greece where the sun still rises.
Ellie Robins is a writer and translator based in Los Angeles. 
Originally published in
Our winter issue is dedicated to this planet's greatest resource: water. With contributions from Saskatchewan and the American Southwest to Iceland and Northern Europe, an array of voices are brought together here—artists and writers investigating water as site, sustenance, and symbol, along with those expressing alarm and calling for intervention.
---
Featuring interviews with Lauren Bon, Oscar Tuazon, Jaque Fragua, Brad Kahlhamer, Ruth Cuthand, Janaina Tschäpe, Jessica Grindstaff, Tomoko Sauvage, Cecilia Vicuña, and Alicia Kopf, as well as writing by Laura van den Berg, Natalie Diaz, Stefan Helmreich, and more.