Christopher Payne's Asylum: Inside the Closed World of State Mental Hospitals by Peter Moysaenko

Discover MFA Programs in Art and Writing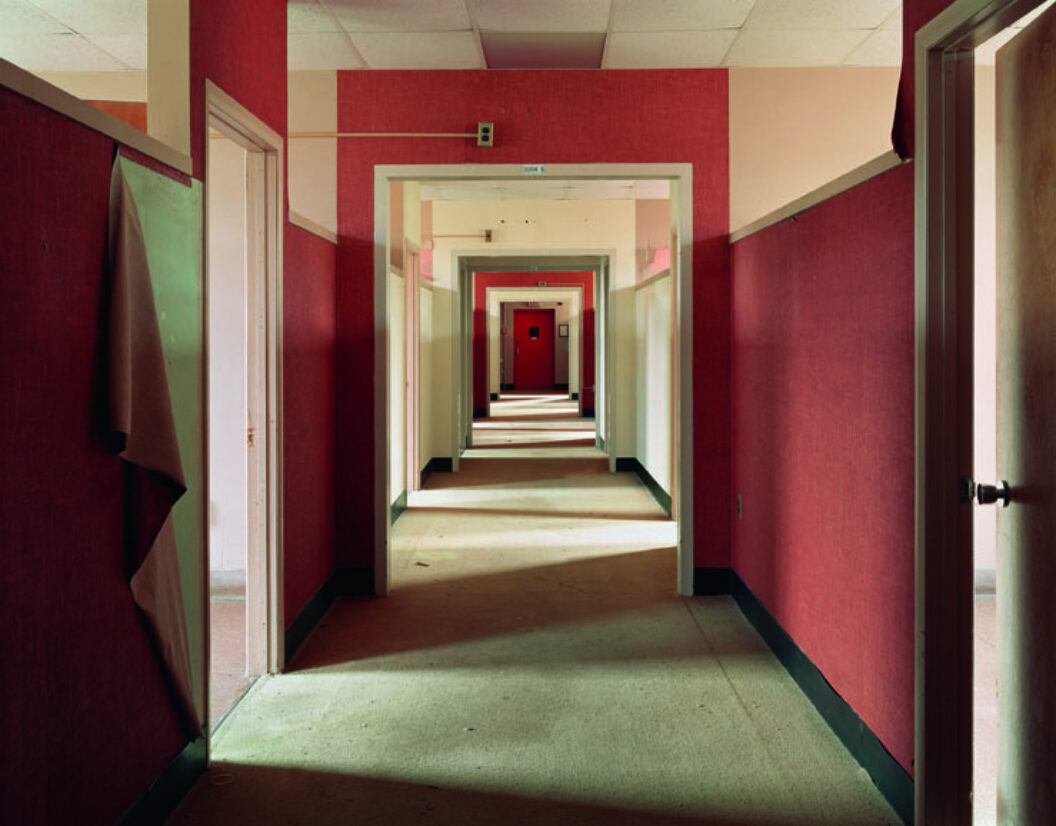 From the destruction of King George's likeness at Bowling Green, to the paving over of Native American earthworks, to the debasement of Penn Station and the ongoing disappearing acts of ballparks and churches, it's becoming more and more clear that American architecture is an architecture of impermanence. A mental catalogue of the US national monuments includes plenty of mountains, reefs, mesas, and canyons, but not so many manmade structures. America is young, but the condition speaks to the peculiar agelessness and abandon of the national consciousness that Gore Vidal wrote about in Imperial America.
The gorgeous book Asylum: Inside the Closed World of State Mental Hospitals hones in on the US's ritualistic neglect of its own state mental hospitals with Christopher Payne's disturbing and transfixing photos taken during a tour of over 70 hospitals in 30 states. Many of the institutions that he visits are still marginally functioning, however, some of the most ambitious structures, those built in the 1870s and 1880s, have been left to ruin. In an introduction to Payne's stunning work, neurologist Oliver Sacks notes that though early psychiatric hospitals were often "palatial buildings," offering humane and holistic programs, by the end of the 19th century the notion of asylum had already assumed sinister connotations. Sacks praises the photographs for their elegiac treatment of lives beset by deep anguish and the decaying spaces that once proved their refuge. He names Payne a "visual poet," and it's difficult to disagree.
An architect by training, Payne wanders in and out of ornate Kirkbride designs and decidedly drearier "Cottage Plan" hospitals as if guided by the intuition of a mystic. A head-on confrontation of the Greek Revival-style Utica State Hospital calls to mind a courthouse facade, and the Clark Circle Colony for epileptics at Springfield State whispers its eerie resemblance to a homey university campus. He beckons viewers into vortices of hallways, through slanted light and identical doorways, into wards with peeling walls and water-gutted ceilings. Superintendent quarters at Fergus Falls and at Harrisburg, a slaughterhouse at Broughton State, the open sarcophagi of water-treatment tanks at Matteawan State, unpopulated bakeries and power plants, ominous piles of shoes and manila files, the water tower bearing half of the name INDEPENDENCE—these visions describe the unrehearsed scenes of forestalled lives. With its unblinking and haunted approach, Asylum moves toward the borders of chaos, or rather between the limits of competing orders. Weaving a swath of texture and color through the melancholy and furious vistas of forgotten architectures, Payne fixes the depth of his aim at the retreating prints of whole human communities, directing his gaze—and ours—into the future of our past.
Peter Moysaenko is from Cleveland, Ohio, the home of American Greetings. He currently lives and works in New York City.
Originally published in
Featuring interviews with Guy Ben-Ner, T.J Wilcox and Anne Collier, Sam Lipsyte and Christopher Sorrentino, Carlos Reygadas, Patricia Clarkson and Howard Altmann, David Sylvian and Keith Rowe, Edgar Arceneaux and Charles Gaines and Rick Lowe, Charles Bernstein.