Christine Miller and Brittany Vega: American Hex Reviewed by Amelia Rina
Acknowledging the past in order to construct a better future.

Discover MFA Programs in Art and Writing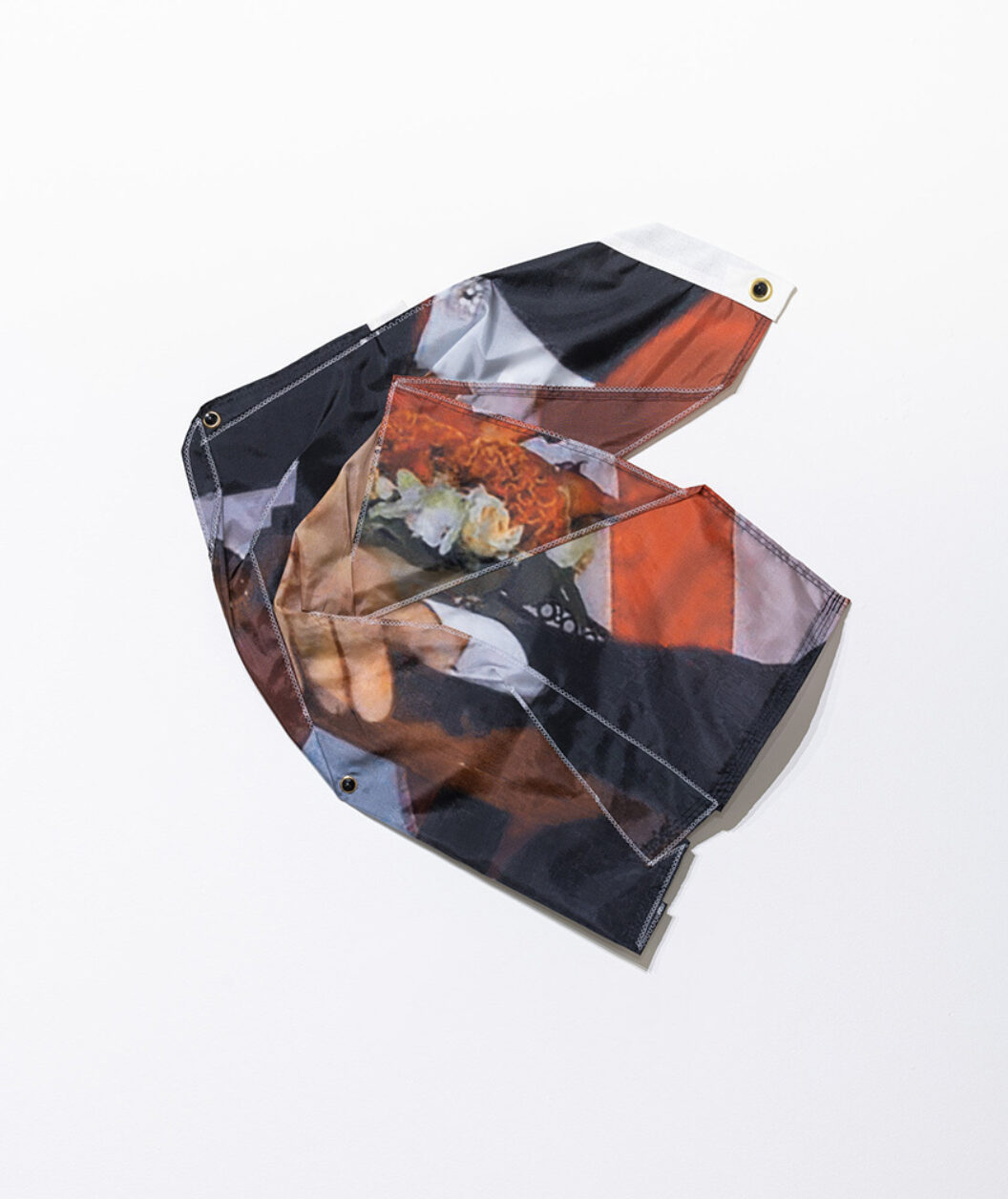 America, as most people have learned to understand it, is a myth. This common abbreviation for the United States of America more accurately refers to the North and South American continents. In this sense, there is no singular "America," only the Americas. A denial of the continents' plurality reveals the United States's tendency to claim ownership of everything that it can—whether terminology, land, resources, or people. Haunted by deeply rooted nationalism and exceptionalism, the US's identity has been based on a supposed right to conquer others. In the exhibition American Hex at Fuller Rosen Gallery, Portland-based artists Christine Miller and Brittany Vega illustrate these complex and often deadly tendencies through transformed found objects.
Both artists' contributions come from their personal collections: flags for Vega and Jim Crow-era memorabilia for Miller. The first piece visitors encounter in the gallery is Vega's When the Flyend Frays (2019), a tattered collage of blue and green flag pieces layered to produce an abstracted landscape of water, foliage, and sky. With nothing to indicate the flags from which these pieces originate, the scraps of cloth disconnect from their symbolic origins. Vega repeats this process of abstraction and disassociation in A Rough Transcript (2020), but with language instead of landscape: jumbled black letters cascade from a white flag edge. The lack of discernable language or coherent message echoes the absurd process of attempting to distill something as complex and changing as a national identity into one rectangular design.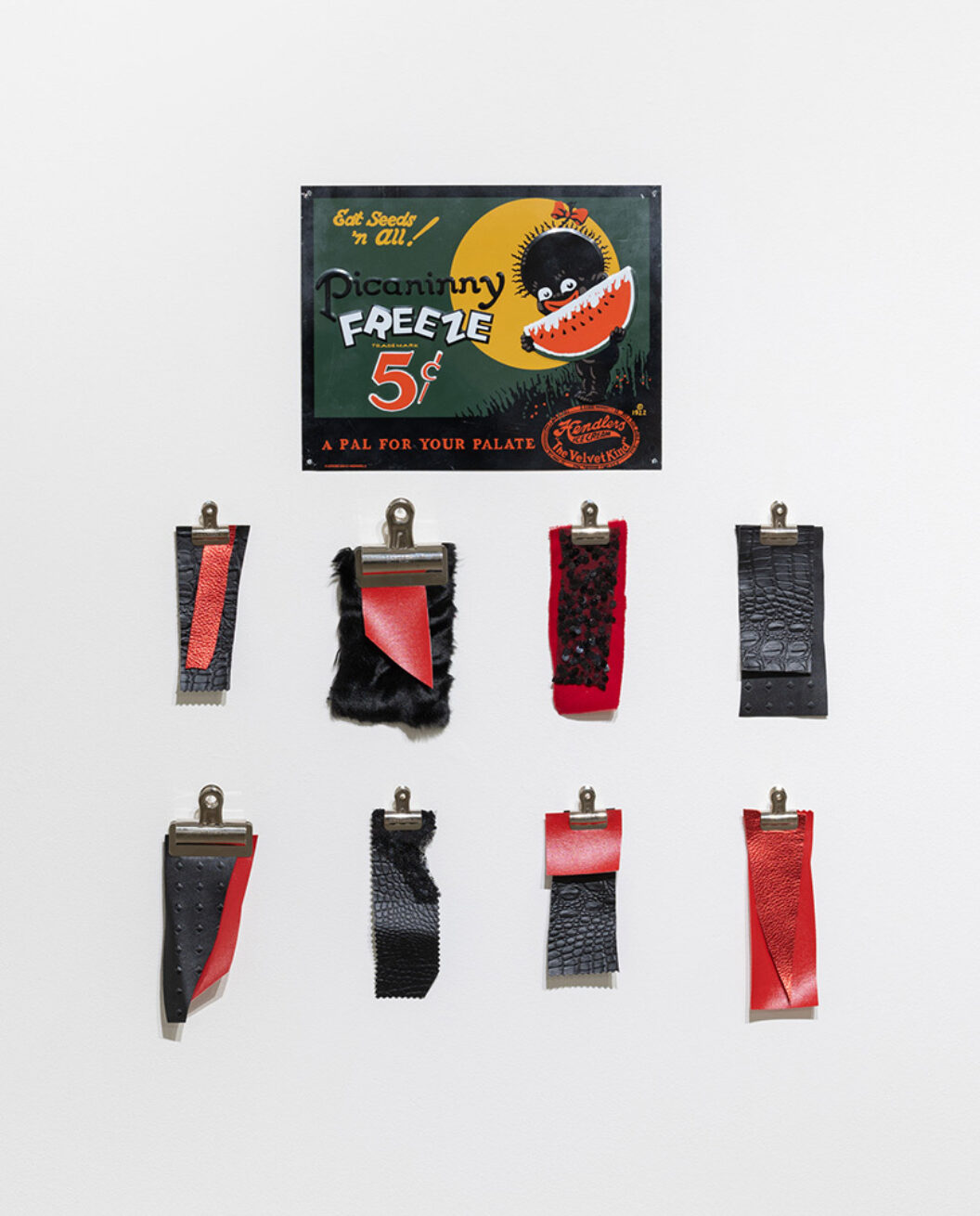 Vega's minimalist compositions are in stark visual contrast with Miller's sculptural collages of found objects and custom display pieces. Drawing from her collection of racist tchotchkes and household products, Miller presents an arresting reminder of the enthusiastic collaboration between bigotry and capitalism. One particularly appalling example, a "Zulu-Lulu Big Titty Mama Fishing Lure," consists of a crudely made nude bust of a Black woman with a fishhook hanging from her truncated body; a backing card is illustrated with palm trees, a caricature of a Black man in a loin cloth, and text exclaiming "LOOK AT DEM BIG BLACK KNOCKERS!" The implications of a Black body being used as a fishing lure become even more horrifying when viewed next to Alligator Bait Letterhead Opener and Pencil (2019)—a letter opener designed as a Black boy being swallowed by an alligator. Also on view are two sets of salt and pepper shakers, one with a Black servant man and woman and another with two Black children eating watermelon—both common and persisting racist tropes. Other objects include a tube of "Darkie" toothpaste, which Colgate sold in Asia under that name until 1989, as well as an Aunt Jemima pancake flour advertisement and thermometer.
These historical examples of the blatant objectification, commodification, and dehumanization of people of African descent may seem like symbols of a past era, but their sentiments remain today. In addition to the memorabilia, Miller also designed a clothing line called N*gger Milk, which includes several sweatshirts and t-shirts presented in the gallery's retail section but which are not for sale. In the accompanying wall text, Miller quotes fashion designer Kerby Jean-Raymond's statement about the mainstream appropriation of Black culture: "By replicating [our culture] and excluding us—you prove to us that you see us as a trend. Like, we gonna die black, are you?" Raymond's words succinctly highlight the problem with appropriation: the privileged act of trying on the culture of historically oppressed people, yet always with the ability to take it off and return to a less marginalized life. By forbidding the sale of her N*gger Milk line, Miller poses the question: What part of Black culture isn't for sale?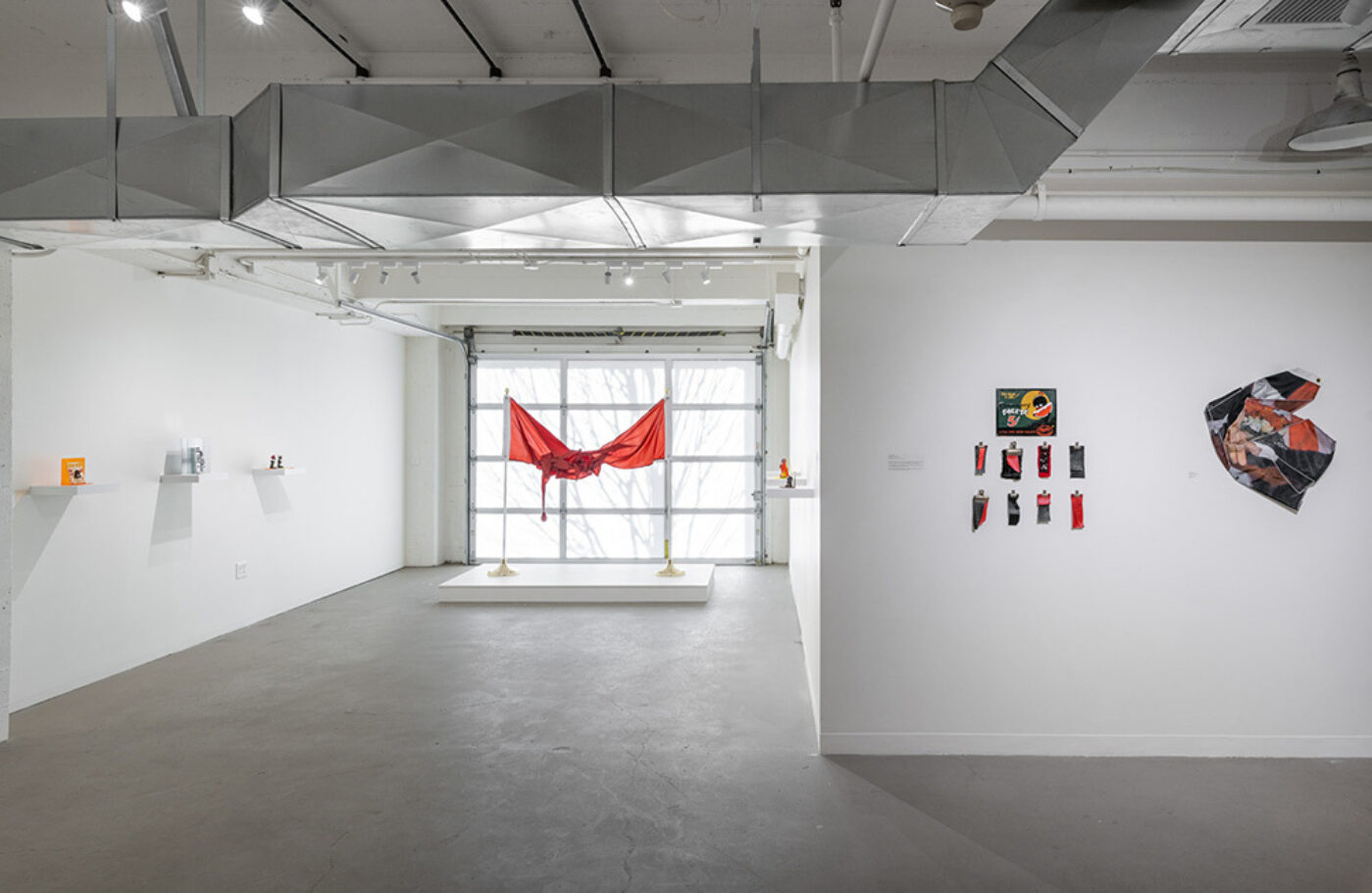 The world views that motivated people to produce the nineteenth- and twentieth-century racist objects Miller collects were fueled by a combination of fervent and misguided nationalism, socially enforced ethnic hierarchies, and a zealous drive to consume. Today, however, with some hindsight for guidance, we can and must do better. The works of Miller and Vega illustrate the intersecting causes and effects of intolerance and prejudice in US culture and refuse a sugarcoated telling of this national history. Only through an honest acknowledgment of the past can we plan a more just future.
Christine Miller and Brittany Vega: American Hex is on view at Fuller Rosen Gallery in Portland, Oregon, until March 14.
Amelia Rina is a writer and editor based in Portland, Oregon, the traditional territories of the Clackamas, Cowlitz, and Chinook nations.