Christa Maiwald discusses her transition away from video and the social and political implications of embroidery.

Discover MFA Programs in Art and Writing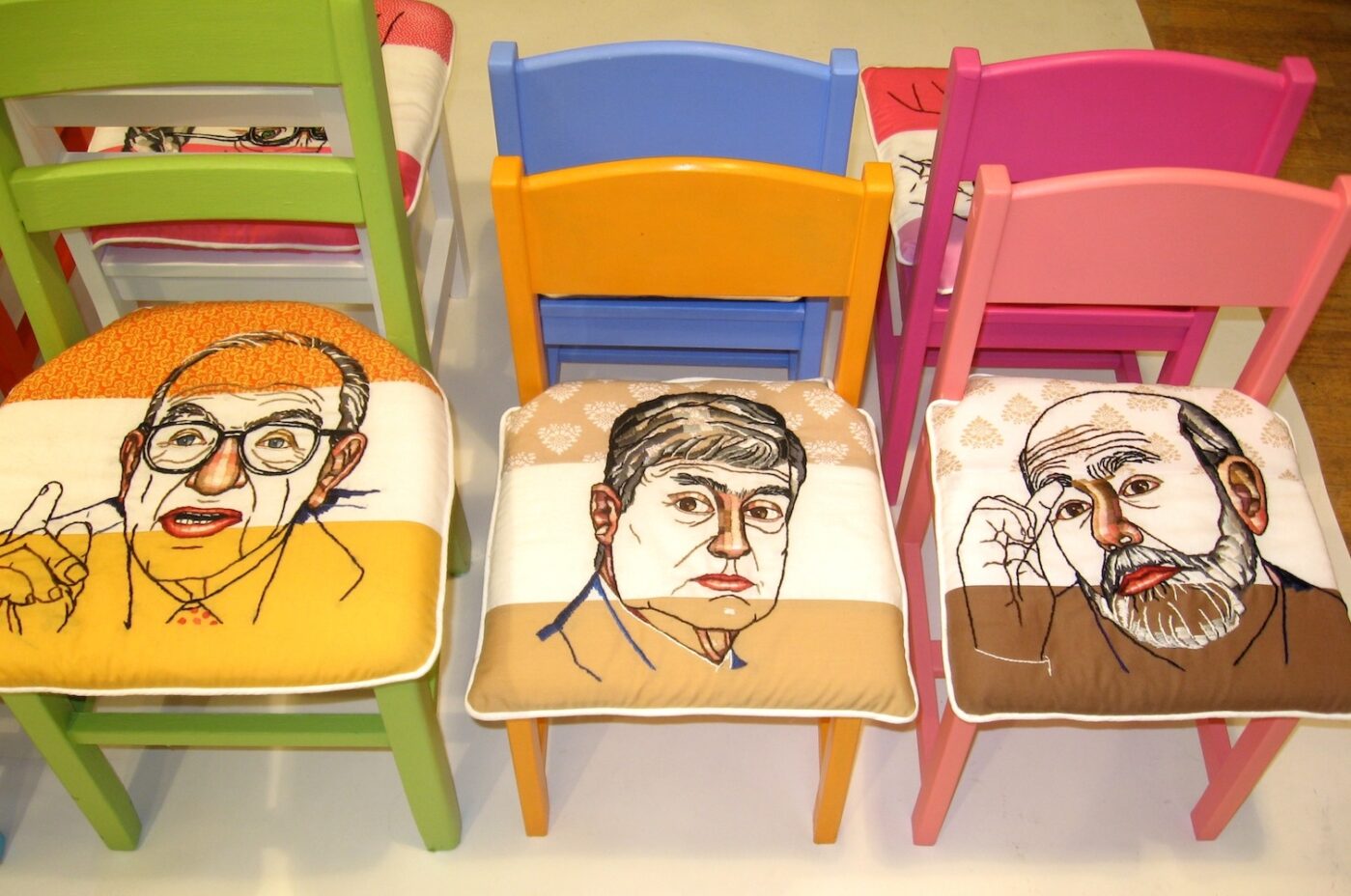 Christa Maiwald isn't afraid of hard work. Shifting from sculpture to video, painting, installation, and, most recently, elaborate embroidery, Maiwald's range of interest matches the breadth of her abilities, which she uses to address specific conceptual threads. Combining a perceptive sensibility (she knows just how many needle marks are needed to raise the brow of one of her "White Guys") with a wry sense of humor (Cheney's portrait does seem fitting stitched onto a lemon-yellow child's eyelet dress, sitting atop a warmly lit table lamp), Maiwald addresses some serious questions. The work invites pondering: In a world of never-ending conflict, how do we make sense of violence? How do we deal with sex, aging, and loss of innocence, and what is it to be sexual in a commercially saturated era?
Alyssa E. Fanning exchanged e-mails with Maiwald before sitting down for a phone interview to discuss her work, history, and recent solo exhibition at the Guild Hall Museum, East Hampton, NY. The exhibition, which featured fives series created over a period of five years, exhibited Maiwald's intricate and expansive embroidery installations.
Alyssa E. Fanning Early on you worked a lot with film, which you've shown at the Whitney. Tell me, when did you shift from video work to the embroidery pieces?
Christa Maiwald For about four years I was a video artist making tapes. I took a theme, like the one called Love and Sex, and I'd divide it up into short little vignettes that I would act out or get other people to act out. A lot of them were funny or poignant. I did that for a while and then I decided that the screen was too small. Then the person who gave me the Whitney show, Mark Segal, was kind of fed up with the Whitney after a period and we decided to write an independent film together. So we ended up selling everything in New York, driving across country and renting a house in Hollywood. We stayed there for about four years. It was bad. It was one of those bad life moves. We had sold everything for the move and we couldn't afford to move back to New York so that's when we relocated to East Hampton. I began doing the embroideries about thirteen years ago, but I've also done other things. Recently I've been doing cakes because I love to bake.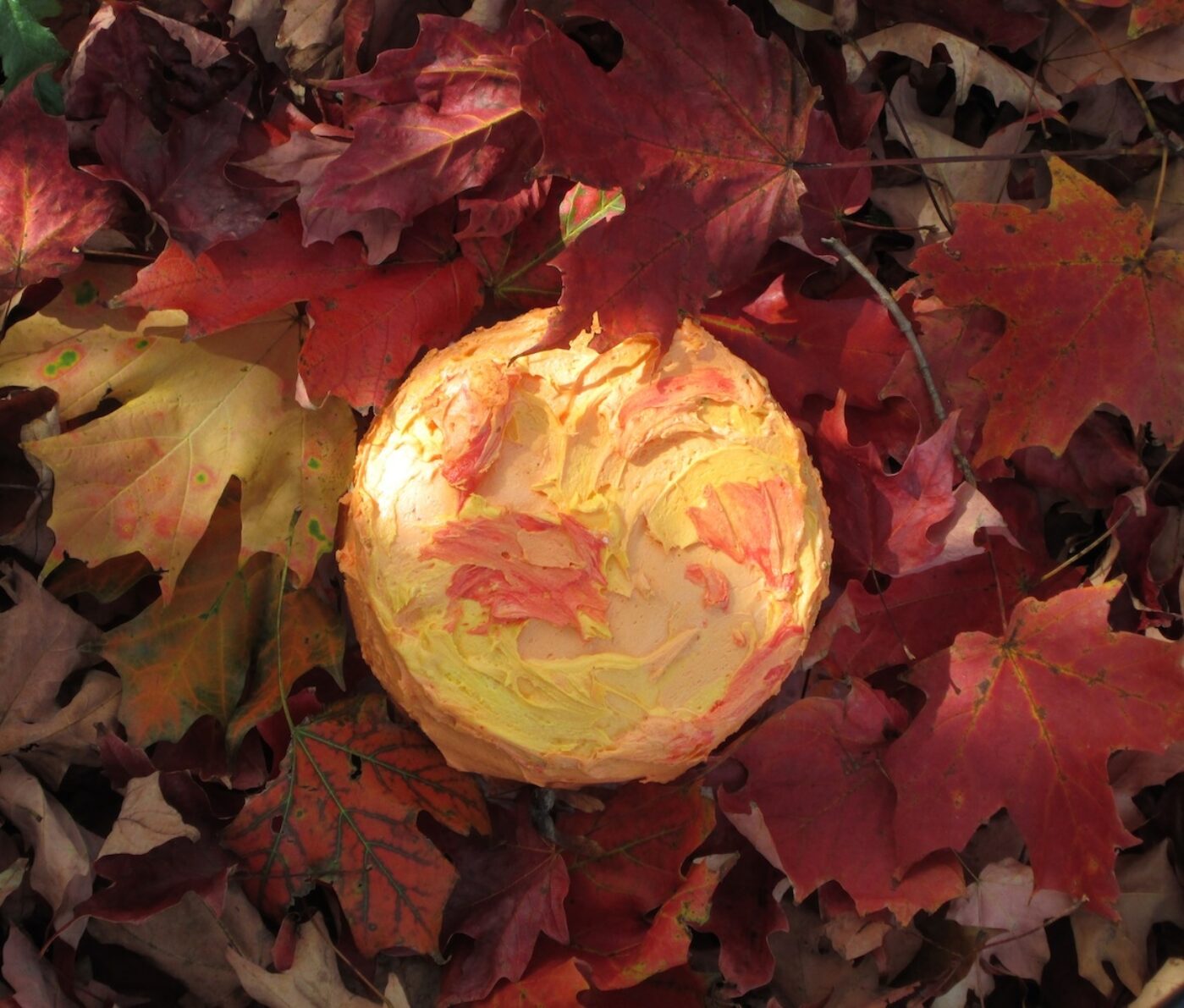 AEF Me too! Tell me about the cakes.
CM We'll have to talk baking later! I'm doing these photos called landscape cakes, where I think of a landscape situation that I like, like a hill, and then I bake a cake that resembles that and then I photograph it in that environment.
AEF How did you arrive at subject matter of your embroideries, the depictions of historical and political figures? Are there social or political motivations behind your work?
CM Yes, there are. It's one of my themes. I have several themes that I keep going back to. One is childhood and the loss of innocence when you grow up and things happen to you. Another is man's inhumanity to mankind, then sex and violence, and art about art.
AEF Embroidery is a labor-intensive practice. Is this work meditative for you?
CM It's not. Not at all. You would think that it would be, but it's totally insane! At the end of the day I have to go and just bake. Having done it so much, my attention span has gotten a little shorter. But what I love about embroidery is that it's a medium you can take with you in a car or bus when you travel. As long as I can get my needle through on a plane, then I can get so much done. The best is in the car. And I'm never bored.
AEF Do you work from sketches, drawings, or photographs, either yours or appropriated?
CM I don't usually draw or sketch. I work from photos that I take or I set up a situation and my husband does the photography. I get a lot of photos off the Internet. I actually can't draw. A lot of people went into video when it first became available for that reason. That's when I picked up the video camera. So fast forward, I start with an outline and then transfer it onto a cloth. I make a line drawing and then I just start stitching. I think about it as I go along, that is the process.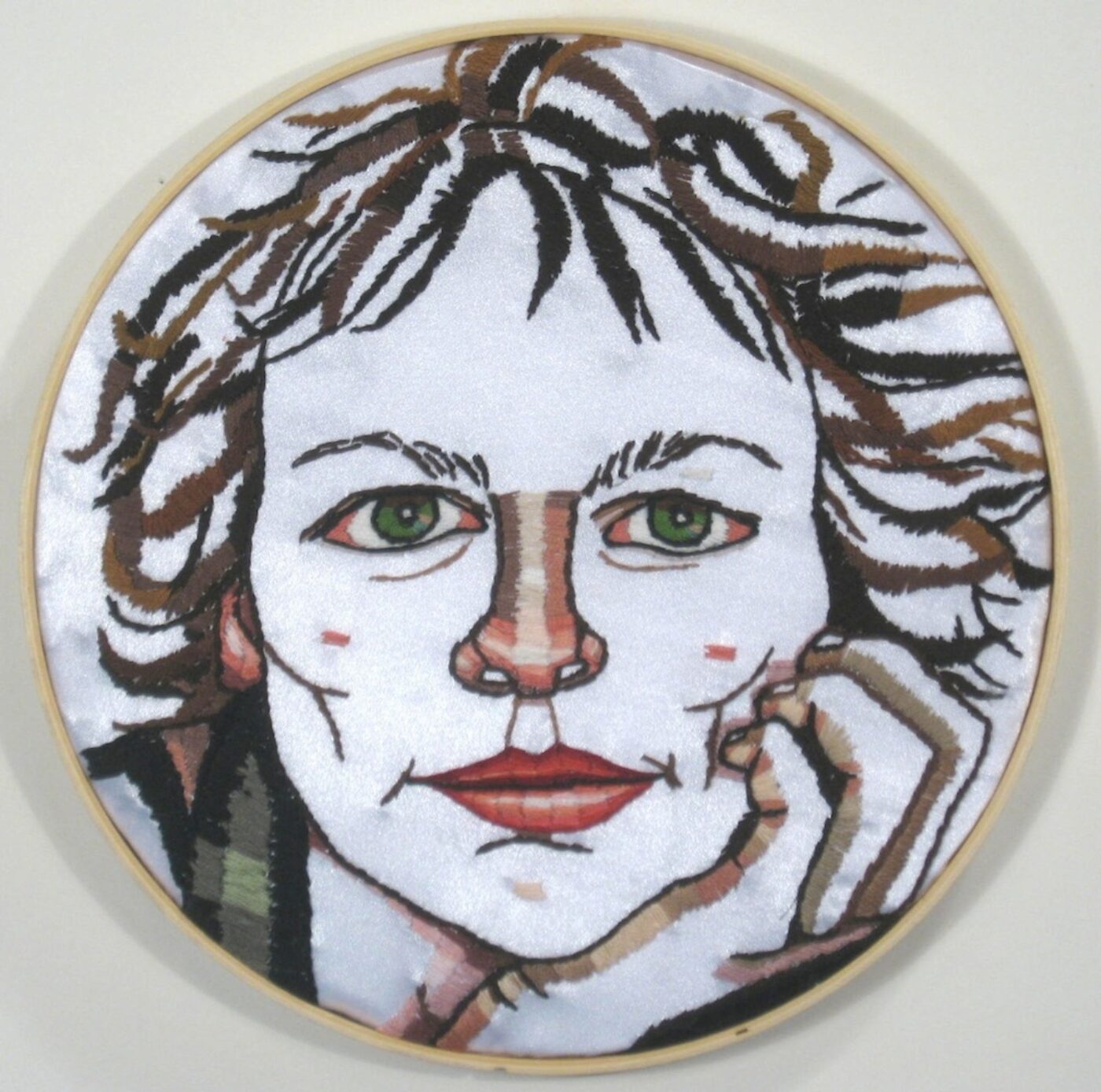 AEF Considering appropriation, do you see your work to be in kinship with the photographic and video work of the so-called "Pictures Generation" artists, such as Richard Prince, Laurie Simmons, and Cindy Sherman who were working around the same time you were creating your first video works? Both you and Sherman used costumes to raise questions about gender construction and how women are portrayed in film and media.
CM I think especially with Sherman, who came just a little after me, there's a connection. I actually was doing a lot of stuff in video that she ended up doing in photography. I did work where I dressed up as a child and a piece called Aging where I dressed up and aged myself from 20 to 90. So I do identify with them, but not because we were doing the work at the same time.
AEF When did you finish school?
CM I finished grad school in '73 so I'm probably ten years before Sherman.
AEF You lived through the sexual and feminist revolutions of the 20th century. Did those movements influence your work? In what ways?
CM I was conscious that there were a lot of changes going on, but I was in my twenties, it wasn't like I was married with children or anything. I felt that I was independent and acted accordingly. Maybe the fact that I used Love and Sex as my early video work could have been part of my stepping out of the norm because of the feminist movement.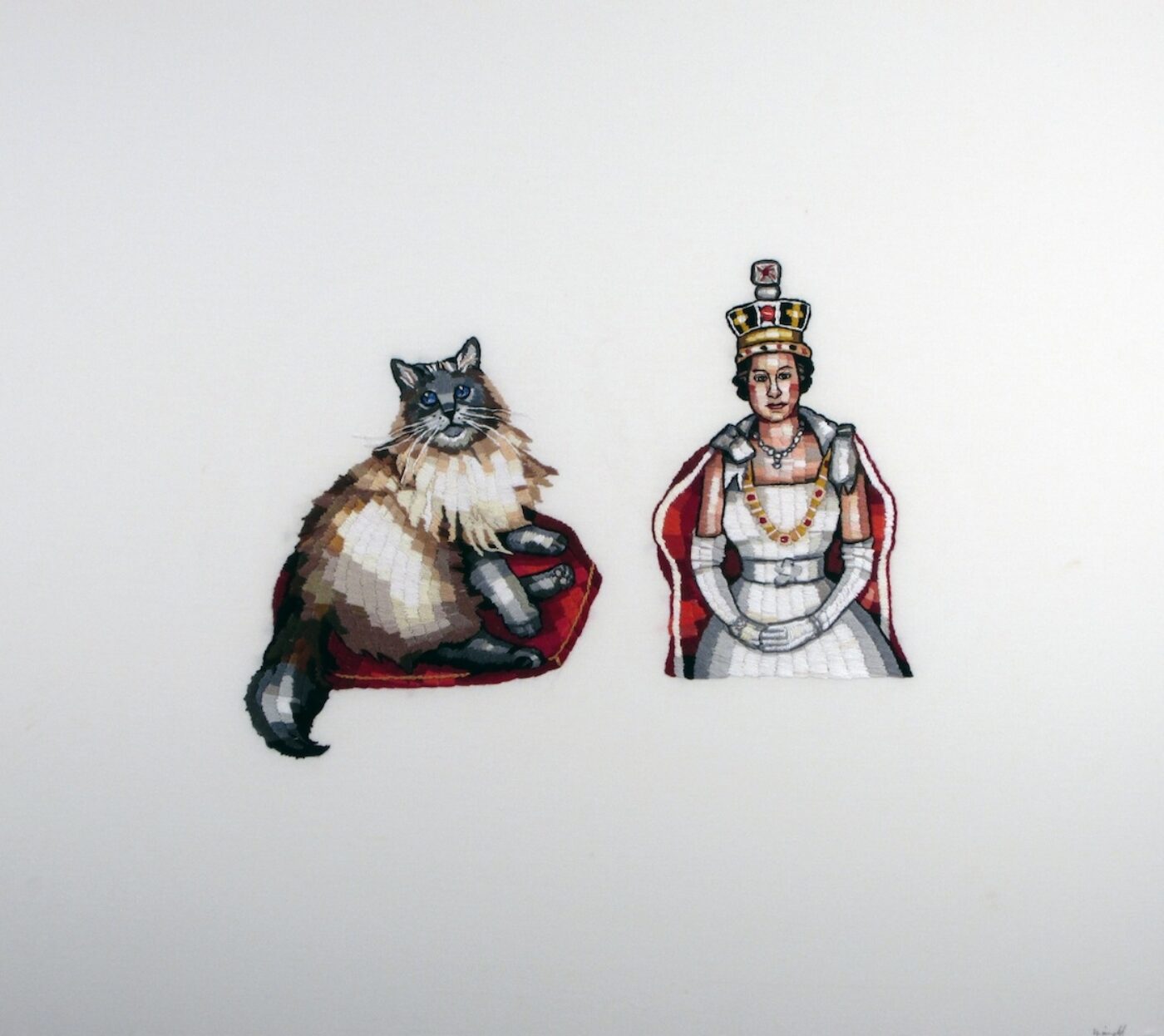 AEF A lot of your work features portraiture. Has history of portraiture affected your work on a conscious level? Is it something you've studied?
CM I love art so much. I'm very enamored of art; that's why a lot of my pieces depict artists. It's almost like a religious crusade, but I never looked specifically at portraits in art history. Half of me is introverted and very shy and I have a feeling that has seeped into the work and that the work has been a way for me to connect with people. I think the use of faces is a way for me to connect.
Alyssa E. Fanning is an artist, writer and curator. She received her BFA from Pratt Institute and her MFA from Montclair State University. Fanning has been involved in social activism since 2001 when she joined Bergen Action Network, in Bergen County, NJ, a grassroots activist organization dedicated to fighting government and environmental injustices.