Chloé Griffin's Edgewise: A Picture of Cookie Mueller by Pati Hertling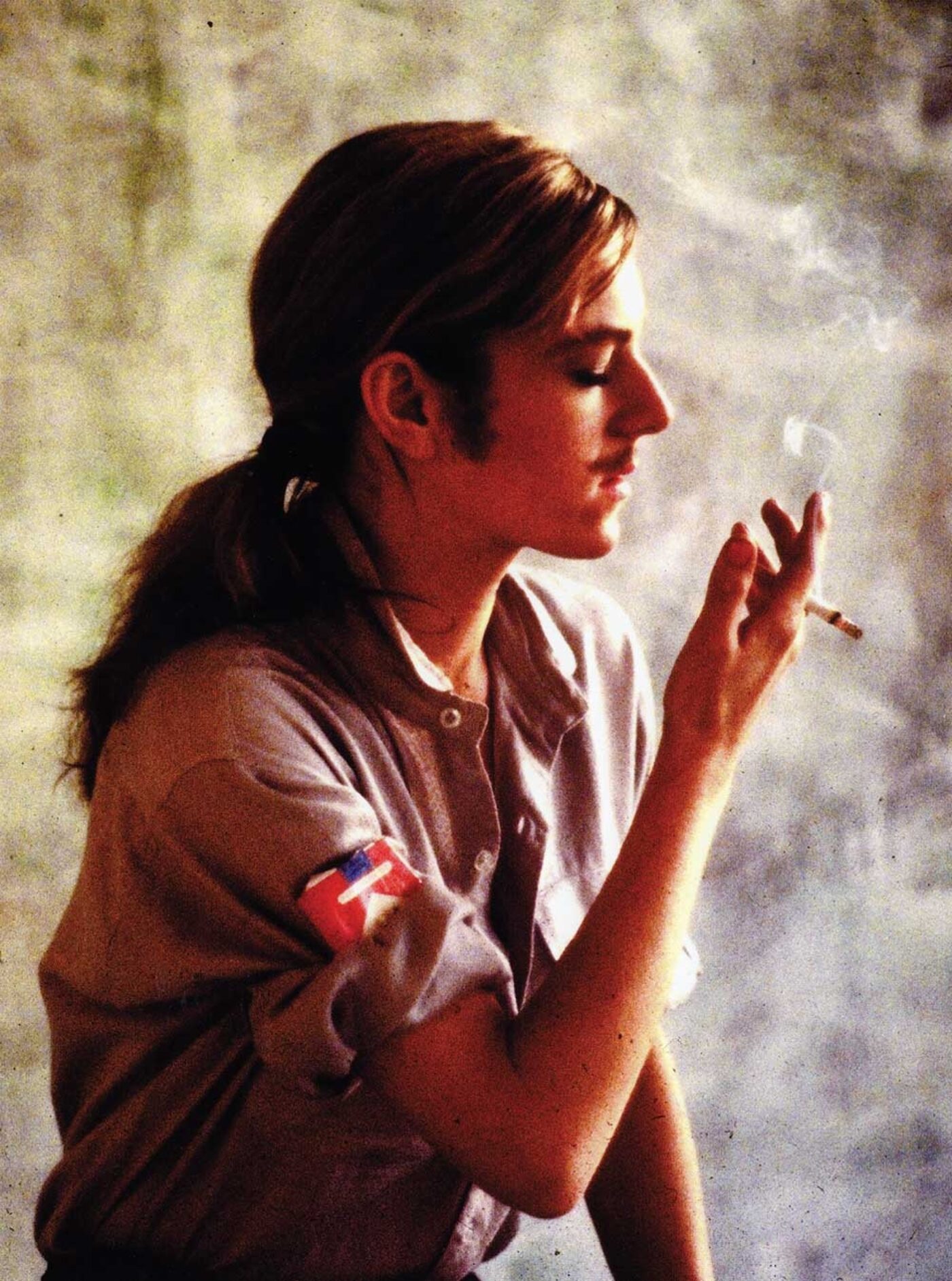 b_books, 2014
Late one night in the summer of 2002 or 2003, I was in Berlin, having just returned after six months in Paris. Friends told me of a woman I just had to meet, a bartender at Barbie Deinhoff's. Barbie Deinhoff's was always happening back then, packed with punks, drag queens, rockers, queers, and random tourists. I stepped into the bar and before me, Chloé Griffin was sitting in a swing over the bar, dressed in black patent leather high heels, ripped tights and super short jean cut-offs. Her blond bleached hair was growing out and you could see the black roots. She wore bright red lipstick and dark eyeliner around her eyes. She nimbly jumped off the swing and we were introduced. We have been friends ever since. Years later, when I learned of Chloe's admiration for Cookie Mueller, I wasn't surprised. Of course! The two were soul sisters.
Places are shaped by the people who inhabit them, and some are the hearts that pump the blood through a city's veins. Without them things would be gray and lifeless. Cookie was one of those inspiring hearts. Initially an actress in many of John Waters's early movies, she was also known as a singer, dancer, wild child of Provincetown, art critic, and respected columnist. She was, you could say, a sort of eccentric polymath.
In the pages of EDGEWISE, a labor of love of some eight years, Griffin collected the memories of the people who knew Cookie best, compiling a sensitive and thrilling oral history that captures her life from her childhood in suburban Maryland, through the wild times with John Waters, Divine, Sue Lowe, Mink Stole, and others in Baltimore, to the times in Provincetown, where she lived with her son, Max, and her lover of many years, Sharon Niesp.
In the early 1970s Cookie moved to New York, where she became a star of the New York downtown scene. Her apartment was a social nexus where people from all walks of life came together: Gary Indiana, Amos Poe, Nan Goldin, Linda Yablonsky, Penny Arcade, Chi Chi Valenti, Richard Hell, Peyton Smith, Glenn O'Brien, and many, many more. Cookie's column "Ask Dr. Mueller" was hugely popular, and it didn't matter that most of it was completely made up by Cookie herself, to make it just a little more interesting. Here is Paper magazine's senior editor Dennis Dermody: "Asking her to do health stuff was like asking the Devil questions about Jesus!"
Cookie was loved by everyone around her. She was always dressed up and even though she seemed eternally broke, she always knew how to make life glamorous. Here is artist Billy Sullivan: "It would be a beehive with cat eyes; it always reminds me of this movie with Catherine Deneuve and Pierre Clementi in the late '60s, you know with pencil thin skirts but Cookie's style was always just a little wilder. She really understood the '60s and '70s." And writer Linda Yablonsky: "She would insist on going to bed with full makeup on so she could wake up ready to hit the streets and still look good." She was fearless and funny. Cookie's lifelong friend Linda Olgeirson remembers this incident in Provincetown: "Cookie was at the carnival and invited all the carnie people to her house for a party afterwards. But when she got home, she realized that she didn't have any hors d'oeuvres for everybody, and the thing is, Cookie was like a housewife. She liked being a hostess. When people were at her house she always liked to make sure that there was something there to eat or drink, so she took crackers and spread canned dog food on them and pretended it was pâté! And everybody thought it was delicious and nobody knew."
Cookie died of AIDS on November 10, 1989, just a few months after her husband Vittorio Scarpati also lost his life. Here is actor, Udo Kier: "Her hospital room looked like a flower shop. We did not talk about her illness at all. Not one word. She was just like Cookie always was: funny, all made up, sitting in her hospital bed. It looked like she was playing it in a John Waters film. And then she had to say goodbye and I turned around at the door and she waved and I have a picture I always will keep in my head: her in the bed, looking beautiful, surrounded by so many flowers. That was my last image and it's a wonderful image."
Without characters like Cookie Mueller, New York would not be what is was and what it is today. Thanks to Griffin for bringing her wonderful image back to life.
Pati Hertling was born in Berlin and works as a lawyer and curator in New York. Together with Negar Azimi, she also organizes Petty Intrigues, a series of occasional dinners and readings.
Originally published in
Featuring interviews with Moyra Davey, James Hoff, Claudia Rankine, Matthew Weinstein, Ben Lerner and Ariana Reines, Valeria Luiselli, Tyondai Braxton, and Nicole Cherubini.