Chie Fueki's paintings are both shimmeringly beautiful and richly meaningful, offering many layers of interpretation and allusion and drawing on roots as disparate as Jasper Johns and Japanese bijinga painting.

Discover MFA Programs in Art and Writing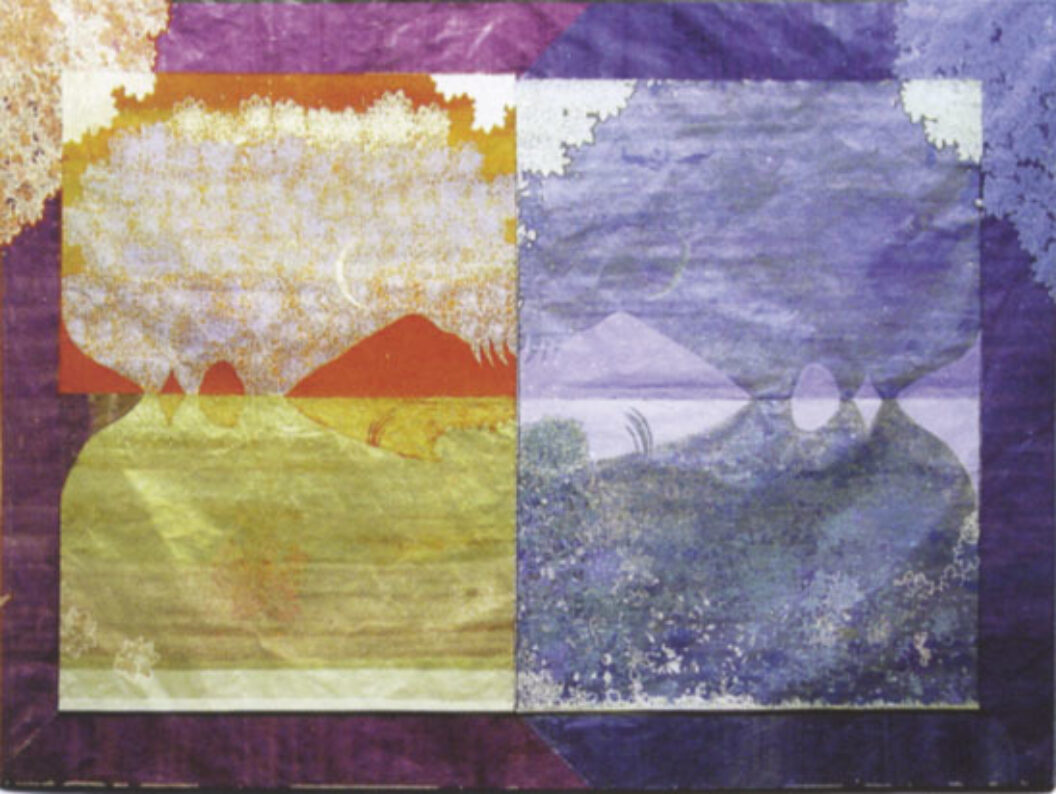 What I like most about Chie Fueki's paintings is the extravagant beauty of their surfaces and how effortlessly they bridge the seemingly irreconcilable split between art and craft. This year, in her first solo exhibitions in New York, one at Bellwether Gallery in Brooklyn, and the other at Bill Maynes Gallery in Chelsea, Fueki showed delicately constructed paintings that borrow, in various degrees, from kitsch, the iconic compositions and figure-ground play of Jasper Johns, and the Japanese tradition of bijinga (beauties) painting.
The diverse influences in Fueki's work may in part reflect her own history. Born in Yokohama, Japan, she was raised in São Paulo, Brazil, earned an MFA from Yale, and now lives in Brooklyn. On small wood panels or large draped sheets of mulberry paper, Fueki's paintings are embellished with bright dots of color, recalling appliquéd textiles or jewel boxes. These shimmering fields give the works a sensuous, intoxicating delight of the sort more often associated with decoration than with thoughtful contemporary painting. Under the bejewelled surfaces, though, lurk traditional landscape motifs, doubled and redoubled, suggesting Rorschach tests or the ambiguously infinite view in a hall of mirrors.
In the large-scale painting Window, 2001–2002, accretions of dots assemble into filigreed chrysanthemums, while in the painting's negative space a quadrupled moonlit landscape reveals two couples kissing. Even the frame of the eponymous window resists a straightforward reading; broken diagonal shifts of color also describe a three-dimensional box seen from two points of view. The initial suggestion of painted embroidery dissolves into something harder to pin down; the scene is filled with shifting allusions, from glitter cosmetics to the patterns of kimonos to post-Greenbergian abstract painting. But most of all Fueki's works suggest a capacious view of painting. This is an artist who is able to incorporate styles and references from high and low, East and West, in paintings that offer both unabashed visual pleasure and emotional resonance.
—Laura Newman
Chie Fueki's work is represented in New York by Bill Maynes Gallery.
Originally published in
Featuring interviews with Jane Hammond, Walid Ra'ad, Martina Kudlacek, Mahmoud Darwish, Jeffrey Eugenides, Steve Reich, Beryl Korot, and Christopher Shinn