Discover MFA Programs in Art and Writing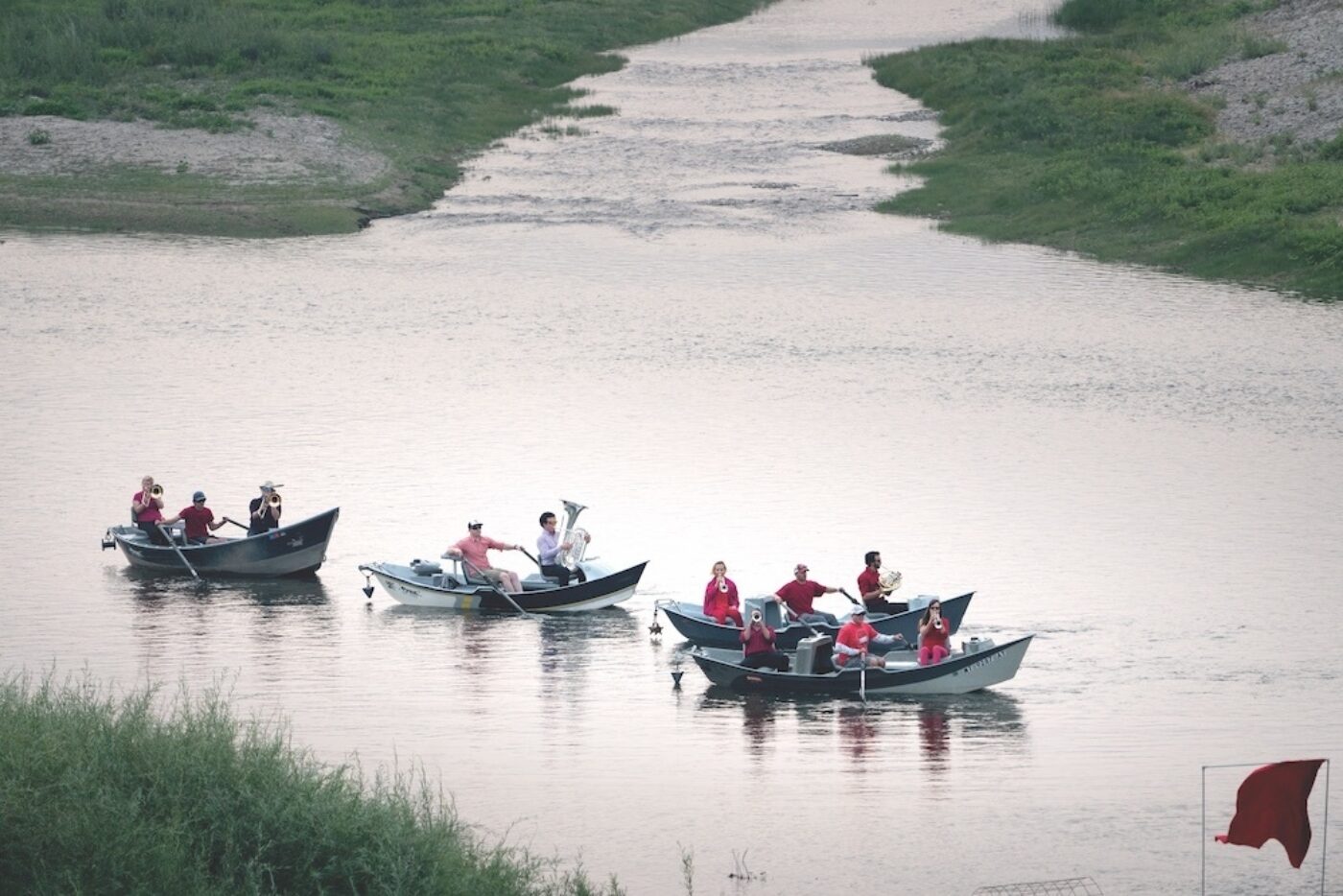 It's rare that as a writer I am left speechless by a performance. Writing becomes like swimming for the first time: relearning how to breathe. What can abandonment by words afford a writer besides drowning? Perhaps a lesson in listening.
CHERRY RIVER, Where the Rivers Mix took place in August on two consecutive evenings in the Missouri Headwaters State Park outside Bozeman, Montana. This peripatetic piece has been years in the making. It was presented by Mountain Time Arts in collaboration with Indigenous scholar and musician Shane Doyle and artist Mary Ellen Strom, along with Northern Cree Singers from Alberta, Canada; the Fox Family Fiddlers, a renowned Métis group from Fort Belknap, Montana; and an ensemble of musicians, dancers, and performers. The performance ritualistically (and potentially soon legally) renames the Gallatin River the Cherry River—in recognition of what it's been called by Indigenous populations who have long summered on its banks and continue to have an active relationship with it. The event was divided into three sections, allowing the rivers that make up Cherry River's stage to inform its structure:
On a bluff looking out over the Madison and Jefferson.
At 6 PM sharp an audience of about 200 people listens to Jamie Fox's fiddle blending Indigenous rhythms with Celtic tunes, as he traverses the banks of the river.
Three boats rush down the Jefferson and Madison rivers. One proceeds to a rocky beach downstream where a cascade of performers in shades of purple and pink disembark and process in a line to the water's edge.
Back on the bluff, a larger-than-life woman elevated above the audience on a platform sings "It's Been Days," which, I learn later, is a cover of a traditional round dance song. Shakira Glenn's voice flows though the same speakers as Fox's fiddle, creating a feeling of simultaneous proximity and distance, presence and absence.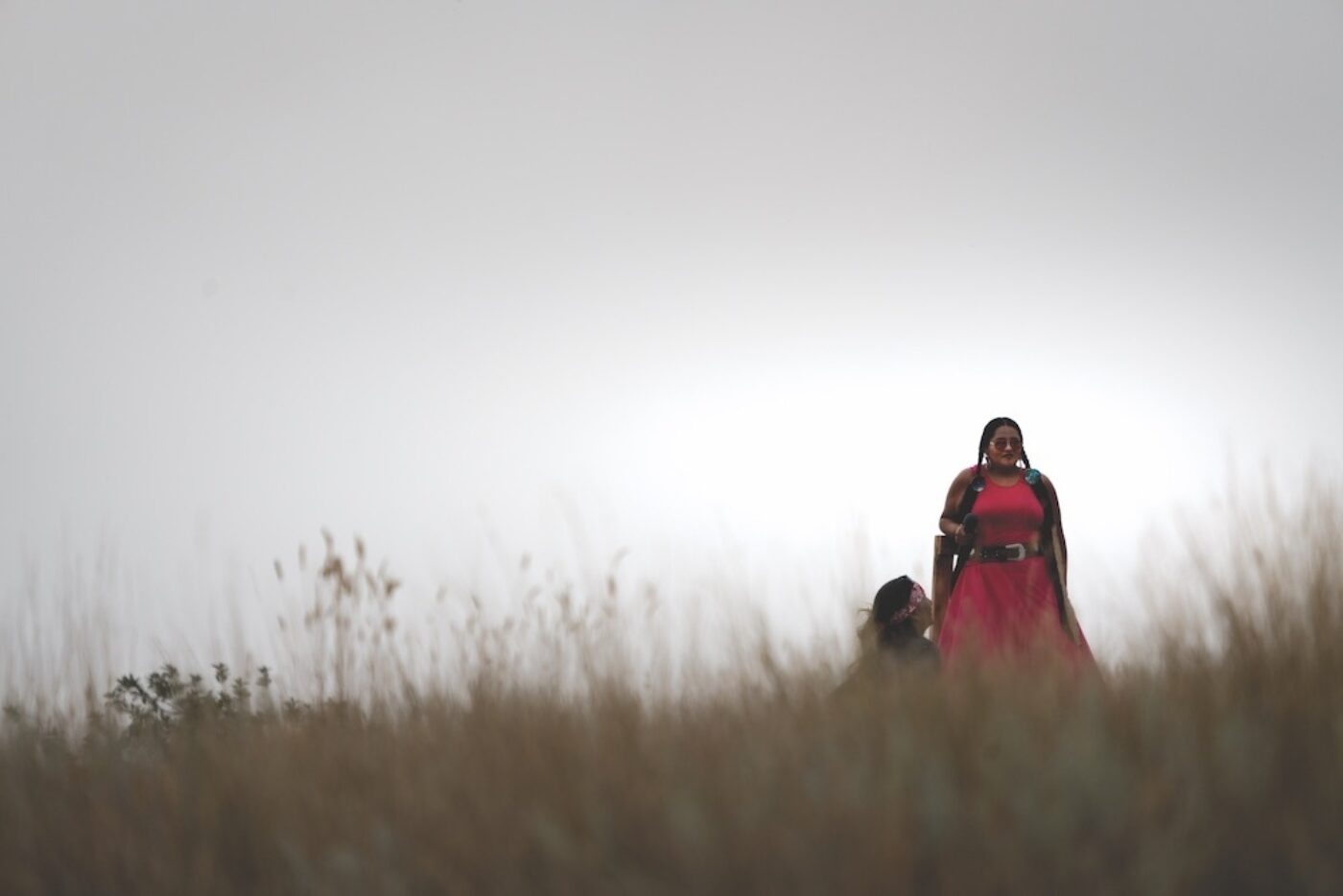 On the banks of the Jefferson next to a highway.
As Shakira finishes singing, the audience descends following Jean Claude and Christo–esque gates of red fabric toward the sound of "A Change Is Gonna Come," played by a brass band on the banks of the Jefferson. We cross a two-lane highway, cement trucks passing rapidly, and face west looking at the chorus of people let off of the boats.
A pre-recorded track plays the voices of Shane Doyle, a local geohydrologist, and an architect/artist discussing the history of this land and water—as industrial, spiritual, colonized, and Indigenous. When Doyle says, "Water is life," these words mix into a live choral arrangement that integrates the many names of the rivers: Gallatin, Madison, Jefferson, Chokecherry, Beaverhead, and Cherry. This transmission of names in song has a mnemonic effect; they get stuck in my head. As the song crescendos and the brass band joins in, three dancers move their upper bodies in choreography reminiscent of signaling or signing (a possible allusion to the sign language various tribes communicated with when encountering each other here). Finally, in a Bauschian flourish, the performers dive into the water.
On the banks of the Gallatin.
On the other side of the highway, we hear the Northern Cree singers before we see them. Their entrance in two boats evokes the history of similar arrivals and their implications of rescue, danger, resupply, war, and colonization.
The Cree singers' energy and rhythm reverberates down the river and echoes off the tall rock ledges behind them. Soon after, two Blackfeet women perform a quiet blessing at the water's edge. They explain that in their tradition, when a river does not have its rightful name it presents an opportunity. Their tone strikes me as casual, as if naming is as effortless as breathing. The performance closes with a round dance by the Northern Cree and a final vocal and drum solo from Chontay Standing Rock. The crowd disperses under a rising moon. I get on a plane to the East Coast and attempt to write while listening from the air.
Katherine Cooper is a writer based in New York.
Originally published in
Our winter issue is dedicated to this planet's greatest resource: water. With contributions from Saskatchewan and the American Southwest to Iceland and Northern Europe, an array of voices are brought together here—artists and writers investigating water as site, sustenance, and symbol, along with those expressing alarm and calling for intervention.
---
Featuring interviews with Lauren Bon, Oscar Tuazon, Jaque Fragua, Brad Kahlhamer, Ruth Cuthand, Janaina Tschäpe, Jessica Grindstaff, Tomoko Sauvage, Cecilia Vicuña, and Alicia Kopf, as well as writing by Laura van den Berg, Natalie Diaz, Stefan Helmreich, and more.