Chat Travieso on creating in New York City, his adaptation of the found object and the importance of an optimistic attitude to the future.

Discover MFA Programs in Art and Writing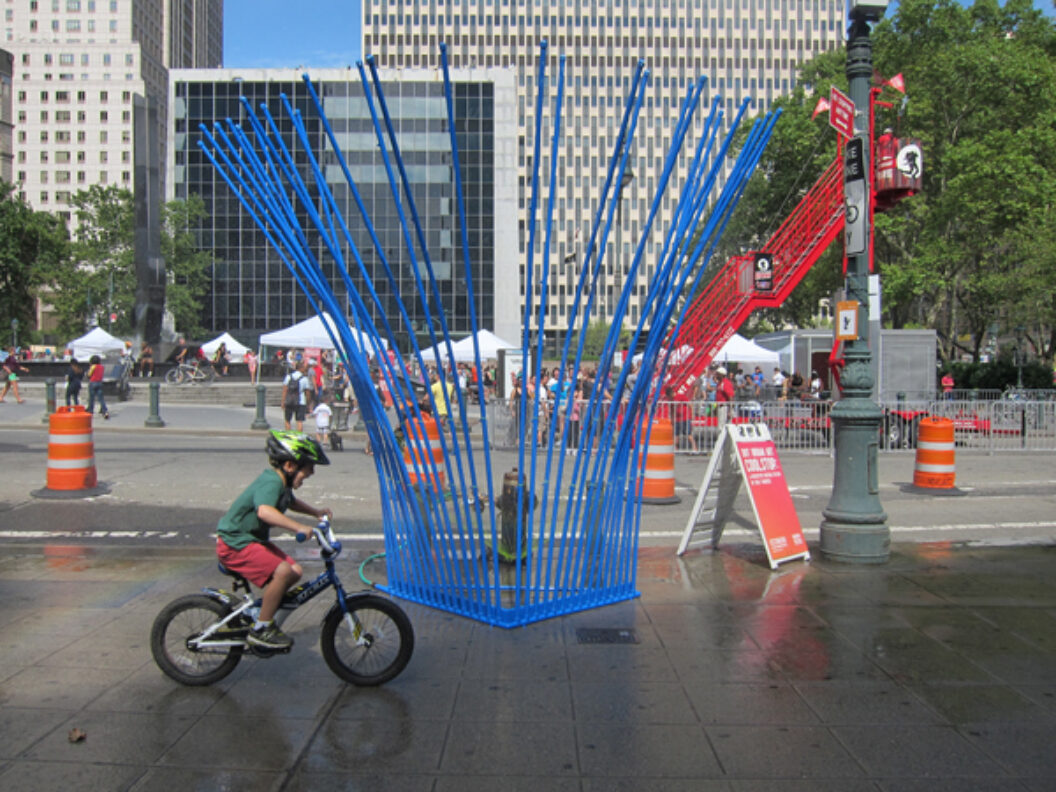 I first met Chat Travieso in the spring of 2006 through the New York Studio Residency Program, an art residency offered to undergraduate and graduate fine arts students across the United States. Each year, students from all corners of America move to New York City to live and work for a semester to immerse themselves in the arts and culture of the city, create work, attend lectures and form bonds with other artists that last for years. As I got to know Travieso during our time at NYSRP, I became increasingly impressed with his insights on the art world and the work he was producing at the time—a hybrid between a nomadic structure and a site-specific intervention.
On a humid summer day, Travieso and I went to West Village coffee house Think where we got reacquainted.
Anni Irish What was your experience like at NYRSP?
Chat Travieso The NYSRP was a unique opportunity to see what it was like to work independently in New York City. The program allowed me to soak in all the great resources this city has to offer in a short period of time. It gave me the freedom to investigate my own work, and really focus on a few concepts rather than bouncing around different mediums and ideas as I had been doing in the past.
AI How do you think the time you spent there influenced the way you view art and your art-making process?
CT The program and living in New York City definitely influenced the direction of my work. It brought out a sense of social engagement and urgency in me that was present in my previous work, but wasn't as pronounced. While I was here, I started to focus primarily on social justice issues and ways art could make an impact in the world. This was partly due to the politics of the times (Bush was still in office, the Iraq War was in full swing, and immigration reform was a big issue), and partly because of the influence of my cousin, Emilio Travieso. He was living in New York at the time and was studying to become a Jesuit priest in the tradition of liberation theology. He instilled in me a real sense of social responsibility and activism, and is still someone I look up to.
AI Do you remember what you were specifically looking at art-wise and working on at the time? I remember a conversation we had years ago about the Diggers in San Francisco.
CT At some point I came across the work of the Diggers, a late-1960s radical theater troupe from San Francisco. The group provided free food and other community services and sought to envision a society that was not dependent on money. What attracted me most to the group was its Free Frame of Reference, a 6 by 6 foot yellow frame that people had to cross before they received free food. It acted as a symbol for the deconstruction of one's established beliefs. I really liked this simple and poetic gesture because it implied that in order to change the world we have to first change the way we think and question our current "frame of reference." Some of the members would also wear a necklace with a miniature version of the yellow frame so they could look through it and picture a free and inclusive world. I made a piece while at the NYSRP inspired by the Diggers called Framing Device, a 6 by 6 by 6 foot yellow cube frame that expanded the idea of the Free Frame of Reference into the third dimension, creating a free space.
AI We spoke about the concept of the "flâneur" from Walter Benjamin and Michel de Certeau's famous book, The Practice of Everyday Life. While the flâneur has often historically been categorized as a man of leisure, Benjamin took the term a step further by describing it as an urban spectator, do you see yourself and the work you are producing as being a kind of modern urban spectator?
CT I wouldn't necessarily classify myself or my work as a kind of modern flâneur. As you said, the flâneur is more of a spectator; I want my work to be engaged with communities and the existing surroundings. In some ways, I employ the method of the flâneur as a form of empirical research, where I will aimlessly walk around a particular neighborhood to observe how people informally and formally use a space or to look for discarded materials that can be used in a work. I am, however, very much influenced by de Certeau's The Practice of Everyday Life, particularly his idea of strategies and "making-do" tactics. I'm interested in ways that spaces and objects can be re-purposed and used in a different way than their original design, and conversely how design can be informed by the existing context.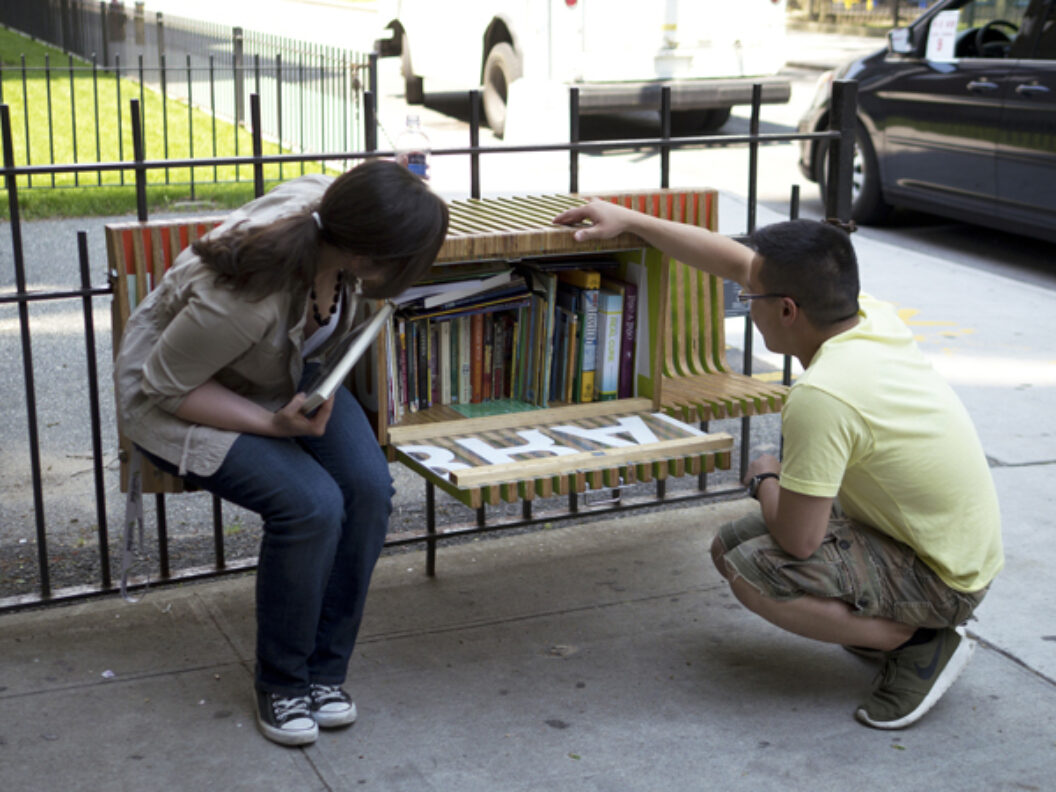 AI I think you're onto something with the "making do" tactics thing. That seems to be an attitude many people are harboring today with the economy, but it also seems to be influencing artists and art audiences. How have these tactics been present in your own work?
CT There's a danger in romanticizing the ad hoc strategies that some people have to resort to because of systemic inequalities or a lack of infrastructural support, especially when it's about replicating a certain "look." But I think you're right that the recession has spurred artists and designers to consider a makeshift approach to design and fabrication, as I think many people are questioning our materialistic and consumer-dependent culture. My interest in "making do" tactics is concerned with this as well as everyday ingenuity and ways to subvert the intended uses of an object or space to allow for multiple interpretations and creative agency. Through my work, I use salvaged and everyday materials to create unexpected forms that I hope are visually striking as well as accessible and fun.
AI How would you describe your work and what kind of materials do you use?
CT I make playful and interactive urban interventions that engage communities and deal with issues of public space and the everyday built environment. This work takes the form of design/build public installations that acknowledges the social and physical context of a site and often considers the existing spaces and objects in our urban landscape as a resource to be appropriated and re-purposed. My work is made from a combination of salvaged or reclaimed materials and common building materials such as 2×4's, plywood, and PVC pipes. I want the work to be unpretentious, and invite people to use it without feeling like it's precious. I strive to transform humble materials into something beautiful that can be uplifting and encourage a sense of play and wonder.
AI Does the history of the found objects you use in your work inform your practice?
CT When I use a material, I often like to think about any other possible functions outside its intended purpose, detaching it from its previous history and in some cases giving it an unexpected or absurd second life. For example, I've used the fiber glass wind deflector that goes on the top of a semi-truck for the outer shell of a temporary shelter and mini-library called A Place for Dreaming. I turned it upright for the piece, which obscured its original visual reference and made the form seem otherworldly, a cross between a Conehead and a space pod.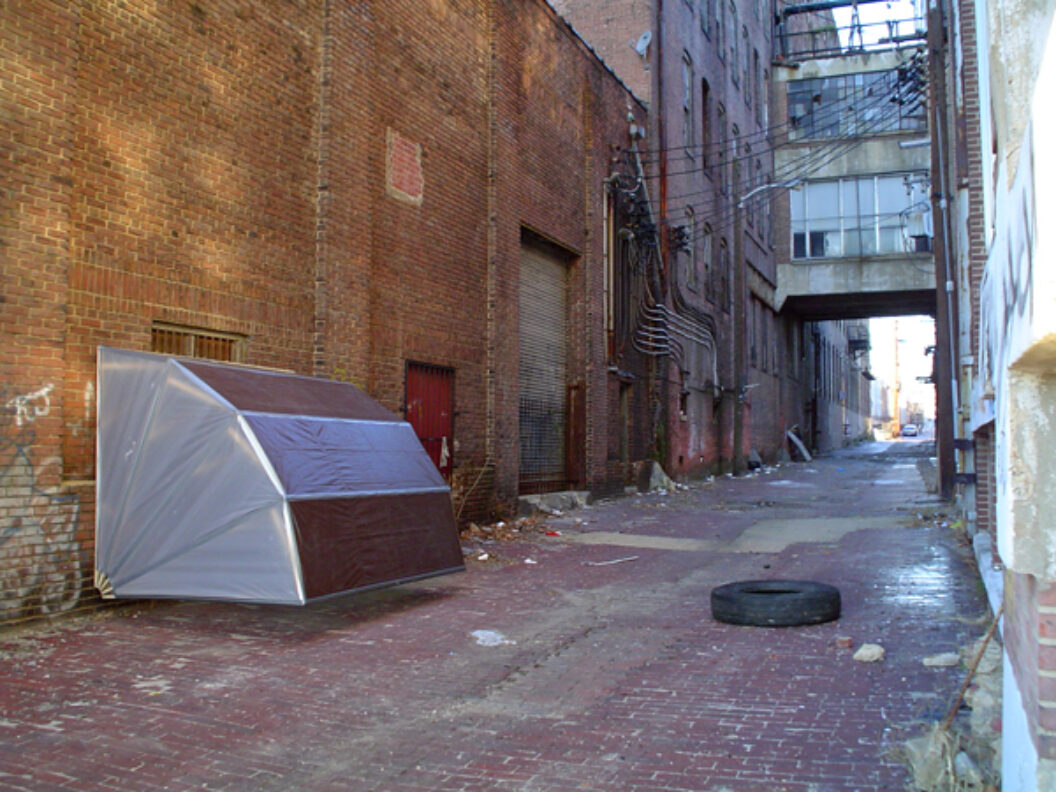 AI How did your time at both the Maryland Institute College of Art and Yale's architecture program affect the ways in which you view architecture and the art world? And who do you think influenced your work there?
CT My interest in urbanism and collaborative work dates back to my time at MICA where I was involved in a community-based art class started by the artist Michael Rakowitz. The class collaborated with a neighborhood non-profit organization in East Baltimore called the Men's Center to make critical works of art that dealt with the community and its social, political, environmental, and economic issues. This course was my first introduction to social practice and community-based art, and it laid the critical and conceptual foundation that has informed my work ever since. While at Yale, I immersed myself in learning as much about the field as possible since it was something new to me. Even so, classes like Keller Easterling's Lateral Strategies and Ljiljana Blagojevic's Post-Socialist City were very influential in the way I understand politics and activism in architecture. Having this varied background has given me the ability to approach a project from different perspectives and work across disciplines and sectors.
AI Alternative systems of living, and alterations or interventions within urban landscapes seem to be a major component to your work. Could you talk about that and the ways in which you see your work either fitting into these categories or if you are perhaps creating an alternative to this?
CT It's important to question our assumptions of the built environment. The city is the way it is because decisions were made and policies were put into place. I'm definitely interested in considering alternative living strategies and political and economic systems. However, my work doesn't deal with the idea of utopia, in which a perfect world is possible in the future. I'm looking at the here and now, which is messy. What can we do to make things better using the tools we have available today? I think by engaging communities and promoting participation and creative acts, considering ways to re-purpose the existing built environment, and using found materials, my work generates pockets of resistance. It is meant to restore social bonds and bring people together, which can be a radical act. My work isn't about starting from scratch or grand gestures. I like to think that they are steps towards transforming the city into a more inclusive and open place.
AI What are you currently looking at and reading?
CT I like to read a lot of theory and philosophy. I'm constantly going back to books like Henri Lefebvre's The Production of Space. Lately I've been reading some of Simon Critchley's work, and I've also been reading David Graeber's book Debt: The First 5,000 Years. What I enjoy about these thinkers is that they offer an optimistic view of the future in that they believe there is an alternative. I also finished re-watching The Wire. It only confirmed what I already knew; that it's the best TV show ever made. I was actually living in Baltimore when the show came out, but didn't watch it until a couple of years after it ended and I had left the city. That show definitely had a huge impact in the way I understand the post-industrial American city, and how politics and engrained hierarchies dictate action.
AI What do you think it is about Lefebvre's work that you keep revisiting?
CT In The Production of Space, one of the big ideas that Lefebvre presents is that space is a social product, in that every society produces its own space that dictates the social actions established by that system. As a result, space can act as a tool of domination. Conversely, in order to change a society, one has to also change its space to accommodate new social relations. I find this notion very intriguing, as it presents a challenge to designers to imagine a new social environment for a more egalitarian and open society.
AI Your recent project On a Fence for Paths to Pier 42 is basically a temporary park that is located between the Manhattan and Williamsburg bridges. I know projects like these are beautifying public spaces and creating a sense of community but it seems like there is something else occurring there as well.
CT Paths to Pier 42 is a project that came about after years of community planning and advocacy on the part of many community groups, local residents, and tenant associations in the Lower East Side. The project is an interim public space that activates an abandoned site that will eventually become a permanent public waterfront park in an area that has been neglected for too long. The project is meant to engage community members and keep momentum up while the long-term park is in development. This year was the first year of the pop-up park, which featured five temporary public art installations. I was one of the artists chosen to make a community-based installation here. On a Fence transforms a portion of the fence bordering the park into an interactive structure that incorporates colorful signage on the outside face (done in collaboration with graphic designer Yeju Choi), and seating and play areas on the inside face. The project seeks to invert the function and meaning of the fence from a physical barrier to a place of inclusion that brings people together.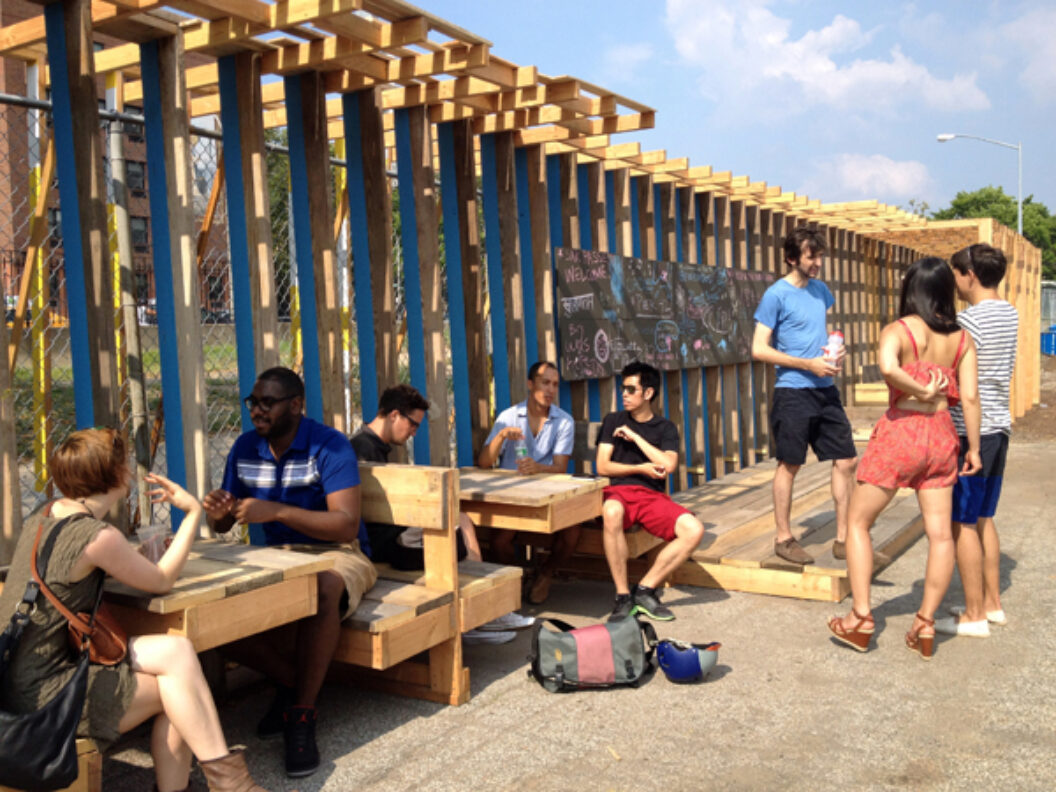 For more on Chat Travieso, visit his website.
Annie Irish is a writer and researcher who holds an MA in Performance Studies from New York University and an MA in Gender and Cultural Studies from Simmons College; she currently resides in Brooklyn, NY.