Charles D'Ambrosio's The Dead Fish Museum by Sarah Fay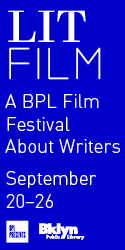 Despite a flurry of awards and publications, Charles D'Ambrosio has remained under the radar. It is astonishing that a writer with his depth and agility is not a household name. But that, it seems, is about to change.
In his new short-story collection, The Dead Fish Museum, D'Ambrosio sketches characters—even minor ones—that are fresh and startlingly real. In "Up North," one of five stories that first appeared in the New Yorker, a man endures a hunting trip with his unfaithful wife's family. After arriving at their cabin, he offers this description of his father-in-law: "He was a large man, so large he always struck me as unfinished, the rough framing of a man who would never fully occupy the space he'd annexed." Limited by their perspectives and perceptions, D'Ambrosio's characters interact lopsidedly. The result is a kind of despair—nothingness amid plenty.
D'Ambrosio's prose is rich and genuine. In his fictional tour de force, "Screenwriter," the protagonist, a young writer who has checked himself into a psych ward, observes: "People were hospitalized when their feelings reached an acute phase, but if you eavesdropped on all the jabbering, all the lonely, late-night calls, the whole long history of pain and madness fused into a single humdrum story. It went flat."
The humor in these stories is sharp, and the dialogue pitch-perfect. In the collection's title story, "The Dead Fish Museum," the repartee between the members of a crew on a low-budget porn film never falls prey to mere exposition:
"Everybody wants a little stardust to fall on them."
"Success could be all over your face next week," Ramage said.
"Sure," Greenfield said. He took a deep breath. "This town stinks."
"There's a spice factory a few blocks over," Ramage said.
In all of D'Ambrosio's stories, the characters' evasions reveal their wants and needs.
Born and raised in Seattle, D'Ambrosio writes distinctly American stories. But his is not Fitzgerald's America—nor Dreiser's, nor Carver's. It's certainly not Franzen's. D'Ambrosio's America is America in the 21st century, a place where insanity is ubiquitous and the lunacy of modern life is old news. Yet the question remains: with so much going on around us, where can we find meaning? Kristen, one of the drifters in the story "Scheme of Things," finds it briefly in a piece of pumpkin pie: "She wrote to the old woman that one second of love is all the love in the world, that one moment is all of them; she wrote that she'd really liked the pumpkin pie, and meant it when she'd said that it was the best she'd ever had, adding that she never expected to taste better."
Charles D'Ambrosio's The Dead Fish Museum was published by Knopf in April 2006.
Originally published in
Interviews Dana Schutz, Harrell Fletcher, Tacita Dean and Jeffrey Eugenides, Frederic Tuten and Bernard Henri-Lévy, Lynne Tillman and Paula Fox, Judd Ne'eman and Janet Burstein, Charles Atlas, and Marsha Norman and Adam Rapp.