Discover MFA Programs in Art and Writing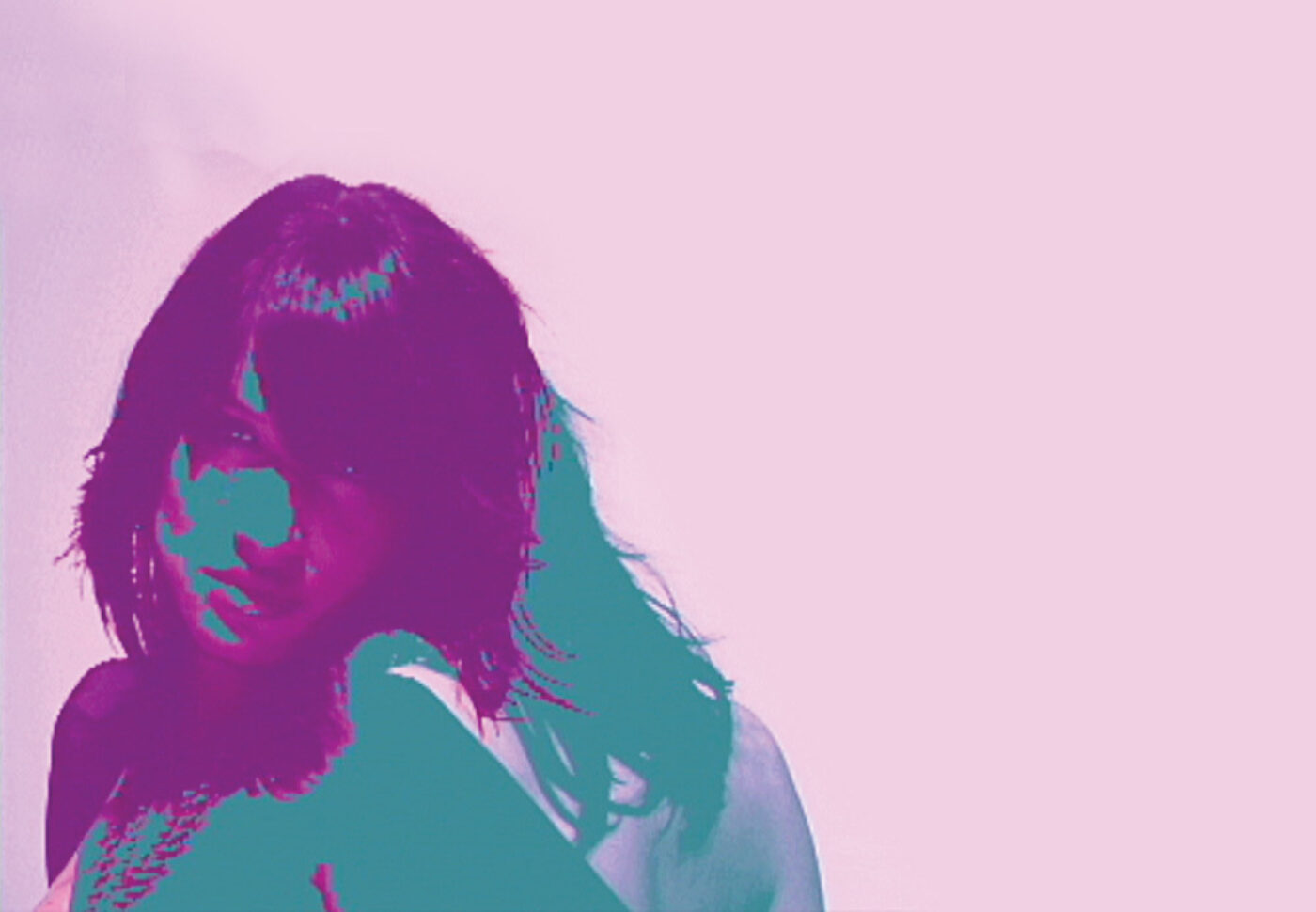 Sketch out Charles Atlas's career, and the result might look like one of his multi-stream videos: disparate projections that, taken together, create a coherent portrait. To some, the artist and filmmaker is best known for these video collages and installations, featuring digitized numbers, people in motion, and abstract or geometric figures. Others might recognize him as a public broadcasting renegade whose TV specials bucked conventions of on-air programming with propulsive dancing, drag queens, chroma key, and startling audio. Since 2003, he's drawn attention for his experiments with live multimedia performance. As a dance writer and film and television producer, I've long wanted to speak with Atlas about his pioneering work in "media-dance," or dance on camera.
For nearly fifty years, Atlas has collaborated with choreographers and dancers to create vibrant, technically rigorous dance films. He first picked up a Super 8 camera in the early 1970s while stage-managing for the Merce Cunningham Dance Company and, soon after, became the company's resident filmmaker. His early works with Cunningham involved technical challenges like filming in a mirrored studio without revealing the camera, or interspersing video monitors across a dance space. His later collaborations in London and New York City with the choreographers Karole Armitage, Michael Clark, and Douglas Dunn are often raucous and exuberant, with eclectic costumes, bright music, and playful editing. More recently, he has worked with a new generation of dancers and choreographers, including Merce Cunningham Dance Company alumni Rashaun Mitchell and Silas Reiner, New York City Ballet principal dancer Sara Mearns, and the contemporary choreographer Jodi Melnick.
Consistent across Atlas's career is his commitment to studying bodies in motion, experimenting with new technology, and creating works that are as kinesthetic as they are aesthetically complex.
We met up at his Fourteenth-Street studio, where he's been living and working since the early 1980s.
—Erica Getto
Erica Getto What have you been working on this week, or this month?
Charles Atlas A new installation in Milan. The whole thing is video. I'm remixing some live portraits I made for a show I did with Anohni called TURNING (2004–06), trying to make them into a multi-channel installation.
EG This project has taken on a few different forms since the two of you conceived of it in 2004 as a concert and performance piece featuring Anohni's hypnotic vocals with thirteen performers posing onstage. You capture their expressions and gestures, processing and projecting them live in multilayered, rotating portraits that extend across the stage. It's toured around the world, and the videos have screened in various configurations. There was your TURNING film in 2012, a full-length documentary on the series and the artists involved.
CATURNING had its own life, its own internal mechanisms for surviving. When Anohni approached me as a collaborator, I really wasn't ready to show my live video work in public, but I went ahead anyway.
It began as part of the 2004 Whitney Biennial, and I had a chance to refine it when we brought it on tour across Europe in 2006. It took six years to finally finish the film. We wanted there to be a record of the project because it was so important to us. But when I revisit the mixes I made during that period, they don't stand up under my brutal scrutiny in the way they did when I was doing them live, so I'm in the process of improving them.
EG My connection to your work is through the dance world. From what I understand, you're not a trained dancer, but you experimented in that role when you collaborated with Merce Cunningham.
CA When we started collaborating in the '70s, Merce was learning about video, so I felt that I should learn to dance. When I first joined the company, I didn't know anything about it. I took the pre-beginners' course, the fundamentals, but I didn't get very far. Training my eye with Merce and working with him on editing performance footage is where I really learned about dance and developed a kinesthetic response.
EG How do you and the choreographers you work with decide where to direct the camera?
CA It depends. When making my own film, the placement and movement of the cameras is what determines the space for dancing, and that determines the choreography. But when I'm documenting a preexisting work, I try to watch myself watching and see what catches my eye, and then I translate that into how I film it.
EG And what is it like to come back to this material for editing? I write about dance, so when I go to a performance, I take notes. But after it ends and I go home, with every day that passes, I'm further from the dance itself. Do you try to recreate that sense of a first impression? Do you find yourself drawn to new aspects of your footage?
CA I can't really analyze my own editing, but it's mostly based on rhythm—rhythm of vision, rhythm of dancing. When I worked with Merce in the early days, we would determine about seventy-five percent of the edits in the dance studio while planning the film. We could test things out.
Later on, when I worked with Michael Clark, I already had a sense of how I was going to film. Knowing that I would be doing the editing, I was very loose, allowing for more liveliness in the shooting situation. It would have been cruel to give that footage to an editor who didn't know anything about what I had in mind, but I knew what I wanted to make.
With Merce, we determined what we wanted to achieve, and we did multiple takes until we got it right. It was a little less fun, but not uninteresting. I just wasn't improvising as I went along.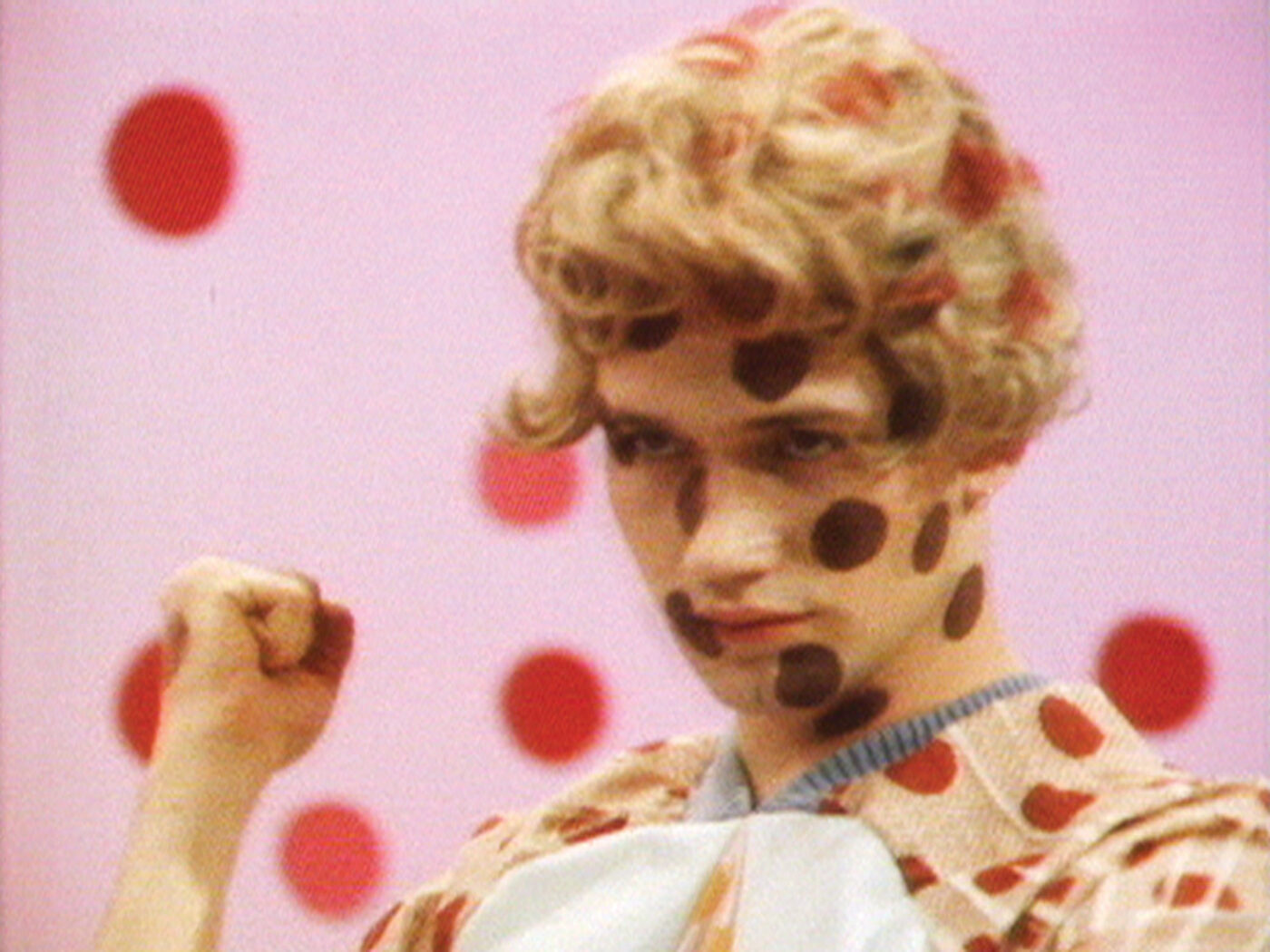 EG There's a sense of fun in those Michael Clark projects. In Hail the New Puritan (1986), you staged a fictive, day-in-the-life portrait of Clark, casting him as a British dance celebrity even though he was twenty-one years old and just getting his start. Leigh Bowery created such glamorous, wildly inventive costumes for the project. And then there's Ex-Romance (1984–87) and Parafango (1984), both with Clark and Karole Armitage, whom you'd worked with when she was dancing for Merce. I'm drawn to the raucous energy of it all. How did you come to know Clark?
CA Karole and I met him in London, and Karole was taken with him, so she invited him to come to New York and work with us on a piece called Paradise (1982)—which he didn't end up performing in.
For Hail the New Puritan (1985–86), Channel 4 in London asked me if I'd be interested in making a piece, and I said I would if I could work with Michael Clark. They originally commissioned me to make an hour-long documentary, but I hadn't made one before and wasn't really interested in the form. I proposed a half-hour dance film with Michael. It took about a year and a half to get going, and by that time it had turned into something else.
EG I've heard it referred to as a "docufantasy." It documents the spirit of that London underground dance scene. You get a sense of the personalities and the dynamics.
CA Well, everyone was exaggerating their personalities a bit.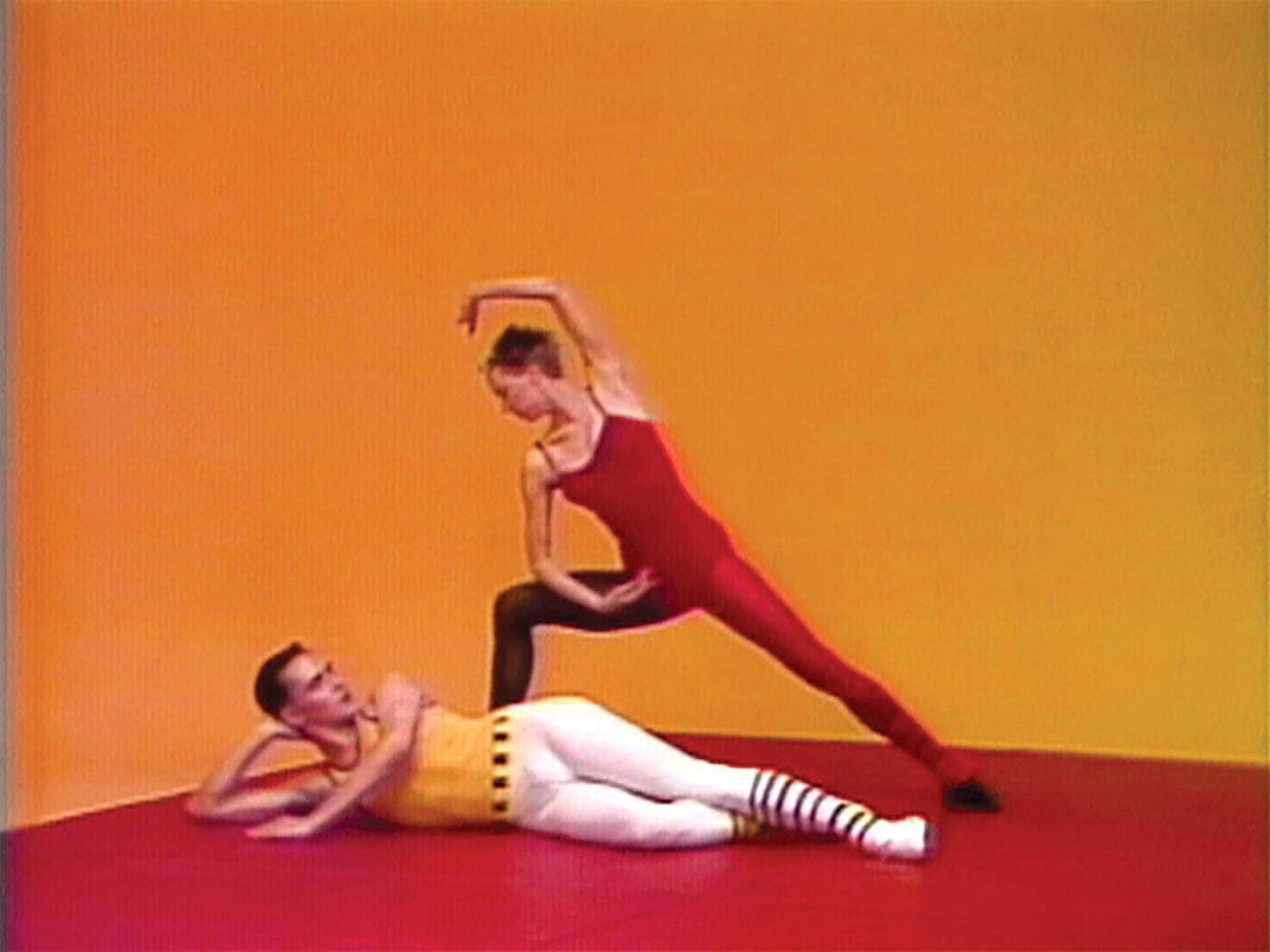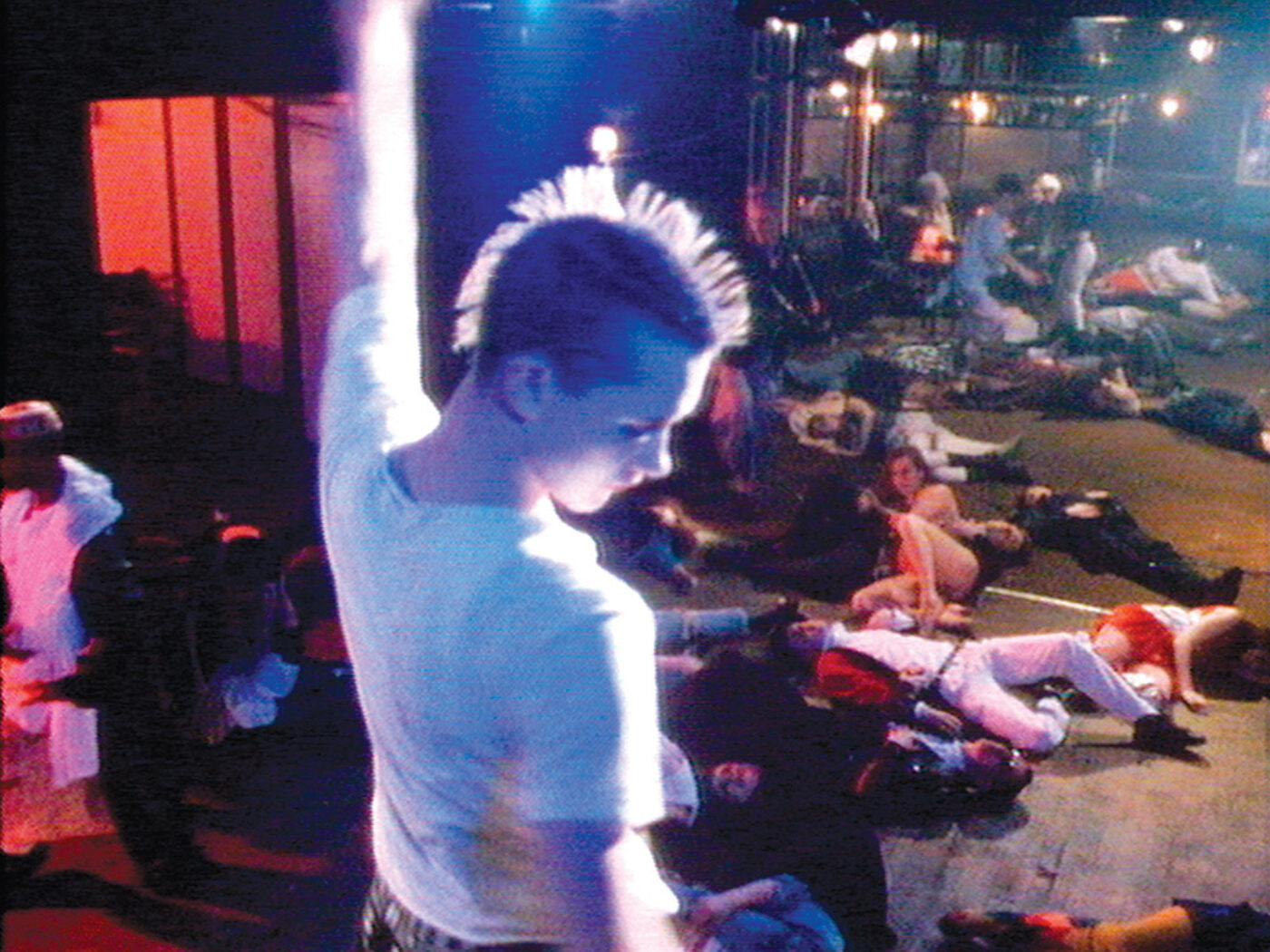 EG I watched it back to back with The Legend of Leigh Bowery (2002), which documents Bowery's life using talking-head interviews and performance footage. If Hail is a fictionalized, larger-than-life piece, then this seems like its more traditional documentary counterpart, at least structurally.
CA Leigh wasn't very honest. He told a lot of lies, and he exaggerated things. I left parts in the Bowery documentary that I knew weren't true. Just to keep that spirit going.
I actually think of it as the companion piece not to Hail the New Puritan but to the Merce documentary [Merce Cunningham: A Lifetime of Dance (2000)], which has talking heads, that kind of thing. Those two films were sort of the A and the Z of my aesthetic sympathies.
EG Cunningham and Bowery are such different personalities.
CA Merce lived to be ninety, and Leigh died before thirty-two.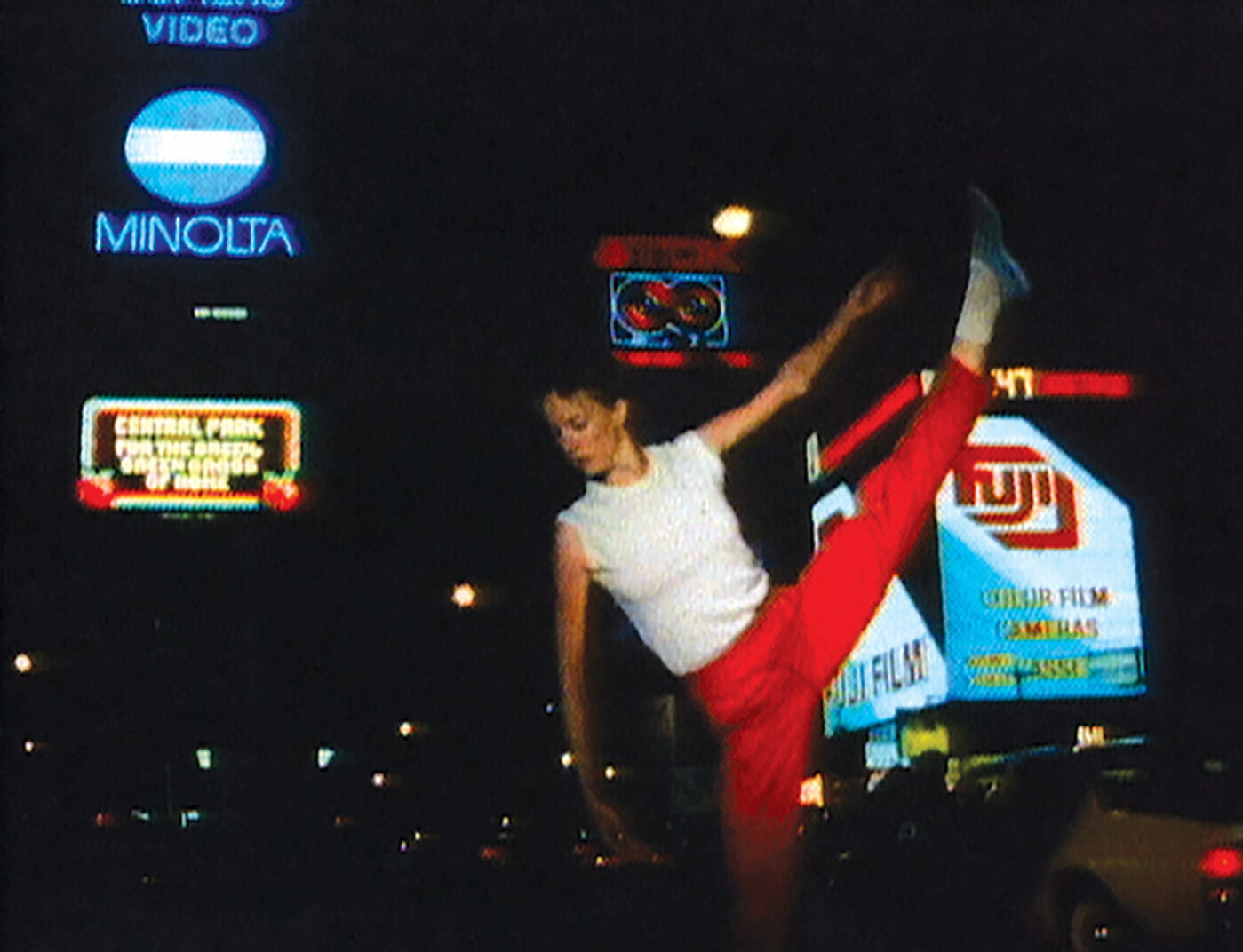 EG I appreciate the way your films incorporate social dancing and dancing in public, particularly your collaborations with Armitage. In From an Island Summer (1983–84), she performs on the Coney Island boardwalk and down the median strip on Forty-Second Street. And in Ex-Romance, Armitage, Clark, and others dance in an airport—at the check-in counter, in the baggage claim, on the tarmac.
CA When I left Merce, he was all about the studio, and it was getting more and more cloistered. His work was becoming purely about movement, and at that point in my life I was more interested in things that went on outside of the studio.
The first piece I did outside, which I actually made while I was still with Merce, was Secret of the Waterfall (1982–83) with Douglas Dunn. I used all the techniques I'd learned with Merce, everything that I'd learned over ten years, with Douglas, Karole, and Michael in various ways.
EG I'm curious about what it was like filming Ex-Romance. I don't know if a low-budget filmmaking team today would be able to get the full run of an airport.
CA We would never be able to do that now, so it's historical footage.
Ex-Romance was originally a project called Romance, and we were supposed to film it in the hills outside Rome, with a beautiful landscape as the backdrop. But we didn't get the money to do that, so we ended up at an airport in Providence, Rhode Island. I think they let us shoot there because the film was going to be shown on PBS and they thought it would serve as a promotion for this airport that nobody was really using. People were flying into New York and Boston, and Providence was sort of an in-between destination.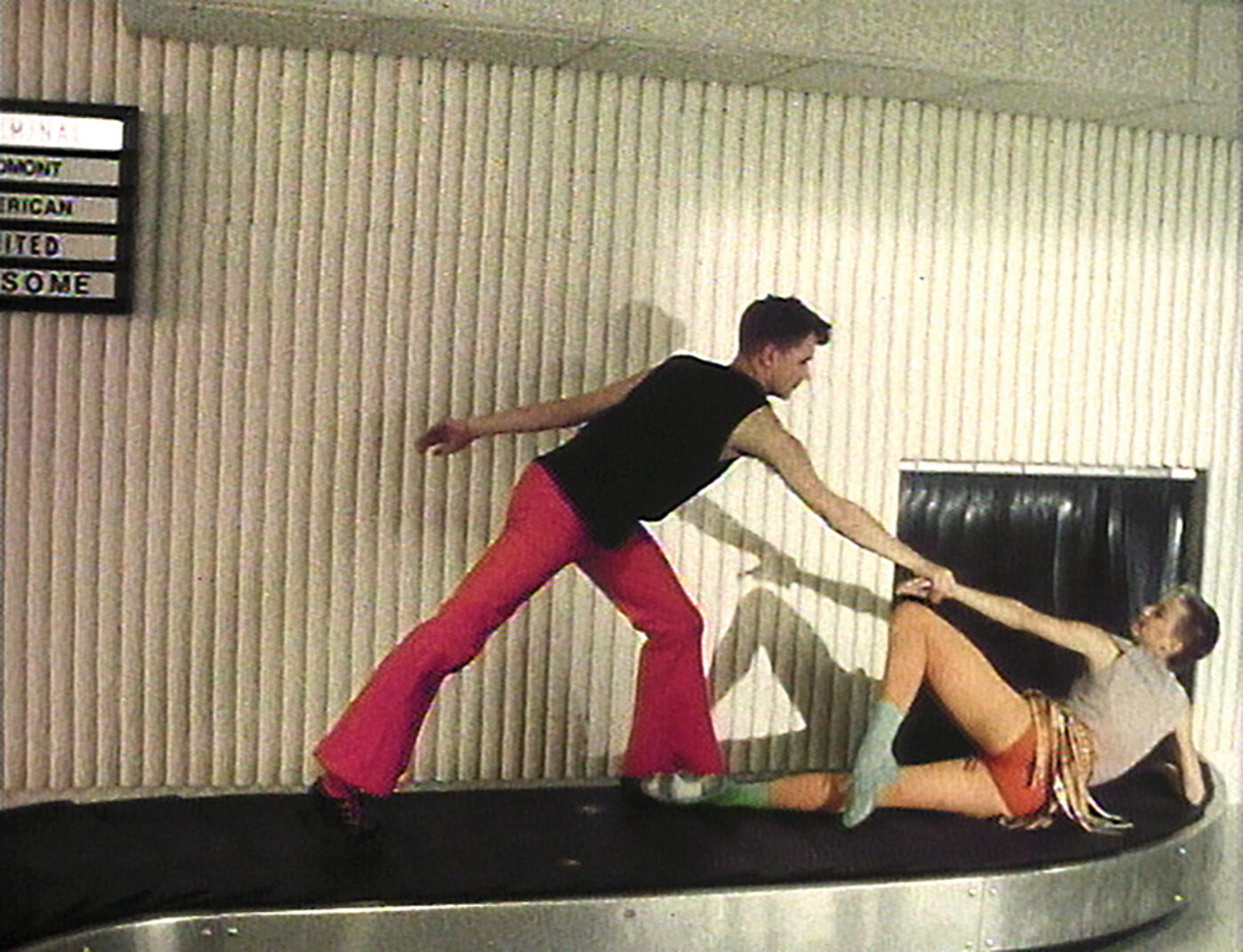 EG You structure the dancing with remarks from public-access commentators, whose dry conversation offers a witty counter to the energized performance sequences. What is your relationship with this kind of television?
CA Well at that point, public-access television was new, and it was so lively. Like the Internet in the early days, everything was very free. Then it gradually got organized; there were more and more rules. It was really fun in the early days, kind of funky and amateur.
The idea for Ex-Romance was very ambitious, and we were in way over our heads. There were large parts of our planned story that we never got to shoot, so I decided to contextualize the fragments with TV-show commentators.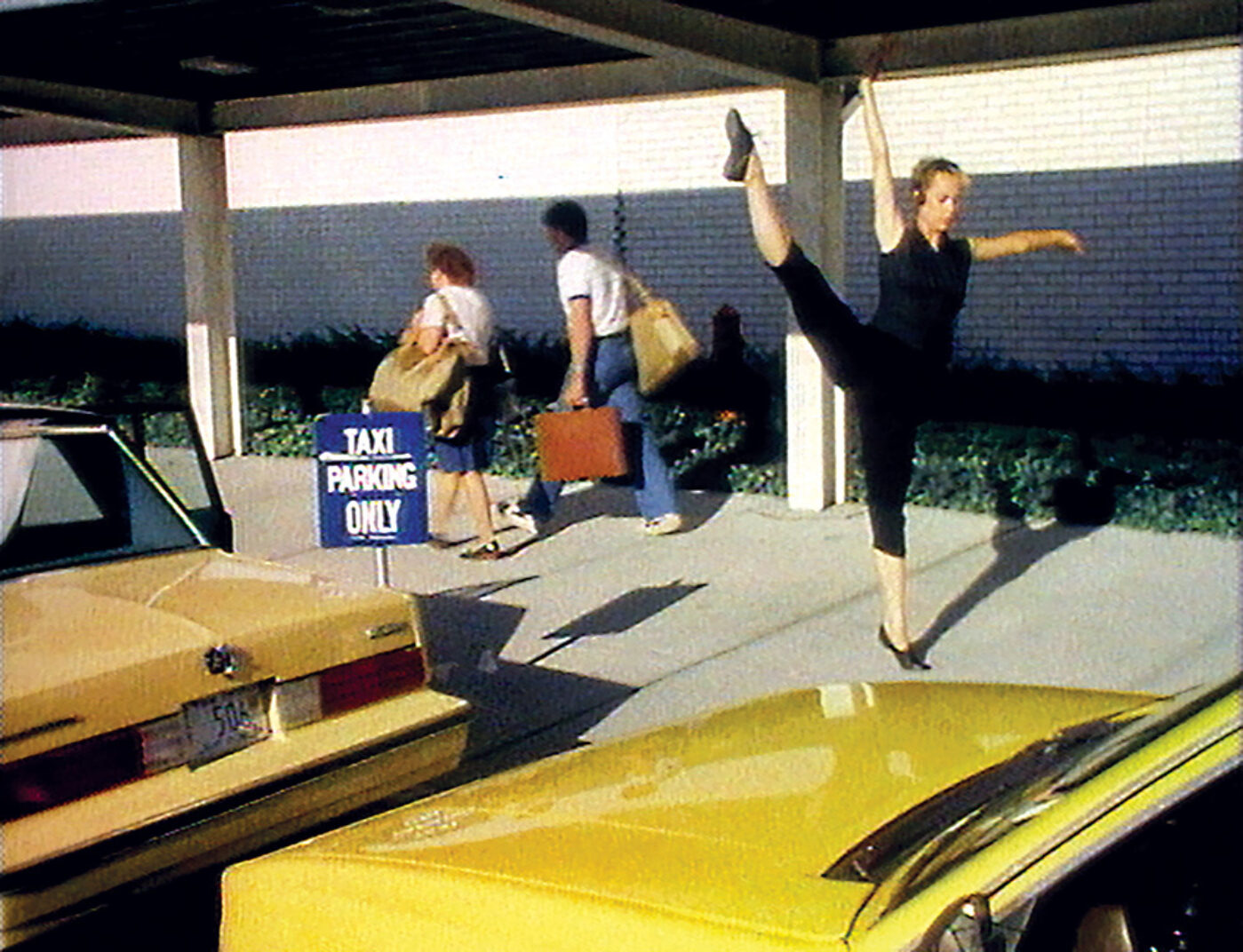 During that period, I was interested in addressing all TV forms. My comment on documentary was Hail the New Puritan, which I always thought of as an anti-documentary. I really hated documentaries at that point.
Then I was blacklisted at PBS for a while because of my film Son of Sam and Delilah (1991) [a response to the AIDS epidemic featuring a cast of drag queens and experimental musicians struggling to survive with a serial killer on the loose]. Word around was that when my name came up for another program, they were like, "He does not understand the needs of a prime-time audience." So I wanted to prove that I could do a traditional documentary just as well as anything else. That's when I did the piece on Merce. It was my first film of that kind. I've only done four proper documentaries: the Leigh Bowery one, Merce, Put Blood in the Music (1989); and Magic City, U.S.A. (2004). TURNING was half and half.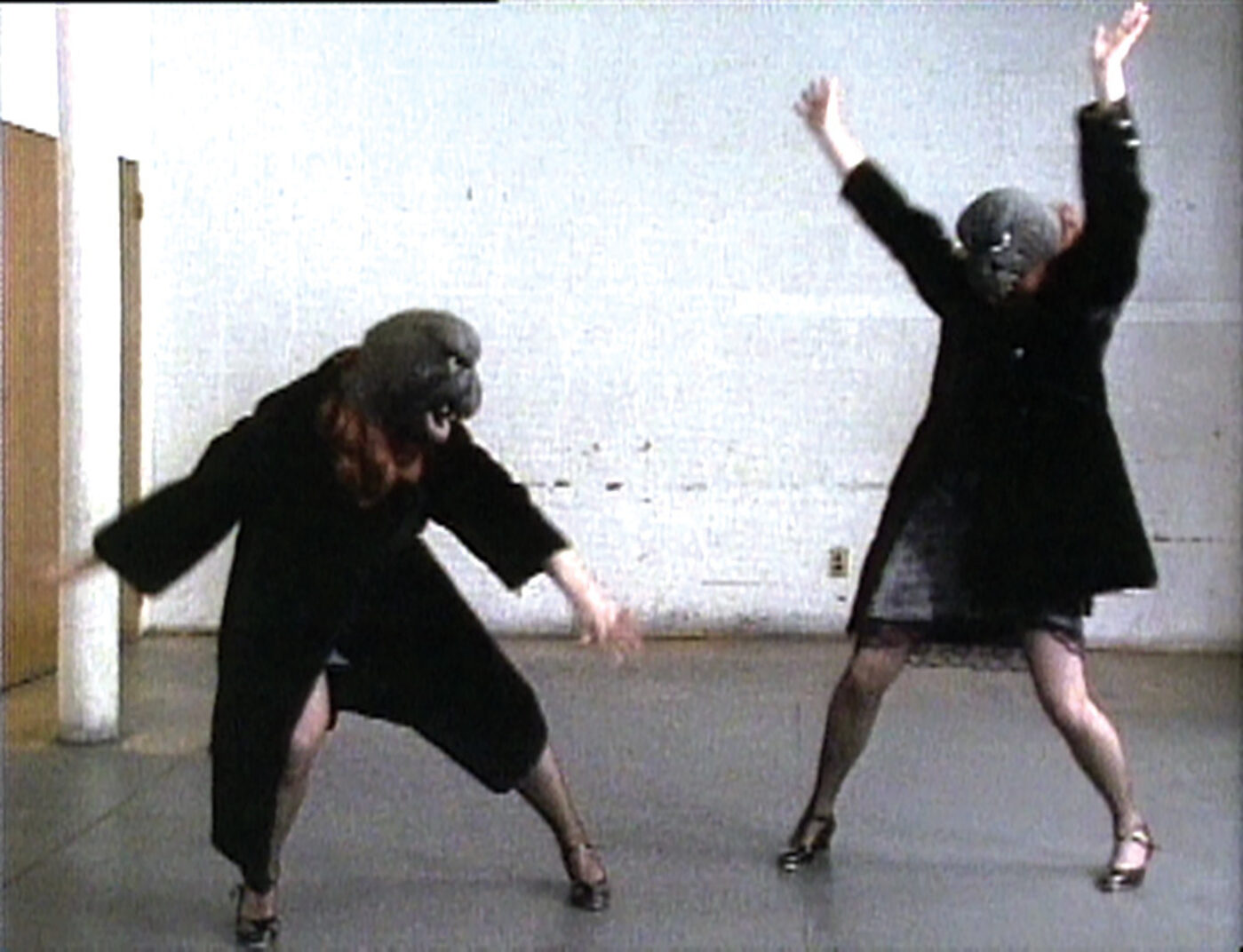 EG Even Put Blood in the Music is a sort of anti-documentary.
CA Well, it's a documentary.
EG Sure, but it splices together the talking-head commentary in an unconventional way. The cuts are unpredictable; there's a blaring soundtrack; and you roll green-screen footage behind the participants. It's dense and chaotic, at times.
CA It's about New York City, so I wanted to make it overloaded, a multiplicity. That's where I developed the style of letting the talking heads tell the story, editing them like I would edit words. It stood out compared to the normal way of doing documentary. Now the form's evolved, and it's more like what I did. But at the time I was criticized: "You didn't let them finish what they were going to say!" I was just using them for the words.
EG Another television project that I'm fond of is As Seen on TV (1987), which you structured around a theatrical audition for the mime artist Bill Irwin, who becomes trapped inside a television set in the rehearsal studio. As the channels flip, he encounters new surroundings—a soap opera scene starring William H. Macy, flashy dance numbers, infomercials. How did you decide which clips to film and which pre-existing footage to use?
CA That film was the one where I worked most with the forms of TV. I got to do a soap opera, which I had always wanted to do; I got to make a Dance in America, which was the ballet one. And since we were working with WGBH, we could get any outtakes we wanted. I got the Vincent Price clip from them and then made it seem like it was relevant to what we were doing. And Bill was friendly with Frank Oz (the puppeteer of Bert and Grover on Sesame Street), so we got to shoot with Bert and Ernie.
I'd always wanted to use found footage from TV, but it's expensive. You have to clear all the rights. Parafango was my first film to feature found footage because it was sponsored by French TV. They said, "You can have one hour on this day, and anything that's on the three channels in that hour."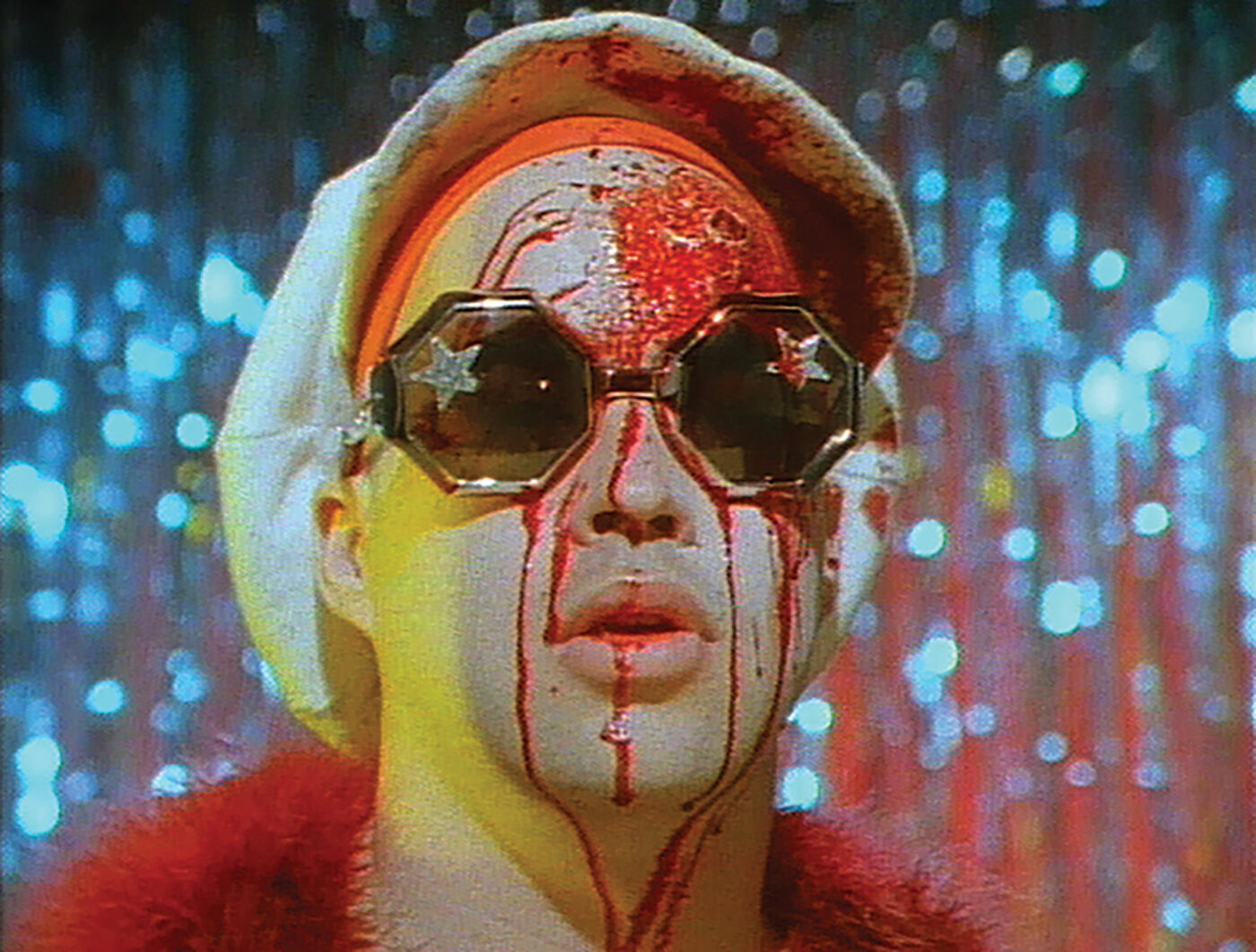 EG Do you watch a lot of TV?
CA I'm an addict, basically. Especially before there was Netflix and all these cable channels and ways of pirating off the Internet. There's way too much to watch now.
EG My friend said he thought you might be a Marvel movie person. Is that the case?
CA I'm not not a Marvel movie person. The only thing that really gets me out of the house and to the movies anymore is IMAX 3D. I go to every IMAX 3D movie I can.
EG Have you liked any of them recently?
CA The last film I saw was the recent Terminator, at the IMAX.
EG My friend saw 1917 there yesterday.
CA I'm a very visceral responder, so I'm sure I wouldn't be able to handle that one.
EG I wanted to ask you a few of the questions that you posed to Anohni when you interviewed her for BOMB in 2006.
CA Uh-oh.
EG One of them, which I thought was especially perceptive, was: "How does your early work feel to you from your current perspective?"
CA My earlier works were made in the spirit of what interested me then. There are certain works you can only make when you're younger. I noticed that in Merce's work too. In his early pieces there are parts that you can actually laugh at, but by the time I was working with him, his works had become humorous rather than laugh-out-loud funny. I used to have a big sense of humor, and I still have one, but it doesn't really appear in my work the way it used to.
EG What do you find funny? What do you laugh at?
CA Currently, Schitt's Creek.
EG It's so funny!
CA It makes me laugh out loud. Catherine O'Hara is amazing.
EG What would your ideal filming situation be?
CA If I ever do a big production again, I need a producer and a budget. I did one commercial piece for Calvin Klein a few years ago that had a forty-person crew and a huge studio. That was beautiful, ideal. I could do whatever I wanted. I had to choose models they approved of, but otherwise, the commission was just to make a good film. I made two: one for the men, one for the women.
Growing up, I'd always wanted to make a feature film. I wrote a script and spent a couple years trying to get it off the ground, but when I got to a certain point, I decided I couldn't do it anymore. I realized that my rhythm is: I have an idea, and then I make it happen. But the idea you have for a feature film needs to be something you're still interested in six years later, through the scriptwriting, all the meetings around the script, raising money, production, post-production, and then distribution. I can't imagine having an idea that would remain compelling to me for years.
EG I was surprised to learn in your interview with Anohni that you were raised as an Orthodox Jew.
CA That's the way I was raised, and then I rebelled. I went to an Orthodox Hebrew academy for my first four years of school, and then my parents couldn't afford to send me anymore, so I went to public school starting in fourth grade. But I still went to Hebrew school after school. But then I rejected all of that. I'm an atheist now. I'm culturally Jewish.
EG Coming to New York, did you find being culturally Jewish meant something to you?
CA I understand Jewish family situations. But I'm from the Midwest. A Jew from the Midwest is different from a Jew from New York.
EG I saw that you had a conversation with Yvonne Rainer for Interview, and in it she asked whether you were a Merce person or a John [Cage] person. She said she's a John person, and you said you're a Merce person.
CA Merce and I had a long, close working relationship. He was a seven-days-a-week person. As a dancer, that's the way you are. It's your body; you keep it in shape. I picked up the bad habit of working seven days a week from him.
EG And here we are on a Sunday.
CA I've always respected John, but in my own work, I rejected his chance-procedure method. I tried it with films—different focus, chance zoom-lengths—but it didn't work for me. Then later, when I started doing live video, which is completely uncontrollable, I became more of a Cageian. You just embrace what exists and deal with it.
EG I'm curious about your process for the live video. What challenges does it pose, and what thrills does it offer?
CA I first started doing live video after I made Rainer Variations (2002). The editing for that film was frame-by-frame, getting the montage in sync. I was all alone editing it and thinking, at this point in my work, with all the experience I have, I know if I spend a certain number of hours on a piece it's going to turn out well. And that's not so interesting. It felt like doing needlepoint, in a way.
The first live piece I did was Muscle Shoals (2003), and it was just liberating. If I had made that in my normal way of working, it would have taken ten times as long. So I pursued live video for a while; now it's sort of part-time. I do so many different kinds of work that it's hard to get as good at one as the people who do that all the time.
We were recently invited to do Tesseract (2017) [a collaboration with Rashaun Mitchell and Silas Reiner] again in Abu Dhabi. I don't know whether that's on or off, but it's probably on.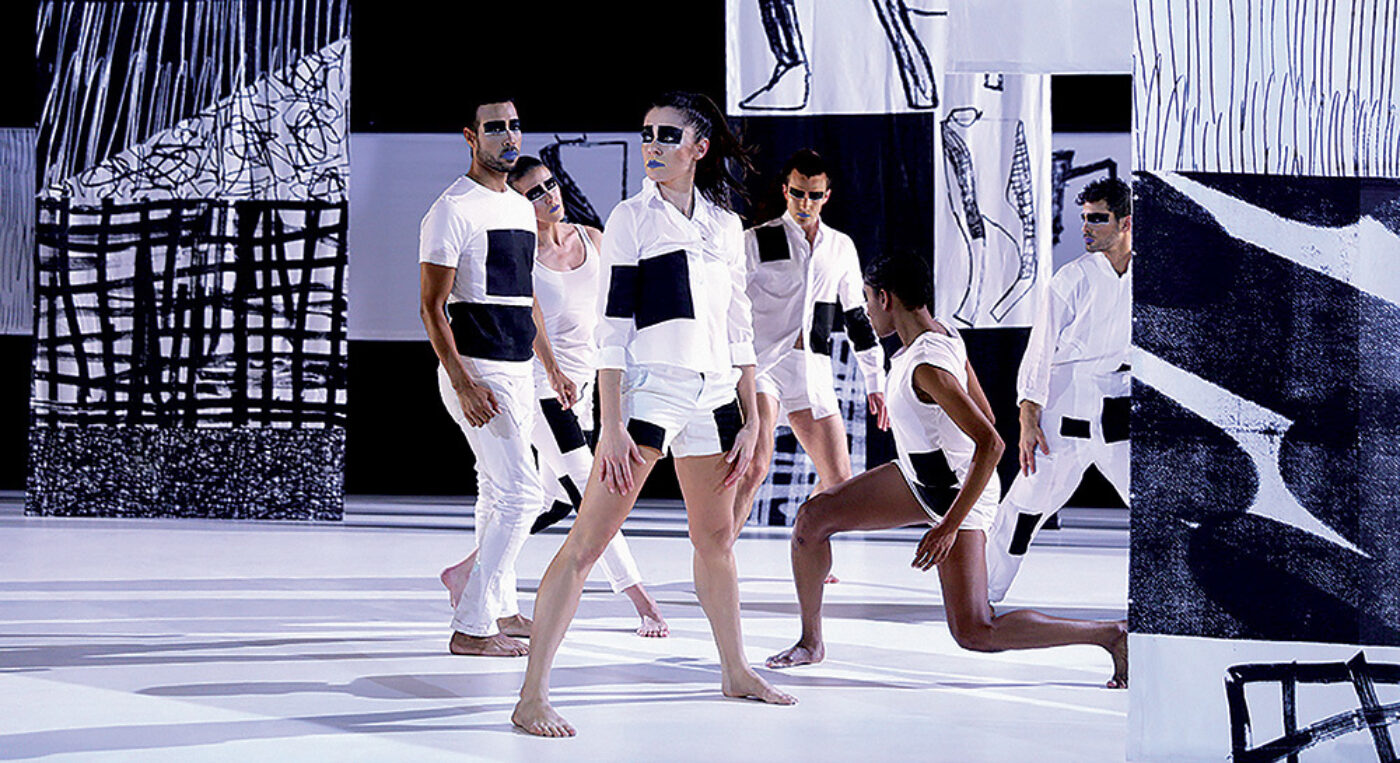 EG I guess you have half of it ready to go, since the first part is pre-recorded.
CA Yeah, we've taken it to Abu Dhabi once before, and they only wanted the second part. Now they just want me to edit out the last duet. I knew that there's this modesty thing. I didn't even know how they would handle the girls with bare legs. But the duet with Silas's ass crack was never going to be okay—and it was two men. I said I would edit it out if they wanted to show the rest of it.
EG It's interesting to me that they would only want the second part. When I saw it, I loved being so close to the bodies onscreen, watching them in 3D. And then, suddenly, they were there on the stage, so small.
CA That was the point of the whole piece!
EG I had the chance to ask Rainer what she thinks people most overlook in her work. I'd like to ask you the same question. Her answer was her sense of humor, which I think is integral to her approach!
CA That's what I picked up on when I was making Rainer Variations. I was like, "I want to do a piece about your sense of humor because people don't get it!" I mean, it's easy to overlook because there's so much of the dry—
EG The deadpan.
CA I guess what's overlooked in my work is the seriousness. I think it has to do with the fact that my work seems accessible. It's not forbidding. In the art world, that's not the kind of virtue you might think it would be.
I try to make my installations immersive and experiential. But I'm not conceptually oriented. I have different intentions.
EG I also find that sometimes when people watch dance on camera, they forget about the filmmaking aspect of it.
CA In the early days, you weren't even considered a video artist unless you were sitting in front of the camera yourself. And I was never that kind of person. There's this whole idea that doing portraiture and dance films is just documenting a readymade subject. But when you think about Degas or certain photographers who do portraits, it's not only about the sitter; it's also about the artist. The same goes for my work.
EG The dance critic Jill Johnston wrote an essay ["Communications" (1965)] about the idea of losing dance without good writing and good films to preserve it. It's such a transient art form, and I often think about how to document a dance in a way that will connect with readers who might never have a chance to see the performance. Do you feel that way with your work?
CA When Johnston wrote that, it was before the age of everything being documented all the time. This whole idea of dance being ephemeral was fine when Merce said it in the '50s, but it's not strictly that way now.
Then again, as much as I try to make a kinesthetic experience available, it's not going to be the same as watching the live dance. There was a controversy at some workshop I did in the '80s about whether there would be dancers in the future who only dance on film. And my response was there won't be great dancers who only dance on film because to be a great dancer is to move in a real space, in front of an audience.
EG There was a moment when I almost moved to LA, but I was worried about missing all the live dance in New York.
CA I would say that now is actually a golden period for dance in New York. There was a moment when it wasn't. In the '70s, American dance was all over Europe. They were bringing all of us over there to tour. The money we made on those kinds of tours was how we survived. Eventually, they stopped bringing over so much American work and started focusing on their local artists. They also had more resources than Americans had—you know, government funding, theaters to work in for long periods of time, money for sets. When European dance companies brought their work over to America, the production value was kind of overwhelming. That's the way I experienced it, anyway. It took a while for the rough-and-ready aesthetic to rear its head again.
EG What about your work as a costume designer? I haven't heard you talk about it much.
CA I haven't done it for years, but I started designing when I was with the Cunningham company. I'm not a patternmaker or a tailor, but I had a lot of ideas about ways to approach costuming. I did it for some of Merce's dance pieces and films and made a lot for Douglas. I did it for Michael for a while too. But when Leigh came along, I basically gave up. He was better than me, so I didn't have to do it anymore. I made costumes for modern dance companies in New York and dyed them on the stove here myself. Then, when I worked with Karole, we did a couple pieces for the Paris Opera. That was another kind of experience; you just gave them drawings, and everything turned out perfect. They had a shop with seamstresses and fitters and everything.
Things have evolved. Nowadays people who actually know about making clothes are the costume designers. I can't even sew a button.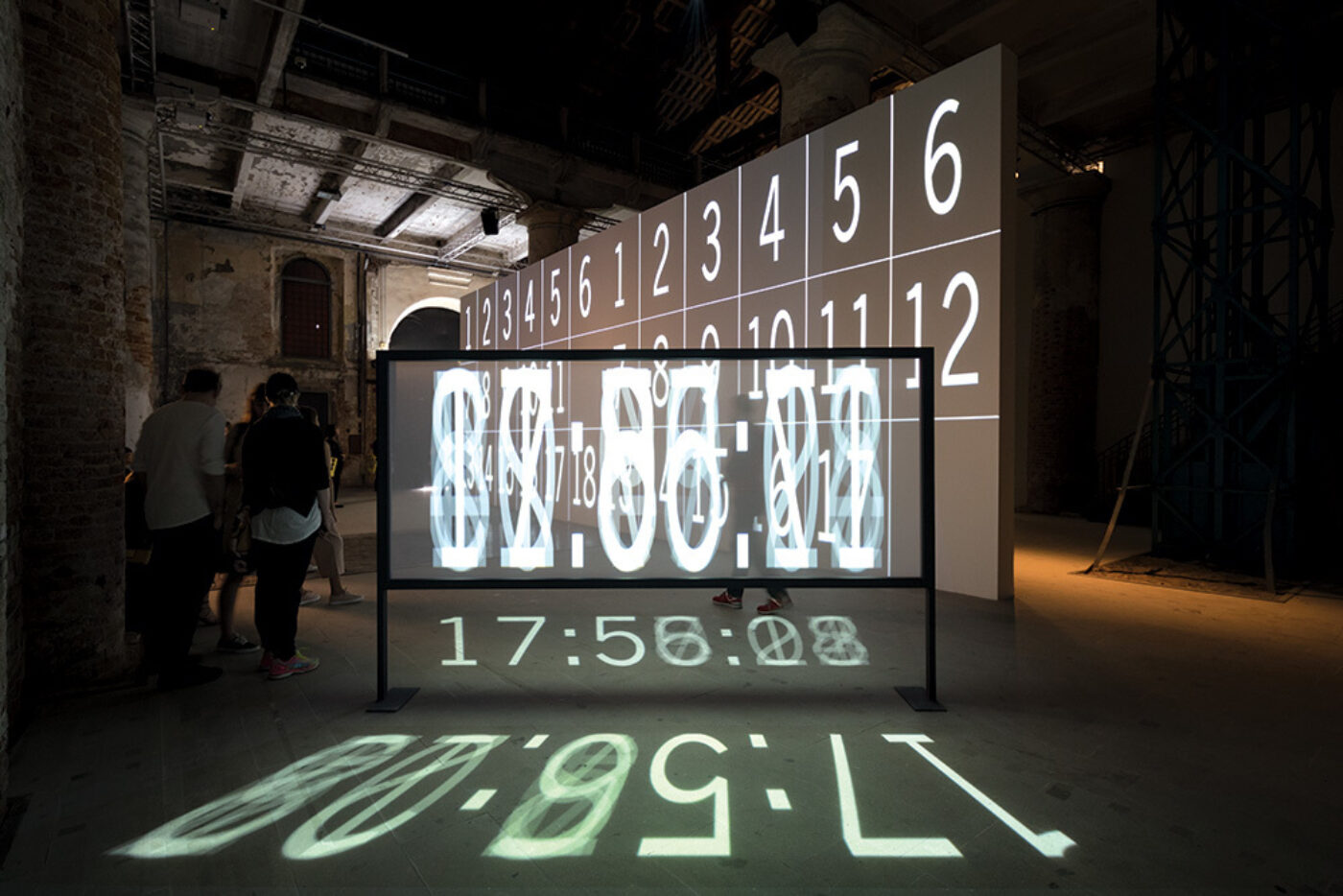 EG What are your thoughts on the distinction between having your work shown in a gallery versus a theater?
CA I don't like having my single-channel work, originally made for TV or screening rooms, shown in galleries. For me, galleries are for work that is multi-directional, multi-channel, immersive, experiential. During one of the biennials, they showed Ocean (2010) upstairs at the Whitney. That's a big film, but it's a single film. Normally, I don't like to sit in a gallery and watch a film. I just think that's the wrong idea. If you want to show a film like that, you have to have some place you can sit down and be comfortable.
EG One of these multi-channel, immersive works, The Tyranny of Consciousness (2017), features Lady Bunny delivering a monologue about structural inequality and environmental catastrophe. Her video channel is accompanied by a collage of forty-four different sunsets over water and an eighteen-minute digital countdown clock. I wondered whether you would elaborate on your decision to make a project that radiates a sense of emergency and distress?
CA Much of my work since 2008 has had that feeling. I made an installation called Tornado Warning (2008) and subsequently some live performances communicating my sense of foreboding. Later, in 2012, I did a solo show called The Illusion of Democracy, and in 2015, another called The Waning of Justice. These are all elaborations of that feeling.
EG Now you can flip through the channels and see Lady Bunny onscreen in RuPaul's Drag Race. Do you have any thoughts on the commercialization and mainstreaming of drag?
CA Drag is my favorite kind of thing. I grew up—grew up!—with drag queens at the Pyramid Club in the East Village. I guess a distinction between now and then is that wit used to be more important than the makeup. Nowadays, it's more complicated with the gender spectrum.
RuPaul was actually a part of the crowd that I was with in the '90s, so I felt like Drag Race was just a retread of what I already knew. But it has such a huge audience among the younger gay crowd. It's a really iconic work.
EG It's a Jackie Thing (1999) was made from your personal footage from Jackie 60 [a weekly event at the Meatpacking District nightclub Mother]. You compiled drag performances of Connie Fleming and Joey Arias, and there are appearances by DANCENOISE and Anohni, as well as Richard Move and Mark Dendy—both performing as Martha Graham. And you're part of it—in the audience laughing! It feels so different from your other work.
CA I have all these films from clubs in the '80s. I'm trying to get them transferred, but the lighting in the footage from the Wah Wah [King Tut's Wah Wah Hut in the East Village] is so bad. There's one spotlight, and it's not even on the people performing. I have some footage from the Pyramid Club too. But when I used to go out with my camera to nightclubs, I was also drinking and taking drugs, so most of it's not totally serious. You can hear me laughing on the omnidirectional mic. It's all very embarrassing.
EG I find it charming.
CA It is what it is. But I have about a hundred tapes, and I've transferred about thirty of them. There's great stuff: Ethyl Eichelberger, Alien Comic, a lot of DANCENOISE. I am a DANCENOISE groupie.
EG Were other people there documenting?
CA Well, there was Nelson Sullivan, the videographer whose work has now been exploited to death on Channel 4 in England. I only took the camera out to clubs; he took it everywhere.
EG Do you think your instinct has always been to document and gather?
CA No. I mean, in the back of my mind I kind of justified it by thinking that maybe I'd discover something new about filmmaking, but I don't know what I was expecting. I didn't. It was part of my evolution though.
EG These days it seems like we're all documenting everything in this overwhelming way.
CA And everyone is so used to being on camera too, which wasn't always the case. In the earlier days, the dancers didn't know where to look. They'd say, "Oh, that's what I look like? I don't really look like that." And then there's the sound of your voice. "Oh, that doesn't really sound like me." It's different now. Everyone is used to being on or behind the camera.
Erica Getto is a dance writer who also works in film and television development.
Originally published in
Our spring issue features interviews with Chitra Ganesh, Tania Cypriano, Charles Atlas, Netta Yerushalmy, Vi Khi Nao, Amani Al-Thuwaini, Andrea Hasler, and Bruce Boone, as well as fiction from Verónica Gerber Bicecci, Justin Taylor, Rebecca Dinerstein Knight, and Lee Relvas, and poetry from Shuzo Takiguchi and Bruce Boone.