Changing the Dial: Robert Ashley's Improvement (Don Leaves Linda) by Alec Mapes-Frances
A newly reconstructed "opera for television."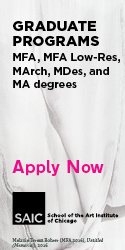 Robert Ashley often spoke of his work in practical terms. "I don't have a theory; it's an on-going idea of how to put American words with music," he says in a 1985 interview, shortly after writing Improvement (Don Leaves Linda) that same year. "I'm learning how to write American opera; I don't think it has been written before, and I don't think that what I'm doing is the end of it, but I think that I'm on the right track. I think that what we're turning up in these pieces could be useful to a lot of people."
"American opera" meant, for Ashley, telling stories in a special version of demotic American English: soft, half-sung, full of idioms and asides and ideas, familiar and yet difficult to place (though bearing the occasional trace of a California drawl or Midwestern lilt), and deeply influenced by television, radio, and corporate vocabularies. Ashley's fifteen operas, written between 1963 and 2013, are about not only the sonic and musical capacities of such language, but also the structures of feeling, administered by flows of media and advertising, that characterized the late twentieth-century American psyche.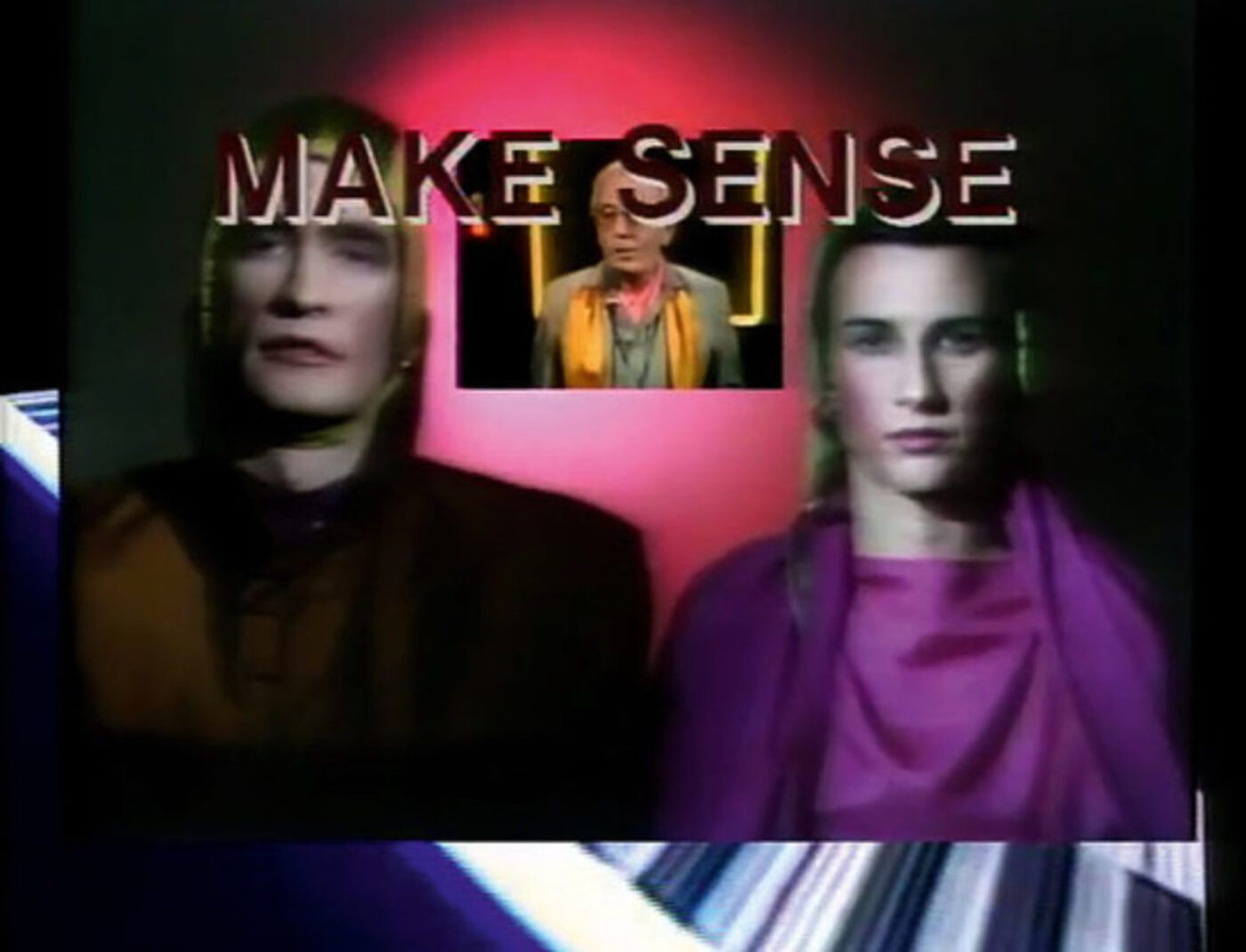 Improvement (Don Leaves Linda) is Ashley's sixth opera, and the first installment of Now Eleanor's Idea, a tetralogy about "the history of consciousness in America." Set somewhere in the Southwest, it's the story of Linda, a character who first appeared as a bank teller in Ashley's television opera, Perfect Lives (1984). Improvement opens with the departure of Linda's husband, Don, who abandons her at a highway rest stop. Linda hitches a ride to the airport and returns home. She begins and ends a romantic relationship with a tap-dancing man named Mr. George Payne, moves to the Big City, goes to cocktail parties, excels in her career, burns out, and retires to a place in the country. With commentary from two Narrators and a mostly monotone Chorus, Linda's life unfolds in twenty-three dreamlike scenes that include inquisitions by airline customer service representatives ("The Airline Ticket Counter"), discussions of the importance of pasta ("Supper with Mr. Payne's Mother"), a song about Tarzan on the radio ("Tarzan"), psychoanalysis ("The Doctor"), a thesis on Aniconism ("The Offering of Images"), an inventory of Linda's diet ("The Good Life"), and a letter from her son, Junior, Jr. ("The Bridge Game").
Although Improvement is Linda's story, almost everything in the opera is keyed to historical, theological, and philosophical themes, creating a baroque universe of reference that extends across several of Ashley's operas. "For the sake of argument Don is Spain in 1492 / and Linda is the Jews," the composer explains to us in the Prelude. In fact, Improvement's libretto lists a total of twenty-eight allegorical equations, including, among others, "Mr. George Payne=Giordano Bruno," "Mr. Payne's Mother=The Roman Catholic Church," "Happiness, Prosperity=America 1952," "The Airline Ticket Counter=The Inquisition." Such symbolism convolutes the rather straightforward content: the anatomy of a relationship, the self-improvement of a protagonist, meditations on a life. Every quotidian detail opens onto networks of cosmic significance; or, as Ashley puts it, "Every point seems to portend more than can be justified."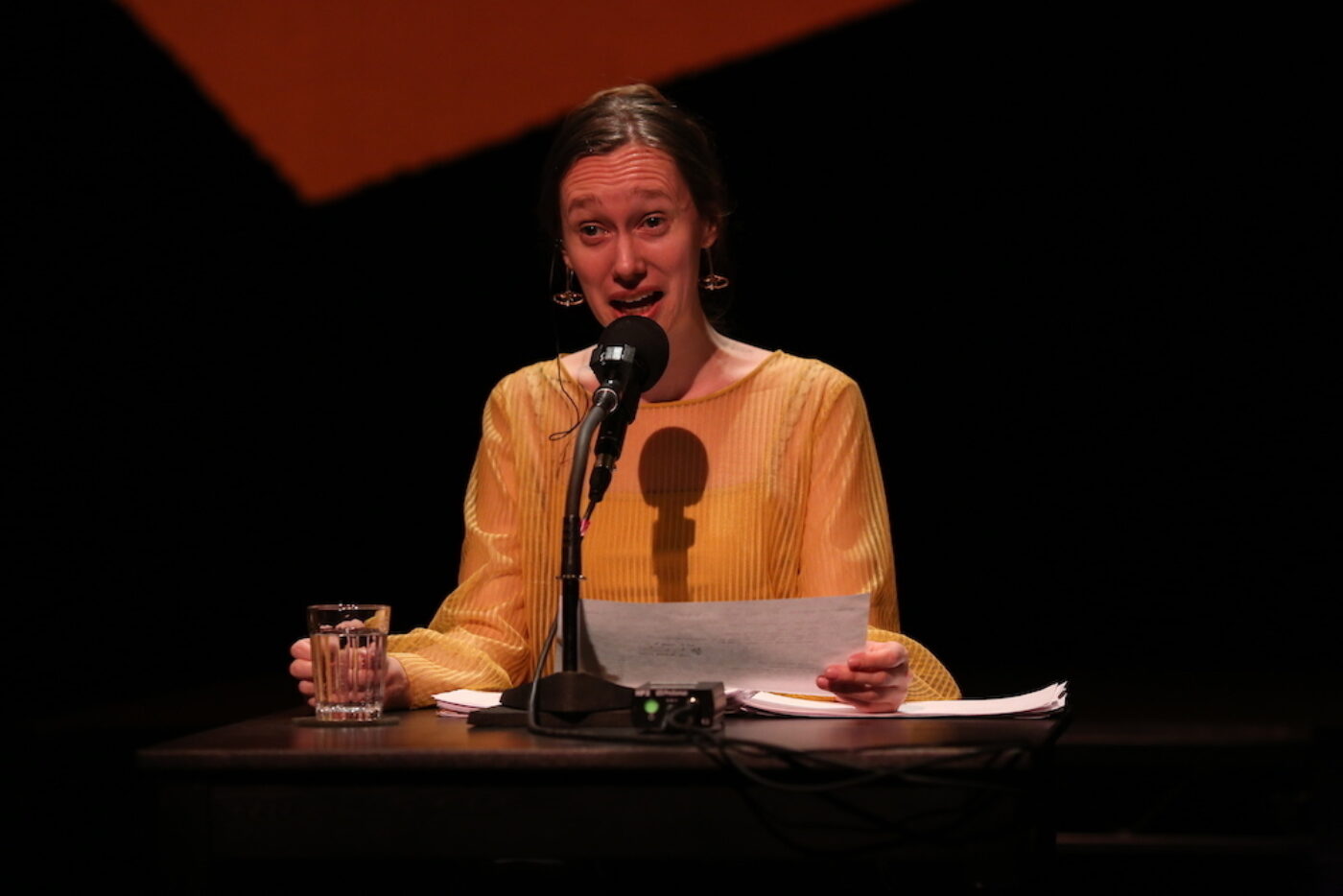 In its latest realization at The Kitchen, Improvement is staged in the minimal style typical of Ashley's later works. Six performers sit at six small tables on raised platforms, with Gelsey Bell (Linda) at the center and the rest of the cast (Paul Pinto, Dave Ruder, Aliza Simons, Brian McCorkle, and Amirtha Kidambi) situated around her. (An empty platform at the back stands in for Ashley, whose recorded narration plays a few times throughout.) A colorfully lit background and a simple set—a landscape and a road—are the only other visual features.
The performers are metronomically synchronized via earpiece, their vocal patterns regulated according to Ashley's parameters: three to four beats per line, seventy-two beats per minute, eighty-eight minutes total in duration. This structure does permit some improvisational latitude, but, overall, one has the impression that the clock is supreme. The musical accompaniment, reconstructed by Tom Hamilton from recordings he made with Ashley, bathes everything in tinkling piano, droning synth pads, and electronic blips. It's an ambient envelope for the opera's disjunctive verbal content.
Ashley's characters talk to themselves and to each other with delay, repetition, and reflexivity. The language oscillates constantly, from conversational to confessional to didactic to paratactic. All of this complexity is convincingly mastered by the cast, a new generation of Ashley exponents. Although the parts were written for Ashley's "band" (present on the definitive 1992 Elektra/Nonesuch recording) and were not even necessarily intended to be performed live, the performers manage to contribute their own interpretations rather than imitating the original performances of Sam Ashley, Jacqueline Humbert, Joan La Barbara, Thomas Buckner, Amy X Neuburg, and Adam Klein. In some places, the new production has even sharpened some of the opera's more indistinct passages ("The Correspondences Text," in particular), bringing out some of the detail that was lost in Ashley's recording.
More than anything, the texture of Improvement recalls the miscellany of television. Ashley suggests to interviewers that the characters in his operas are continuously "making moment to moment changes, just like changing the dial." Indeed, in many ways the opera responds to a cultural condition that the theorist Raymond Williams would identify as television's most important innovation: flow, or the accommodation of otherwise discontinuous objects and genres into seamless, long-form, and open-ended streams of commercial media. "Improvement has a lot of internal parts that don't have any great meaning attached to their relationship, it's just that there are a lot of internal parts each one of which is interesting for a minute or two," Ashley observes. "And you can see people who are switching the dial. Just like when you're watching television with somebody else, it's very nice to have that person do all the steering. It's really beautiful to watch television with someone else, and let them make all the choices, because then you are watching a piece."
Television's dominance as cultural form and cultural technology may be passing, but the value of these underlying concerns remains. In our particular moment of apophenia and alienation, amid accelerated streams of digital content, Improvement is as useful as ever.
Improvement (Don Leaves Linda) continues at The Kitchen in New York City from February 13–16.
Alec Mapes-Frances is a writer living in Brooklyn.