"Pictures unpainted make the heart sick."

Discover MFA Programs in Art and Writing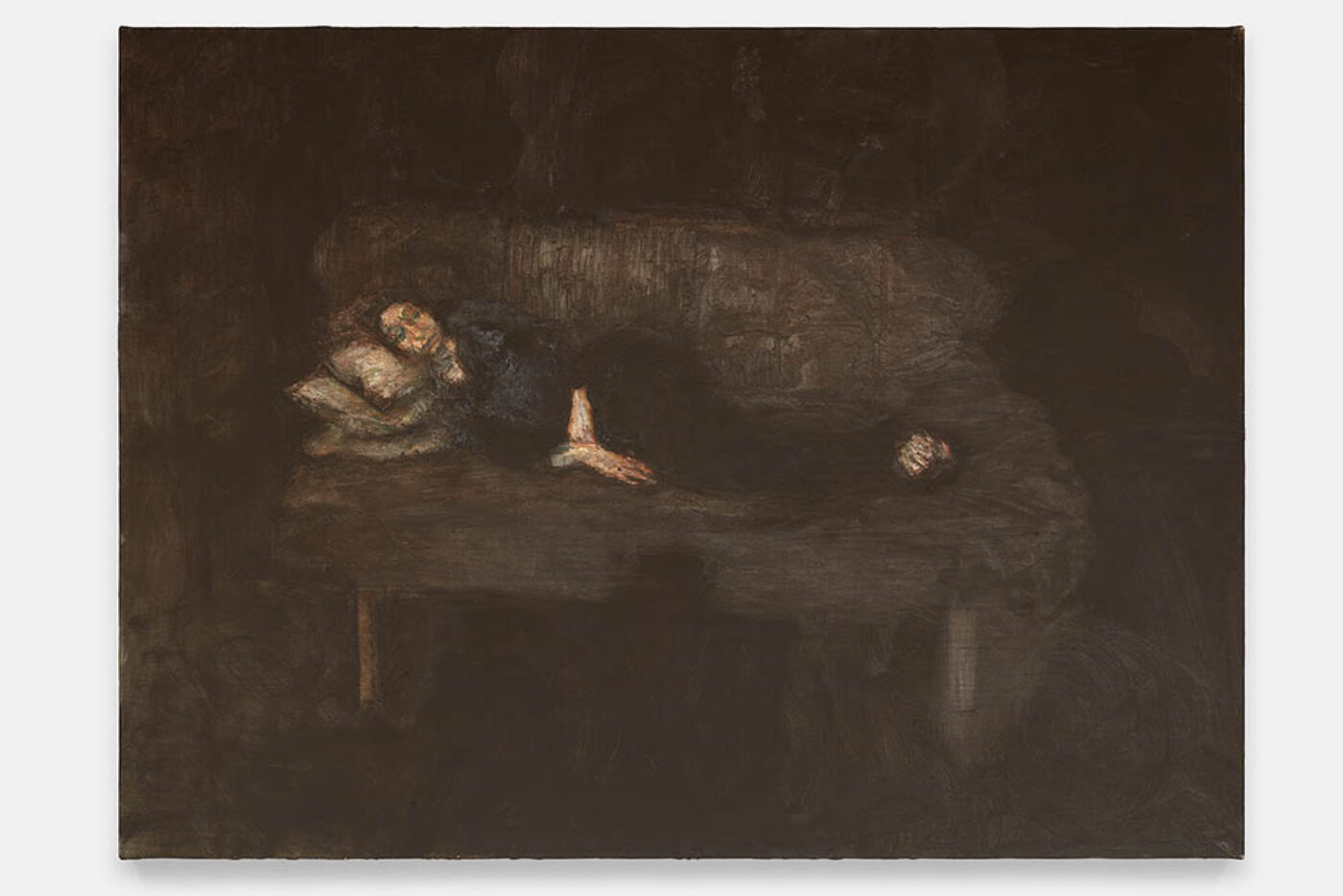 Women, and their spirits, permeate the work of painter Celia Paul and writer Hilton Als. Paul, for example, has often relied on her mother and four sisters as models for her exquisitely delicate, practically dissolving, portraiture. Her technical style with her chosen media—both oil and watercolor—feels both physically immediate yet completely mnemonic. If she doesn't personally, deeply, know the person she paints then the image leads to nothing—to where it all began—a blank canvas. Hence: the significance of her beloved mother. This is where the story turns, as some might say, a wee bit weird: Her student paintings of her mother served as a point of introduction to the visiting tutor Lucian Freud—soon to be (temporary) mentor, lover, and father of her son, Frank. Paul, at the time, had been entranced by Freud's paintings of his own mother.
The first chapter of Hilton Als's debut book, The Women, begins with a mystery: "Until the end, my mother never discussed her way of being." The writer's mother—reminiscent of those of Paul's and Freud's—serves as a model for artistic exploration. I see Als, just like Paul, merging with (and often dissolving into) his subject matter. Or, better yet, trading places. My favorite example, at the moment, can be found in White Girls, his second book. It occurs in the chapter, "I Am the Happiness of This World." In it, Als proclaims: "I am Louise Brooks."
This interview, published on the occasion of the Celia Paul exhibition (curated by Als) at the Metropolitan Opera House's Gallery Met, adds yet another woman to the equation. This time she's even more of a phantom. Her name is Desdemona (apparently in opposition to Eudaimonia). The show—which includes a small (of course dissolving) portrait of Als—is pegged to the Met's current production of Verdi's Otello. Paul's self-portraiture, the images of her family, and a few of her ocean wave paintings, feel, somehow, perfectly in place here. In keeping with the theme of the deliquescent, Als suggested that their interview appear without his questions. BOMB has dutifully granted that request.
—Chris Chang
16 Answers to Hilton's 16 Questions
1 I was born in Trivandrum, South India. My parents were Christian missionaries and my father was head of the theological seminary. I am the fourth of five daughters. We came to England when I was five.

2 I became interested in art when I was fourteen, nearly fifteen. I had always drawn and painted a bit, but no more than my sisters did. My family was more interested in literature than painting. There were lots of books in our house, but no original works of art on the walls. I was very ignorant about visual art. 

3 I wrote poetry too, but the activity of painting seemed to connect me more directly to my inner life. I have never been interested in making sculpture. I don't feel that an object in the middle of a room, or in a public space, demands the same intense focus as a painting on a wall. 

4 I went to boarding school when I was eleven. My father had recently been made head of an evangelical community in North Devon. It was in a spectacularly beautiful setting on the Exmoor coast, but it was very remote, so there were no schools nearby and all the daughters had to go to boarding school again (my three older sisters had boarded from the age of four when we were in India). I'm a very private person, so it was traumatic for me to have no privacy either at home (because my family lived with the community) or at boarding school. I started painting so that I could have privacy and some control over my inner life. It wasn't a good school, but there was a wonderful art teacher. She let me have the key to the art room so that I could work there on my own after lessons. I also formed a very intense friendship with another girl in my class. Linda was also passionate about painting (we used to lock each other out of the art room!) Art became everything.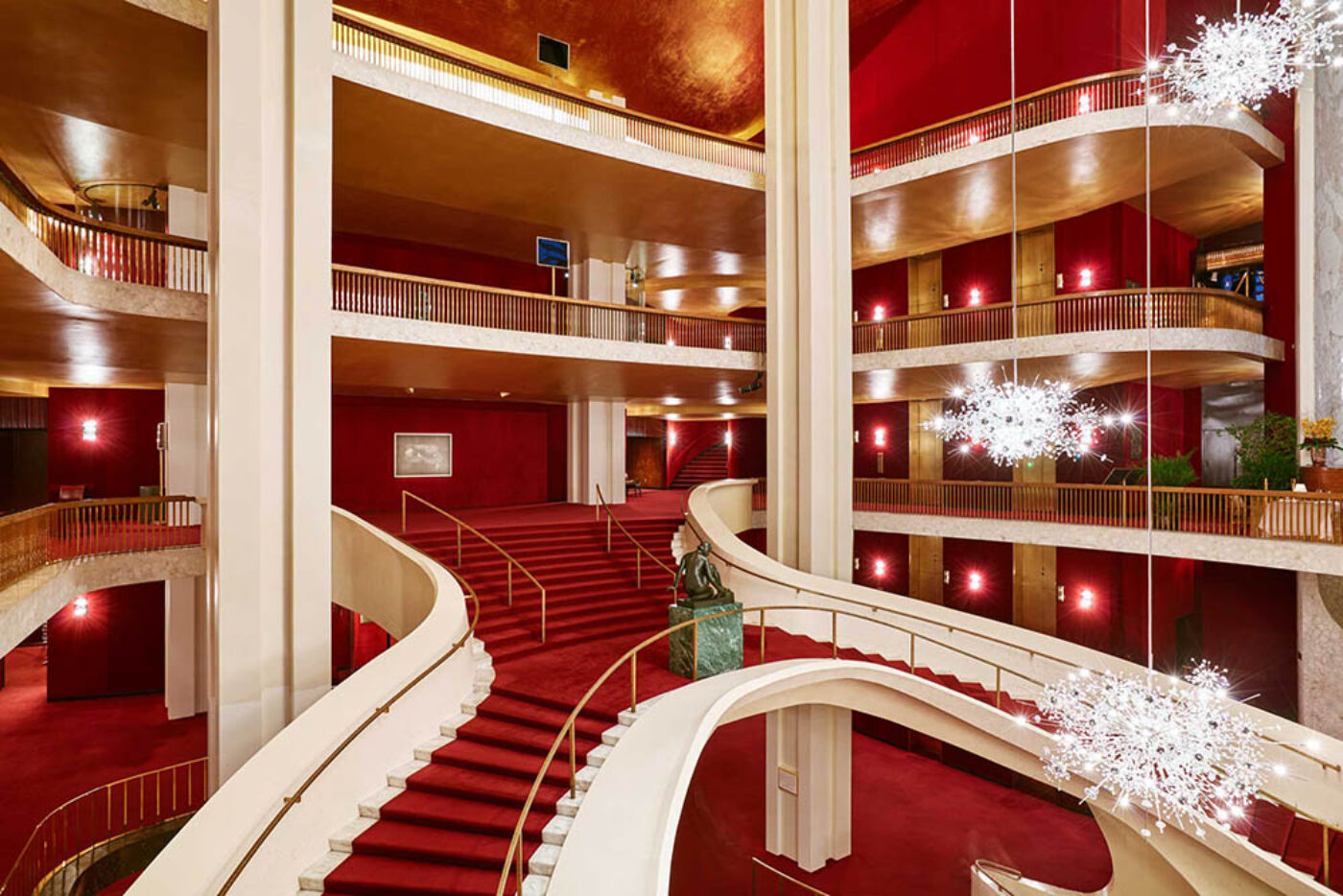 5 My first real paintings were of nature and natural objects that I found on Exmoor. When I went to Slade School of Art, my focus turned toward people. I drew and painted the life models but didn't really feel a connection to them, especially in the artificial setting of the studio. When I went home for the holidays, I visited the local old people's home and painted a series of portraits of the old ladies there. I was moved by them: their stillness, resignation, stoicism, and by the sense of all their memories, and by all that they had endured. Even though I was only seventeen, I think I understood. 

6 I don't like church or any sort of religious organization; I don't like belonging to a club or a group; I don't like some people being included and others excluded. My father felt strongly that you had to belong to the church to be a Christian. But he was a very good, compassionate man. He believed in the power of prayer. I think the discipline of prayer, and the emphasis on giving up your ego in order to get nearer to God, has had a profound influence on me. 

7 By the age of sixteen, my obsession with painting had really taken hold, so that it was all I wanted to do. Also, my friendship with Linda had become threatening to me: we were unbearably competitive, and I was unhappy. My art teacher wrote to Lawrence Gowing, who was head of The Slade at the time. It must have been a very good letter, because my teacher got an immediate response from Lawrence, saying that he would like to see my portfolio. When I met Lawrence at The Slade, he looked seriously at my work and thought I should be enrolled as a student, even though I was only sixteen. He wrote a wonderful letter to my father, saying: "Pictures unpainted make the heart sick." My father, who had been reluctant, was immediately won over. 

8 Lucian Freud did a brief stint as a visiting tutor in the autumn of 1978 (when I was nearly nineteen). I felt an immediate connection to him. I had recently seen an amazing exhibition of his portraits of his mother; I had been painting my mother as my main subject, too. I knew that he only worked from people he knew and/or loved. This felt liberating to me because it was so opposite to the method of The Slade tutors, who only worked from life models, and never worked from the women they were intimately involved with. Also, I felt there was honesty in the subdued greys and browns of Lucian's palette, which were true to the colors of London. At The Slade we had been taught that only the brightest colors were acceptable—the influence of Cezanne, who, after all, painted in the dazzling light of the South of France. I felt that Lucian's northern palette related to the Dutch art I loved so much. Especially Rembrandt. 

9 I loved Walter Sickert's paintings. I too wanted to do paintings that were about something, in the way that a poem or a story is. I loved Gwen John's paintings. I connected to the interiority, the quietness, the stillness and the melancholy. I also loved Frank Auerbach's work—the riskiness of scraping down whole paintings again and again, with all the anguish of loss that must involve, to reach the absolute rightness of the final image. 

10 I know that when I first began to work from the model, when I started at The Slade, I was very impressed by some of the other students' very literal, detailed, and almost photo­realist paintings of the figure. I tried to do the same, but couldn't. Lucian described my early work as looking like it had been done with "a loving knife and fork." I began to find my own way and work with more freedom. My best friend was a filmmaker, Jean Matthee, and there was also a lot of talent, especially in performance art: Kate Elwes, Ian Robertson, Mona Hatoum. It was the age of Punk and a lot of the students were very much into fashion (though I wasn't). 

11 I had my first solo exhibition in 1986. Figurative painting was very fashionable and my exhibition was a success. During the 1990s all of that changed. Everyone was saying that painting was dead, and really believing it. It was a very difficult time for me. I felt unsupported and isolated. Of course I carried on painting, because it was and always will be, my life. But it did affect my work. I was conscious of new conceptual ideas and I did a painting titled "Steve in the Age of Mechanical Reproduction" (my take on the Benjamin essay). I tried to refute Benjamin's "loss of aura" by painting two spiritual, "identical" portraits which I framed as a diptych. The late '90s/early 2000s were very difficult for me financially because of the attitude toward painting. But I did start to come to terms with my isolation artistically and began to use it in my work.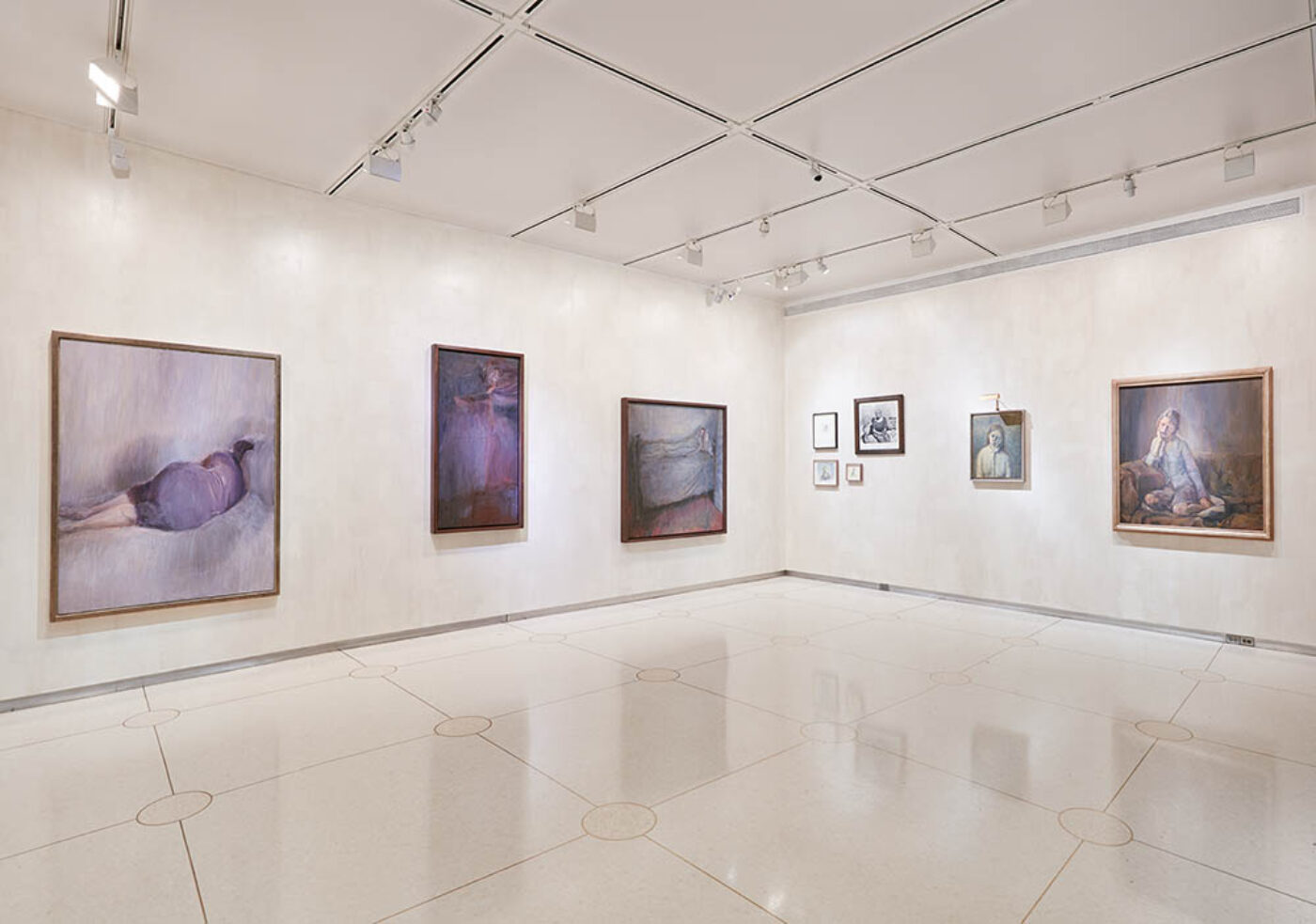 12 I started painting my mother in 1977 and I did my last painting of her in 2007. I think it became "the" experience for both of us. At first she found it difficult. She felt that I was using her as an object. But gradually she came to feel it was her vocation and she used it as a time for prayer. I think I changed too. I'm sure I was very bullying to begin with! 

13 And now she's gone. I feel more drawn to work from nature now, because if she's anywhere, she's there. 

14 Apart from sitting for my son, Frank, on a few occasions (he's a different kind of artist and is working on graphic novels and non­figurative paintings), I have only ever sat for Lucian. Lucian always liked to converse with his sitters so that he could watch them in motion: the movement of their mouths, especially. I found that difficult because it made me self-conscious—sometimes excruciatingly so. I would have preferred to be able to go into my own world. But he was having none of it! For this reason, I often felt trapped and claustrophobic when I was sitting for him.
15 I work most often from my sister Kate, who is younger than me. She sits for me and has sat for me almost as regularly as my mother and for almost as many years. I just started a big painting of all my sisters together. I want it to relate to a painting I did of them all, with my mother in the center, which I painted after my father died in 1983. I want this painting to be commemorative in the same way, but I think the mood will be very different: less like a group portrait and more abstract. 

16 I feel my life is in flux at the moment, since my mother died in February this year, so I have been working on a series of paintings of water and the sea. My work has always been autobiographical so I don't think my interests are different from when I started. Just a later chapter in the book.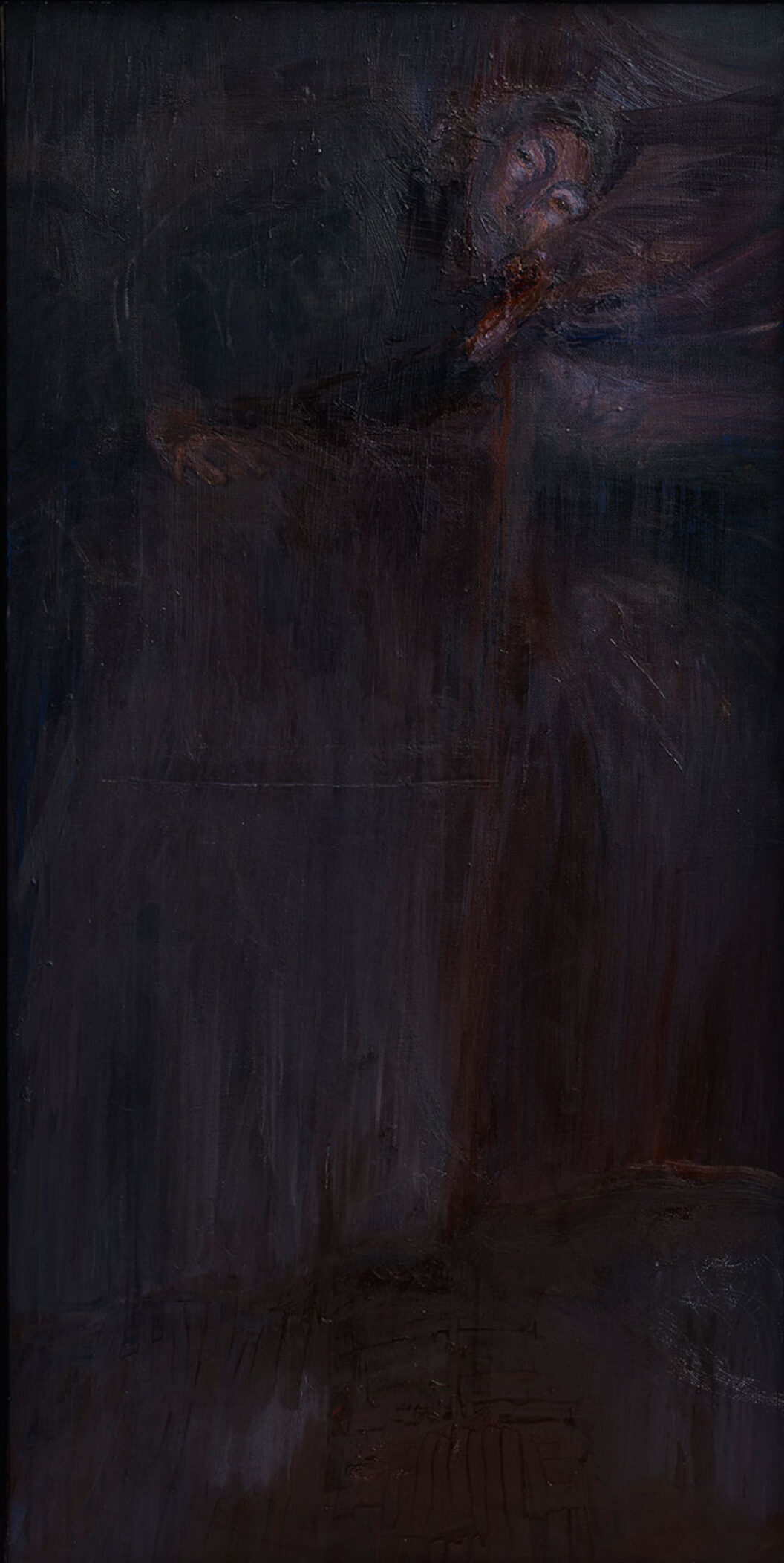 Hilton Als writes for the The New Yorker. His most recent book is White Girls (McSweeney's, 2014).