Celebration and Critique: Diamond Stingily Interviewed by Lori DeGolyer
Sculpture and installation that make memory present. 

Discover MFA Programs in Art and Writing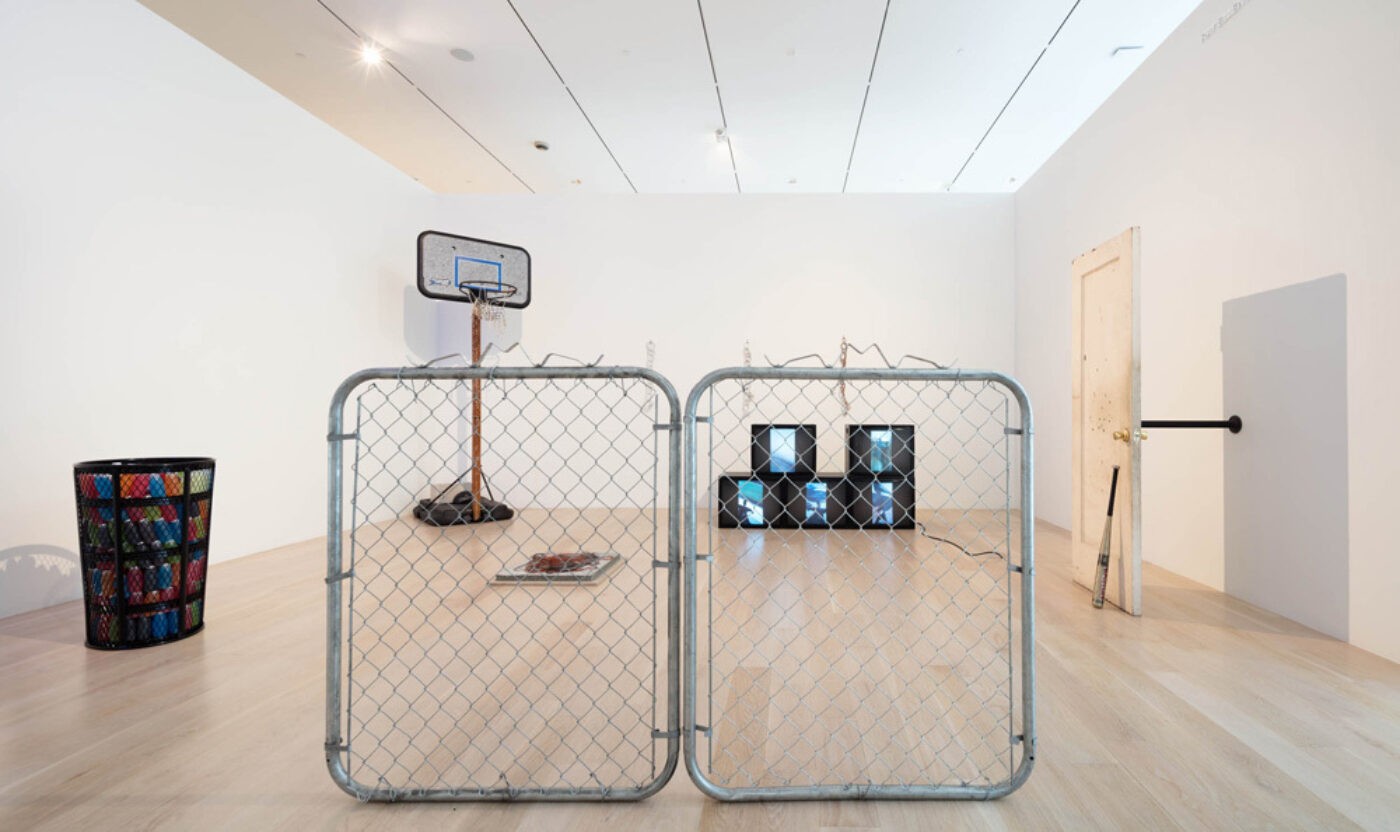 Chicago-born and Brooklyn-based artist Diamond Stingily creates work that seeks to preserve black cultural memory. Life In My Pocket, her first solo museum show, is currently at the Institute of Contemporary Art (ICA) in Miami. Through readymades, sculpture, and video, Stingily commemorates her childhood, black neighborhoods, and black culture, as well as making work that highlights systemic racial violence. On the museum's ground floor, a collection of pieces reference her youth—a rusted basketball hoop, Double Dutch rope sculptures, a basket filled with colorful HUG juices—while a police camera from the West Side of Chicago flashes a blue light overhead. Stingily isolates images in an effort to illuminate their depth and in many cases pay tribute to their roles in her own personal memories.
—Lori DeGolyer
Lori DeGolyer I love the ICA video of you building the Double Dutch rope. I thought it was really beautiful to see you pulling the phone cord through the loops. Do you find that making these objects—and your hair sculptures, too—is cathartic? Or that it helps you go back and connect to this time period of your childhood?
Diamond Stingily Yeah, because it's like riding a bike. Once you got it, you don't forget it. I haven't Double Dutched in a really long time, but I still know how to tie a rope. It still has a very distinct meaning to me. When we were at Home Depot, I felt like that little kid when my mom would say, "I gotta go to Home Depot for something anyway." It takes me back to being in that time period. And braiding hair can get really meditative. Doing anything that's repetitive is kind of meditative for me. Like turning a rope—the sound, the rhythm behind it. When someone jumps in a rope, your body's gotta go with theirs. You've got to speed up to their rhythm or slow down, so they can stay in the rope longer. I was thinking about things like that as I was making these ropes.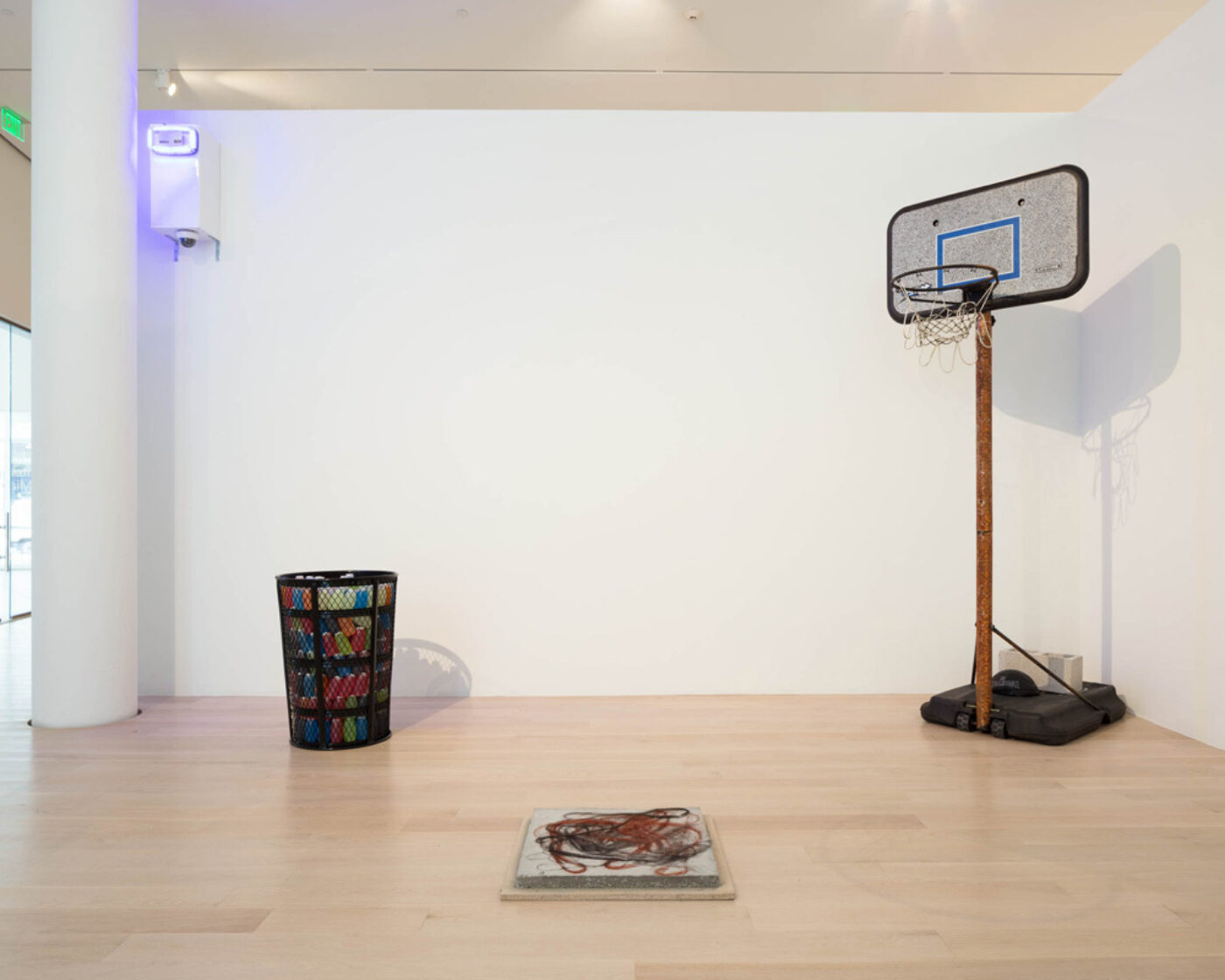 LD Do you remember how you started using old phone cords as rope?
DS I think it was just an old-school thing because my mom said that's how they used to make ropes, too, when they were kids. I remember one of my friends had a telephone cord rope before I did. I remember going to Toys"R"Us looking for a Double Dutch rope. My mom said, "You're not going to find a Double Dutch rope here." I was really, really young when she said that, so that's how I guess I ended up realizing that some of the things that me and my friends did … we made it ourselves. The other thing with the telephone cord is that sometimes you want multiple people to jump in, and the longer the rope, the more people can be involved. That's another reason why people use telephone cords for jump ropes. They really do last longer.
LD I thought that maybe it began out of resourcefulness, and I was just thinking about how sometimes resourcefulness creates something better.
DS I'm sure it also came from a time when black people couldn't shop at certain places. They didn't have toy stores in the neighborhoods they were in, so they made do with what they had, which were telephone cords.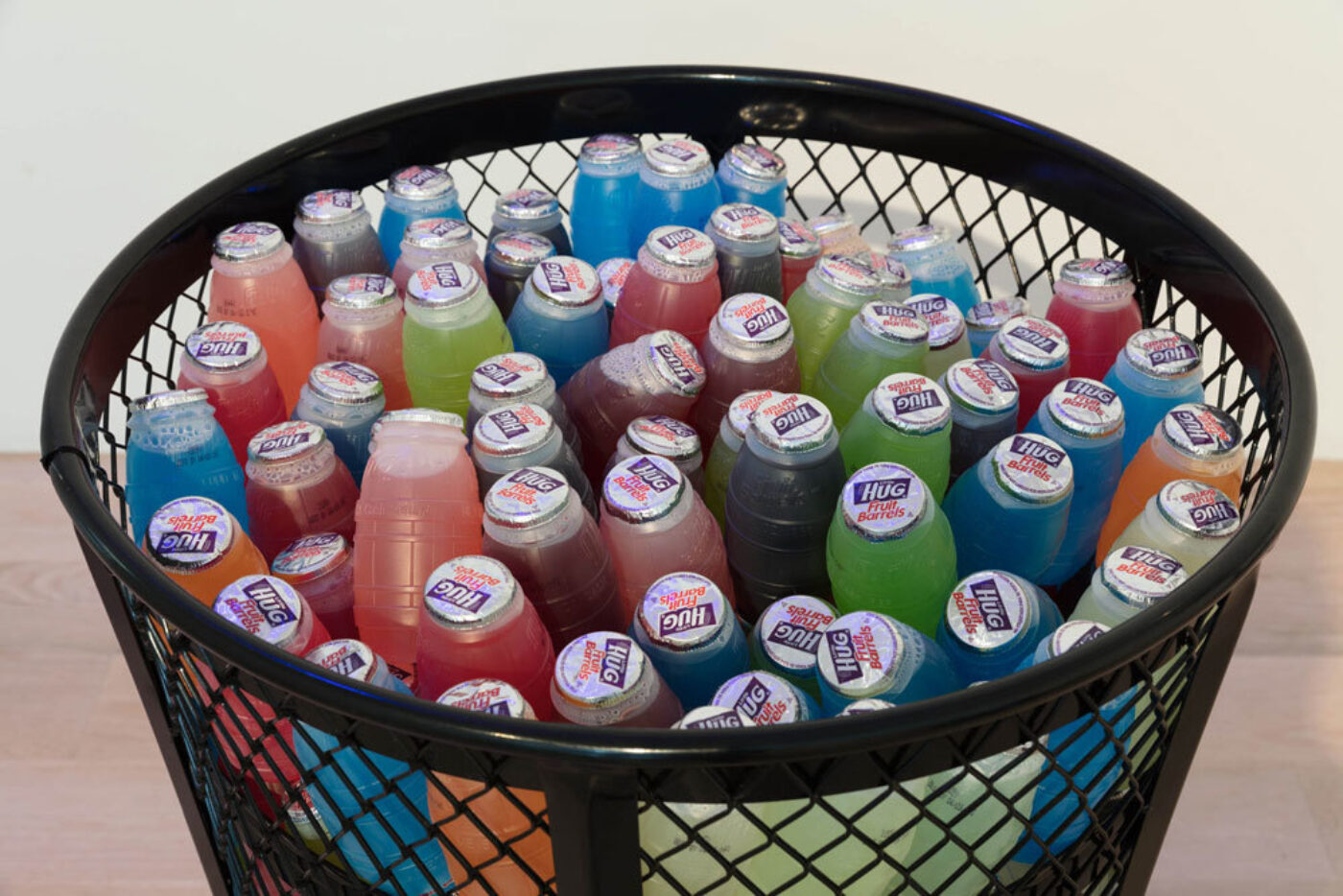 LD Between all the pieces—the basketball hoop, the juices—and the gate at the front, do you see this as sort of a microcosm of black childhood experience? Does the gate have significance in that way?
DS The gate is the West Side of Chicago. Or the gate could be in Baltimore. The gate could be in Bed-Stuy. The gate is just the significance of a black neighborhood. My brother looked at the show, and he said that gate reminded him of grandma's house, which I was going for. When you see gates like that, you just want to hop over them. You don't even want to take the latch off and walk through it.
The juices … Whenever I saw juice like that as a child, and even to this day, I think, This party is about to be so lit. It's either a baby shower or somebody's birthday party. It's a graduation. When you see juice like that, you just know something's happening and it's good. A lot of times, people are very quick to talk about oppression and the sadness within the black community. But there's so much joy and beauty in things that a lot of people don't get to see within the neighborhoods that I know of and the neighborhoods that I come from. There's so much poetry and beautiful imagery on the West Side of Chicago and Country Club Hills and other neighborhoods like it. I wanted to make this show to represent the beauty in it, as well as the sadness. I think there's a lot of joy and beauty.
LD Do the doll videos relate to this as well?
DS I played with dolls as a kid. I made videos because I feel like a lot of artists right now are making dolls, and they're presenting them in these gallery spaces. I didn't want a black body doll in a gallery space being looked at like that, so I made videos. I read somewhere that black people, we feel our safest when we're at home. That is probably true. I know I feel safe at home. The dolls are doing things like riding in a car, lying down, walking. But then at one point, me and my friend, artist Bree Williams—she was a part of Surveillance, the show that I did in LA—there's a video of us taking the dolls into her house. I feel like that's the last video. The dolls are doing all these day-to-day activities, and then they go home and you don't see them again.
I think there's a gaze with black people, where people are watching us and wondering what's our next move. Like on public transportation, I'll see people looking at me, trying to figure out where I'm going or why I'm in this area. I had someone do that on a bus. I was headed to Ridgewood, and the bus driver was about to pass me up. Then I get on the bus, and he says, "Hey, I just want you to know, I'm not going to Bed-Stuy. I turn on this corner. We're going to Ridgewood." I really wanted to be like, "Motherfucker, I know where the fuck we're going." But because of the society we live in, I was like, "Yeah, I know we're going to Ridgewood." And I left it alone. Even then, the bus driver was looking at me, trying to figure out why I was going this way and not another way. There's this constant gaze that black people have to deal with. I think I was addressing that.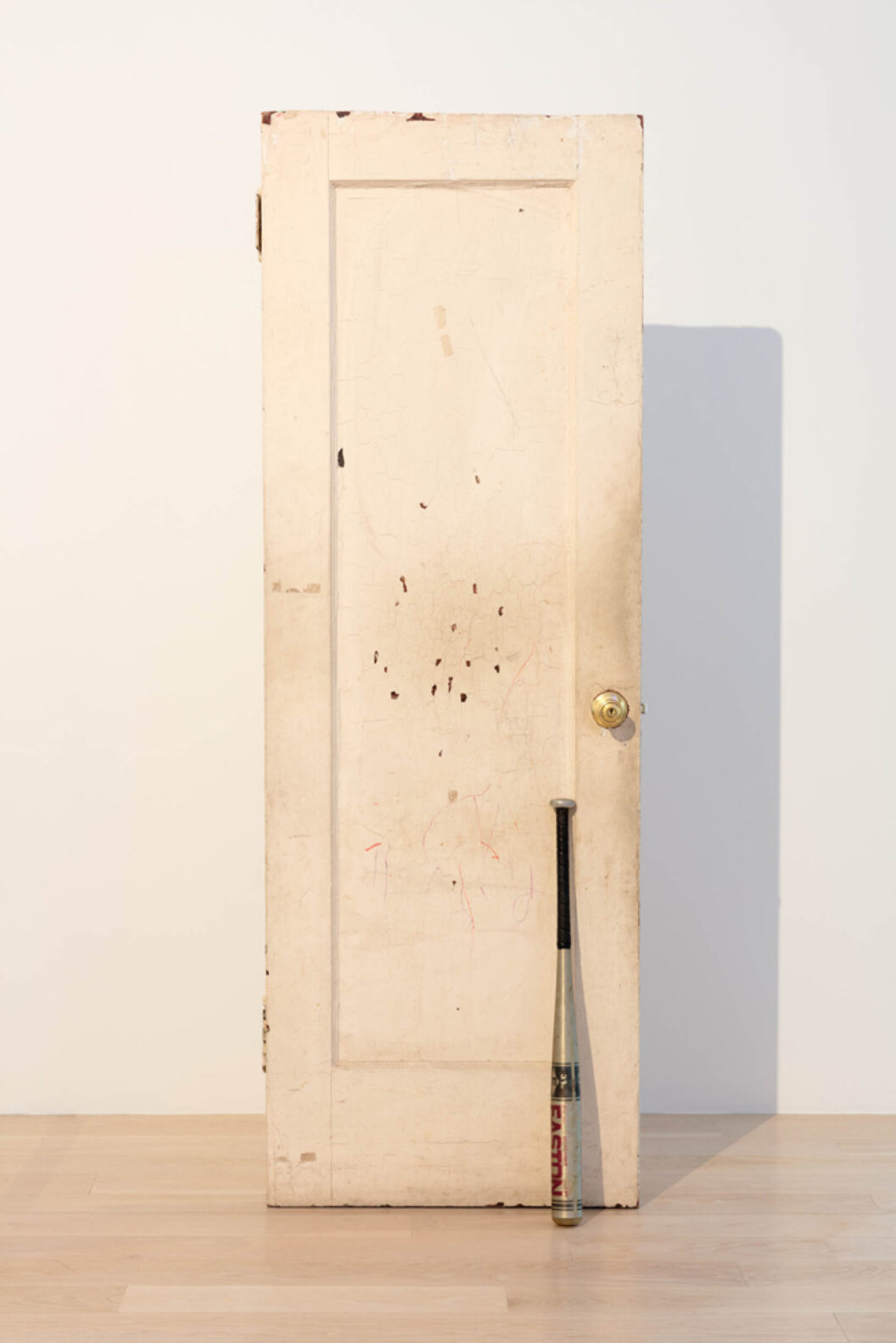 LD I can't get over seeing your Entryways piece, then learning that your grandmother used to always keep a baseball bat by the door.
DS One of my paternal grandmas, Estelle, helped raise me. I was at her house almost every weekend. She's kind of a no-nonsense type of woman. She let me stay with her for a year or two before I moved to New York, and I got to know more about her just by observing her routine. I think she lives a very monkish kind of life. She's also kind of goth. She chills in the dark. She wears stripes. Doesn't really talk to people. She's friendly, but she keeps to herself a lot. I was very fascinated by that because I think, in a lot of ways, that's going to be me. (laughter) She's really cool. The older I get, the more I understand why she is the way she is. When I look at that image, I see a protector. I see someone very stubborn, really strong. It's almost a come-in-if-you-dare kind of vibe. I think that's how a lot of black women, unfortunately, have to carry themselves. Very strong and resilient.
LD I really love that piece.
DS I think it's one of my favorite pieces, too. I made it for her, to let her know she's appreciated. When I see that door, I see a lot of myself and a lot of the women that helped raise me. To me, that door is a symbol for matriarch.
Diamond Stingily: Life In My Pocket is on view at the Institute of Contemporary Art in Miami until October 14.
Lori DeGolyer is a writer currently based in Tampa. Her work has appeared in or is forthcoming in The Brooklyn Rail, Art Papers, and Lambda Literary.