Belgian-American artist Cécile B. Evans delights and enchants with her provocative media installations.

Discover MFA Programs in Art and Writing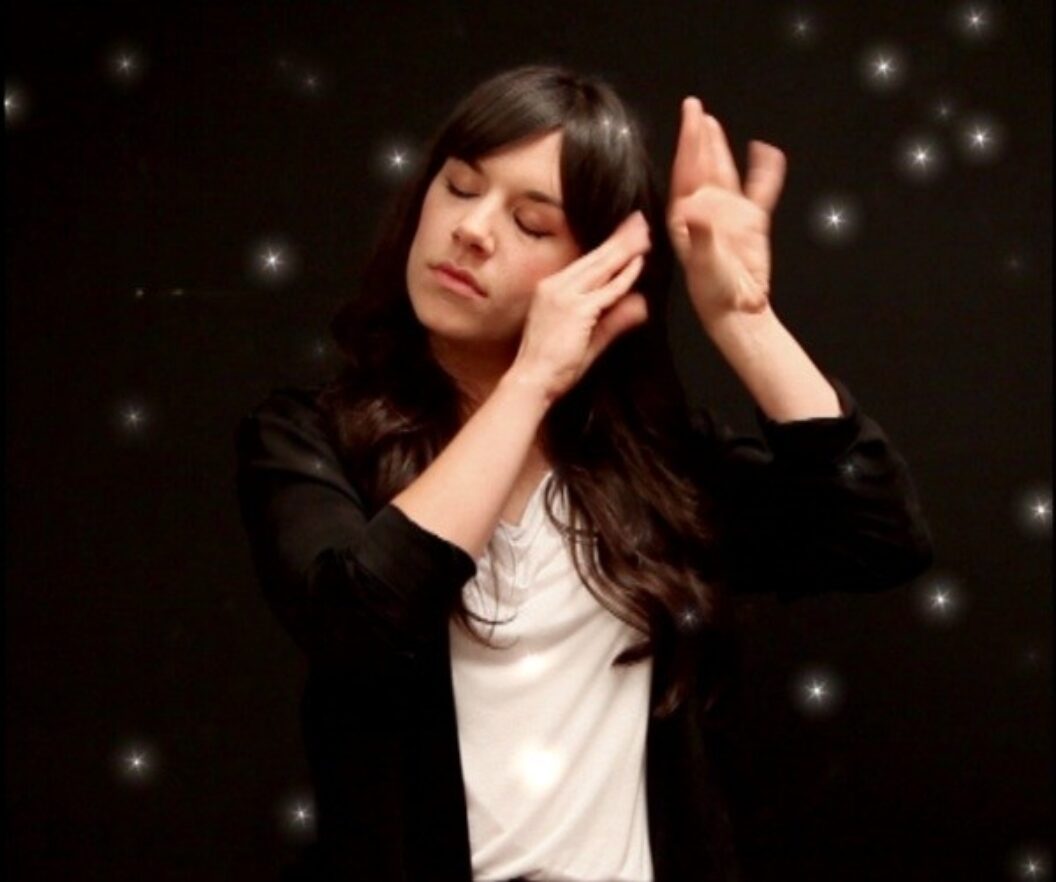 I recently encountered the work of artist Cécile B. Evans in London at an open studio night at GasWorks—where Evans recently wrapped up a residency—which houses a gallery, studios, and an international residency program. I was drawn to her video work because it made use of a sort of Apple-computer-screen-saver infused visuality, existing somewhere in the realm between the seamless flash of an MTV music video and the fog of a digitized dream. These new media works in particular were a siren song; sampling selections of popular music that one might hear at the local laundromat, Evans is frequently weightless in the foreground, floating in the fabrics of a genre of celestial glitch that just might have made Steve Jobs proud. The work is flirtatious, nostalgic, and—odd as it may be to say—struck me as incredibly feminine, perhaps because the path through contemporary digital practice is often made craggy by the ticking testosterone of male art makers and their histories. Which is to say that Evans and the pronounced presence of a gendered aesthetic—soft, blurred, gentle—contrast sharply with, say, Fatima Al Quadiri's hip-hop-laced and neon saturated geometries. Evans enters the digital via a different tear in the curtain, a white female body grappling with the limits of objects, language, expression, and, ultimately, intimacy. Her work is imbued with a presence of lady—is this poise? Or politic? Curious to learn more, I sat down with her to discuss, amongst other things, the weight of emotion, the role of the artist, and the impact of bodily fluids on contemporary popular culture.
Legacy Russell Tell me a bit about your recent project for Frieze, which won the Emdash Award.
Cécile Evans The piece was an audio guide to a selection of works in the fair—like what you would pick up in a museum—only the hard facts were replaced by subjective, emotionally-driven content, contributions from twelve non-art professionals and a host, the art historian Simon Schama. Simon also appeared throughout the fair as a 3D holographic projection, giving short monologues that further broke down ideas of subjectivity and authority within the fair.
In hindsight, the great joy in making this piece was the opportunity that Frieze gave me to insert an alternative value—emotion—alongside established values in the fair like material, theory, and money. It was amazing to work with Frieze curator Sarah McCrory, who from the beginning really understood that this wasn't a critical piece, this wasn't going against the other values. Ultimately, this was very productive in an environment with such a high volume of people (70,000 or so) that perhaps didn't have access to the other factors—material, theory, money—or (let's be fair) even an initial interest in them. That was the most exciting/surprising part, to see so many visitors coming with different levels of access to art all able to access an entry point through the guide.
You can still listen to the entire audio guide, which features twenty artworks and some extra insight from Simon.
LR Can you talk a bit about these twelve contributors?
CE The panelists were well known people in their field such as Grace Dent (journalist), Sir Patrick Moore (astronomer), Sophie Dahl, Rabbi Lionel Blue, Roger Tabor (famed cat biologist), Mary Beard (classicist), and Hugh Montgomery (geneticist). It was an invaluable experience to hear them transform and appropriate the works, my view on those works is irrevocably changed because of their responses. I was really pleased with the contributors that generously donated their input. It was interesting to me that so many people declined the invitation to contribute because they were afraid to comment or didn't feel like they knew anything concrete about contemporary art. This, of course, was exactly why I was asking them.
Someone in the process pointed out that it was unfair to the art, and to the tradition of art, to ask people who had no knowledge of the works to respond to images of them. I was happy that they brought this up as this is precisely the way that many people view art every day, that sometimes I view art, and I think it's interesting to develop a different set of tools for this. I was reading Raymond Queneau's Exercises in Style at the time, a collection of passages where a banal story is told 99 different ways, and it all seemed pretty natural.
LR Do you think that images can ever stand in for the real thing?
CE No, I don't think that the experience of confronting an Isa Genzken installation or a Blinky Palermo series can ever be replaced by looking at images of it online. I do think that this is an OK way to access the work, and sometimes the only way, especially in a time when the daily collection of images and how to filter them is becoming a part of human evolution. I think it would be silly to say that art should be protected or isolated from that. I wouldn't have discovered half of my favorite works if they hadn't been posted on a web archive or blog. Many of my favorite works are still ones that I've never seen in real life. But that's a dialogue that came from the piece, not the other way around!
What's problematic to looking at images of art online comes from growing concern that corporations are shaping our experience of searching for information, based on data they think they are getting from the user. This can be limiting and will become more and more important to consider this when navigating information.
LR For works like "Straight Up" wherein you cite Paula Abdul's music, and "I Have Nothing", wherein you cite Whitney Houston, or "Countdown", wherein you sample Beyonce—what role does pop Zeitgeist play in the construction of the narratives within these pieces?
CE There is no narrative in these pieces other than the one the viewer chooses (or doesn't choose) to construct. My role in making these pieces was to provide a structure that allowed several emotional reference points from polarized fields of culture—specifically pop, "higher" culture, visual culture, and universal experiences (crying, being drunk, losing it) to be accessed on a level plane.
LR What relation do these works ("Straight Up", "I Have Nothing") have to club culture, if at all? What does the addition of drugs, or alcohol, add to visuality? To the (de) construction of your own image—or body—as a woman?
CE I didn't make either of them with reference to club culture in mind. There are absolutely people who have immediately made this association and that's great—that's their experience, their own association and precisely what I had hoped for.
The use of sleeping pills and alcohol in "I Have Nothing" and "Straight Up" was for the same purpose as the tear sticks ( … mentholated sticks) that made the performers cry in "Countdown"—to illicit a physical emotional response—losing it, and being drunk, respectively. I didn't find it so interesting to "act" like I was struggling with consciousness or drunk but find a way for there to be physical evidence for the viewer, so they didn't have to worry about these issues of real or fake. I originally wanted to get a hypnotist for "I Have Nothing" but in the end it didn't work visually.
"Straight Up" was the first of the three and up until the day before shooting it was meant to be performed by a professional male dancer. He dropped out at the last minute and said that the sign language was too hard. I thought at this point, I can't ask someone to do this impossible task and get drunk unless I can do it myself. And I could. So I did.
From there, I knew that I wanted to work with a group of people for the second video, "Countdown", and return to the original visual language of the first for the last one.
In regards to your question about my body, as a woman—these are personal associations from the asker and not something I can claim to have considered at all, so you are a better person to answer it. The only reason that I, personally, think about that question is because you've asked it. Why did you ask that? What makes you see it that way?
An Italian journalist told me he thought the series was about talent shows like X Factor, a viewer said it was about confronting sociopathy, a curator asked to include in a show about language, about club culture, addressing future states—it can be any of those things. That's what they are built for. But it's not for me to explain this, I leave it to the viewer.
LR What relationship does "Countdown" have to the Trilogy series? To me, it seems to be a bit of a departure in how it is constructed formally.
CE That's interesting that you say that—the construction is exactly the same conceptually in all three. I knew I wanted to work with a group of people (the dance company AURA in Lithuania) and that I wanted an object, an emotional totem to be featured (the asparagus) but the elements are the same. In each there's an impossible task, an overriding emotional state, and a familiar element of the surreal. I've mentioned this before but they're the same elements that you see in sci-fi fantasy movies, only in the videos they aren't explained away by a reveal moment or a conclusion.
I wanted to make a trilogy so that I could establish this construction conceptually, take a break from the visual language, and then bookend it with a piece that was similar to the original but more extreme—especially in the emotional range it approached.
"Countdown" was different in that the impossible task was science experiments rather than a traditional form of physical communication. Formally though, the performers were given sequences to complete, while dealing with the adversity of a physical state. I guess in some way these sequences can be seen as a language, a set of gestures that can't be broken, similarly to the sign language and semaphore, but less literal.
LR How do you source your subjects? For example, in "Remnants Of Tender, Filthy Love Made Absolutely Obsolete," how did you encounter this pair of anonymous lovers?
CE I put out an advertisement on CraigsList looking for a couple whose relationship existed only online. Someone sent me their entire relationship and I shredded it, put it in a box with a light that erodes the text over time.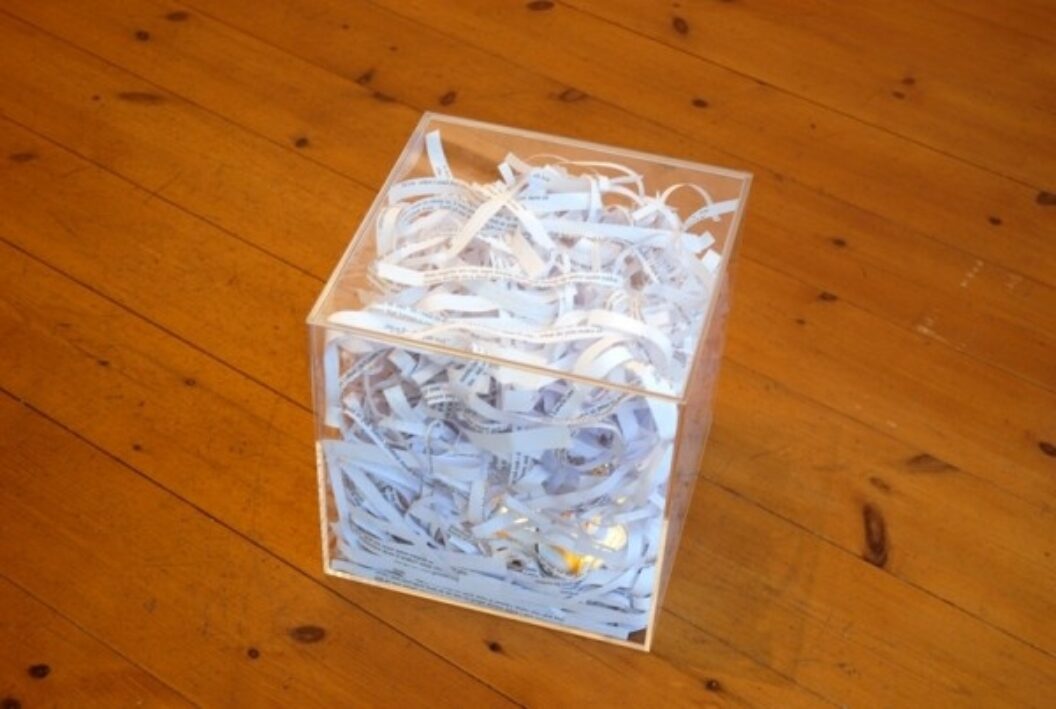 LR What about sculpture? How does sculpture interact with performance within your practice? How does the body come into play within these various representations, either as metaphor or as literal being?
CE I guess all sculptures are performative and all performances are sculptural? But that's a dialectic I'm not interested in talking about. In this sense, my function is to source materials, signals, representations that will set up the best possible constellation for the viewer to confront their own experience of these things, however that translates.
The only time I've purposely considered the interplay between object and performance was when I made the decision to transfer "Why Did You Do That" to 16 mm. I wanted it to function as a machine, as an object, rather than an HD video.
LR Tell me about the role bodily fluids play within your work (I am thinking of here "Interjection Series," or "Why Did You Do That," "Crying About Crying About" … )—what do these fluids bring to a work? How do they function? Are they politicized?
CE These were all made around the same time, where I developed an interest in the physical manifestation of emotions and emotional circumstance. I am an obsessive watcher of movies and am consistently wowed by the effect that the sight of tears (or sweat or cum) has. From there, I am always looking for visual strategies to represent emotions, to literally reproduce the production of emotion. "Interjection Series" and "Crying About … " both use methods employed by film production crews, "Why Did You Do That" was a rigged system of surgical tubes hidden in a wig. I wanted to see if even a cheap, unrealistic, almost humorous mean of production could have similar ripples.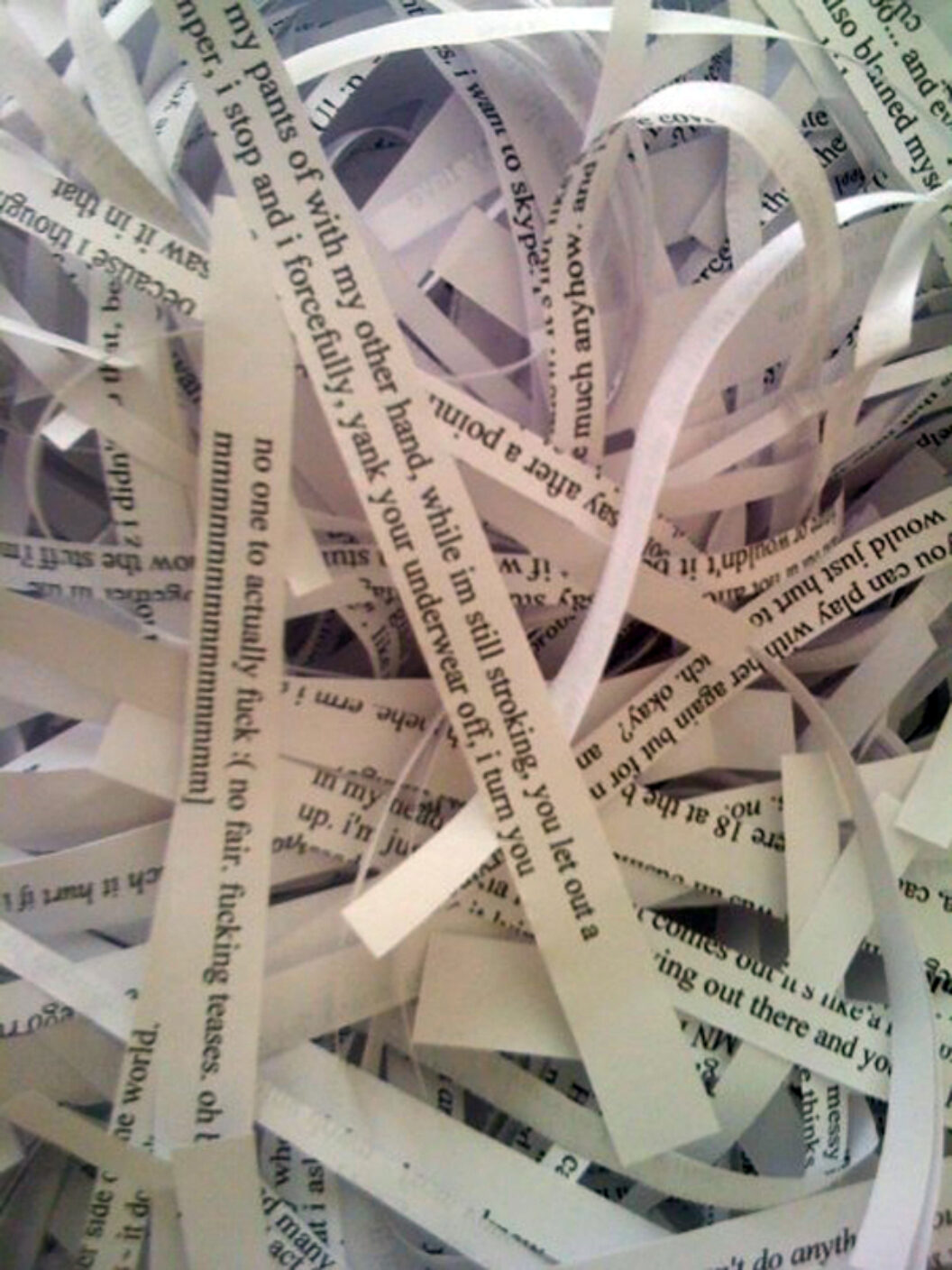 LR What are you currently working on? What's up next?
CE I'm in Berlin, enjoying being back in my studio and headed soon to an artist residency at CCA Andratx in Majorca—super excited about that.
I'm at the beginning of a large project. The main component is a performance but there are already collages and sculptures springing from the research that I'd like to make.
It centers around loss and I'm looking at things like Nijinsky's 1913 ballet of The Rite of Spring, North Korean popular music and dance, top 40 hip hop, collective grief, and Claire Dane's illustrious career as (in my humble opinion) the greatest crier of our generation.
I'd love to get a travel grant and visit North Korea on one of those tours.
Legacy Russell is a writer, artist, and curator. She is a BOMBLOG Contributing Editor and a candidate for an MRes of Visual Culture at Goldsmith's University. Her work explores mourning, remembrance, iconography, and idolatry within the public realm. Follow her on Twitter: @LegacyRussell