Cate Le Bon discusses moving from Wales to LA, late-night inspiration, and her excellent third album Mug Museum.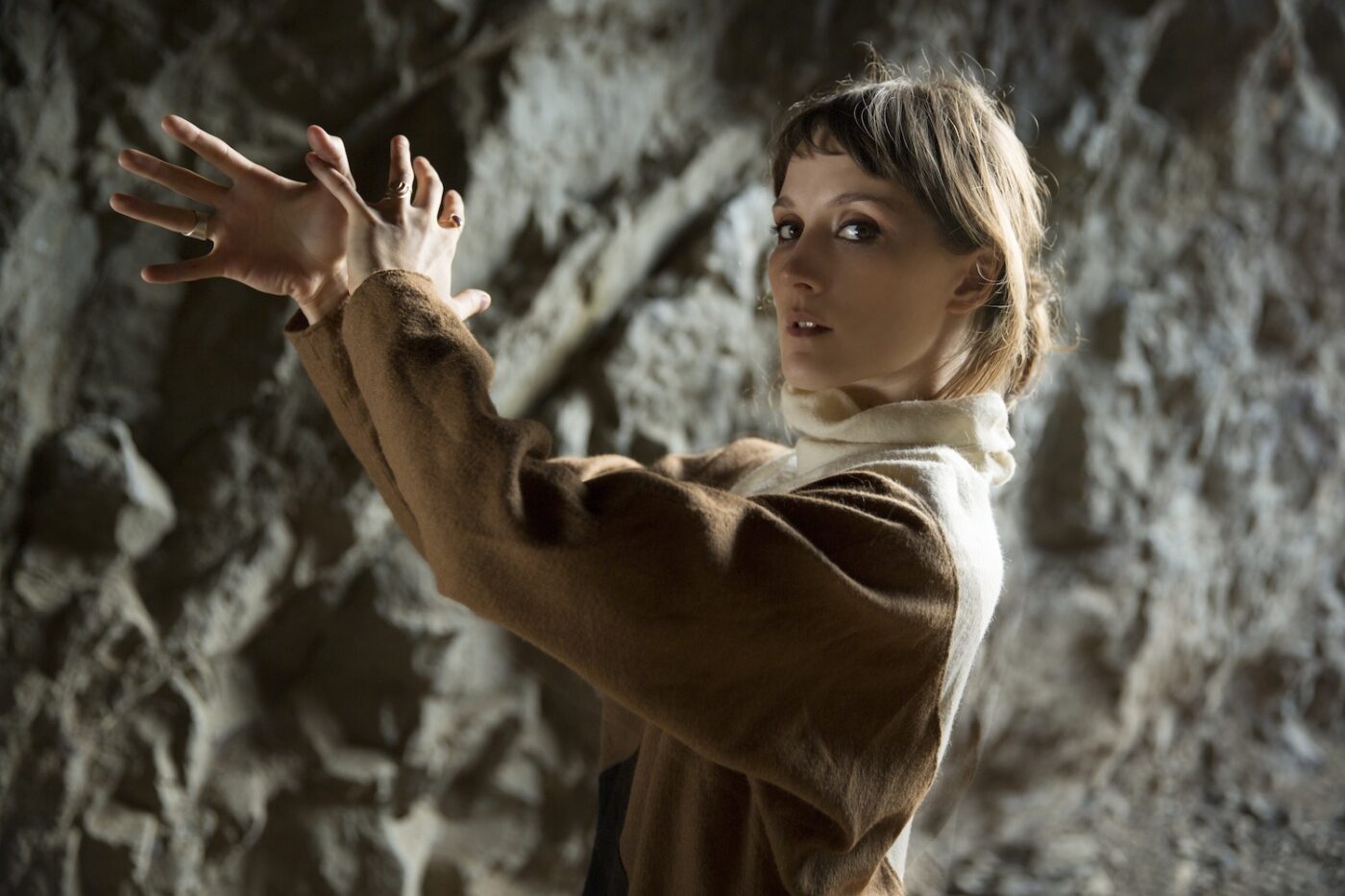 Singer, songwriter and guitarist Cate Le Bon recently decamped from her native Wales to the sunny sidewalks of Los Angeles. Along with the new locale came her third album, Mug Museum, an introspective reflection on loss and closure performed and produced with ace musicianship by Le Bon and a host of LA players who frequent bands like White Fence and Wales's Super Furry Animals. Le Bon's curiously shaped words and the voice via which they travel exist in strange harmony with the angular, graceful arrangements that underlie them. The quirky but somehow epic songs are a rare thing in 2014, when pastiche and reference seem like the starting points for most guitar-based music. We talked about her earliest musical memories, moving to LA, and the making of Mug Museum.
Andrew Aylward What are some of your earliest musical experiences or memories?
Cate Le Bon My Dad used to make incredible mix tapes for holidays which would, in my mind, document different places that I'd go. I'd be able to attach them to a song or something. Also, I guess just kind of listening to music in the house, and everyone singing. My aunt Rita would be over all the time and she had an amazing voice and although we were encouraged to learn piano music was never something that was turned into an arduous task. It was purely for enjoyment.
AA I read somewhere that your Dad got you into Pavement? How did your Dad know about Pavement? That seems crazy.
CLB Well, he's a massive music fan, the sort of person who would read about a band and then go buy their record. I think he was frustrated because I was getting into a heap of shit in school, basically all the bands the hot boys liked and he said "Hey, listen to this record, Brighten the Corners" That's the first time that I'd ever been completely in love with an album. You care so much about what other people think when you're thirteen, but it eclipsed all of that, because I just fucking loved it so much. I just fell so completely in love with that record, you know. I knew nothing about them—whether they were old or whatever. It was also the first time I felt something was "mine" really.
AA Maybe the answer is Pavement, but what was the first band that made you like really loud rock stuff?
CLB I think it was Pavement but it was also the Pixies. I had a friend who was a lot older and he used to make me cool mix CDs. He got me into The Fall and the Pixies and stuff like that at an early age which was really influential.
AA Are there any other guitar players that you really idolize for their playing?
CLB Yeah there's Kawabata Makoto from Acid Mothers Temple who is one of my all time favorites, he does insane shit but he can remain cool and calm while playing it. Then Tim Presley [of White Fence] who's a real chill player as well. Malkmus is one of my favorite guitarists, who's developed a very specific style There also a guy called Voice the Seven Thunders from the UK who's really great.
AA Are you a Budgie fan?
CLB No, I don't think so! (laughter)
AA What about Super Furry Animals?
CLB I grew up listening to them—again at a very early age cause I'm Welsh and you are exposed to that weird sort of stuff—but I think more than anything The Super Furry Animals were just plowing their own path when the whole Brit Pop thing was happening—they were just doing their own thing. I think that was hugely influential to a lot of people my age making music in Wales.
AA Thinking about the theme grieving on the album, how do you think about death and grieving and loss? Is it cyclical in that it come around and there's a renewing aspect?
CLB I guess this record has been especially about what actually happens after someone has passed. It's not about bereavement but about celebrating how people make up for what's gone, and how a lot of what's gone sort of remains but in a different form, that you have to look for it in a different place. I think it's quite a positive record.
AA Can you talk about the role of humor in your music?
CLB I record in a very short amount of time so that I can keep things spontaneous and be making decisions in the music while I'm fully immersed in it. I think that if the process goes on too long you become un-sympathetic to a point. Obviously, if you're recording in such a short amount of time things make you laugh and they will continue to when I listen to them, because you leave them in, like a guitar line that is so disgusting, but that you want to have on the record.
AA What was moving to LA like? It must be an exciting transition because I know there's tons of cool stuff going on there and some of the other folks that play with you are playing your record.
CLB Well, the thing is I've always been kind of enamored by Los Angeles, a kind of strange, really beautiful, really ugly, really weird, city—
AA Really dirty!
CLB Yeah, but there's nature in this sprawling metropolis and the two worlds are rubbing noses so closely. I'm just fascinated by it. I've been coming and going for years, sort of working with different people or gigging and what not, and wanted to make a record out here. I did a show with White Fence and became friends with Joe, who was playing bass at the time and he just said, "If you ant to make a record here, we'll work it out. Noah will be brilliant for what you do." Then I really wanted Nick Murray from White Fence to play drums—
AA That guy is awesome.
CLB He's just the fucking best, and he said "yes." So it kind of all took off from there really. It seemed like—if you're going out there for a couple of months then say you're going to move out there or you just never will. It's been an easy transition really. It's nice being outdoors all the time and there's really great musicians around who are really kind and have accepted the Welsh into their fold!
AA Is it true that you write a lot of your lyrics at the last minute?
CLB Pretty much all of them, like a naughty schoolgirl. We were subletting this place and the girl was a designer and one of the walls was just this huge white board, so I'd be up for a three-hour period between 3:30 and 6 AM—where you completely lose your mind—just writing my lyrics on this massive white board. It was like being delirious! I've always got ideas, and I was talking to Tim from White Fence where he said that he did a similar thing. You know, where you mouth words and you sort of know what you like, and you know what particular words have to be there, but at the last minute you have to think of a word that rhymes with muh-ne-neeh (laughter).
AA So they start off as place-holders?
CLB Yeah!
AA Do you find any non-musical inspiration in books or poems, for example, which inspires you to create your music?
CLB I've been reading a lot of Richard Brautigan lately and I find his work really visual. I've also been watching these documentaries about the Finnish artist and writer Tove Jansson who was the creator of the Moomins. I just found her attitude and the way she gave herself to her work to be so incredibly graceful and beautiful. I found that really emotional. Then I also got into making mugs which is a nice kind of meditation to sort of switch off from music but in itself is so nourishing to the music. It keeps me feeling refreshed in the mind.
AA Actually, I wanted to know if there's anything you do to switch off from music?
CLB Well, I started running which was great.
AA How many miles?
CLB In total?
AA Yeah, in one go!
CLB Usually six kilometers, which isn't awful since I do it most days.
AA That's actually pretty good.
CLB Yeah, the sun just makes it easy to get up and out there. And, yeah, making mugs! Lots of mugs.
AA If you could only play live and release live albums or only mix studio albums and never tour, what would you chose?
CLB Studio albums, definitely, every single time.
AA That's interesting. As a follow up, what is the relationship between you and your fans, or your listeners? Do you think about who they are?
CLB Again, it's that thing of making something really quickly. Those things shouldn't come into play when you're making a record, not because I don't care, but because it could pull you in the wrong direction. Obviously you want people to like it, but as long as you've made a record with an intention that's real and genuine then that's all that you can do really.
Info about Cate Le Bon's newest album Mug Museum and her upcoming UK tour can be found on her website.
Andrew Aylward is a musician and audio engineer living in Washington, D.C.