Carroll Dunham's Note to Self (Drawings 1979–2014) by Chris Chang

Discover MFA Programs in Art and Writing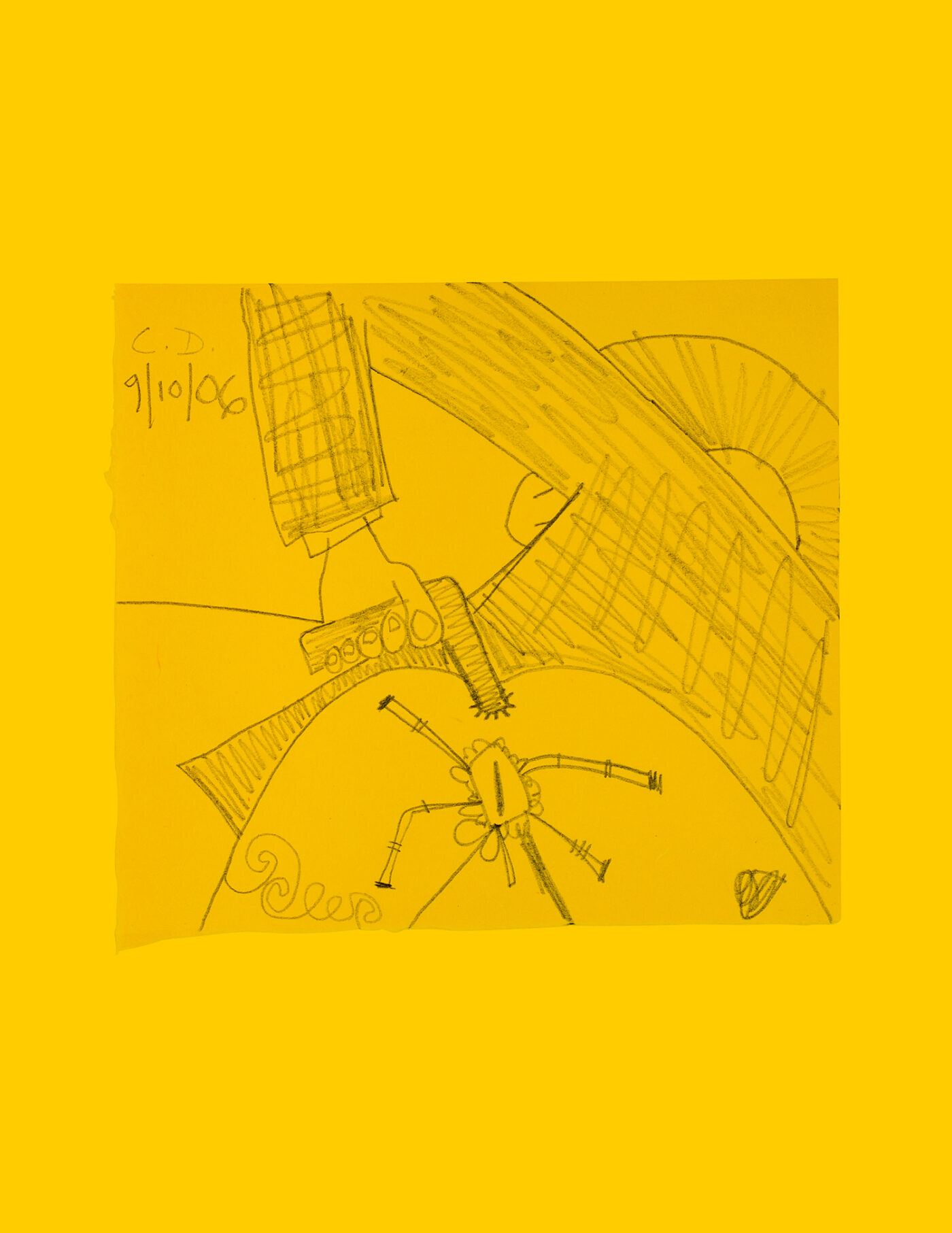 Karma & Gladstone Gallery, New York, 2014
Imagine an alternate universe—a dimension not only of sight and sound but also of mind: a Q-tip stuck beneath the tongue of the Wonder Wart-Hog provides necessary evidence. We can now verify a genetic connection between said hog and the Square Mule. (WTF?) Alternate art history proceeds thus: the pig in question is the cartoon creation (circa 1962) of Gilbert Shelton who is, of course, a ZAP Comix godfather. Square Mule is the title of a 2006 Carroll Dunham painting. In it, a cartoon-like individual, naked from the waist down, bends over to insert a pistol into "her" anus. To complicate matters, this mule is arguably a hermaphrodite.
Shelton's hog and a fair amount of Dunham's paintings share one obvious family resemblance: the phallic proboscis. Granted: the noses of the Square Mule images are far less prominent than the snouts on Dunham's related Gunslinger series. (You can see the evolution on the artist's website.) I would suggest the reader turn to specific Square Mule drawings in Note to Self, Dunham's recent monograph. There are at least two, but, alas, I can't tell you where to find them. The book has no page numbers—nor titles—nor index—nor, for that matter, text. To further its thorny DIY aesthetic, the paper stock, while colorful, looks and feels like back-to-school construction stuff. (Not exactly acid friendly—except in the hallucinogenic sense.) Apropos ZAP, the monolithic tome seems more like a gigantic 'zine. (Full disclosure: I love it.)
The book's title implies the set-up for some kind of joke. That's both true and a great disservice. Some of the drawings appear to have been produced in a matter of seconds. Dashed off on random scraps of paper; extremely haphazard when considered in relation to the intensely reworked surfaces of his paintings; seemingly disposable yet endlessly energized. Many, one assumes, have spent their lives squirreled away unseen. (Coming across well over 200 of them, framed and displayed en masse this year at Frieze, was mindboggling.)
This is a vital anthology—a crash-course compendium of Dunhamian motifs: trees, lips, genitals, violence, wood grain, utopia, flowers, nipples, stovepipe hats, bathers, etcetera. Call it a codex or, better yet, a cosmology. His oeuvre—as I'm sure I'm not the first to notice—relates empathically to the deliberately unstable writing of Bataille. If you look at Dunham's paintings of planets and suns, they seem to be complex celestial bodies excreting imagery that floats away only to reoccur in simplified form in many of the drawings. Bataille: "The terrestrial globe is covered with volcanoes, which serve as its anus." (The ZAP contingent cheers!) Dunham draws in excess, and, in so doing, helps our world, i.e., the alternate universe, go round. Gloria in excelsis Dejecta.
Chris Chang writes about film and is a contributing editor to BOMB.
Originally published in
Featuring interviews with Moyra Davey, James Hoff, Claudia Rankine, Matthew Weinstein, Ben Lerner and Ariana Reines, Valeria Luiselli, Tyondai Braxton, and Nicole Cherubini.