Carmen Beuchat and Interdisciplinary Pollinations in the 1970s by Gabriela Rangel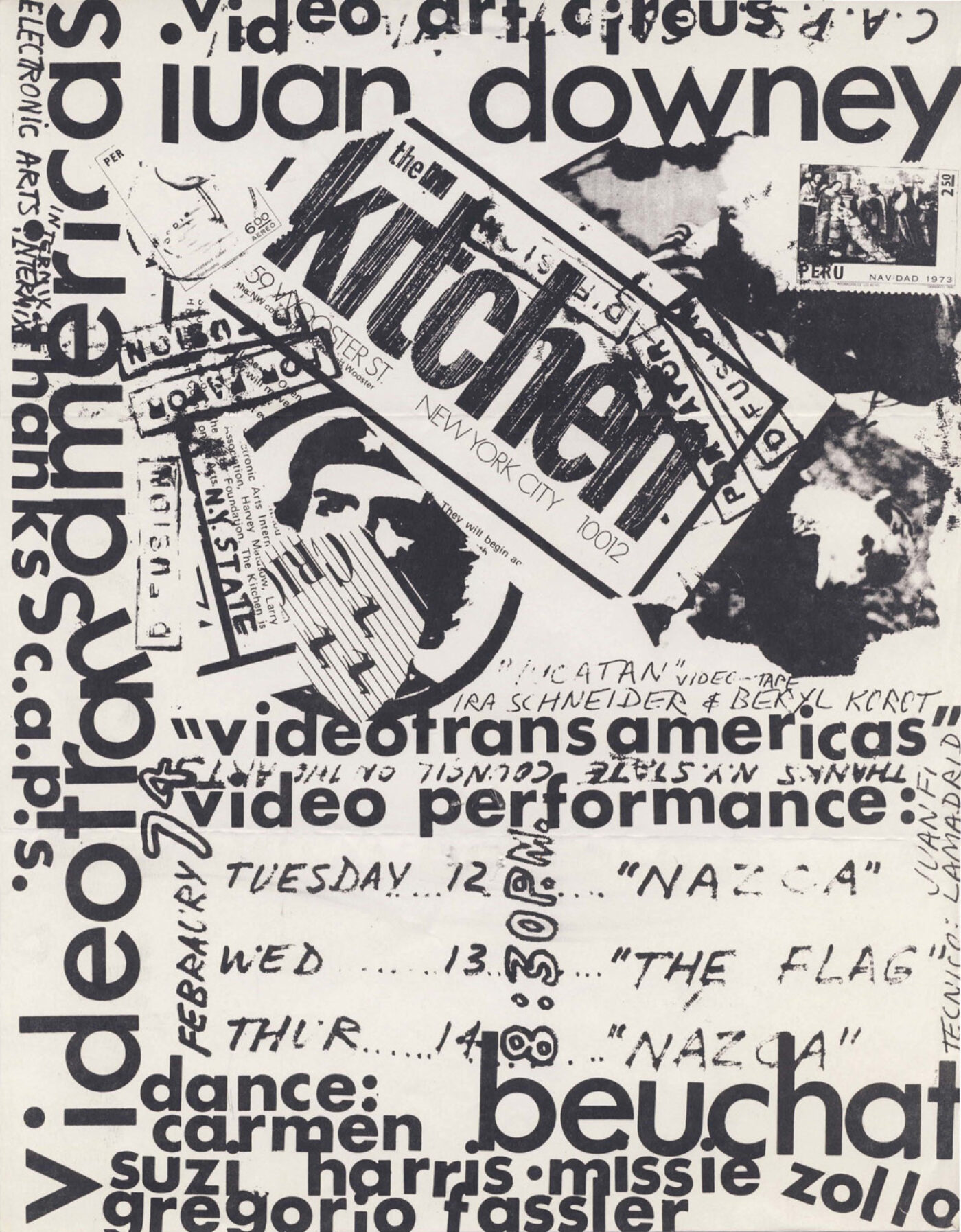 Art history is an uneven and gendered discipline, especially in the southern tip of the West. Primary sources can be easily overlooked or ignored for years unless some piece of forgotten evidence sheds light on the past. In 2009, when I was conducting research in preparation for the traveling exhibition Gordon Matta-Clark: Undoing Spaces, which I cocurated with Tatiana Cuevas for the Museo Nacional de Bellas Artes in Santiago, Chile, the name of postmodern dancer, performer, and choreographer Carmen Beuchat appeared on every significant document or account of Matta-Clark's early years in SoHo. Born in Santiago and based in New York since the mid-'60s, Beuchat was also linked to a number of performances presented at the experimental space known as 112 Greene Street cofounded by Matta-Clark. One such performance was Energy Field, a one-night event in three parts presented in 1972 in collaboration with Chilean artist Juan Downey. The first part consisted of a black vinyl curtain cut into strips, which were then tied into knots and set on fire. The burning scraps fell slowly into a water container that resembled a pond. The second part utilized three-dimensional laser graphic patterns and electronically generated sounds, both controlled by the level of radioactivity present in the gallery that evening. The third and main part involved a number of performers—including Beuchat, Matta-Clark, Carol Gooden, and Tina Girouard, among others—interacting with an invisible field of ultrasonic waves. The pear-shaped field measured about 18 feet in length and 15 in diameter, and it was only made perceptible to the audience through the dancers' motion, which generated an electronic tone. While collaborating with Downey, Beuchat also participated with Trisha Brown in early gravity pieces such as Walking on the Wall (1971), performed at the Whitney Museum, and Roof Piece (1971) and Spiral (1974), both of which took place in the streets of SoHo.
Beuchat's long journey began in her hometown of Santiago, where she was trained in Rudolf von Laban's kino-energetic technique at the Universidad de Chile, and, after leaving the National Ballet, she formed Trío 65, Chile's first independent dance company. Beuchat's dance-performance events developed at 112 Greene Street, which is indicative of dance's marginality in regard to performance and video art within the historiography of Latin American conceptualism. After a decade of performances with Trisha Brown's company, in 1971, Beuchat cofounded, with former members of the Judson Dance Theater, the Natural History of the American Dancer, an experimental group that pioneered improvisational dance. Judson Dance Theater and its proponents are considered central to understanding the intricate paths of what Rosalind Krauss identified as the expanded fields of sculpture and painting in the 1970s in New York City, with special emphasis on the works of Brown, Yvonne Rainer, Simone Forti, and Steve Paxton. Yet Beuchat's contribution to the development of an innovative language based on the cross-pollination of dance, video, photography, poetry, and sound still needs to be considered.
Gabriela Rangel is director of Visual Arts at the Americas Society and a contributing editor to BOMB.
Originally published in
Featuring interviews with Danny Lyon, Tom Murphy, Cass McCombs and Ariel Pink, Brian Evenson, John Newman and B. Wurtz, Ralph Lemon, Eija-Liisa Ahtila, and Wayne Koestenbaum.