Discover MFA Programs in Art and Writing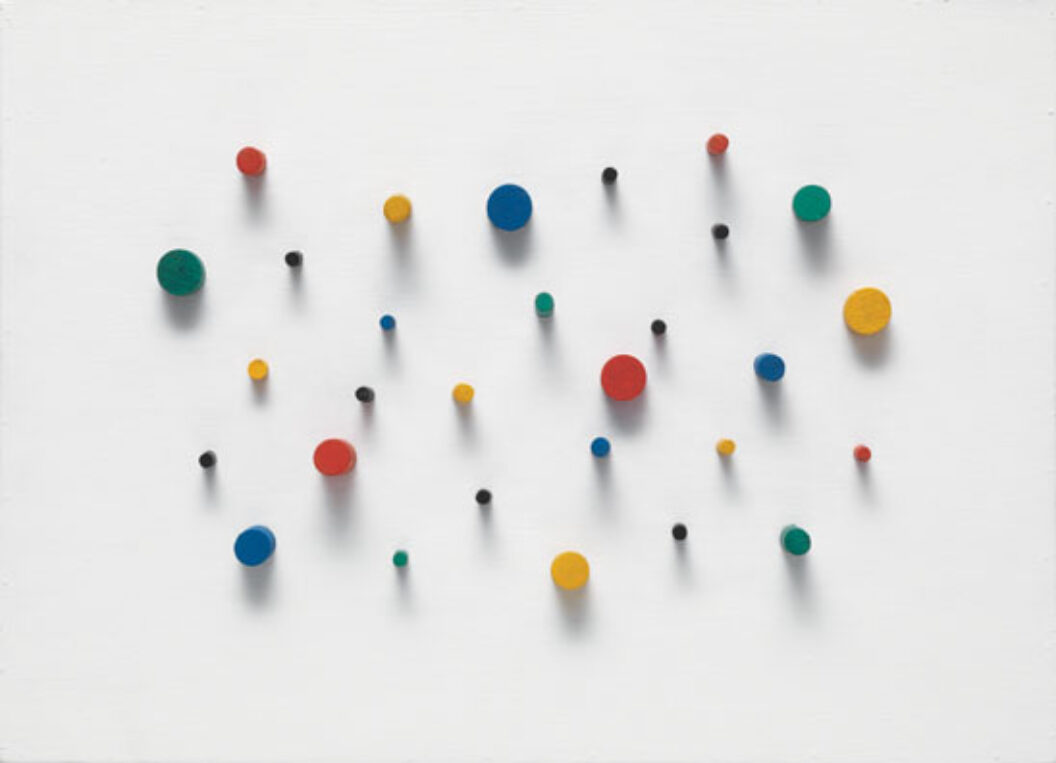 The Venezuelan artist Carlos Cruz-Diez has described color as "not simply the color of things or the color of form [but rather] an evolving situation, a reality which acts on the human being with the same intensity as cold, heat, and sound." Cruz-Diez presents color as an experience in itself—a pure phenomenon of light that can be perceived without interpretation or preexisting cultural knowledge. By projecting color into space, the artist explores the sensory possibilities of its direct interaction with the viewer. The viewer, instead of merely looking at the work of art, becomes a participant in a phenomenological event.
Cruz-Diez is identified in Venezuela as one of the country's modernist masters along with the late artists Jesús Rafael Soto and Alejandro Otero. In Europe, Cruz-Diez's name became synonymous in the 1960s with the exploration of color's kinetic potential. Born in Caracas in 1923, Cruz-Diez studied at the Escuela de Artes Plásticas y Aplicadas before working with an international advertising agency from 1946 to 1951. He then worked as an illustrator for a Caracas newspaper while teaching and practicing graphic and industrial design. In 1954, the artist worked on mural projects that could be manipulated; they changed with the sun's movement, creating shadows and animating the surface plane with radiant reflections of color. Beginning in 1959, Cruz-Diez's series of Fisicromías actualized the artist's premise of bringing art as an autonomous chromatic reality into the viewer's environment. The surfaces of the Fisicromías are made up of colored strips of cardboard, aluminum, or Plexiglas assembled in two interspersed levels: one flat, one raised. The color schemes produce a sensation of vibrating movement that causes the color tones to multiply according to the position and distance of the spectator and the angle at which the light—natural or artificial—of the environment is reflected. These early works were pivotal in defining the artist's future path. No longer denouncing social injustices through figurative painting, Cruz-Diez deployed a new means of expressing contemporaneity while maintaining a moral commitment to serve a broad public.
By way of experiencing color's intense immediacy as light rather than pigment, the viewer's eye is freed from the burden of interpreting representational forms that are preordained by class or political messages. Exploring the infinitely changing effects of additive, reflective, and subtractive color, Cruz-Diez has ever since used color to challenge the traditional relationships between artist, viewer, and the perception of art. In 1969, Cruz-Diez installed 22 electrically lit cabins composed of red, blue, and green Plexiglas walls grouped into four separate maze-like structures at the subway entrance of the Place de l'Odéon in Paris, his adopted home city. These color-infused rooms—called Chromosaturations—are a culmination of the artist's desire to project color into space as a participatory event; they literally saturate the viewer's environment.
Cruz-Diez permanently moved to Paris in 1960, though he returns often to Venezuela. Since his first solo exhibition at the Venezuelan-American Institute in Caracas in 1947, he has participated in dozens of exhibitions, including MoMA's polemical 1965 show of then-new Op work, The Responsive Eye. Cruz-Diez's 2008 retrospective at the Americas Society in New York was his first major exhibition in a US institution, and the influence of his experimentation with color on contemporary artists became palpable.
Estrellita B. Brodsky Since the last time I saw you, I have done research in Caracas and discovered the complexities of how modernist Venezuelan art and its discourse developed locally as well as in Paris. I am interested in your role in that discourse as well as the roles played by two major Venezuelan figures—the architect Carlos Raúl Villanueva, who integrated avant-garde Venezuelan and international art into his design of Caracas's Ciudad Universitaria during the early 1950s, and Alfredo Boulton, the Venezuelan art critic, cultural historian, and photographer. They not only encouraged a cultural self-awareness in Venezuela during the 1940s and 1950s, they also encouraged Venezuelan artists living in Paris to take an internationalist perspective in their work. Within this context, could you describe your initial interest in traveling to Europe and why you temporarily returned to Venezuela before ultimately settling in Paris in 1960?
Carlos Cruz-Diez It's interesting. I came to Europe for the first time in 1955. Before that I was doing many things in Caracas simultaneously. I did set designs for film and theater while earning a living as a graphic designer. When I arrived in Barcelona in 1955 with my wife and two children, my intention was to go on to Paris. But since I didn't speak French, I thought it'd be reasonable to stay there until I became fluent in French. I traveled to Paris three or four times during that period of almost two years, and I did a lot of research and began projects that integrated art, street life, and architecture. Like many Latin Americans who visit Europe for the first time, I went through a period of thinking: What can I do here in Paris? Nothing. There is history in Europe, but in my own country there is a blank slate; you can do anything there. How could I have missed this before? So I returned to Venezuela in late 1956 full of hope, sketches, and projects. I immediately got in touch with friends and business people so I could start working on the projects that I developed in Barcelona: the group of manipulable sculptures Signs and Dynamic Rhythms, made of metal and wood. Predictably, everyone was enthusiastic: "Great idea, call me on Monday!" Time kept passing and everything was stalled. Our economic situation was precarious and I needed to make money again. At some point I ran into a poet friend of mine who edited the Caracas-based journal Momento; he mentioned that they needed a graphic designer. Given that none of my projects had taken off, I accepted the job, though I continued doing the research I had begun in Caracas in 1953, which proved very valuable the next year, when I did those projects with murals and manipulable objects, such as Project for a Mural.
EB Though Project for a Mural wasn't part of the Ciudad Universitaria.
CCD No, I didn't participate in that.
EB For political reasons? I know that many artists felt that despite Villanueva's commitment to avant-garde artists, they did not want to be associated with anything funded by Marcos Pérez Jiménez's brutal dictatorship.
CCD The work I was doing in the early 1950s didn't belong there. I was making figurative paintings that denounced political issues: shantytowns, poverty. There was no room for that in Ciudad Universitaria. The artists invited to participate were Paris-based abstract artists; they were the ones making works for the university. Years later, Villanueva did ask me to make a piece for the university, but I still didn't think that it was right to join a project that had started in 1950 and which had the coherency of an era to which I didn't belong. But I had a close friendship with Villanueva; he'd come to Paris a lot and would visit my studio.
Yet the art shown at the Ciudad Universitaria influenced me a great deal. At the time, I thought the paintings I was making were good, since I believed that the painter's role was to denounce injustices and to make socially committed work. Latin American artists all come from that. For me, to change my discourse required a lot of reflection and time, since I wasn't sure whether what I was doing had any visual appeal. I tell it as a joke, but it's true: rich people were the ones buying those little paintings of shantytowns in which I denounced poverty. I was fooling myself. If I had continued making that type of work I'd be a millionaire now. So, in 1954, I started doing very focused investigations on how discourse could change in order for art to become more participatory. Before then, I had made figurative paintings because I felt art had to be integrated into society and contemporary life. They were influenced by Mexican muralism, social realism, and social satire. My first works that no longer had anything to do with so-called realism still had a social intent. Instead of making paintings that depicted poverty and social problems (which I couldn't solve) for rich people to collect, I addressed social concerns by having people on the street intervene and help complete participatory, shared works, as I called them back then. I didn't want to have control over the discourse. In Project for a Mural the viewers could manipulate the pieces. What gave me great joy and confirmed my findings was that when I arrived in Paris in 1955 I encountered a friend from school, Jesús Rafael Soto, as well as all the abstract painters—their exhibition Le Mouvement had just closed. I called Soto, who said, "Go to Denise René's gallery, there's a show there you must see."
I met Denise René as she was taking down the works. It was very exciting to see that without having any information—I had no idea what Soto had been doing in Paris—I was already in sync with the new discourse of creating work with which the viewer could directly interact; this broke away from the traditionally passive relationships between viewer, artist, object, and space. I hadn't seen any photos of Soto's new work. I hadn't seen work by Yaacov Agam. I didn't know of Jean Tinguely's existence, nor of Pol Bury's. I did know about Victor Vasarely's abstract paintings, but not of his works with glass.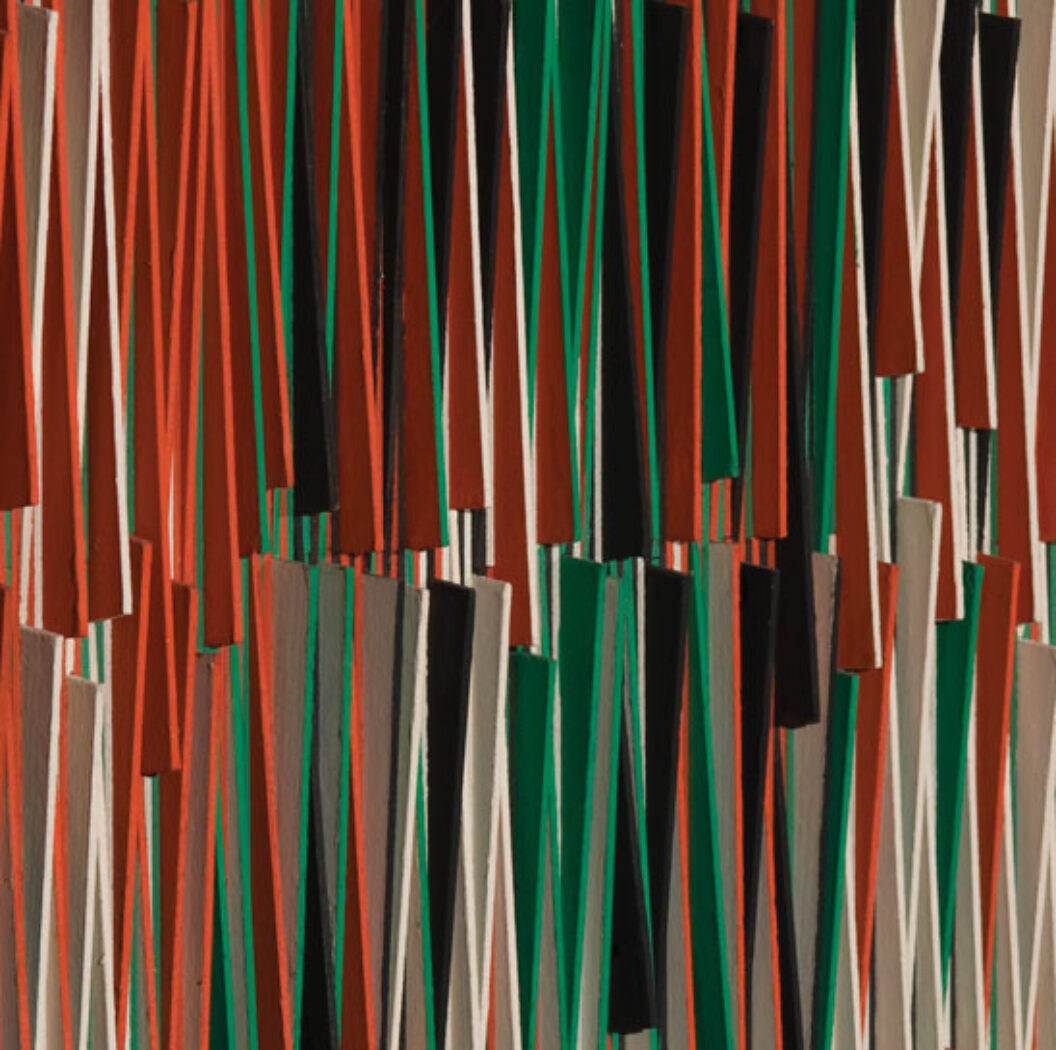 EB And what about Alejandro Otero?
CCD Yes, he and I were classmates, though when I came to Paris he was no longer there. He made the Cafeteras and the Coloritmos and then went back home. Later he'd come and go, but was very rooted in Venezuela. In '55, I intended to stay here in Paris, since the climate in Venezuela was unpleasant and humiliating. Amid the dictatorship of Pérez Jiménez, the artist or intellectual had no reception at all. We'd be at a party and all of a sudden a military would show up and we would have to flee like flies. I was never very political. I once sat in at a Communist Party meeting and realized that in order to join a party one has to be obedient—I've never been obedient.
EB In 1950, Otero and a group of Venezuelan avant-garde artists, poets, and intellectuals in Paris published a series of art journals called Los Disidentes that attacked Venezuelan academic art and conservative institutional attitudes. Was the group influential for you?
CCD I was in Caracas when they formed; I never agreed with them. They did something I thought was wrong. They attacked the post-Impressionist landscape painters who had been our professors and were very dear to us. Those professors taught us what they knew; they didn't have any other information. But Otero's and Pascual Navarro's attitude was right too—they wanted to leave the country in search of more information. Back then I thought it was more important to witness what was happening in the country. Soto said, "I'm out of here," and left for Paris in 1950. Among the first to leave Venezuela in the late 1940s were Pascual Navarro, Mateo Manaure, Herminy Perán, and Omar Carreño, all part of Los Disidentes. They met Aimeé Batistini, another Venezuelan artist, who became a catalyst for the creation of the group here in Paris. I was still going to school at the time and was friends with the professors, who didn't understand why they were being attacked. It wasn't their fault to not have more information.
EB How would they even know they were being attacked? Los Disidentes's magazine only lasted a year.
CCD Although they published the attacks here in Paris with Battistini, the movement was not a Parisian one. It was a Venezuelan movement based in Paris, but nobody in Paris knew about it; it devoted itself exclusively to Venezuelan discourse. Later in the 1950s, Los Disidentes returned to Caracas. Otero returned in 1952 to aid Villanueva in the synthesis of the arts project at the Ciudad Universitaria. They took over the visual-arts school and became professors. They presented people with new information, so thanks to them, painting gained a currency it hadn't had before. Until then, art appeared in the social pages of the newspaper, but it wasn't part of a political-cultural debate. Los Disidentes was important precisely because it opened that debate in Venezuela, yet it was not a theoretical or aesthetic one. In the end, their aim was to renovate the art school administratively. Another thing: when Soto returned he discovered that everyone was making abstract art.
EB Was this in the salons of the Réalités Nouvelles?
CCD Yes. They found themselves in the contradiction of having left a traditional art school in Venezuela to come to Paris, where they became a part of the abstract-art school with Edgar Pillet and Jean Dewasne, who, along with Léon Degand, the publisher of Art d'aujourd'hui, and Denise René, were the driving forces of international abstraction in Paris. Soto never participated in this; he would say it didn't sit well with him. All these artists made works that were extremely important for Venezuelan artists, like Otero, whose work was very relevant, yet the landscape of the visual arts wasn't changed much by them. Ciudad Universitaria did change the landscape; it showed people a new way of painting, of making art, by incorporating works by Vasarely, Léger, and others. It provided me with essential information. An exhibition that Villanueva took to at the Caracas gallery Cuatro Muros in 1952 had a similar effect on me. That's where I first saw work by Soto and the utopian Marxist Madi group—who argued that abstraction could create a revolutionary artistic language—as well as by abstract painters whom I didn't know. All of this prompted me to come to Paris.
There's something else that nobody mentions: in 1947 Héctor Poleo came back to Venezuela. He was a renowned figurative painter who had lived in New York, had been featured in Time, and showed in the Seligman Gallery. When he came to Venezuela with a show that was traveling from Mexico, he also brought other information—thanks to him I discovered that one could do more than paint à la Cézanne, Picasso, or Armando Reverón, our paisano. Poleo's paintings of modern social outcasts incited in us a desire to make a different type of painting. The impact on me of Poleo's paintings—as well as the works in Ciudad Universitaria and the show at Cuatro Muros—coincided with my having doubts about the effectiveness of my figurative work. My experiments resulted in the manipulable works and a mural in 1954. When I exhibited these new works in the Annual Salon of Caracas in 1955, I was told, "It's not art; it's decorative and completely uninteresting." I've kept those pages of El Nacional—the artistic discourse of the era is all there. My paintings are published in there as anomalies, as aliens.
For three years I had been doing graphic work for the Momentos magazine in Caracas, so I decided to found my own graphic design studio, called Estudio de Artes Visuales. I had a staff and editors and devoted myself to teaching, editing, and production. I would edit a pamphlet or book and print it myself.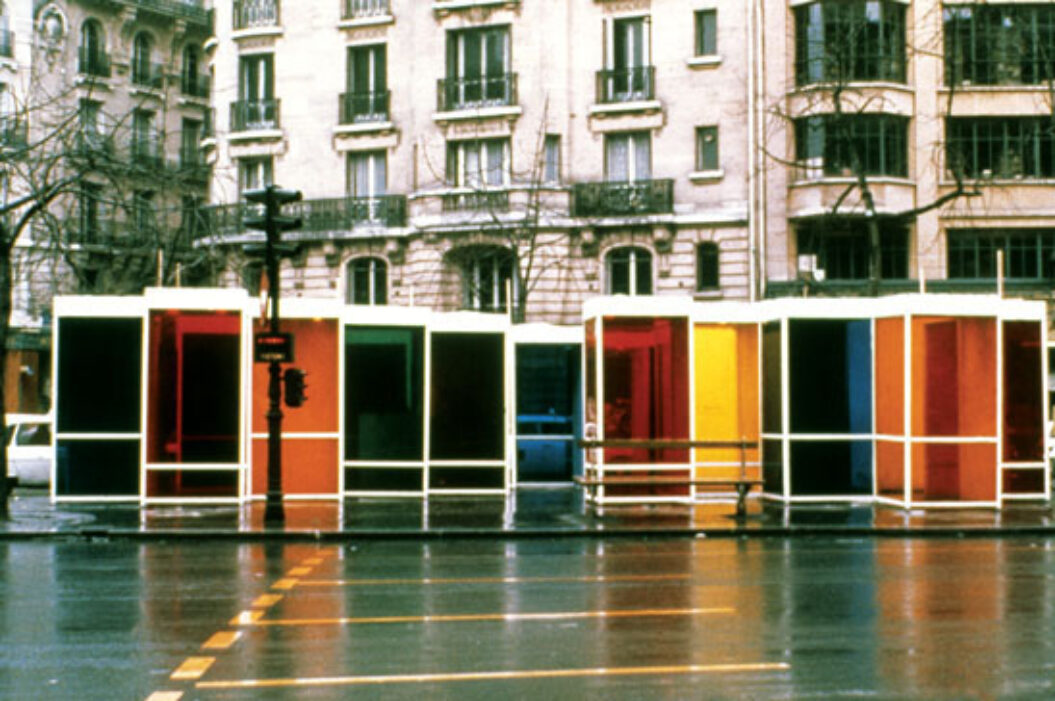 EB Where was the studio?
CCD It was on the corner of El Loro, where the Cromotip printing press is. I was doing very well; I had a lot of clients. But in 1960 I decided to go to Paris again, I had defined my discourse on color and the conceptual framework of my work and already made the first Fisicromías. I had had a show at the Museum of Fine Arts in Venezuela, which had no repercussions because no one understood anything.
Once I returned to Paris, I settled and started making friends. Soto helped me a lot by introducing me to all his friends. Denise René came over, as did the gallerist Iris Clert, and gradually I became more connected. Denise invited me to participate in some group shows. I also showed at Iris's gallery with Soto, Tinguely, and all the rest. In 1961 Pontus Hultén came by with Daniel Spoerri to invite me to be in the Moving Movement exhibition at the Stedelijk Museum. I showed a few works there, including the Fisicromía No. 13. That started everything, though I didn't sell my work yet. After two years I ran out of money and started looking for work as a graphic designer. Someone referred me to a press; the guy there asked me, "And why did you come here?" I told him I was an artist. "The work is impressive; I'll find you a job," he said. And he did; I made a living as a designer until 1968. Denise René gave me a contract in '66, since in '65 I had had a show at Galerie Jaques Kerchache and they had been selling my work since '63. I had a retrospective there that got a lot of press in Le Monde and all the magazines. So René said to me, "We need to write a contract and work together." I had also worked with her designing the gallery's catalogues. Through the press I worked at I designed catalogues for many other galleries too. When Sonnabend opened in Paris, I designed catalogues for Rauschenberg and Jim Dine, as well as posters for Lichtenstein. That's how I met all those people. Once René signed a deal with me, I abandoned graphic design and devoted myself completely to art.
EB Were you selling work then?
CCD She was selling a lot, things were going wonderfully for her, but due to the oil crisis the art market plummeted.
EB But weren't her collectors French?
CCD They were American. That was the mistake she made. Both North and South Americans alike would come to Paris. They had always had a great fascination with the city: the Lost Generation had come here and the movies of the '30s and '40s all took place here. Collectors would go to the opera and great restaurants. To buy art, they'd go to chez Denise René's.
EB And when she moved to New York?
CCD People's fascination with buying art in Paris was over.

EB Do you remember The Responsive Eye exhibition at MoMA in 1965? Were you happy with it?
CCD The show was problematic because it distorted kinetic art. The show was not well received; it wasn't structured properly, so it damaged the movement and William Seitz, the poor MoMA curator who had organized it. That was a political battle between Europe and the US—New York then was starting to become the economic capital of the art world. Here in France, art has never been sold the way it's sold in the US. Here, people buy the Impressionists. The Americans, the Swiss, the Scandinavians, the Russians bought Picassos, but the French didn't—they're not in the habit of collecting. They learn that art is for the king, the government, the museum, but are never made aware of the fact that they could have it in their own homes. Even in Venezuela, an underdeveloped nation, the most destitute rural homes have paintings hanging on their walls. They're the most horrible snow-covered landscapes, but still, people are used to living with painting. However, Paris continues to be an important art center, intellectually speaking, but not economically.
EB What were the problems with the show in New York?
CCD New York was becoming an important art hub. Pop art was booming there. The Responsive Eye wanted to show the public what was being done in Europe. Alexander Calder, a fundamental artist, was not well known in the US—he was better known abroad. People were reticent and prone to rejecting the European work, so the works in the show were turned into gadgets and the investigation behind them was trivialized. This caused problems that lasted for years; kinetic art was erased from history. It is only now, happily, that people are realizing that a great number of the art movements of the last 30 or 40 years come out of kineticism: installation art, conceptual art, participatory art, interactive art, happenings, street art … we did all those things. What we called "environments" later became installations. Now young people read this work differently, and what they're doing is called interactive art! Young people are now our fans, but what we went through was purgatory. One sees that throughout history. All movements—Mannerism, Cubism, Surrealism—have had to struggle to convince people of their merits. After people have been convinced, there comes a rejection and then a purgatory. Finally, with a new generation, comes recovery.
EB What was it that you found here in Paris that you couldn't find in Caracas in order to develop your work?
CCD What I found here was exceptional. I don't have any other explanation for it other than generational coincidences. Why did I come up with ideas in Caracas at the same time that artists in Brazil, Argentina, Israel, England, and Italy were also having them? We all happened to coincide here in Paris. And, of course, there was an abundance of Latin Americans, which is curious. An entire generation was having similar thoughts.
When I first arrived here in 1955, the Salon de Mai was taking place at the immense Musée d'Art Moderne de la Ville de Paris. I had the same impression you get when you go to the Palace of Fontainebleau and see all those paintings of Napoleonic battles. Paintings by seven or eight different painters seem to have been made by the same artist. In the Salon de Mai, I couldn't tell which artist had made what art because everyone was making the same circles, the same squares, the same stains, the same as with academic painters. The discourse was dead. There was no inventive exit to figurative painting, everyone was repeating the same stuff. Abstract art and gestural art had reached a similar point. Art needed to look for new horizons and open new paths. That's how it came to be that an entire generation coincided here in Paris—we had to modify painting's support. It couldn't be the canvas anymore. We had to take painting out to the street so that we might reestablish the ability to communicate that it had when it was still referential. That's why instead of painting the thing, I instinctively had people participate in the creative act.
EB When you took your Cromosaturaciones out to the street, did you need an official permit?
CCD The first exhibition of kinetic art took place at the museum in Grenoble in 1967. I showed my Cromosaturaciones there; they were very powerful. After that the Musée d'Art Moderne de la Ville de Paris showed Le lumière et mouvement a kinetic art exhibition organized by Frank Popper. It was a huge success; they had to reprint the catalogue four times.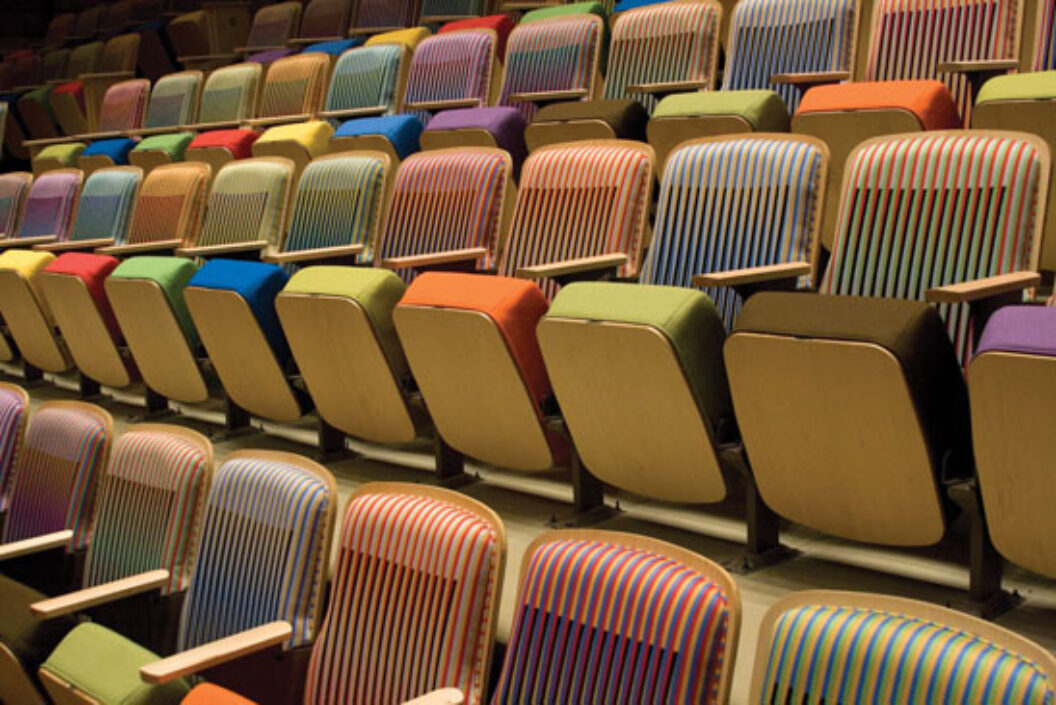 EB Why was Frank Popper so interested in kinetic art?
CCD He was friends with Yaacov Agam and Nicolas Shöffer. He was about to start his doctoral dissertation and Agam suggested he do it on kinetic art. So that's how he started writing on all of us. When that exhibition was organized we were already known. Imitations of our work were appearing in window displays—there was a popular boom. So for the public art, the National Center for Contemporary Art, which became the Pompidou, celebrated a public-art competition that Popper had also organized. This was in 1969. I was invited to participate along with Piotr Kowalski and the Danish artist Lily Greenham. They commissioned work from all three of us for the Théâtre du Châtelet. Greenham covered all the pine cones of some pines in the town hall of Montreuil outside of Paris in different colors; it was a lot of fun. Kowalski's project was laser rays surrounded by mirrors—it was too costly and utopian, so it never materialized. My project was those color booths for the Place de l'Odéon; originally I proposed 60 booths for Châtelet, but they were also very costly, and the city officials hadn't granted us permission because the area was heavily trafficked. They asked me to find another place in the city, so I found the Place de l'Odéon in the Latin Quarter—there was enough space to make my statement evident there. Also, the Sorbonne, the School of Medicine, and the metro station were nearby, so my piece would reach all social classes, workers, and students. They approved of the project there. I actually just sent a letter donating the blueprints to the Carnavalet Museum of the Ville de Paris.
EB Under the founding director, André Malraux, the French Ministry of Culture organized the first Paris biennial in 1959. Many Latin Americans took part in them, as well as exhibitions such as L'art latino-américain at the Musée d'Art Moderne de la Ville de Paris in 1962.
CCD Latin Americans have always played a role in this city: Wilfredo Lam, Roberto Matta, Cícero Dias. They have had an especially strong presence here since the '60s.
EB Artists of previous generations had to go back to their countries of origin in order to gain recognition. Lam, for instance.
CCD Well, Lam's career actually took off in New York. MoMA bought a large painting of his, The Jungle. That might have been the first painting by a Latin American artist that the museum acquired.
EB You were also involved with Robho, the critical avant-garde art magazine published in Paris between 1967 and 1971.
CCD Yes, I designed the magazine. It had a great impact here in Paris and generated intense polemics. It was the brainchild of art critic Jean Clay, a very intelligent guy, and novelist Julien Blaine. I came up with a design for the magazine that looked like nothing else. I was very pleased with the first issue; it led to bigger projects, and the poster I made for Le mouvement II exhibition, which was a pop-out circle which no one could fold back in again.
EB What was the mission of Robho?
CCD We wanted to give people information on new developments in art; it was against bourgeois art. Some of the newest, most politically radical discourses were coming from North and South America: Tucumán Arde was a collective project organized by artists from Buenos Aires, among them Graciela Carnevale, León Ferrari, David Lamelas, and Roberto Jacoby. It consisted of a series of events and was meant to expose government exploitation of workers in the province of Tucumán. The artists wanted to create an "information supercircuit," to circumvent the conventional means of disseminating information that were controlled (and distorted) by government authorities and the bourgeoisie. And of course there was street theater, the Black Panthers …
EB So were artists writing for the magazine?
CCD Some of them, yes. The magazine introduced a lot of new artists: Lygia Clark, for instance.
EB Did you know her personally?
CCD Very well, and I saw her often. My son Carlos photographed her work.
EB Was she also friends with Soto?
CCDYes. We'd see each other a lot back then. Precisely during that time we'd talk about participatory art. That's when she started modifying her paintings, which turned into the manipulable Bichos. She then started developing the body thing. The work resulted in more participatory works. We criticized her for developing therapeutic art, but now that's relevant again. She was a pioneer. We were making labyrinths with light, like the Argentine Julio Le Parc. I made a labyrinth called Descondicionamiento with a wind tunnel.
EB That's very Duchamp.
CCD Yes, his Rotoreliefs inspired kinetic art. He was also a pioneer.
EB Did you know Jorge Romero Brest, the influential Argentine critic, art historian, and supporter of Latin American vanguard from the '50s through the '70s when he was the director of the Museo de Bellas Artes and then Centro de Artes Visuales del Instituto di Tella in Buenos Aires?
CCD Of course I knew him. Quite a character. He formed a lot of people in Buenos Aires; he was very smart.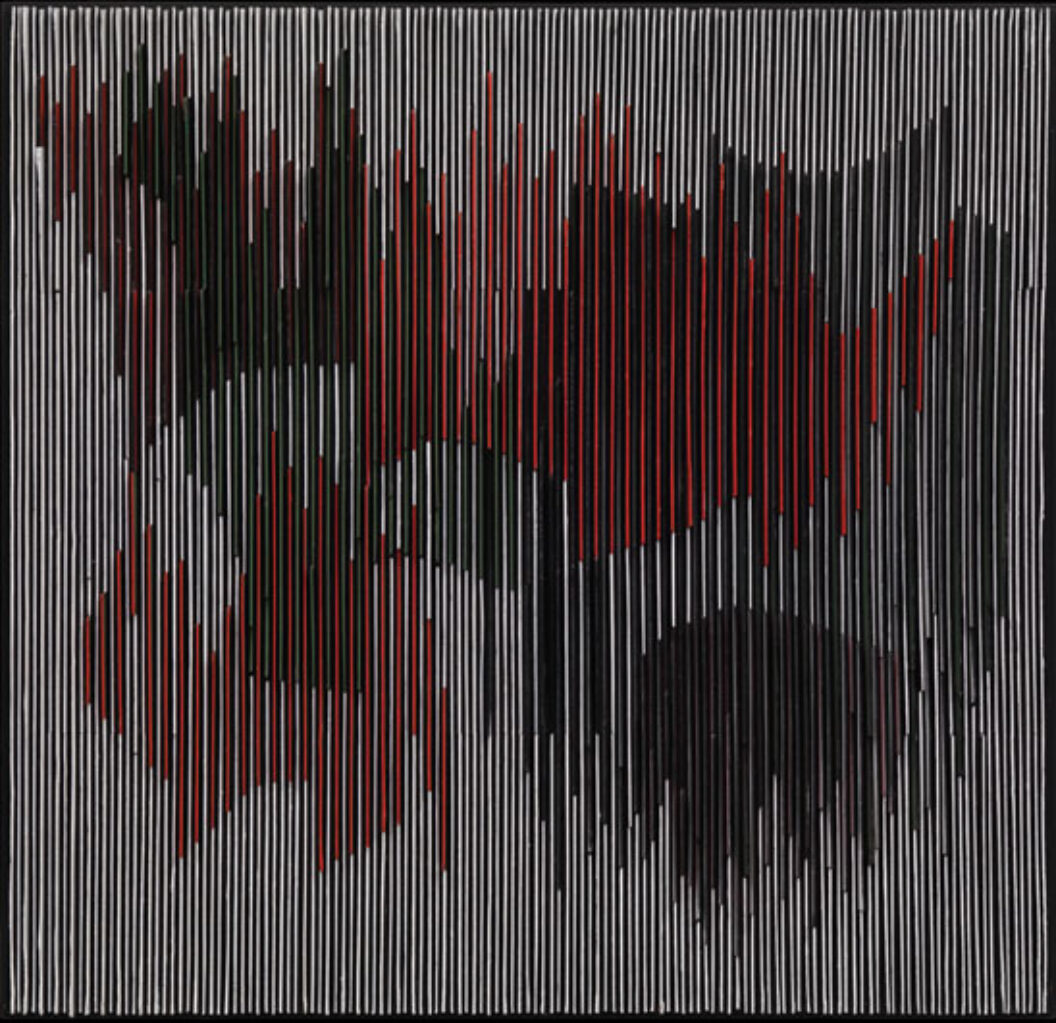 EB I read a letter in which Otero described his own Coloritmos as somehow representative of the Venezuelan landscape. As abstract as they are, he thought they displayed love for his country. Do you find that true of your works?
CCD I haven't overtly made any folkloric gestures in my work. I don't know if my colors are "Venezuelan"; it's certainly not my intention. There's a literary and poetic quality to them in the 19th-century romantic sense of the term: there is an association between music and color, a desire to blend notions associated with the different arts. People tend to think that if Matisse is French, then his art must be French. No! Descartes said that Cartesian reason was French, but there's nothing more disorganized than the French mind! (laughter) If a rationally organized structure were characteristically French, then Mondrian would have to be French. He was here in Paris for 14 years and yet they never took him into account.
It has a lot to do with schooling too. Here children learn by heart that they are Cartesian. Duchamp was the great savior! His spirit is truly Cartesian!
EB And he made so few works.
CCD That's why Latin Americans feel so good in Paris. We identify with disorder. We would have felt lost in Germany. (laughter)
EB Wasn't there an interest in being modern in Venezuela back then in the late '40s and the early '50s? Villanueva was able to convince Pérez Jiménez to leave the Calder pieces in the auditorium of the Aula Magna in Ciudad Universitaria because they were technologically advanced, acoustically.
CCD That's what's interesting: it's technology and it's beautiful.
I want to say one thing, even though I haven't done the research to develop this idea; I leave it up to researchers to delve into it. Why the hell is it that all avant-garde movements, all new ideas, emerge from the Atlantic coast of the continent, and not from the Pacific coast? If you look at the Latin American avant gardes, they came from Argentina, Uruguay, Brazil, and Venezuela. The Atlantic side of the land was pretty much uninhabited. On the Pacific side we find all the great cultures—the Incas, for example—but they are the most traditional when it comes to art. All writers and artists emerge from the Andes side, whereas the painters and musicians all come from the Atlantic side. Isn't it curious?
Translated by Camino Detorrela.
—One of New York's leading arts philanthropists, Estrellita B. Brodsky promotes the visibility of Latin American art in museums. Responsible in part for Harvard's addition of a Latin-American art specialist position, Brodsky's goal is to help young Latin Americans in the United States feel pride in their cultures' creative achievements.