The Deliberate Rejection of Reality: Cara Levine Interviewed by Amelia Rina
On the anti-racist anthology about forty items police officers mistook for guns.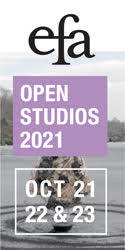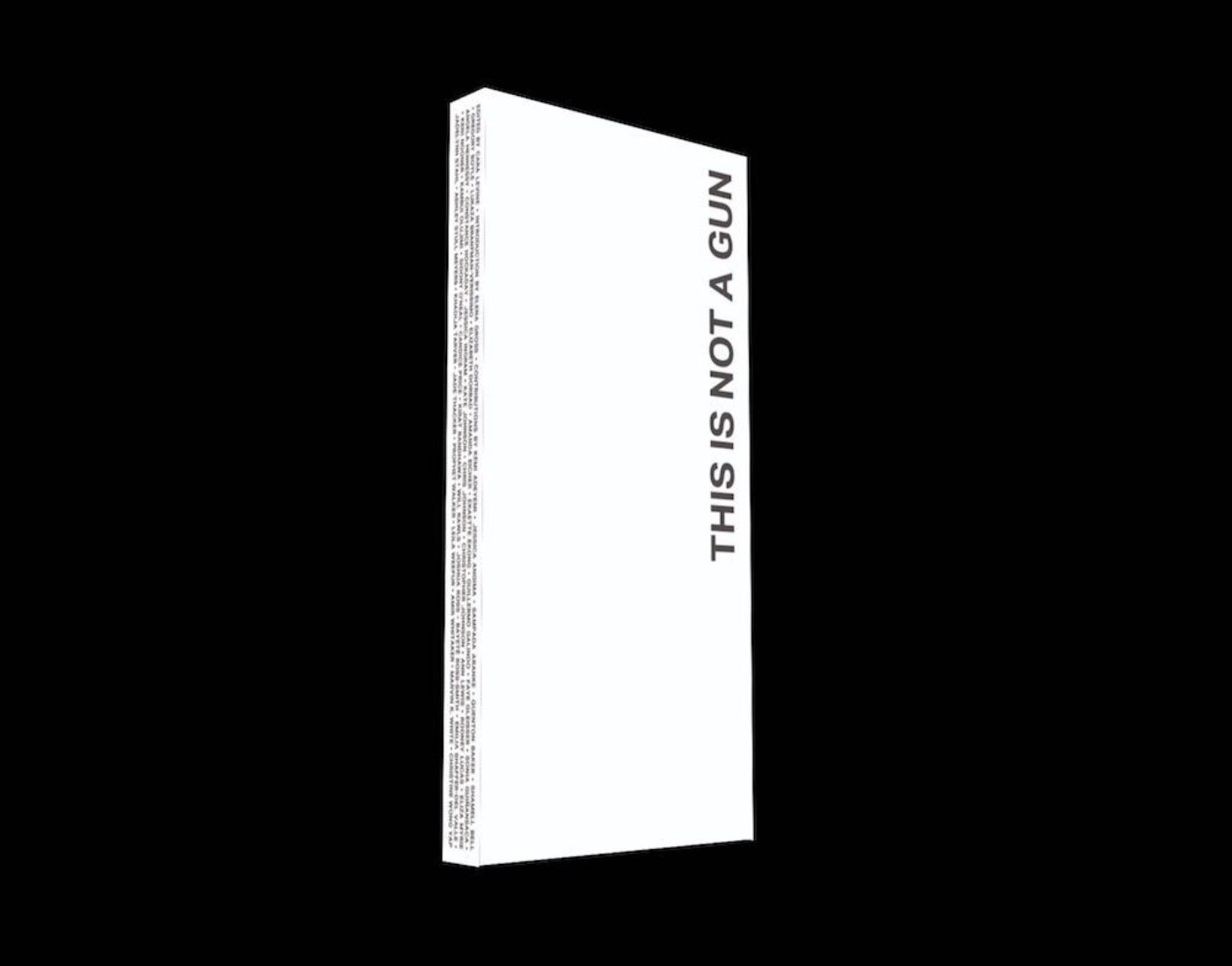 The current and historical killing of Black people must stop. Los Angeles-based artist Cara Levine has been promoting this essential message in her multi-faceted project This is Not a Gun (Sming Sming Books), recently made into a book. For the book component, Levine brought together forty artists, writers, healers, and activists to respond to forty objects that police officers mistook for guns during the shooting of an unarmed civilian. The majority of the objects are heartbreakingly mundane—a padlock, a hairbrush, sunglasses, a piece of pizza, hands—and demonstrate that police can perceive anything as threatening when it's being held by a Black person.
In the introduction, cultural critic Elena Gross writes about strangers, strangeness, familiarity, and its absence, calling the book an "archive of misrecognition." She explains that "if police make strange the existence of these ordinary objects by transforming them into weapons, the contributors of This Is Not a Gun effectively undo this 'strangeness.' They restore the objecthood to these objects, and subsequently, the personhood to all those who carried (carry) them."
Black lives are in danger as long as police can freely hallucinate guns into the hands of Black adults and children. This deliberate rejection of reality by the police and other bigots stems from a deeply rooted American tradition of oppression, exploitation, and terrorism. In this interview, Levine and I discussed our responsibilities as white people to actively work against systemic racism and how to creatively deal with pervasive tragedies.
—Amelia Rina
Amelia Rina With the recent news of killings across the US, and past injustices coming to light, violence against people of color feels omnipresent. Was there a specific event that acted as a catalyst for this project?
Cara Levine In December of 2016, a month after Trump stole the presidency and I was in a deep abyss of fear and unknowing, a friend sent me an article from Harper's Magazine entitled "Trigger Warning: From a list of objects that were mistaken for guns during shootings of civilians by police in the United States since 2001." I think she sent it to me for two reasons—first, though at the time I was in Portland, Oregon, I previously lived in Oakland, California, and my community had been protesting and grieving the many unlawful shootings of Black men by police. Second, I have a deep and resounding belief that objects carry stories.
AR The carvings powerfully demonstrate that narrative potential. These commonplace objects—a sandwich, an umbrella—are transformed when they're mistaken for weapons. The individuals unintentionally become tragic characters, often without recognizing their humanity.
CL Right. I remember feeling so angry by the list; it left all the most important details out: who was shot, where, when, why? These lost lives had been reduced to clickbait, sensationalized and quickly consumable. I didn't just scroll on, I needed to see and know each object intimately. I thought that if I could make these objects in my hands, I could understand just how far from guns they were. That's when I started carving the objects out of wood.
AR The title, This is Not a Gun, encompasses the publication, the carvings, workshops, and events. How did the project transition from one iteration to the next?
CL It was clear very early that this project wasn't about me and I didn't want to be at its center. I felt this art-making, material-touching, grief-acknowledging process could catalyze larger conversations and move bigger feelings, and maybe actions, beyond my own.
While I carved, I used the time to listen to writing about the history of race in the US. Though I was raised in a deeply social-justice minded household and felt myself a part of a progressive and politically active community, I still knew there was (and is) so much for me, as a white woman, to learn. I have been profoundly informed by non-fiction writers like Bryan Stevenson, Ta Nahesi-Coates, bell hooks, Hilton Als, as well critical fiction by James Baldwin, Jesmyn Ward, Colson Whitehead, Chimamanda Ngozi Adichie, and others. I wanted to bring in voices, stories, and truths held by Black and Brown people in my community and beyond.
In the spring of 2017, 100 Days of Action, a Bay Area artist collective formed after the 2016 election, instigated one hundred consecutive days of anti-Trump art actions throughout the Bay. Amanda Eicher, a restorative justice activist and social practice artist, and I co-led the first TINAG ceramic workshop for 100 Days, hosted by The Tenderloin Museum in San Francisco. Immediately, we felt the potential of the workshop—making these objects in clay stirred a deeply personal and empathetic dialogue.
As an outward facing and collaborative project, I wanted to engage other artists' responses to the list but wasn't sure how that would manifest. In 2018, Montez Press asked that I contribute to their Interjection Calendar. I asked thirty-one artists to respond to thirty-one mistaken objects, for the thirty-one days. This was a huge labor of love but once the work was complete, I was blown over by its breadth and beauty. I knew it had to be its own book. Later, I was lucky to connect with Vivian Sming from Sming Sming Books, and we began to chart this project together.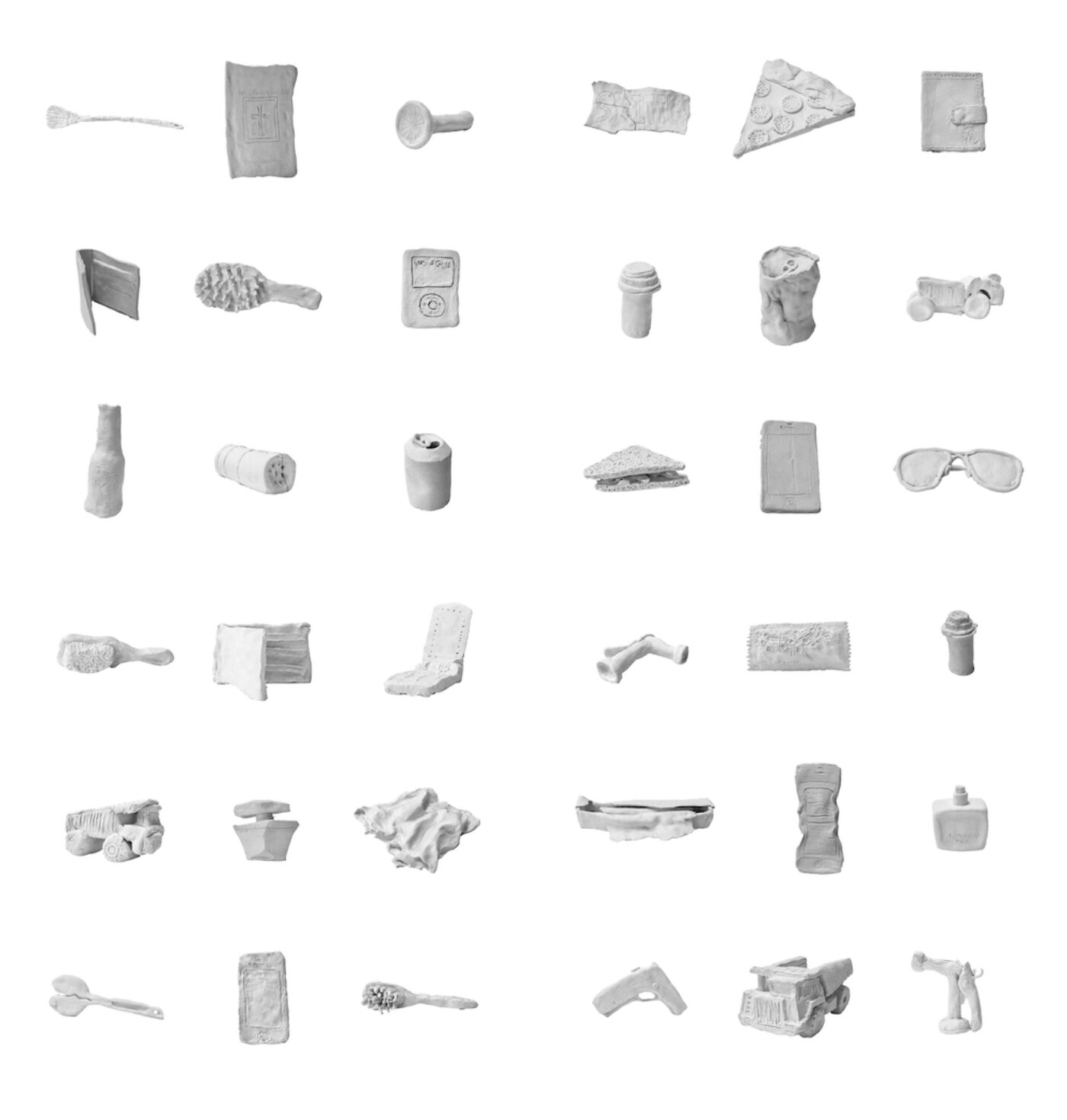 ARWhat do you think the text(s) add to what was already happening and not yet happening with the material art itself, why did it feel necessary?
CLThe text created a different method of interpretation of the original list, which I think, simply, expands the scope and depth of the whole project. I had been working with, meeting, and learning from so many radical, profound creators that I really wanted to know how these and other artists would interpret the same objects if prompted. The writing makes way for many more voices to be active authors of the work. Though there had been many collaborators and different leaders of the workshops, those events are ephemeral experiences, and this provided an opportunity to create a more lasting record. Lastly, each contribution in the book assigns a story, feeling, or condition, to the object it is about, which, unlike the recreations in wood or clay, explores a personal connection with it. Understanding that this is deeply nuanced, I want to offer that these contributions give voice to often otherwise unknown and unheard and unspoken stories. They remind us that behind each object, was a person living their life, with his/her/their connection to that sandwich, bible, or brush. The texts offer new possible narratives whose antecedents may otherwise have been tossed out, never heard, or worse, misinterpreted as dangerous—misinterpreted as guns.
AR Do the carvings and the book perform different functions?
CL Yes and no. Each response to an object, through carving, writing, or image is an assertion that this thing in front of us hides nothing. It is simply, only that thing: a book, a set of keys, a wallet. It is ubiquitous, harmless. I believe that the culmination of these assertions serves to further undermine any potential that these objects pose a threat. They are things all of us can carry all the time. What matters is who is carrying them.
Also, each artist is motivated differently and their work functions differently. Father Greg Boyle, the founder of Homeboy Industries, uses the flashlight as a symbol for new light and new beginnings. Ekaette Ekong uses Webster's dictionary format to underscore the contrasting guidelines to live by for Black and white people. Eliza Myrie simply extracted formal city literature and records describing the object and the incident. Seen together, they reveal gaps, oversights, and blatant racism.
AR On your website you include the amount of time it took you to carve each object, how does duration factor into the works for you?
CL Recording the hours describes two things: first, the futility of time. The cell phone may have only taken me six hours to carve, while the underwear took 108, but each is connected to a life impacted or lost—and that duration does absolutely nothing to alleviate the loss. Conversely, I believe that time is the most valuable material we each have in our lives. Ownership over our own time is a privilege we don't all have, but for those who do, how we spend it can be an expression of our beliefs. As a measure of my respect for the lives and families involved, as a method for processing my own grief, and as a personal and persistent protest to systematic racism, I spend my time.
AR I think your emphasis on collaboration and community makes the project all the more powerful. With the book, the TINAG workshops expand from a research-based, single-author project to a collaborative one. What, if anything, changed when you began working with other people to address these ideas?
CL So much has changed! I want more than ever for other hands to pick up this work and co-author it with me. There is so far it can go, and I can't do it alone! Each person involved, from the co-leaders of the sixteen workshops so far, to the hosting organizations who have provided spaces and audiences, to the hundreds of participants of all ages, races, genders, abilities, and classes, to the forty writers/artists/activists/healers involved in this book—this project is hugely collaborative.
I should also say each workshop is co-authored by its local leaders. Over the years we have developed a skeletal structure that outlines each event, but we encourage each local leader to bring in their own insights and methodologies. For example, in 2017, I and Dr. Shamell Bell, co-founder of LA BLM, co-hosted an event at the Women's Center for Creative Work. She brought a group of LA high school student leaders whom she mentors, called Students Deserve. The students did most of the leading of this event by sharing their own stories and guiding the conversation.
AR With so many diverse perspectives, were there any unexpected connections that emerged from the writers' contributions?
CL Yes! In reaching out to writers, I approached people I had wanted to work with for a long time and their responses created new connections as individuals and across the cohort. The group came together in a collaborative way; I would invite someone I knew and they would suggest someone else they thought would be an excellent contributor. It was very exciting to present the TINAG project at the ForFreedoms Congress last February, and to realize that many of the contributing writers were also either presenting or participants at the conference, including, Bayeté Ross Smith, Kambui Olujimi, Jessica Ingram, Angela Hennessy, Constance Hockaday, Ann Lewis, and others. It was thrilling to witness this coalescence of creative energy and activism.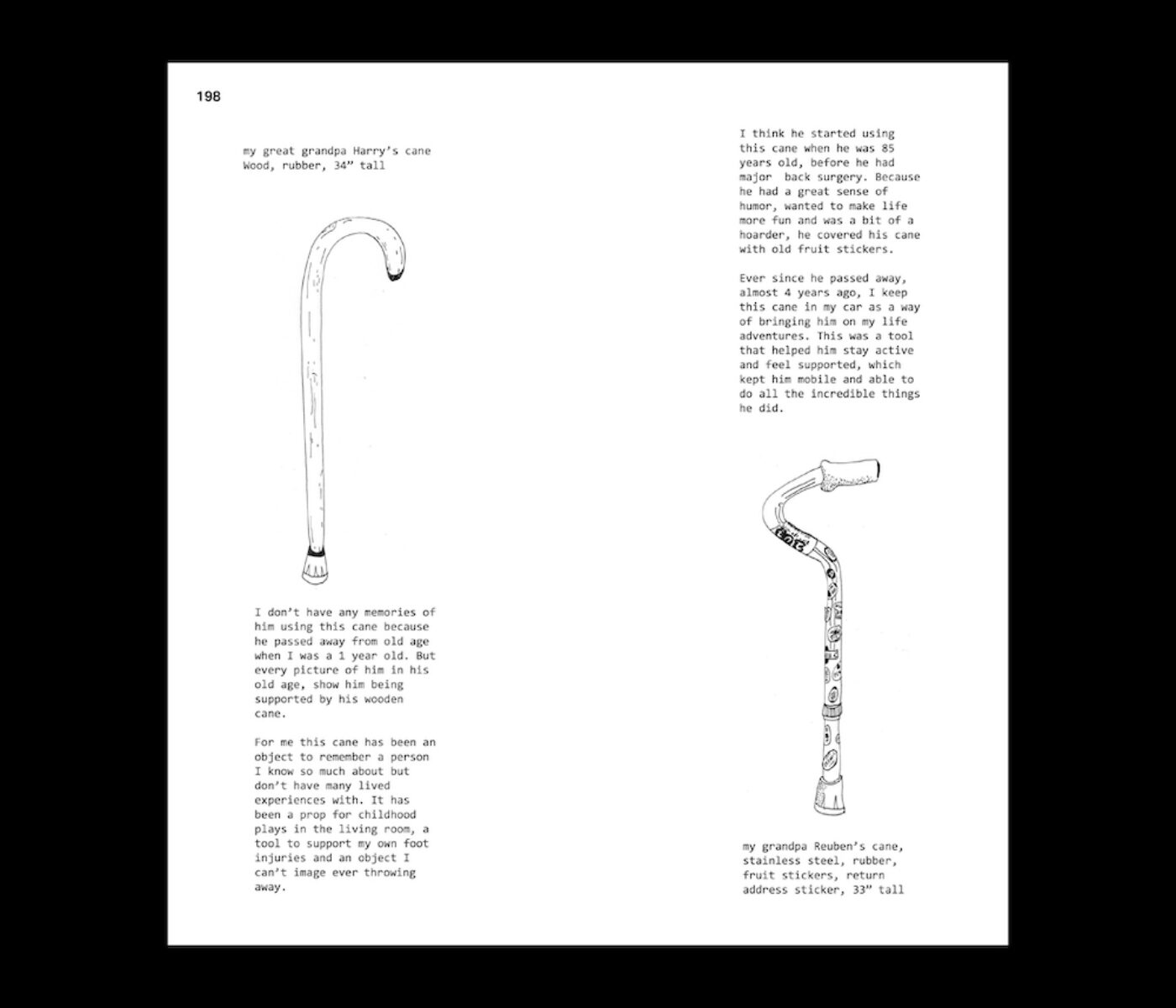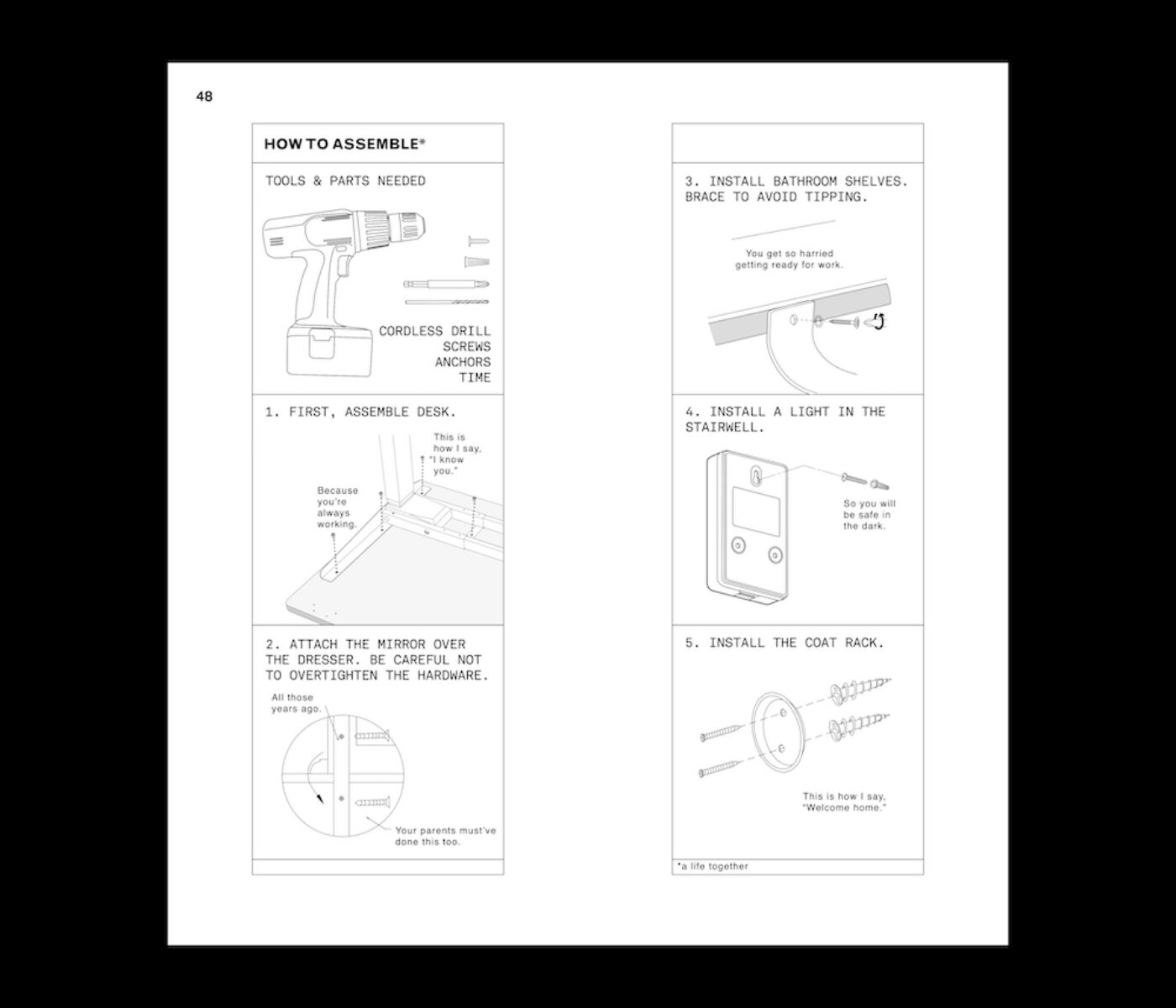 ARCan you talk more about the workshops and other elements of TINAG? What's it like to attend one?
CLThe TINAG workshop is really the heart of this project. It is where the art is made and real-life conversations take place. There have been sixteen all across the country, and have taken place primarily in art world and political activist-centric environments.
We set up an intimate workspace with tables, clay, and examples of objects that police have mistaken as guns; where the list says a sandwich was mistaken for a gun, we have a sandwich on the table. For those who are present, beholding a soft sandwich on the table really throws police brutality and Black death into sharp relief. We also have a binder containing information on each publicly recorded incident.
We open the space by prompting people to gather clay and an object. After introductions, my co-host leads a short centering exercise or meditation, which prepares the group to enter what we consider a deep workspace. Prompts were written out on each table to spur individual table dialogues, and about thirty minutes into the event, we open up a full group conversation. All the participants share with one another while steadily working with clay throughout the period. The material connection between hand and mind allows for a much more embodied framework to enter such a complex subject: racism in the United States.
ARThis year has already seen so many tragic murders of Black people by police and racist bigots—Ahmaud Arbery in Georgia, Breonna Taylor in Kentucky, George Floyd in Minnesota, and Tony McDade in Florida, to name a few—how can TINAG as a broader project function as a toolkit or guide for actively working against systemic racism?
CLIn the immediate aftermath of these murders, art is not enough. We need to take direct action by demonstrating, donating, raising money, educating, and changing policies. As white allies, we need to take cues and direction from Black and Brown leaders by making space for their voices to rise, not centering our own, and by checking in compassionately with our Black and Brown friends. I am personally calling on my city to defund the police, donating to bail funds, to Black Lives Matter, and participating in collective meditations and virtual grief processing.
My long-term vision for TINAG includes independent workshops held all across the country, all culminating in an exhibition of thousands of objects made by hand and in memorial.
We as organizers put basic materials in people's hands—sand, water, clay—and use the physical act of making to process difficult feelings—anger, fear, frustration, profound sadness, and so on. Together, as diverse bodies, we process those feelings in a safe space. It is a beautiful and important action; collective hand-making becomes a powerful method for finding catharsis.
Amelia Rina is a writer and editor based in Portland, Oregon, the unceded lands of the Clackamas and Cowlitz nations.