Discover MFA Programs in Art and Writing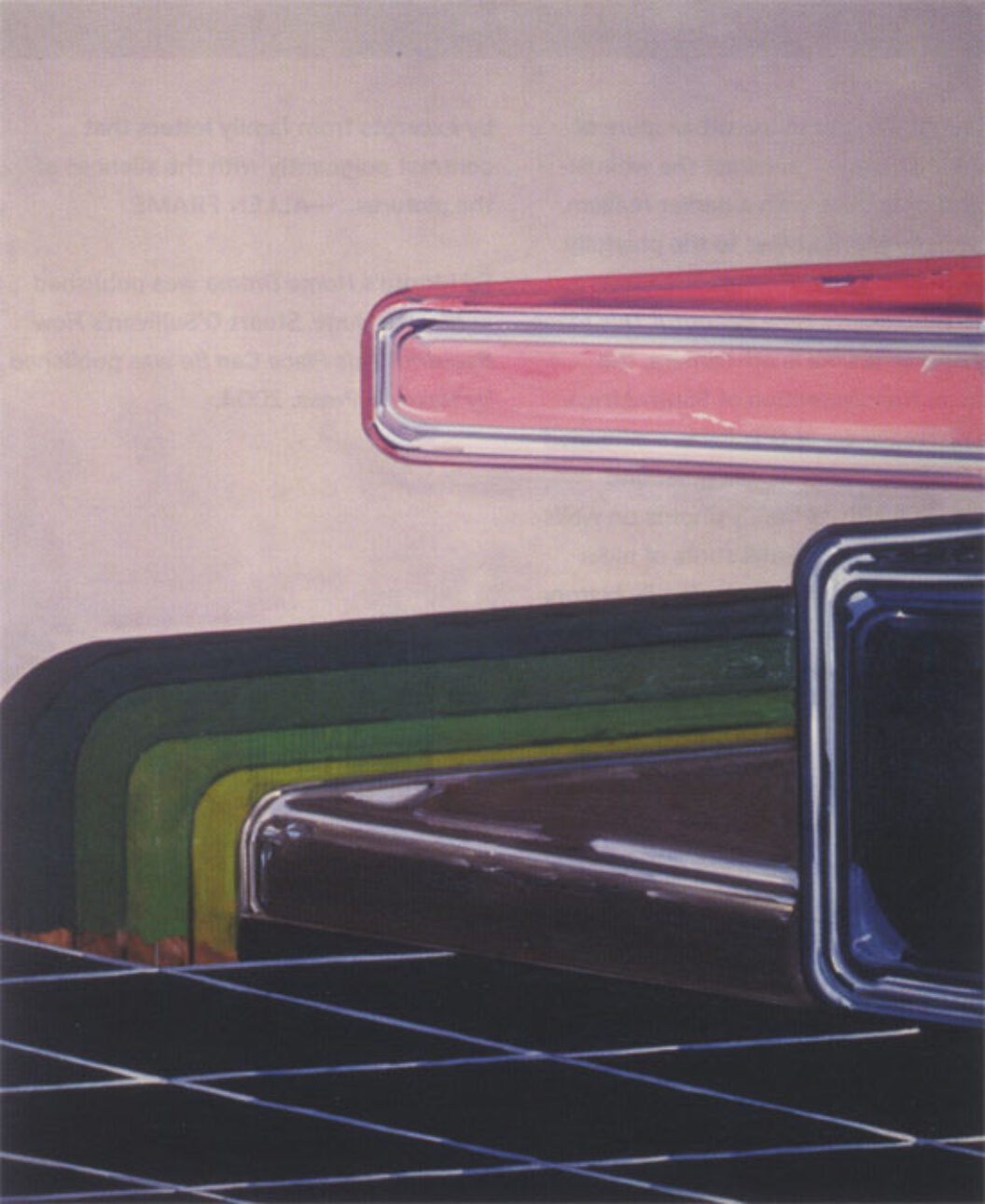 Cannon Hudson paints architectural interiors. On first glance, many of his paintings look like pictorial space populated by shapes resembling Sol LeWitt sculptures—that is, if LeWitt had coated his objects in eraser pink, mauve, and forest green, and then sanded his crisp, geometric corners into softer, more biomorphic elbow joints. And then these transfigured objects were placed in a room with pieces of Knoll furniture and maybe an Ellsworth Kelly, and Louise Lawler had photographed the whole thing. And Hudson had then painted from the Lawler photograph.
But let's backtrack. Cannon Hudson paints architectural interiors. On second glance, the paintings are Guston-smudgy and semi-realist, featuring tricky, vaulted, and occasionally exploding perspectives. Palpably three-dimensional, they're counteracted by flat geometry—bars, angles, and patterning. Steeped in a well-tempered modernist aesthetic, they depict representationally select themes of an era that was defined by its rejection of representation—an inversion reminiscent of Thomas Nozkowski, who similarly manages to deftly, discreetly point to the real world from within a space that typically signifies pure painterly abstraction. In Hudson's recent paintings, on view at PS1 this fall, wood grain, Islamic tile patterns, and geometric flooring lie before abstracted halls of mirrors—mirrors as a method for painted space to echo, repeat, and see itself, panes of reflection that flatter (and shatter) the surrounding patterns, and confound (and please) the viewer.
Cannon Hudson's paintings will be featured in The Painted World, an exhibition curated by Bob Nickas, opening October 23 at PS1 in New York.
Originally published in
Featuring interviews with Arturo Herrera and Josiah McElheny, Jennifer Bartlett and Elizabeth Murray, Lincoln Perry, Anthony Downey and Yinka Shonibare, Eliot Weinberger and Forrest Gander, Lionel Shriver, Noah Baumbach and Jonathan Lethem, George Lewis and Jeff Parker, and David Rabe and Evangeline Morphos.