Discover MFA Programs in Art and Writing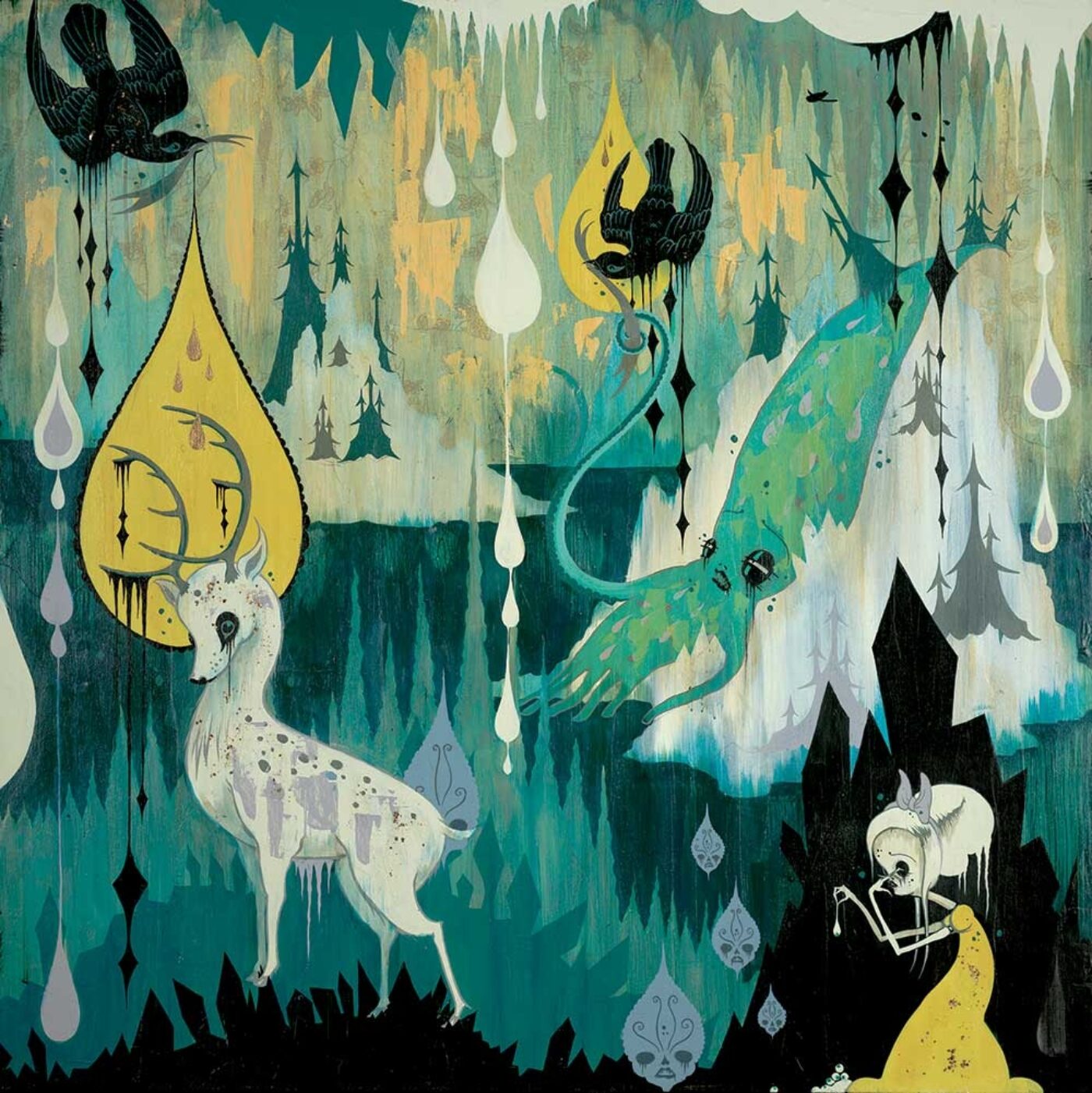 It's a world of laughter, a world or tears. It's a world of hopes, it's a world of fear.
There's so much that we share,
That it's time we're aware.
It's a small world after all.*
From a childhood visit to Disney World, I remember the "It's a Small World" ride as a slow boat that drifts you around the globe while animatronic children and animals from different continents serenade you. I remember thinking at the time, This must be what life is like in other countries: different clothes; same smiles; harmonious colors; everyone very stylish.
Camille Rose Garcia was born in Los Angeles in 1970 and grew up in the era of Dead Kennedys. As a child she'd visit nearby Disneyland and experience the contrast between life inside and outside the park. How unpleasant it is to think of local children growing up and coming to understand that Disneyland is a broken-promise land; that the world capital of fantasy is merely the proprietary product of an aggressive, self-interested business.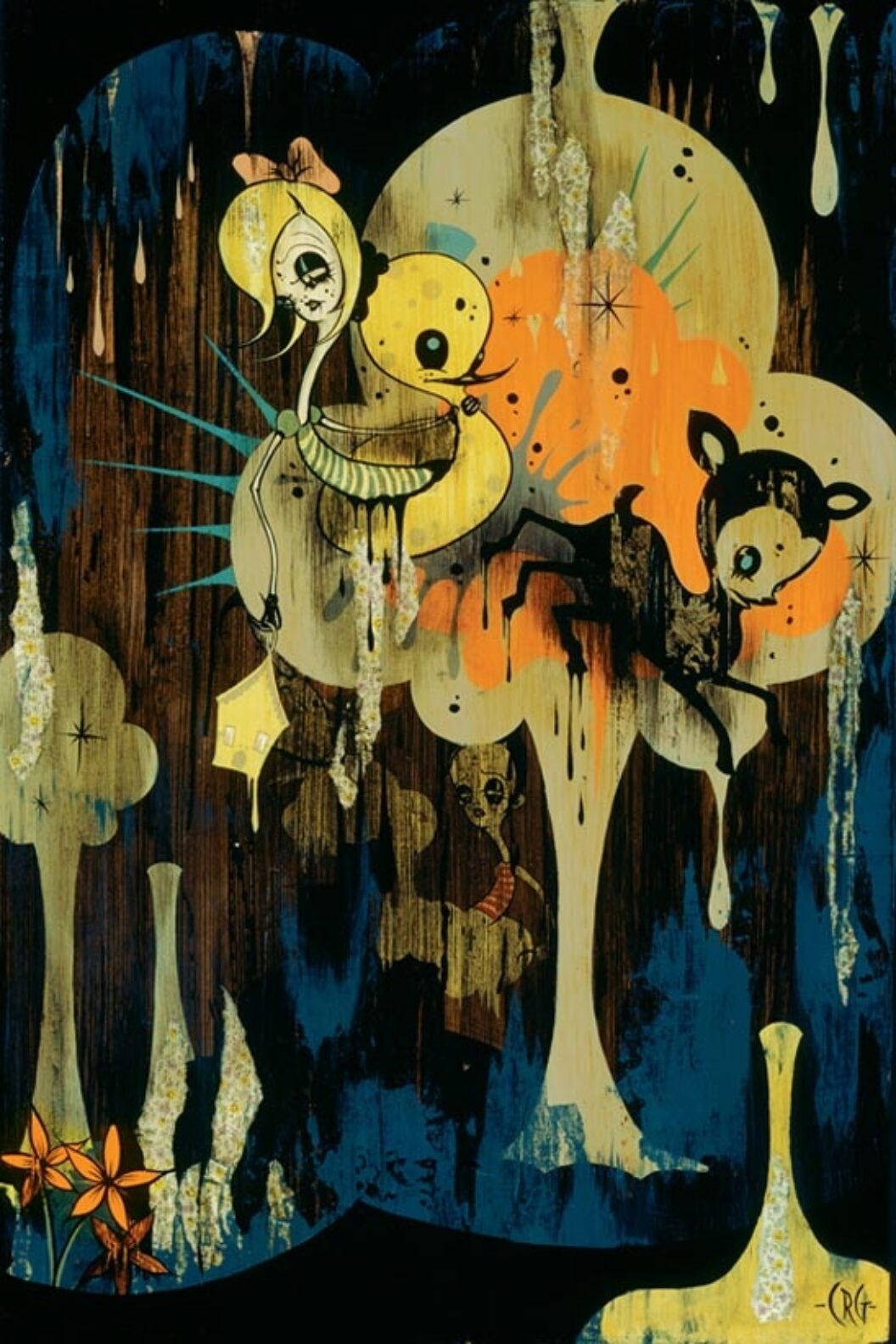 In Camille's acrylic-and-glitter-on-wood paintings, characters read as medicated, PG-13 doppelgangers of the G-rated Disney populus. A filthy deer in Antarctic Suburban Outpost(2006) strikes a tense, bashful pose on sharp terrain. A wan baby elephant in Aquamarine Slumber (2005) belches pictures of dancing pills as an owl sidekick cries giant blood-tears. If Disney characters are wholesome Ashleys, Camille's characters are emaciated Mary-Kates, their beauty rooted in danger and scariness.
I first encountered Camille's work as an art school undergrad in Indiana. A newspaper reproduction of Creepcake Annihilation Plan (2000) caught my eye in the scrap paper bin and I was hooked. I cut out the art and pinned it to my studio wall. I was haunted by that image and I didn't know exactly why. Partly because she was so good at what she was doing—love it or hate it (and I loved it)—and I was afraid I'd never be that good at anything. That drawing hung in my studio for several years, and it scared and motivated me. Then I lost it.
Garcia's work is dark and macabre, haunting and liberating. I love her use of muted colors, the layers, how you can't tell if it's the future or the past. I love how her worlds look both depressed and beautiful; cartoony and surreal—is that a lollipop tree or a mushroom cloud? I can't help but be drawn into her world, and why shouldn't we be? It is the world we live in. It's Camille's world after all.
*The first stanza of "it's a small world," a song that has been playing in an increasing number of locations around the world, in a more or less infinite loop, since it debuted at the New York World's Fair in 1964.
Ryan Nole is a printmaker and designer working in Indiana.
Originally published in
Featuring interviews with Bill Jensen, Robert Polidori, Cristina Garcia, Lore Segal, Mary Jordan, Reinhold Friedl, John Turturro, Sarah Ruhl.